I invest in several Alternative investment platforms across the globe to diversify and earn passive income. Analysis based on my portfolio returns of top performing platforms for various asset classes are given below: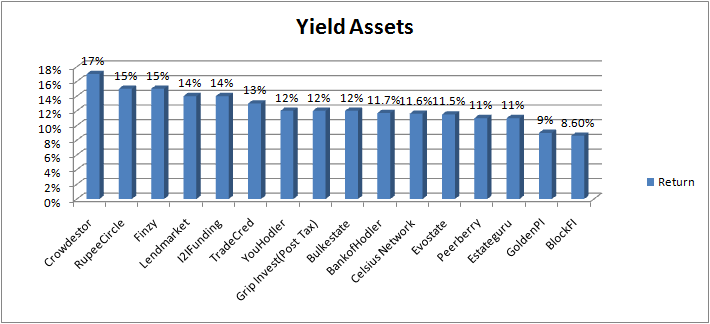 Goal : Liquid Short Term Investment to Park Money ?
Option : Crypto Lending against Collateral with 9-12% Dollar Returns and daily liquidity
Platforms:
Read about them :
Goal: Want to Invest in Gold at deep discount?
Option:
GoldFinX ( GoldMining Life Time Royalty with discount)
Read about it: Invest in Goldmine Royalty (10X gold accumulation of Initial Investment)
Goal: Want to invest in top European Real Estate and Business Lending Platform?
Option:
Step by Step guide to convert INR to Euro using Cryptocurrency?
Goal: Want to invest in Platinum/Palladium even with 10 Dollars ?
Option : Invest on METEX ( Token backed my metal) free 4 g silver
Goal: Want to invest in Litigation Finance ?
Option :
Goal : Wanna trade/invest in Crypto in India using INR?
Option: Wazirx Register free on cheapest platform in India
https://newsherder.com/wazirx-review-2020-all-you-need-to-know-about-indias-best-crypto-exchange/
Invest in Crypto Hedge Fund if you are a beginner :
Hedge your Crypto Exposure using derivative on Deribit
Goal: Short Term investment in bluechip Invoice?
Option: TradeCred @ 13-14% for 2-3 Months invoices in amazon,ITC etc.
Goal: Equipment Leasing Investment in India?
Option:GRIP Invest, 12% Post Tax return with ownership of collateral(add code 113 for free registration and benefits)
Goal: Investment in Corporate Bonds in India?
Option: Golden PI , top corporate bonds (HDFC etc ) at attractive yield(8-14%)
Goal: Fractional Real Estate in India?
Option: Crowdfunding Platforms below
Goal: Looking for generating high yield and diversification?
Option : Top P2P Lending Platforms :
Goal: Want to Learn trading from other Traders (Stocks,ETF,currency,Crypto)
Option: ETORO TRADING ACCOUNT Most Popular copytrading platform (get 50$ bonus)
Goal: Invest in Global Stocks ETFs and REIT at low cost?
Option :
Goal: One Platform for Trading and Investing in Indian Equity/MF?
Option: Upstox trading account with unique features for option trading