IndiaP2P Founded in 2021, is a P2P investment platform that has got an RBI license of P2P-NBFC. The platform offers up to 18% return on investments. Generally, I am wary of investing in individual loans on retail loans on P2P Platforms but this platform has some unique features which I find attractive and want to try out. Read this IndiaP2P Review ahead to get to know the complete details. 
What is IndiaP2P?
IndiaP2P is an RBI Certified NBFC- P2P which has created an investment product comprised of diversified, high-quality, directly sourced retail loans. The features of the product are :
•High-Quality Curation
•Monthly Returns
•Downside Risk Reduction using IndiaP2P's portfolio engine
IndiaP2P is a Microfinance focussed P2P that targets women Joint Liability Group (JLG) borrowers for lending. Women borrowers have a much lower default level compared to Men. Some of the features of this category for 2020
•110 Million Loans, Avg. Loan $480
•1.3 % NPA ,30% CAGR growth
•Over 60% of Portfolio funded by Banks (Private + Public)
IndiaP2P Business Model
All loans you invest in via IndiaP2P repay in form of a monthly EMI. Loans are only given to repeat borrowers i.e. borrowers with a successful track record of taking and repaying at least one prior loan from a bank.  The loans are given through partner branches and not disbursed online which means direct connection with the borrower and better KYC and collection.
Your investment is spread across multiple, diversified loans that repay with interest every month over a 12-month lock-in. This interest income is re-invested every month to compound. The money invested by us is distributed in a pool to increase diversification and reduce individual default risk. You can start with as low as INR 5000
IndiaP2P Team
IndiaP2P is run by Neha Juneja who has rich experience working in credit focussed on the lower-income group space. The company has recently raised pre-seed funding from Antler – a global early-stage VC firm that builds and invests in groundbreaking technology companies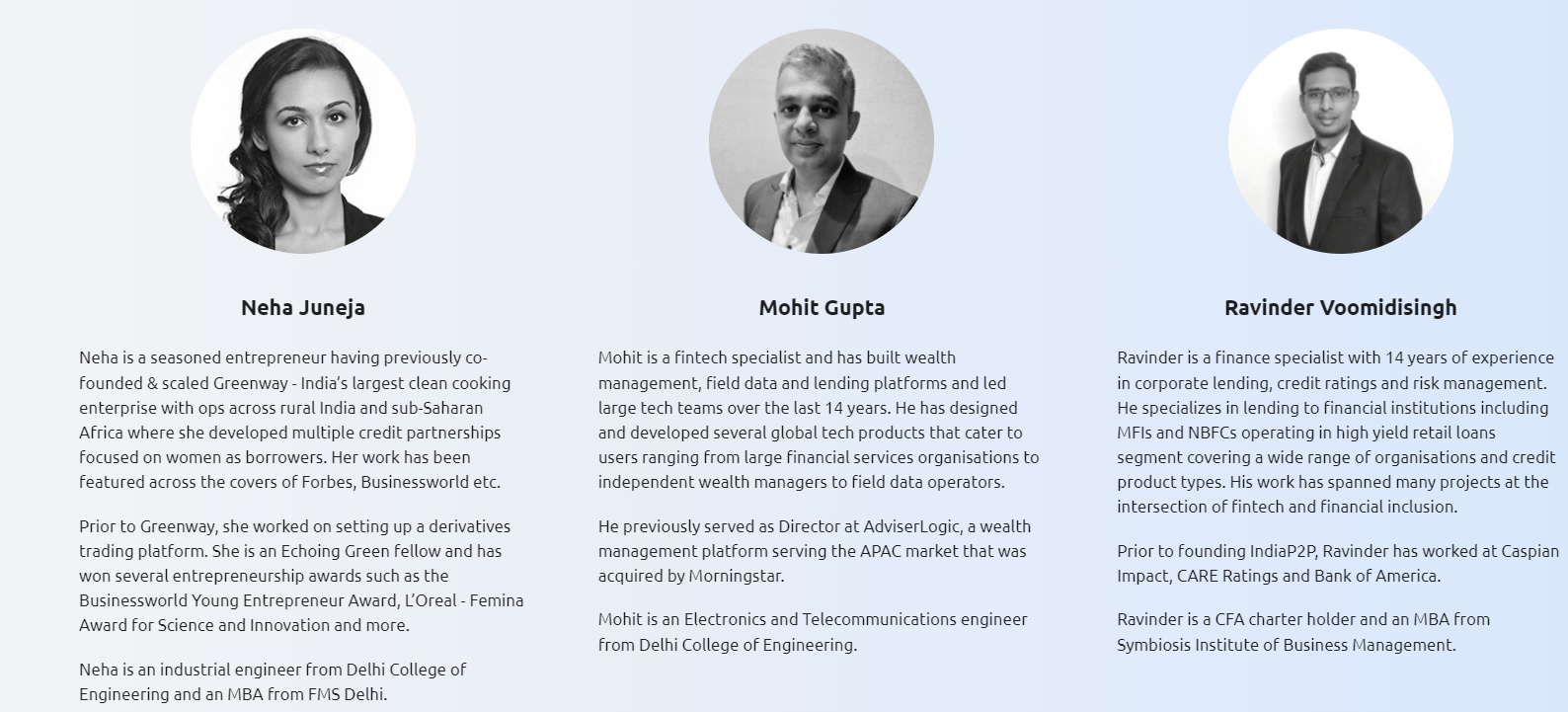 Is IndiaP2P Safe?
As the company is regulated under RBI, the company needs to perform and maintain the minimum required criteria as laid down by the regulator. Risk is mitigated via multiple parameters which include
3 filters for partner underwriting & selection, cohort-based analysis, focused underwriting, and social/group history.
Product creation further minimizes risk by deep diversification (geography, income source, etc.) amongst qualified loans.
Limited correlation with conventional asset classes/market psychology.
Pooling of loans to reduce the concentration
Focus on physical meetings before disbursement.
Register for Free on IndiaP2P
IndiaP2P Alternatives
There are platforms that provide P2P investments. I have focussed on platforms that focus on High-Quality Prime Borrowers with defined end use like Liquiloans, Lendbox Per Annum, and Cashkumar.
For High Yield Loans, Finzy and I2IFunding are two options that have decent track records.Non-P2P high yield platforms include GripInvest, Jiraaf, and Klubworks among others.
IndiaP2P Review
IndiaP2P is a new high Yield P2P platform that is trying to create a niche for itself by targeting low-risk demographics. If the platform is able to deliver consistent returns it can be a good platform to complement other alternative investments. I am investing a small capital and will publish IndiaP2P Review monthly cash flow and share it in my periodic posts.