With advancements in technology, a lot of fintech companies are coming up in India which aim to help retailers gain access to alternative investment avenues which were earlier not accessible to them.
One such popular category of alternative investment which seems to be picking up with a lot of early-stage companies coming up and getting decent traction from investors is equipment leasing or financing equipment.
In this post, we will explore Leafround- which is a marketplace for leasing. Investors can buy and rent out assets to businesses in exchange for monthly rentals or payments. Let us explore this platform in detail in this Leafround review.
What is Leafround?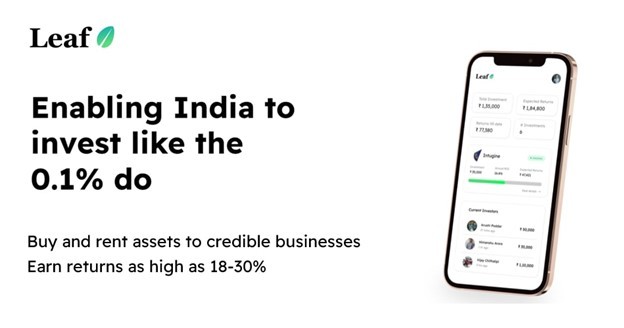 Leafround is a marketplace that connects businesses looking to lease equipment for their operations and investors who want to invest money and earn regular monthly interest.
The salient feature of Leafround which makes it stand out from other leasing companies is that Leafround does not create SPV which means you get the Pre-tax IRR for your investments which are substantially higher than post-tax SPV returns.
How does Leafround Works?
The platform scrutinizes & lists companies who want to purchase equipment or assets for their businesses. Each listing is called a 'Deal', which details the business to whom the assets would be leased, details of the asset being leased, payout structure, etc.
Interested investors commit money for buying assets and invest money in the deal of their choice.
Assets are purchased and leased out to the business with proper legal structures like agreements in place.
The company pays monthly installments for assets leased out to them which are paid out to investors in proportion to their individual investments.
At the end of the tenure, the assets are bought back by Leafround from the investors, and the money generated is paid out to the investors.
For example, currently, one deal listed on Leafround is Melorra- a jewelry brand. Melorra is looking to lease the following 3 types of assets from Leaf round: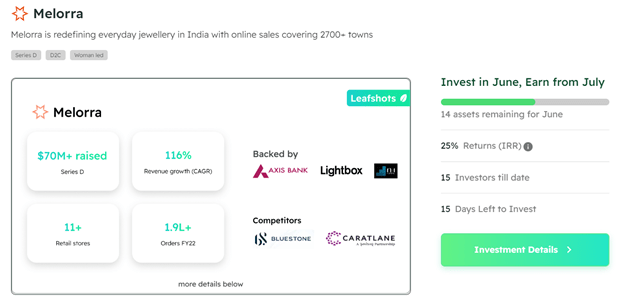 Mac Book Pro 14" – MKGP3HN/A
Laptop-I Mac Pro 16'' – MKGP3HN/A
Apple Macbook Pro 14'' – MKGP3HN/A
Let us consider the first asset- Mac Book Pro 14" – MKGP3HN/A. The cost of the laptop is ₹1,67,562 inclusive of GST and shipping. The payout structure for this asset is as follows: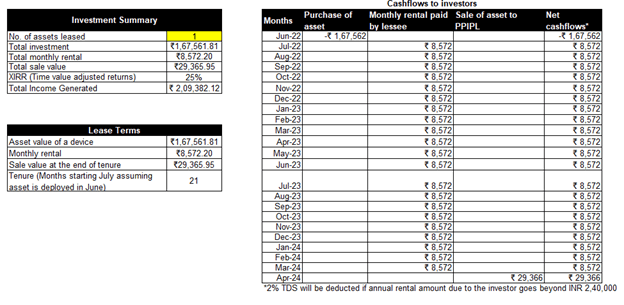 As you can make out from the above chart, investors will receive Rs.8572 per month per asset as rent for a duration of 21 months. In April 2024, when the lease gets over, Leaf will take physical possession of the asset and the company will pay Rs.29,366 for this laptop. If we calculate, we can earn 25% IRR on our investment for this particular deal & asset.
In case the company not being able to meet the required amount, Leaf has tied up with Toqri, which is a liquidator of assets. While leasing out these assets the repurchase price is checked with Toqri to ensure a smooth exit process if required
Potential Risk Factors
Like any other investments, investments with Leafround are also not completely risk-free.
The business leasing the equipment needs to make the monthly lease payments on time as mentioned in the agreement and the term sheet.
Details mentioned in the deal are as per the information shared by the business.
There might be platform risk- since Leafround is an important mediator between the business and the investor, there might be problems recovering money or disposing of assets if Leafround shuts down.
How to register & invest with Leafround?
Click Here to register as an investor on Leafround (you can also use code RANDOMDIMES while registering)
Once signed up and account verified, complete KYC online using PAN.
Check available deals, select the deal of your choice, and invest!
Track your investments & returns via their dashboard.
Leafround Founding Team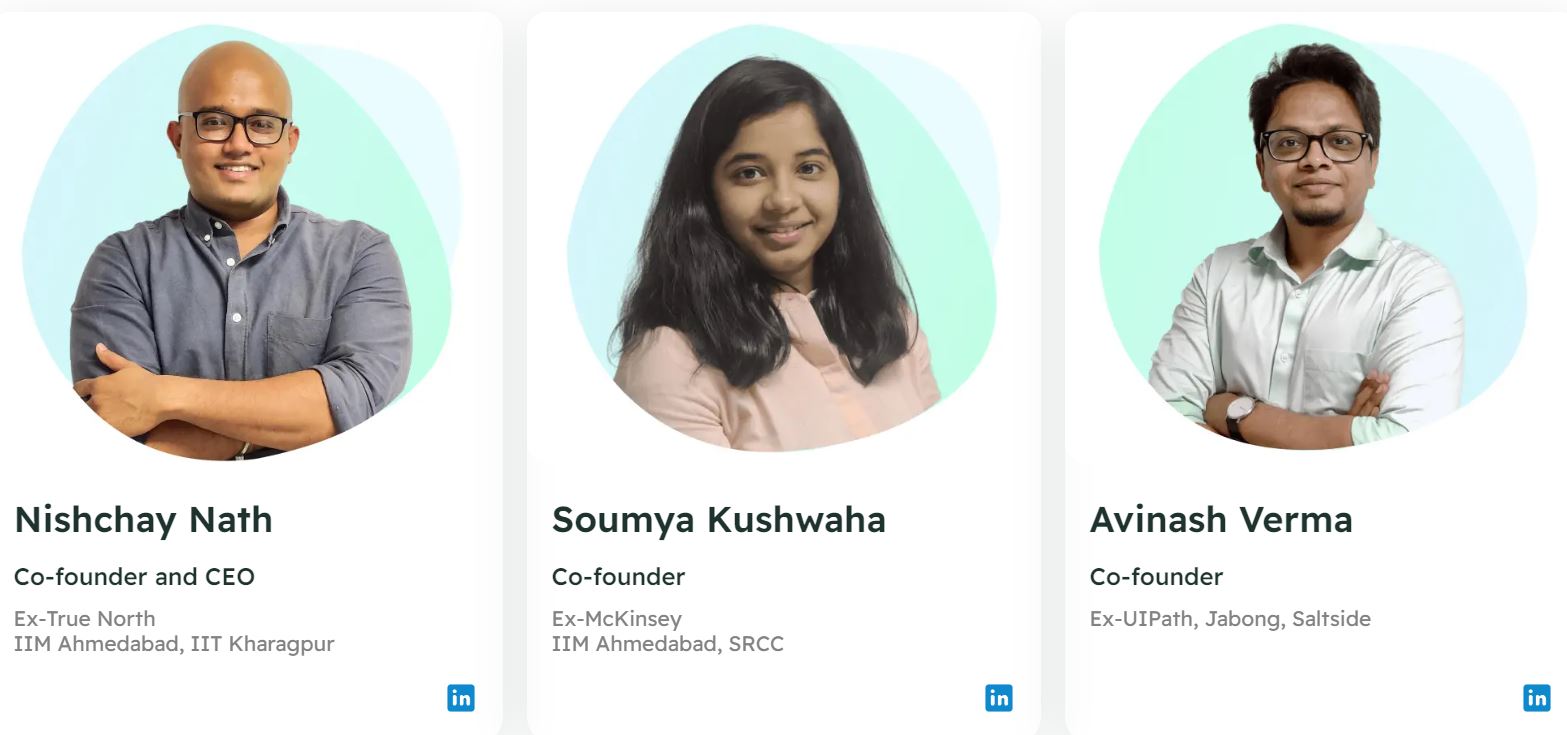 Leafround was founded by Nishchay Nath, Soumya Kushwaha, and Avinash Verma. All of them have studied at premier institutes and have worked with leading names like True North, McKinsey, etc. Apart from the founders, the remaining team is also highly experienced in their respective domains.
Leafround Funding
Leafround has raised a pre-seed round of $300K from micro VC firm Upsparks, Superb Capital, and senior business leaders from McKinsey, Bain, Barclays, and Adobe. The company intends to use this funding to build a robust product, improve awareness, and hire the right people.
Leafround Alternatives
 Leafround is primarily in the business of equipment/asset leasing. There are already a few platforms in India that are into this segment- some dedicatedly to this segment whereas others offer different types of alternative investment options. Some of the alternatives are as follows:
Grip Invest is a platform that lists equipment leasing, inventory-based financing, and commercial real estate investing deals on it. It has a constant flow of new deals and has been one of the pioneers in this space in India. The minimum amount to invest is Rs.10000 and you can get an average IRR of 12-15%+ depending on which deals you invest in.
Pyse lets you invest in green and clean energy resources like solar panels and energy systems which are used to generate power that is sold to enterprises. They have some reputed clients like Tata Communications, Dmart, etc. The minimum investment is Rs.5000 and you can expect 10-12% post-tax IRR.
This is a new but fast-growing alternative investment opportunity listing platform backed by Sequoia and other popular angel investors. Apart from invoice discounting, corporate debt, and other instruments, it also has equipment lease-based investment options on its platform. The minimum investment is slightly higher at Rs.100000 per deal but might vary depending on deals.
My Leafround Investment
I made my first investment a couple of months back . The onboarding process and user experience was commendable. I have received my first cashflow too. Will update the performance in monthly review

Conclusion
 I hope you would have got a complete overview of the platform in this Leafround review. The platform seems to have a constant flow of good deals, the IRR is pretty decent (upwards of 20% for most deals) and the asset class is such that it is not too risky (since underlying assets back it). You are able to get Pre-tax returns, unlike on other platforms. The team is quite strong and seems to be well qualified. Looking at all these factors, you can consider investing in this platform and allocate a small section of your portfolio to this asset class.
The platform is definitely promising and I have personally invested a small part of my portfolio with them to test the platform. Once I am confident of regular repayments in the upcoming months, I will increase my allocation to Leafround.