In this MYRE Capital Review, I will cover the details of the platform and my experience investing through the platform. Commercial real estate has been the preferred asset class for institutional investors and HNIs due to a stable rental income (8-10% yields) and appreciation potential(15 %-25% IRR).
This asset class has a high barrier to entry because of which it has traditionally been an opaque, illiquid,
and unaffordable investment option for most retail investors. MYRE Capital is democratizing commercial real estate ownership.
MYRE Capital Introduction
MYRE Capital, a venture by Morphogenesis, is a proptech platform that provides easy access, transparency, and liquidity to a curated selection of rent-yielding commercial real estate assets. Before we go into details of MYRE, let's first understand what is Morphogenesis.
Morphogenesis overview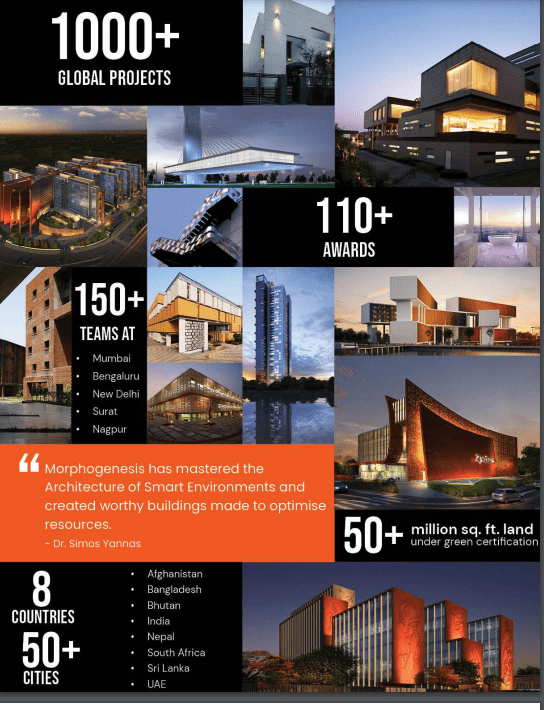 Established by Sonali and Manit Rastogi in 1996, Morphogenesis is globally recognized for its diverse work that encompasses a range of specialized practice areas – Master Planning, Residential, Commercial, Workplace, Institutional, Hospitality, and Houses, through in-house integrated project delivery in Sustainability, Interiors, Landscape, Digital Technologies and Design Management. The practice operates in India, Nepal, Bhutan, Bangladesh, Sri Lanka, South Africa, Afghanistan, and the UAE.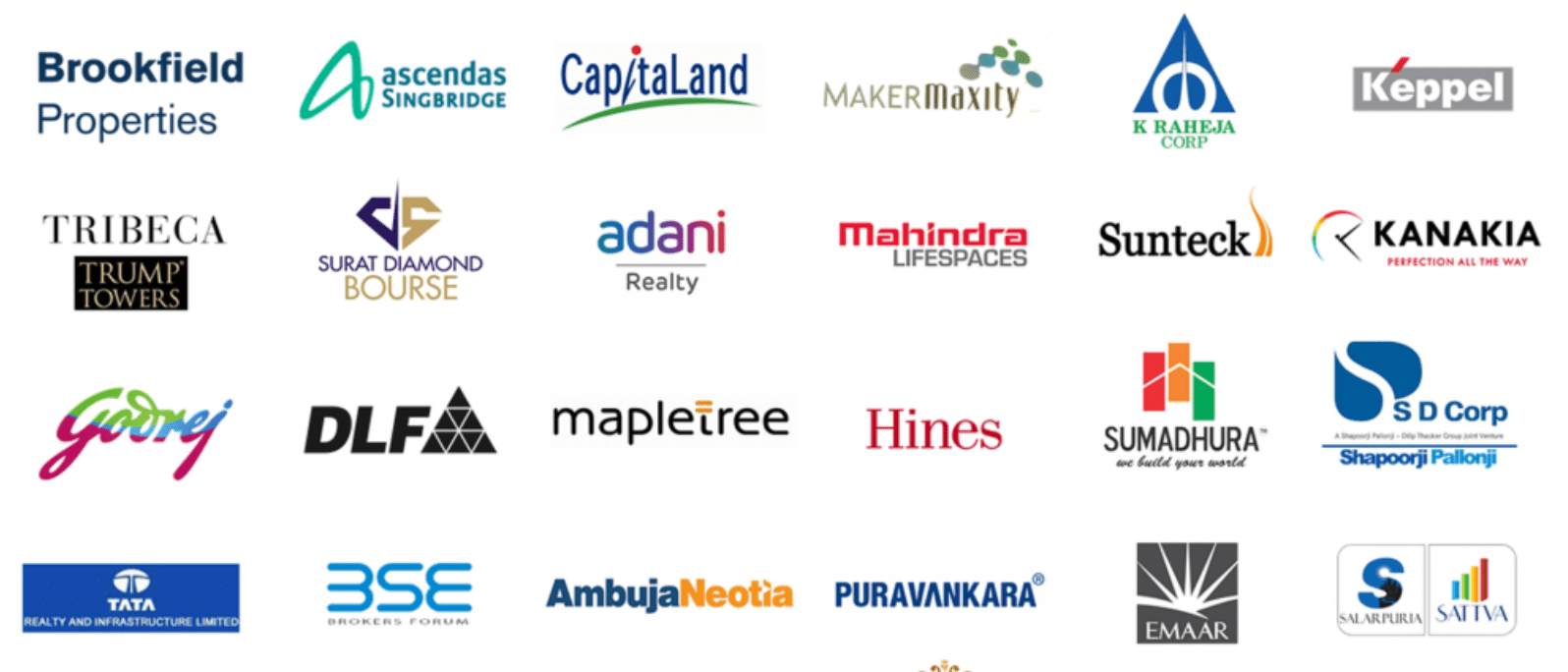 With projects in 8 countries, 95 International and National Awards, and 750 plus publications globally, it is the first Indian Firm to be awarded the Singapore Institute of Architects Getz Award for its vision and commitment to making a significant contribution in shaping the changing landscape of Asia.
Having a parent coming with strong expertise in real estate has been instrumental in giving MYRE capital an edge in finding the right properties
MYRE Capital Business Model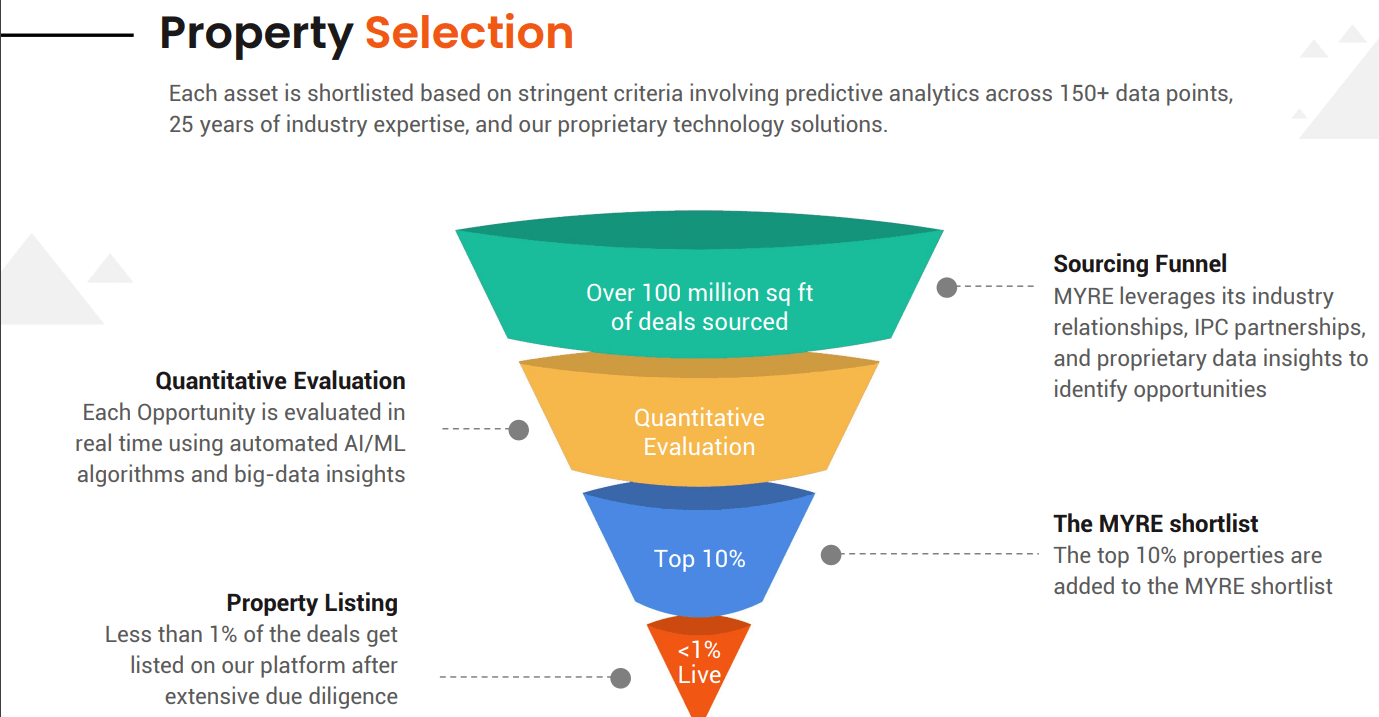 At MYRE, each property is extensively evaluated with a focus on ensuring the long-term stability, viability, and performance of the asset. The selection process is based on stringent criteria involving predictive analytics across 30+ data points, 25 years of industry expertise, and our proprietary tech processes
MYRE Capital strongly believes in its asset selection and long-term performance. MYRE remains a co-owner in each of its opportunities with the other fractional owners MYRE will be assigned as the asset manager to the SPV and will be responsible for the management of the property, tenant, SPV, and investors.MYRE charges an annual asset management fee amounting to 1% of the initial investment amount. The asset management fee will be treated as an expense in the SPV and will be deducted from the rental income prior to distribution to the investors. For any untenanted period of the asset, the asset management fee will be waived. MYRE charges a 20% performance fee above a hurdle rate of 12% IRR at the time of exit. MYRE only earns this performance fee at the time of exit if MYRE is able to deliver the performance of above 12% IRR for the investor(s).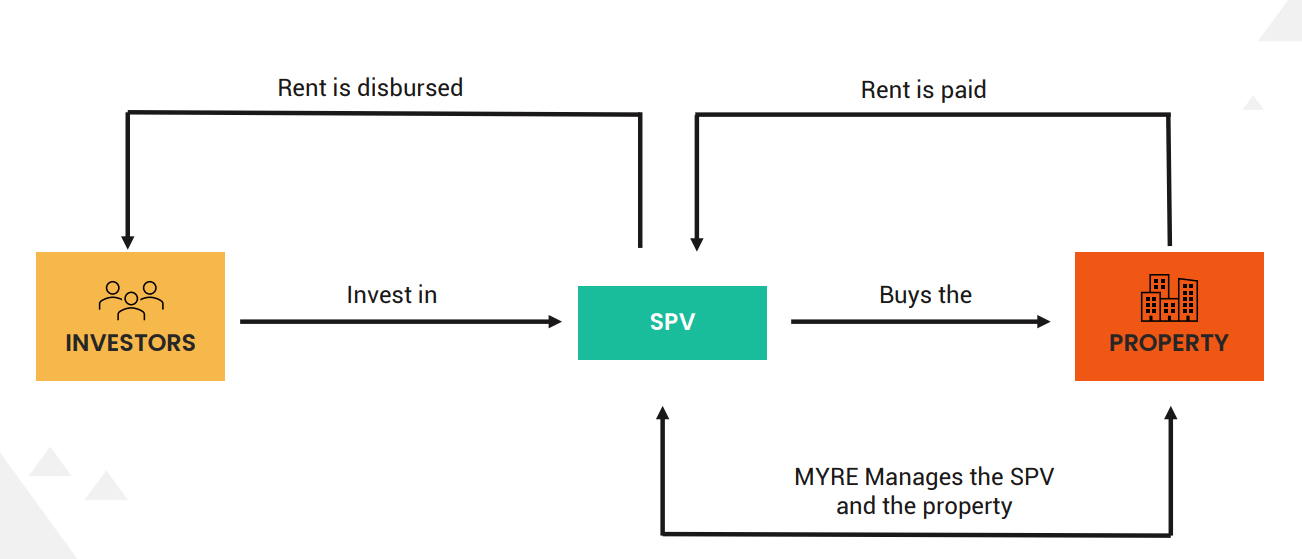 The SPV for the opportunity will be a Private Limited Company. The investors are assigned
securities of this SPV proportionate to their investment amount. The issued securities for each
investor will comprise of 10% worth of Equity holding in the SPV and 90% worth of Compulsorily
Convertible Debentures (CCDs). The net rental & other income will be distributed to the investors as interest on CCDs. The Coupon Rate of the CCDs would be adjusted to match the net annual yield. Any change in the income of the property will proportionately impact the coupon rate. If the rental escalates, the Coupon Rate of the CCDs would increase. Therefore, investors would draw monthly net rental
and other income, as applicable, proportionate to the size of their investment as Interest on
Debentures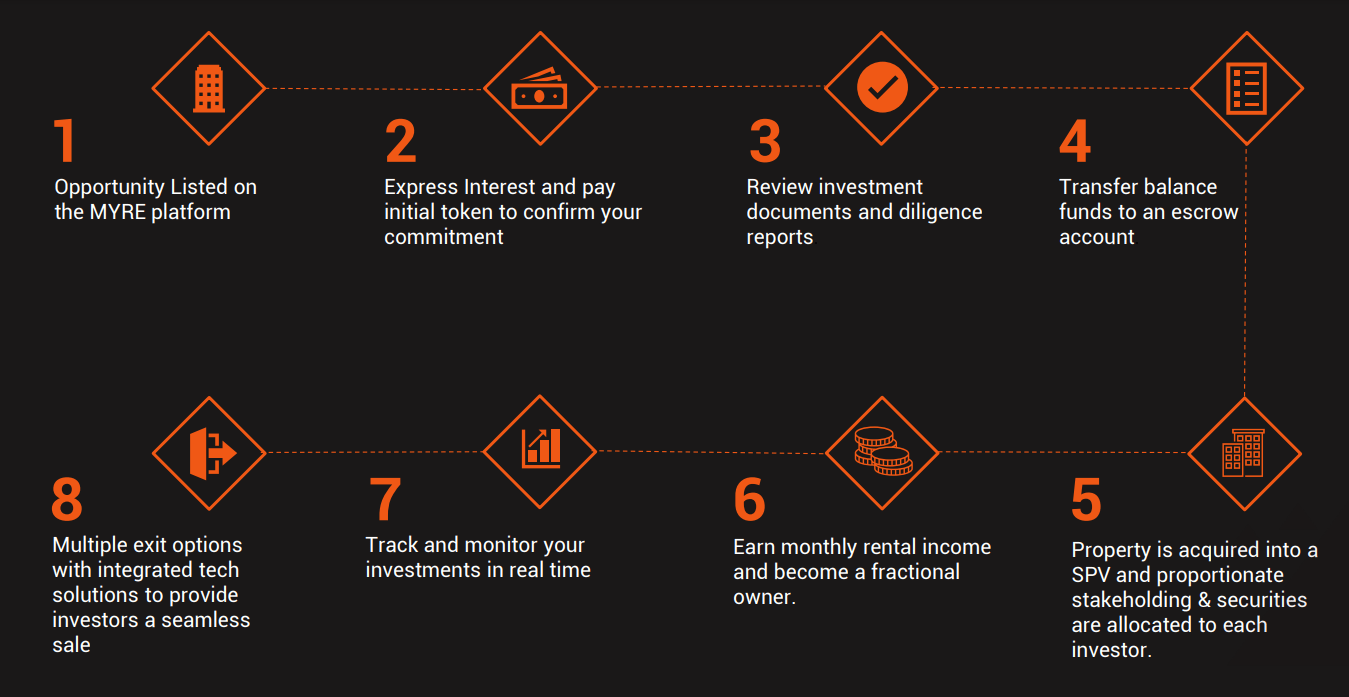 Investing in rent-yielding Commercial Real Estate (CRE) properties with MYRE is a seamless digital process. MYRE is a tech-driven asset management platform that offers a curated selection of pre-leased CRE assets along with end-to-end management for investors.
Is MYRE Capital Safe?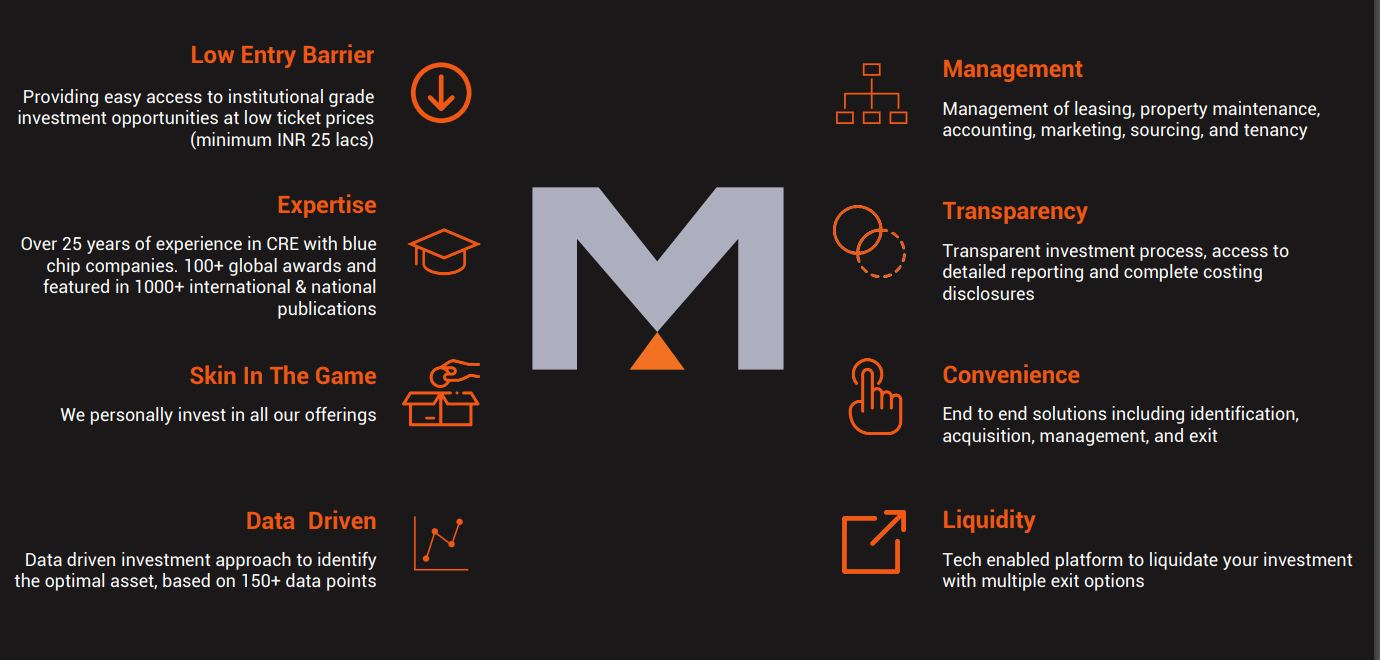 Some of the features which make MYRE capital safer than its peer are:
Invest only in A-grade commercial real estate
Very long term lease to reduce risk of vacancy
Invest in each project to ensure skin in the game
Backed by a large parent company that not only provides financial stability but also expertise in choosing the best properties.
MYRE works with Tier-1 firms to conduct all research, diligence, and regulatory compliance
standards. A valuation report and audit of the SPV are conducted annually and are available to all
investors for their review.
Relevant documents are filed with the registrar of companies (ROC) and are available in the MCA portal as per the current statutory and regulatory requirements. All documents, agreements, and contracts are structured and vetted by independent TIER-1 law & accounting firms.
Soon MYRE Capital Secondary Market will be launched. Investors can list their fractional ownership on sale via the proprietary secondary market offered by MYRE. The secondary market will be actively managed by MYRE Capital and will be accessible to all the users on the MYRE platform.
MYRE Capital Team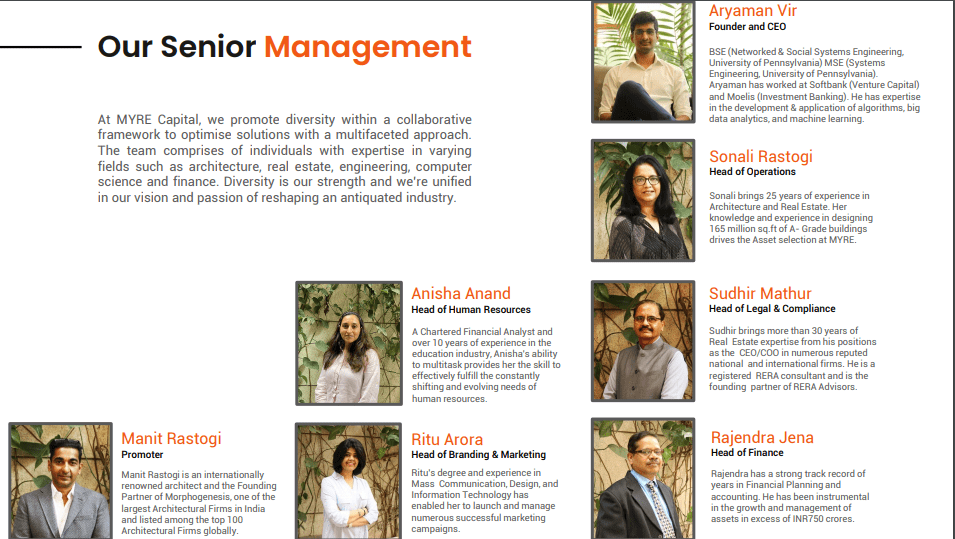 Aryaman Vir is the CEO and founder of the company. Promoters of Morphogenesis hold key positions in the company. The team comprises individuals from diverse backgrounds.
MYRE Capital Investment Experience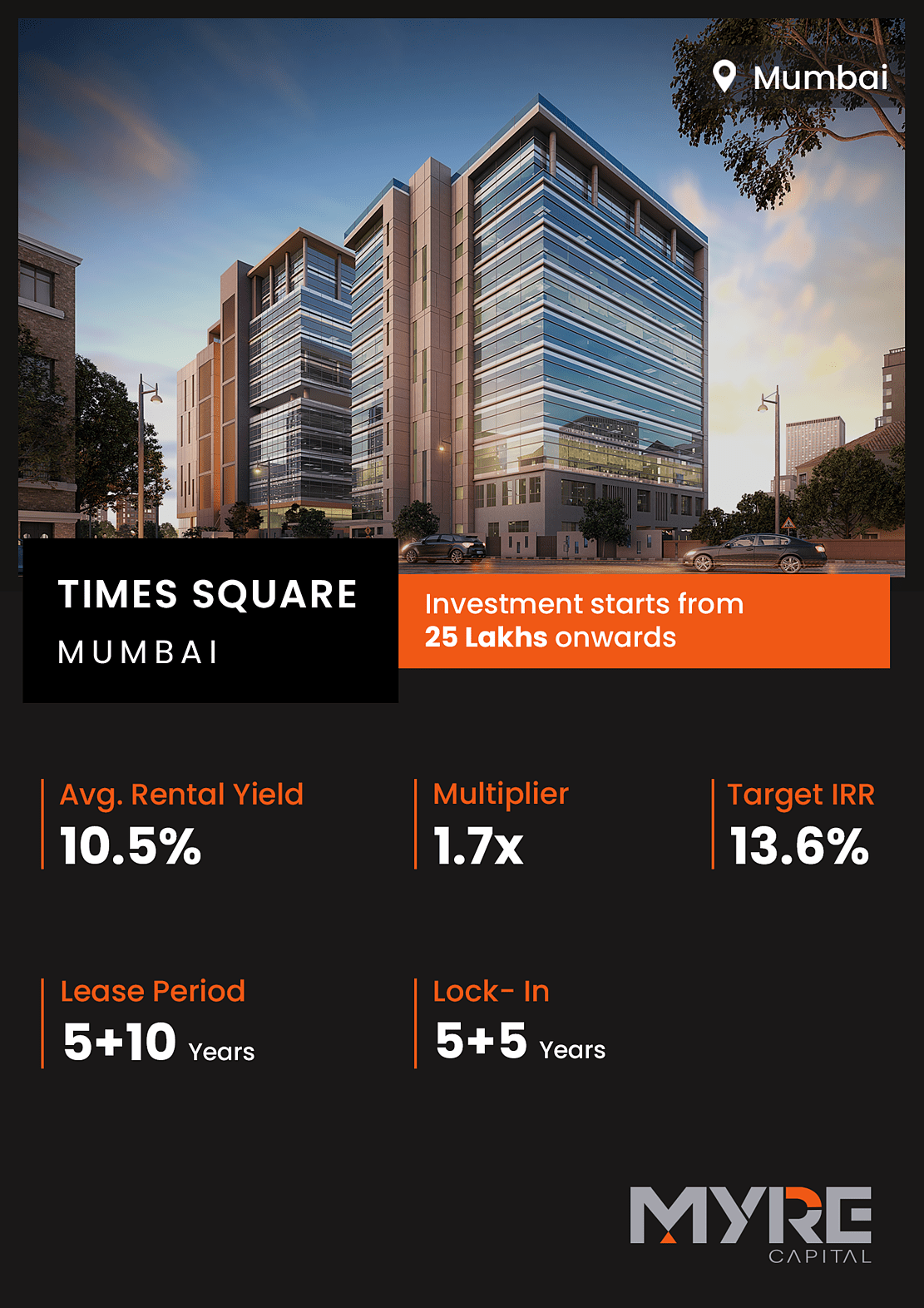 I invested in Times Square Opportunity through MYRE. I was interested in the opportunity because of 3 reasons
Stable Tenant– The entire tower is leased to Smartworks, the market leader in Managed Workspace
Solutions. Smartworks has subleased premises to Indian Financial Technology and Allied Services (IFTAS), a Reserve Bank of India (RBI) subsidiary.
High Yield – 10.5% + capital Appreciation
Great Location – Times Square is located in one of Mumbai's largest commercial micro-markets,
Western Suburb 1, has seen the highest tenant absorption, proximity to airports and highways.
*currently rent cashflow as expected
Current Deals on MYRE Capital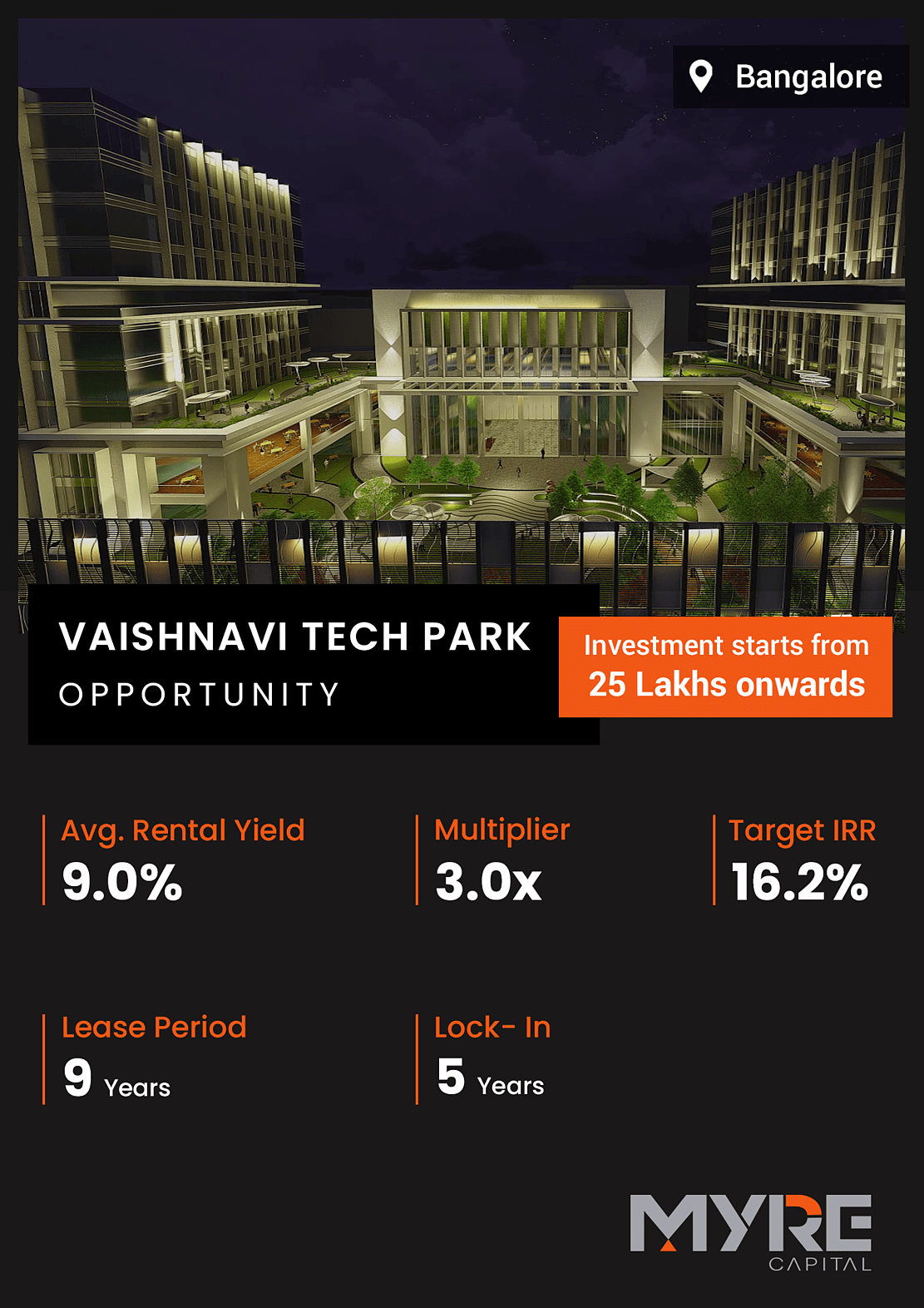 Currently, there is a new opportunity, Vaishnavi Tech Park on MYRE which looks quite promising. Located off the Outer Ring Road, very close to the Sarjapur Junction, Vaishnavi Tech Park is a multi-functional IT and Business Park with a contemporary design
Salient features of the deal are
Strategic Location: ORR, Sarjapur Junction, Bangalore
Marquee Tenant: The entire tower is leased to Smartworks, the market leader in Managed Workspace Solutions. Smartworks has subleased premises to Groww. Most recently funded
by Satya Nadella, Groww is one of the largest mutual fund investment platforms in India.
High Yield – 9% yield with 9-year tenor. The expected IRR is 16%
Myre Capital Alternatives
There are few other players in Fractional Real Estate in India like Strata, Prop share, etc. As I have experience of investing about my first-hand experience which I do not have for others. As Investment size is high people should do due diligence before investing in others.
In other alternative assets categories in High Yield Klubworks, Grip Invest and Jiraaf have good opportunities while Liquiloans, Lendbox provide instant liquidity options.
Myre Capital Review
In this MYRE Capital Review, we covered Is MYRE Capital Safe, MYRE business model, My experience, etc. Among the Proptech platforms in India, MYRE is definitely one of the top ones. My Investment has been performing as expected. The Min ticket of INR 25 Lakh would be high for some investors. People should invest according to their allocation goal. The opportunity is great for investors who wish to add real estate to their investment portfolio.