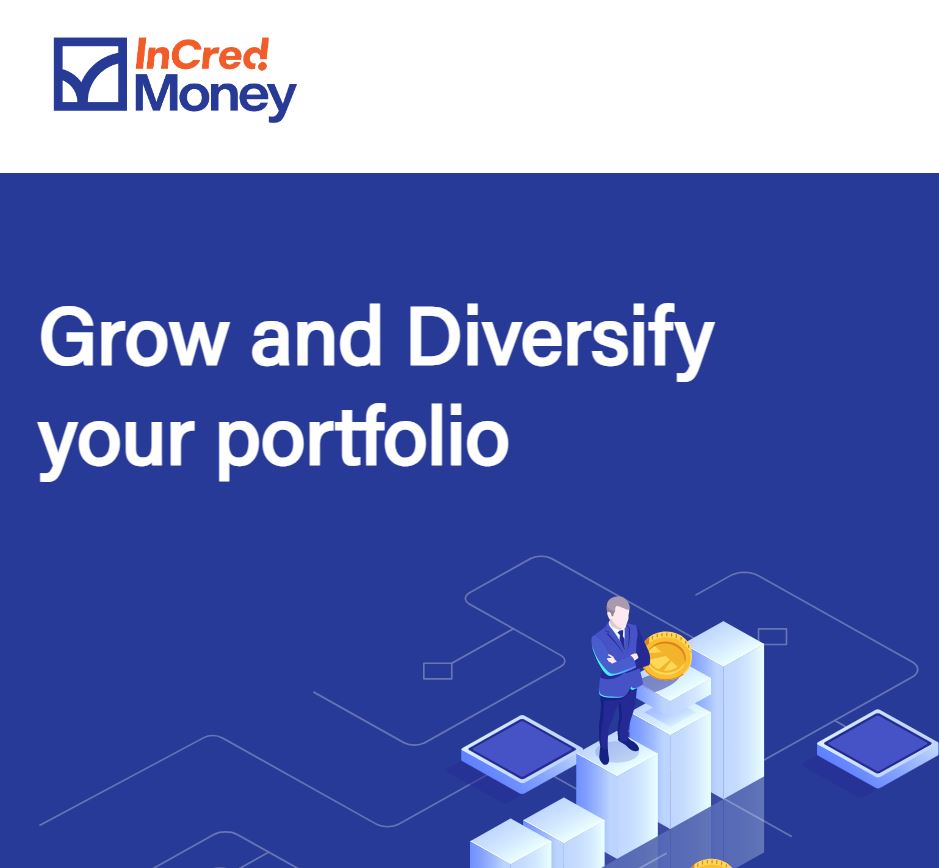 In the ever-evolving landscape of personal finance in India, Incred Money emerges as a fresh player, introducing an array of alternative investment opportunities to the Indian market. Specializing in corporate bonds and market-linked debentures, this up-and-coming platform has piqued the interest of investors seeking unique avenues for financial growth. In this review, we will explore in depth about Incred Money, shedding light on the company & its offerings among other things.
 What is Incred Money?
Launched in the month of May 2023, InCred Money is a part of InCred Capital-  which is the institutional, wealth management, and asset management platform of the InCred group. Incred Money is an alternative investment platform which currently launched with market-linked debentures and corporate bonds. Its maiden opportunity- bonds of Keertana Finserv was subscribed fully within a few days of launch.
 Incred Money & Orowealth
 Orowealth used to be a leading fintech platform in India which used to focus direct mutual fund investing- similar to Kuvera and Groww. They slowly diversified into multiple investment options being offered on their platform.
Orowealth was acquired by InCred Capital for an all-cash deal towards the end of 2022/beginning of 2023 and this paved the way for InCred Capital to venture into the upcoming online wealth tech industry thereby setting up Incred Money.
 Incred Money Team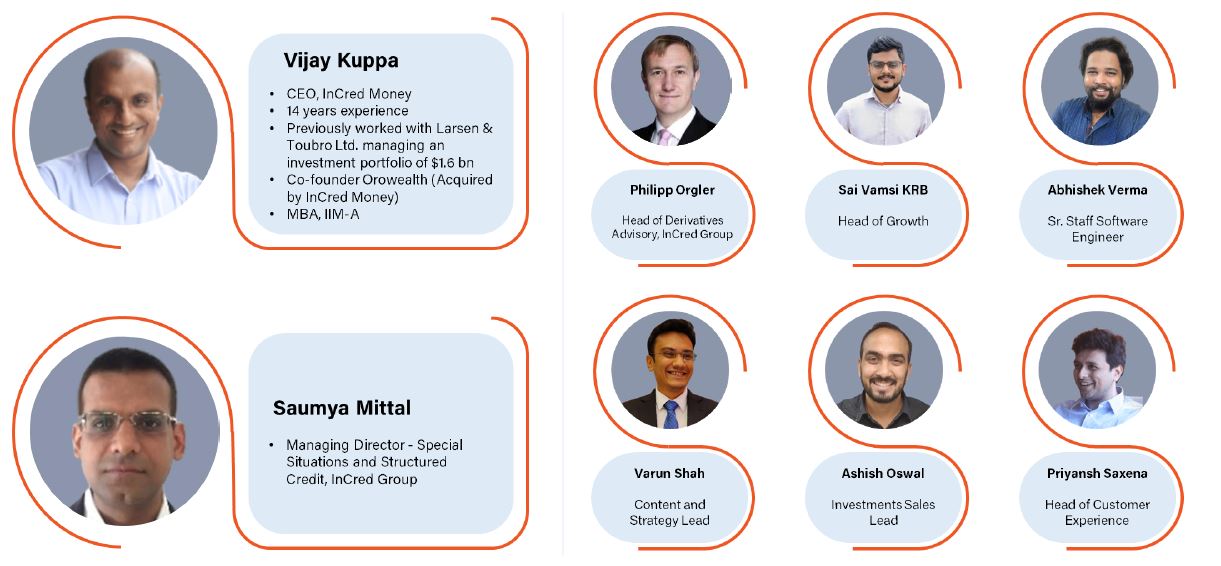 Incred Money is being managed by Vijay Kuppa. Vijay was previously one of the co-founders of Orowealth. A few other members from Orowealth have also moved over to Incred Money. The team has years of experience in the finance domain- managing and growing a fintech platform. The team has access to highly experienced finance professionals- thanks for being a part of the Incred group.
 Alternative Investment Opportunities on Incred Money
 As of now, in the last 2 months, 2 types of investment products have been launched on Incred Money. They are expected to launch more products in days to come.
 #1 Corporate Bonds
Corporate bonds are debt securities issued by corporations to raise capital for various business purposes like funding projects, refinancing existing debt, etc. When you buy a corporate bond, you're essentially lending money to the bond-issuing company. In exchange you get periodic interest payments (depending on the type of bond) and the return of the bond's face value (principal amount invested by you) when the bond matures.
Incred Keerthana Finserv Bonds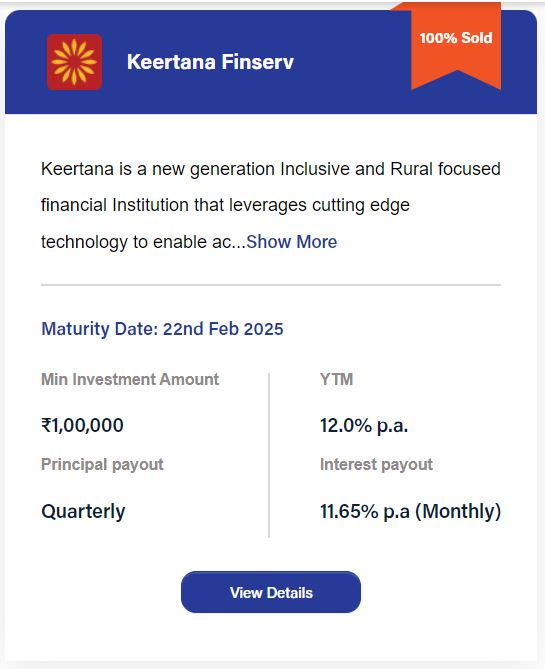 This was Incred Money's maiden offering. Keertana Finserv is a microfinance lender founded by Ms. Padmaja Reddy, who previously founded Spandana Sphoorty Financial- one of the largest microfinance companies in India. This issue was subscribed fully.
Features of the bond offering:
Investment Type: Listed, Secured, Credit Rated Bond
Issue Name: Keertana Finserv Private Limited
Bond Type: Senior Secured Bond
Returns (XIRR): 12.5% p.a.
Investment Duration: ~20 months
Interest Payment: Monthly
Principal Payment: Quarterly
Minimum Investment Amount: ₹1,00,000
 #2 Market Linked Debentures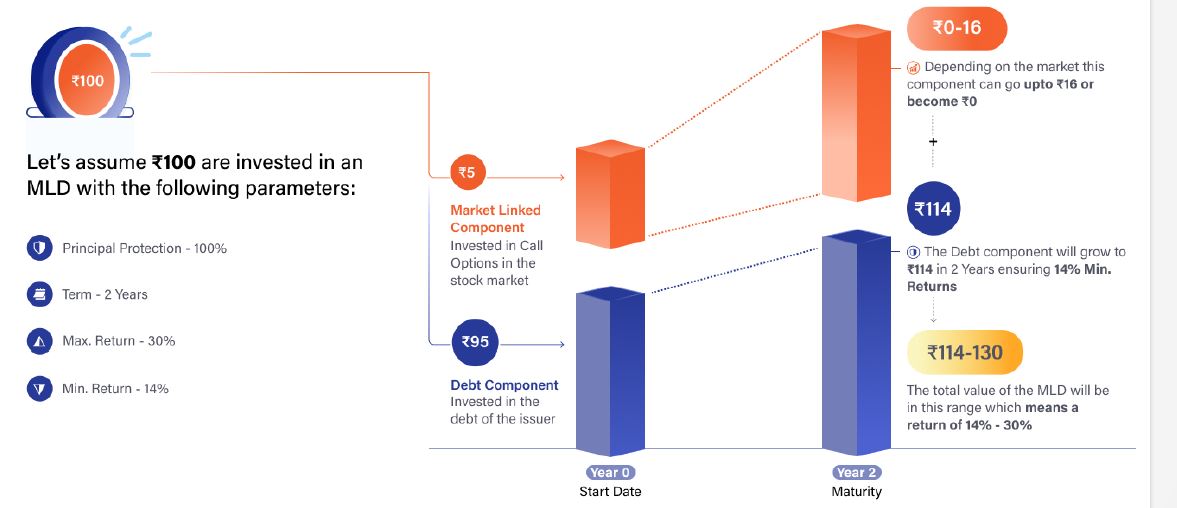 Market Linked Debentures (also called structured debentures) is a financial product that combines investment in bonds and stock markets together.
Let us illustrate this better in simple terms. When you consider investing money in bonds or stock markets, you have 2 options:
Invest your money in bonds. Get fixed pre-decided returns over the investment duration.
Invest money in stock markets where there is a potential to have higher returns but might come with higher risk as well.
Market-linked debentures combine the safety and predictability of bonds with the potential for higher returns associated with stock market investments. Your returns in these are not fixed (like bonds) but vary depending on the stock market performance. For instance, if the stock markets perform well, your returns might go high or if the market performs poorly, the returns might be lower.
 Let us understand how principal-protected MLDs work
In Principal protected MLDs, there are 2 components- the first being the market-linked component. The second is the debt component. The market-linked component is generally a small part (varies according to the MLD you invest in) that is invested into call options in the stock market which can yield high returns or become 0 depending on market direction. The debt component is invested as debt of the issuer which yields fixed interest. Combining these 2, the net returns are calculated. Even if the market-linked component becomes 0, the debt component will still give positive returns- provided the debt issuer doesn't default.
 InCred Nifty Balanced MLD Aug'25 (Currently LIVE on Incred Money)
 This market-linked debenture is currently live on the Incred Money platform (at the time of writing this article as of 22 September 2023). This is a good choice of an investment product that allows you to participate in possible NIFTY upside without risking too much & keeping your principal protected.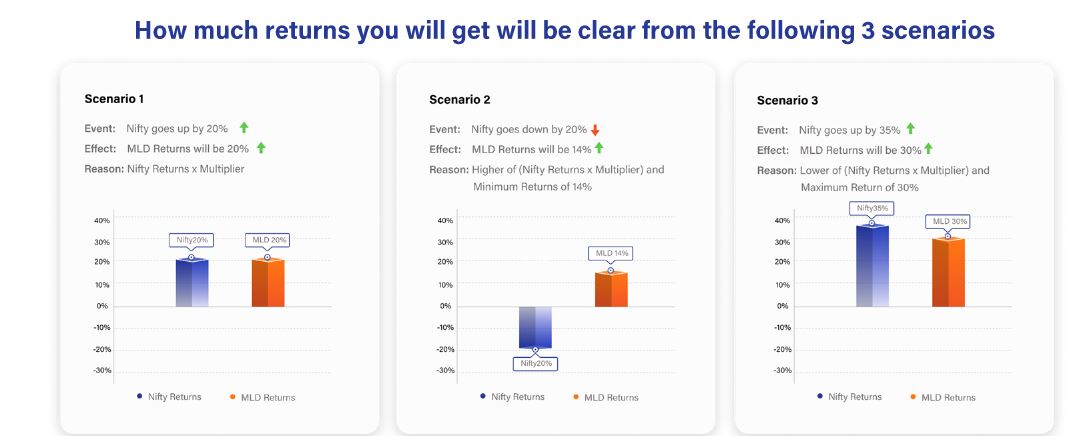 Following are the details of the MLD:
Issuer: InCred Financial Services Ltd.
Min. Assured 14% Returns at Maturity (2 years)
100% Principal Protection
Underlying Asset – Nifty 50 Index
Zero Downside Risk
Maturity – 31st Aug'25
Payoff – Linked to Nifty 50 Index Returns with Cap (max. returns) of 30%, and Floor (min. returns) of 14% at Maturity
Minimum Investment: Rs. 1 Lakh
This product gives you stock market returns on the upside while on the downside it gives you liquid fund returns. Let us break up this structure into bond + option
This product is equivalent to
A bond offering 14% in maturity
 A long Call option with a strike at 114% of the Initial Level
A short Call option with a strike at 130% of the Initial Level
Pros of MLD
Protection of principals at various market levels
Reduce overall portfolio risk and equity participation
Risk of MLD
The credit risk of the issuer needs to be analyzed.
Taxation is at the marginal rate, hence better to invest through a low tax burden account.
Incred Money Alternatives
Some of the popular alternatives to Incred Money- which offer similar offerings in the world of alternative investments are as follows:
Jiraaf
Wint Wealth
Grip Invest
Leaf Round
Apart from the ones listed above, there are several other online platforms that are dedicated to corporate/government bonds too which you can explore. You can check our comprehensive reviews below :
 Conclusion
 Incred Money offers multiple ways for Indian investors to grow their money. Being a part of the InCred group, they have a strong pedigree and access to finance expertise.  It is expected that the platform might launch alt-investing products of various types in days to come.
Whenever you decide to invest in any alternative investment product, do your homework, understand the product in depth & the associated risks, and make sure it fits your financial goals.
InCred Money could be a good choice for an alternative investment platform in India's ever-changing financial world where you can get access to multiple types of alternative investment products in a single place. So sign up and stay subscribed to know about upcoming alternative investment opportunities that they'll keep launching.