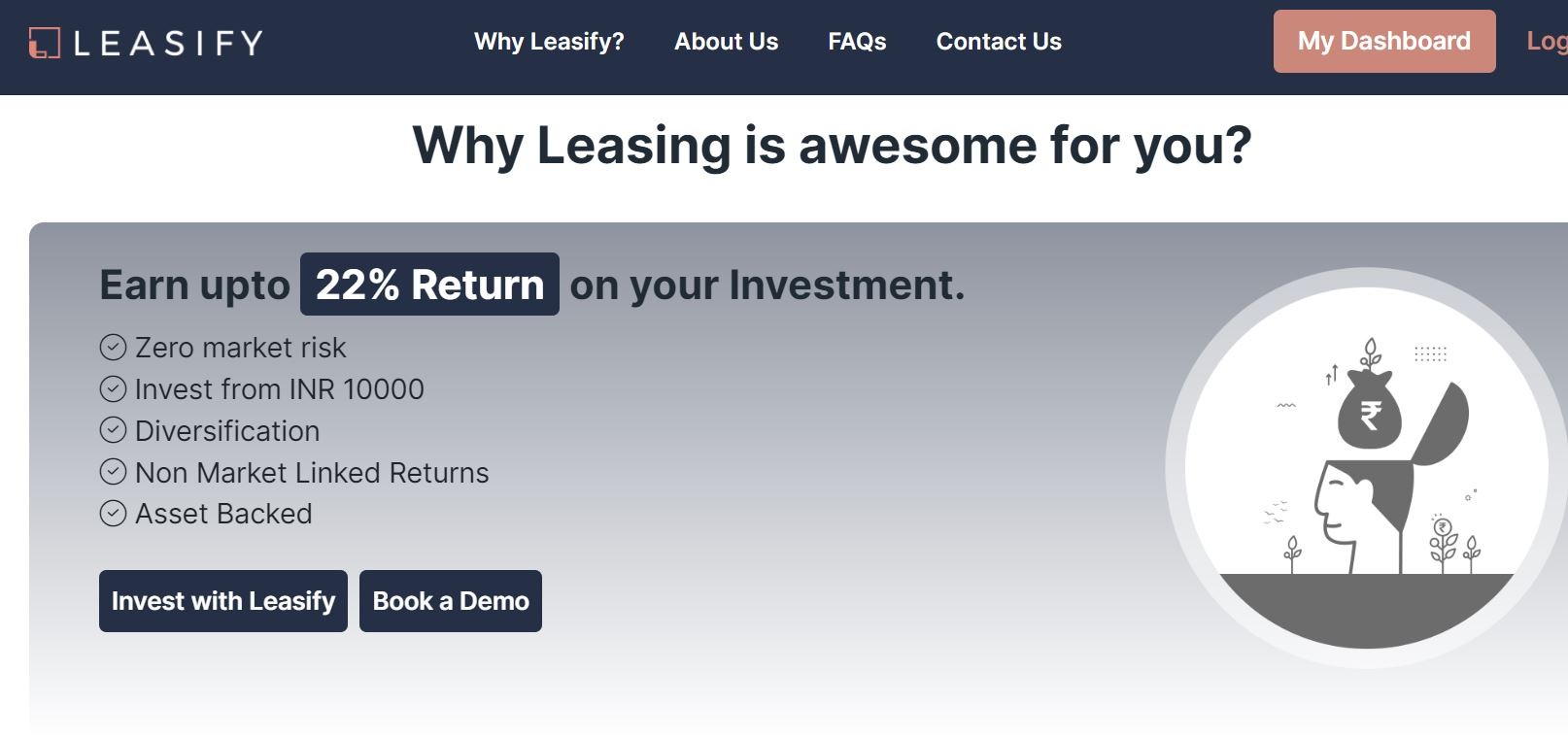 Leasify is a platform to lease assets to companies to avail high yields on your investments. Leasing assets has become a popular alternative to purchasing equipment, machinery, and other assets for the business. With increased leasing platforms, companies can quickly access purchases without investing upfront. In this post, we will review one of the leading leasing platforms in India- Leasify, exploring its products, how it works, and the alternatives of the platform.
What is Leasify?
Leasify is an alternative investment platform where investors can lease assets to various companies. It is a tech-driven asset leasing platform that provides capital to businesses through movable assets, such as heavy plants and machinery. It also offers Inventory Financing, Invoice Discounting, Tender Financing, and Venture Debt. 
What is Leasify's Business Model? 
The company requires assets to expand and run its business efficiently. These assets, such as plant or machinery, need enormous investments, and taking debt can weaken the company's balance sheet. So instead of buying those assets, Leasify rent them out to the businesses, and in exchange, the company pays lease rentals for the help on a monthly or quarterly basis, and the lessee purchases the assets at the end of the lease term; in this way, the investor could make a return of up to 18-24% IRR which is non- market linked.
How does Leasify Manage Risk?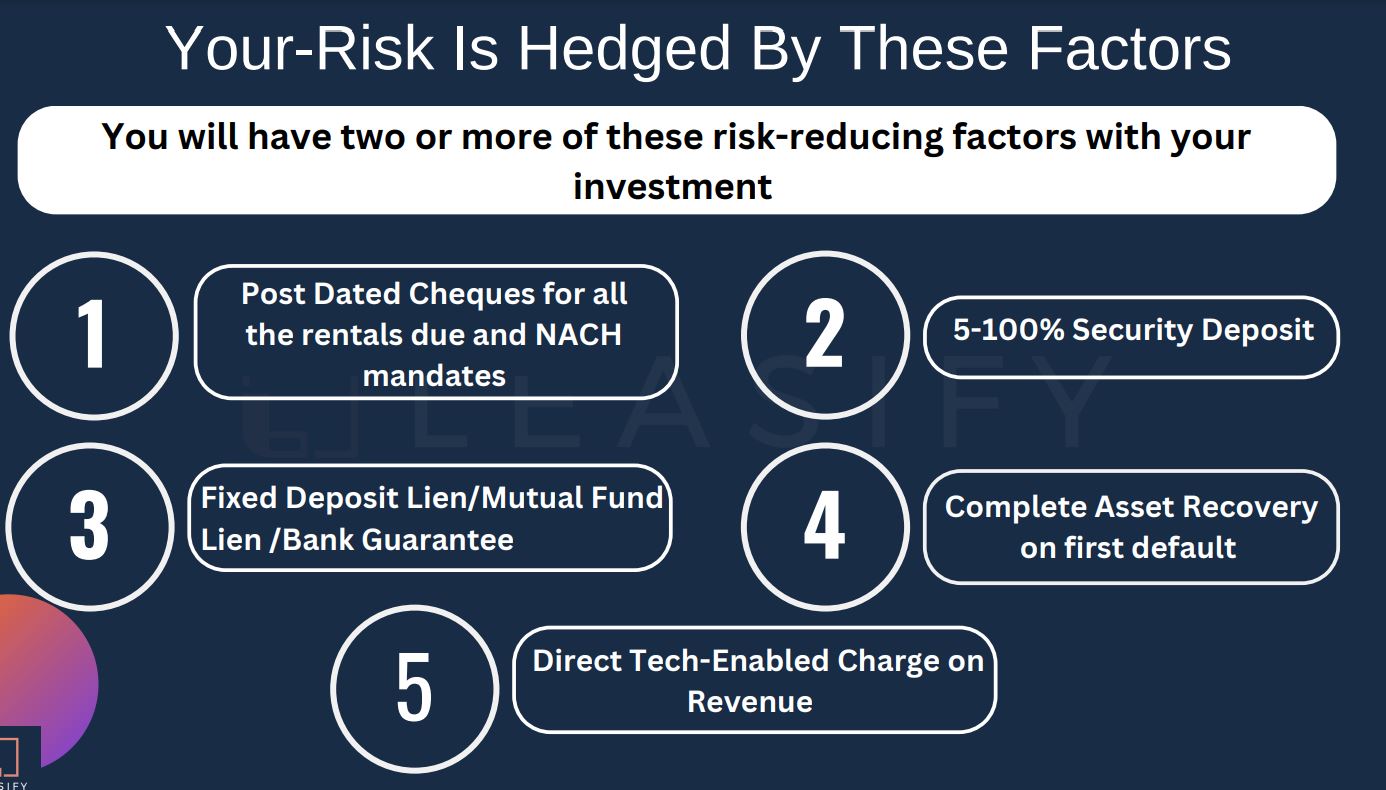 Some of the steps taken by Leasify to ensure the risk is controlled include
Post Dated Cheques for all the rentals due and NACH mandates
Taking  Security Deposit
Fixed Deposit Lien/Mutual Fund Lien /Bank Guarantee
Asset Recovery on any Defaults
Direct Charge on Revenue
Some of the features like charge on revenue are an additional security layer compared to other leasing platforms.
Leasify Due Diligence Process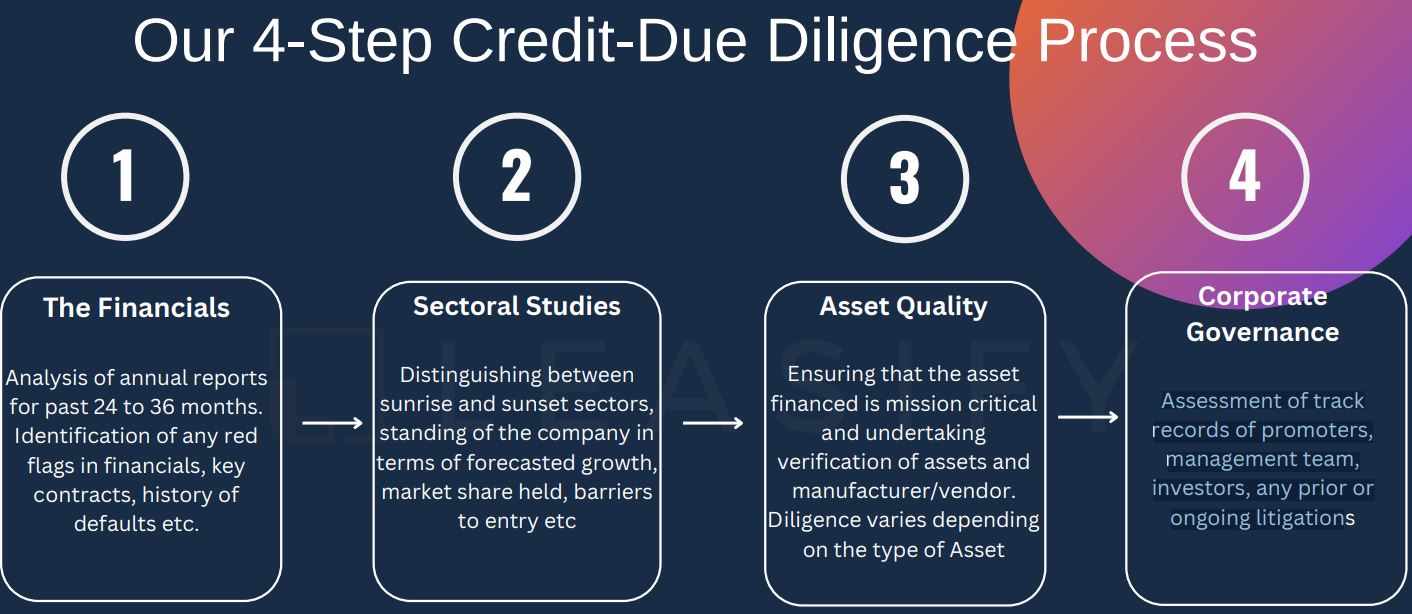 Leasify follows a four-pronged approach to leasing before listing a deal. The process followed by Leasify is as below
Analysis of the financial statements of the company to evaluate the performance
Research on the sector in which the company works to ensure no macroeconomic stress.
Asset quality evaluation which includes the performance, manufacturer, and vendor review.
Corporate Governance assessment to spot any red flags.
About  Leasify Founders
Leasify was founded by a team of experienced professionals in the financial and technology industries. Their collective expertise has helped them create a platform that meets the needs of businesses of all sizes. 
Akshat: Akshat is the CEO and Founder of the company. With more than eight years of experience, Akshat possesses expertise in finance, law, and compliance advisory and also in building business strategy, transaction structuring, and taxation advisory. He has previously worked at Getvantage as a Principal. He has also worked with Bank of America and Merrill Lynch, holds a degree in CA, CFA, LLB, and BCom, and is a certified NISM Research Analyst.
Deals Listed on Leasify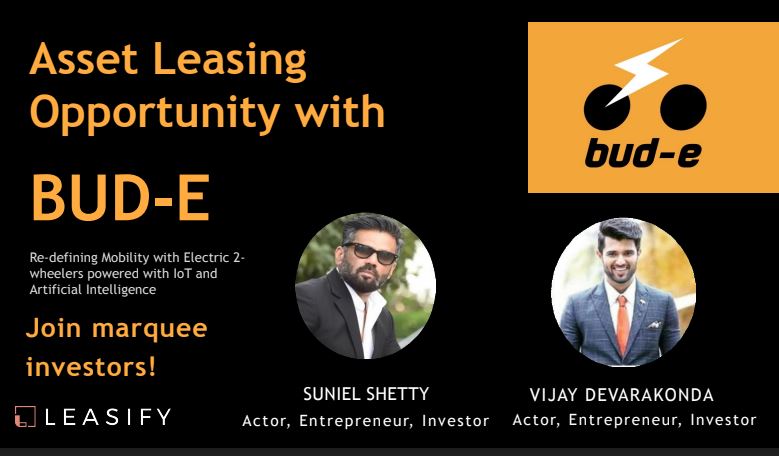 Some of the deals listed on Leasify include
It offers both Pre Tax and Post Tax returns as per investor specifications and the minimum investment starts as low as INR 20,000
Leasify Alternatives
Grip:

Grip Invest allows you to invest in leases, inventory, commercial real estate, or start-up equity. It enables the investor to support beyond traditional investments such as Bank Fixed Deposits (FDs), Gold, etc.

Leaf Round:

Leaf Round allows you to invest in tangible assets such as EVs, home appliances, furniture, and electronics that can be bought and put on the lease. Once you invest in these assets, you become the owner of the assets, and then you can quickly lease out these assets and earn rent from them monthly or quarterly.

Jiraaf:

The platform offers to invest in lease-based investment options and enables investing in invoice discounting, corporate debt, and other instruments.
Other Products Offered by Leasify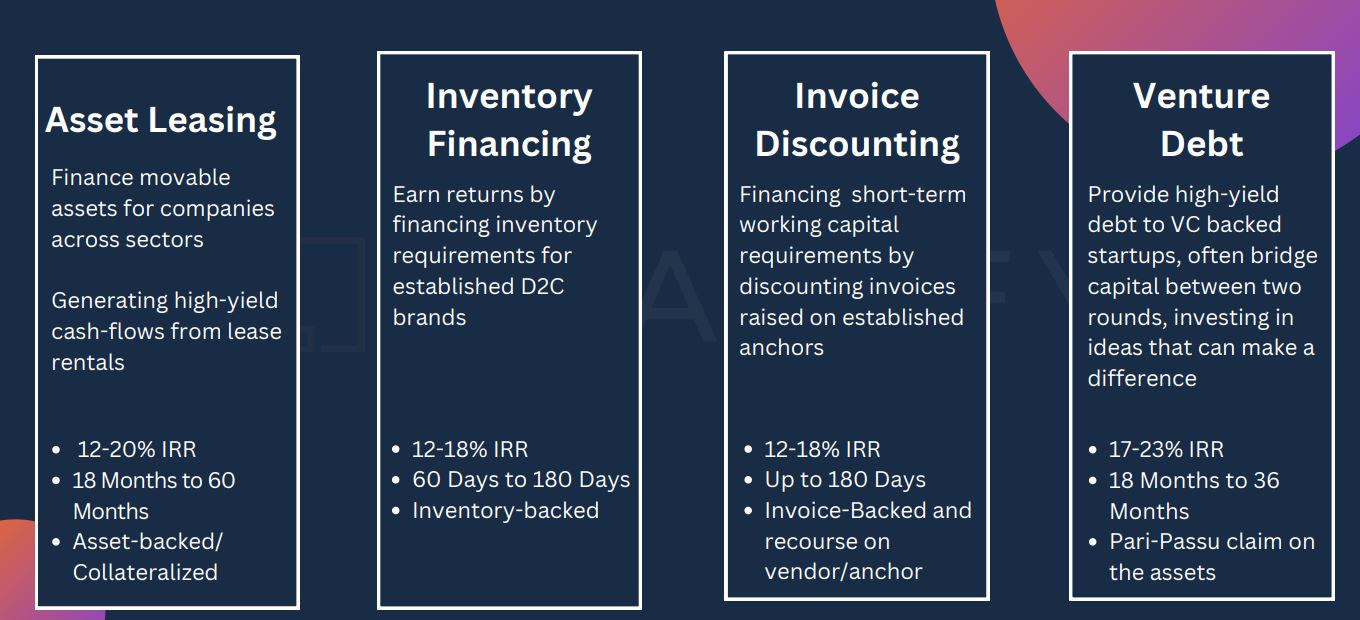 Inventory Financing:

Inventory financing allows companies to raise capital against these inventories. Large companies hold the inventory of raw materials and finished goods which block the company's capital. Leasify makes a pre-agreed schedule of sale, and as the companies sell their inventories, the investors get their fixed rate of returns. This way, the companies could scale their operations faster and keep them asset-light. Also, the investors could diversify their portfolio to non-market-linked options.

Invoice Discounting:

Companies often experience a shortage of working capital, mainly due to implementing standard practices. Invoice discounting helps the business to alleviate this pressure by offering interest rates of 10-15% per annum. However, before financing, leasify verifies the vendor and obtains a deep understating of the vendor's profile, such as checking the debtor's raging report, debtor distribution, repayment history, and other important factors. The clients are from various sectors except for real estate. Leasify also finances invoices raised on government and government-owned companies. 

Tender Financing:

Leasify also offers tender financing, a short-term loan to help businesses participate in bidding. The debtor repays the loan once they get the payment for the vendor won.

Venture Debt:

Leasify also offers finance to start-ups and emerging companies through loans, which help the startup expand their business, enter into new markets, hire additional staff or invest in new products or services. 
Why do companies choose Leasing over other Financing Options?
Leasing equipment provides many benefits to growing companies as it reduces their upfront costs, allowing them to allocate resources to other financial needs. Secondly, leasing lowers the risk of being stuck with outdated equipment, providing the company with greater flexibility for replacements and updates. Moreover, leasing is tax deductible, allowing companies to manage their finances better. It also reduces the requirement for disposing of outdated and potentially harmful equipment. Finally, leasing also allows companies to manage their equipment based on the demand cycle requirements, improving operational efficiency.
How to invest with Leasify?
Step 1: Schedule a call with Leasify to understand the platform better. You can review the financial performance, leasing terms, and expected returns for the deals available to invest.
Step 2: Once you complete the e- KYC, you can transfer the investment amount using the payment gateway.
Step 3: Read and digitally sign the investment documents, and once the asset is financed fully, you shall receive the payment depending on the deal or as specified in the statement. 
Conclusion
Leasify is an upcoming alternative platform focussed on leasing as an asset. In the last couple of years, leasing has become a part of many investor's portfolios. Leasify offers pretax returns which are more lucrative for investors in the lower tax bracket and can get up to 20-22% IRR. I will be participating in a couple of deals and observing the performance over the next few months and sharing my updates in the monthly review.
Frequently Asked Questions (FAQs)
Who can invest with Leasify?
An investor over the age of 18 years who has a valid Aadhar card and a PAN Card can invest with Leasify in their non-market linked options and earn up to 20% IRR.
Are the returns guaranteed with Leasify?
The returns are assets backed by leasing. The returns are covered by civil law and non-payment/ delayed payment by the lessee, which mitigates the risk of default, and the returns are covered by contractual obligations. 
What are the tax implications on the returns?
No tax or TDS is deducted by the LLP or Anahat Finserv LLP while transferring the income generated from the lease rentals.
What is the time horizon of the investment made with Leasify?
The time horizon of the investment varies from 90 days to 60 months and also depends on the investment type. 
How is an asset listed for lease on the platform?
Each potential lessee thoroughly evaluates their desired asset and lending period and verifies their finances, management, and the industry. Then, the contract is prepared before listing the options.