While we have mostly covered next-gen alternative investment platforms on our blog, a lot of investors still swear by traditional investment options like real estate. Investing in real estate can be a lucrative venture, offering the potential for long-term capital appreciation and even a steady cash flow. However, it does require research and a well-defined investment strategy to mitigate potential pitfalls.
The acquisition price of real estate is paramount in determining potential returns as it directly influences the property's overall investment performance, affecting both initial yield and future capital gains. We'll cover a specific way to invest in real estate assets for significantly lower than market prices and also introduce you to a platform that can help you with the same.
In this article, we'll first understand in brief what are repossessed properties and why it makes sense to invest in them. Further in this post, we will delve into what Hecta is, how it works, its features, the team behind it, and its funding, and conclude with a closer look at its impact.
What are repossessed properties?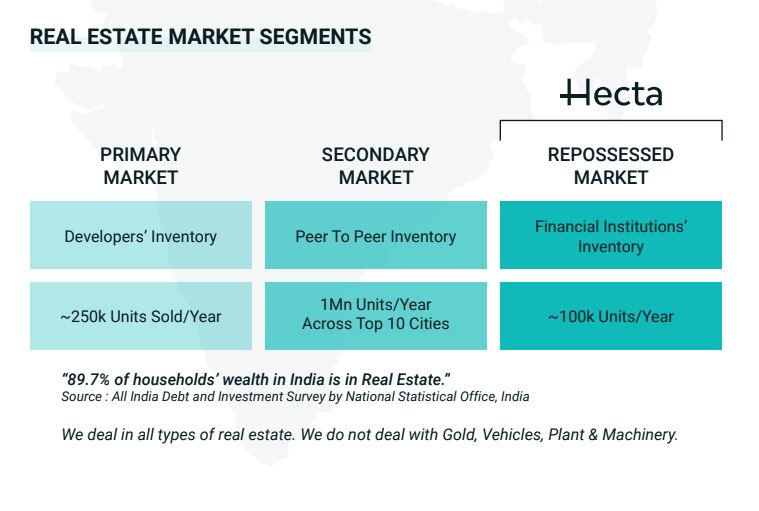 Repossessed properties, also known as distressed properties, refer to real estate assets that have been taken back by a lender or financial institution due to the borrower's failure to fulfill their mortgage or loan obligations. These properties typically become available for sale through auctions or other channels in an effort by the lender to recover the outstanding debt. 
Repossessed properties can include residential homes, commercial buildings, or land. Investors often view these properties as opportunities to acquire real estate at potentially discounted prices, although they may require thorough due diligence as they could have issues or be in varying states of condition.
Why invest in repossessed properties auctioned by banks and financial institutions?
Discounted Prices: Repossessed properties often come at a discounted rate, providing investors an entry point below market value.

Ready-to-Possess Advantage: Investors can capitalize on immediate possession, avoiding delays associated with construction projects.

Cash Flow Opportunities: Whether through rental income or resale, repossessed properties offer avenues for generating regular cash flow.

Reduced Brokerage Costs: The auction model minimizes the need for intermediaries, allowing investors to retain a larger share of returns.

Diverse Portfolio: Repossessed properties cover a spectrum of real estate types, enabling investors to build a diversified and resilient portfolio.
What is Hecta?
Hecta is a platform that focuses on repossessed or stressed properties, making them available through public auctions. These properties, often sold at a discount from their market price, become accessible to buyers seeking opportunities in the real estate market. Hecta positions itself as a comprehensive solution, tackling everything from property discovery to transaction enablement.
How it Works
The simplicity of Hecta's approach lies in its end-to-end solution. For Banks and Financial Institutions, onboarding with Hecta offers a chance to increase visibility in auctions, meeting regulatory guidelines set by the Reserve Bank of India (RBI) for stressed assets. The platform facilitates the entire process, including discovery, due diligence, lending, auctions, and transaction enablement through the power of technology.
For investors, it is very easy to identify properties and invest in real estate assets through Hecta. You just need to browse through various properties listed on its platform, browse through the details like price, seller, property details, etc, and raise a request on the website or the app. The representative will take you through the further steps.
How to get Started?
Signup on Hecta and fill in your basic details
Go through the properties. If you find an interesting property, click on I am interested
Add referral code RDIMES  in the referral contact number along with other details to get the best deal.
A representative will call you to discuss the property.
You can visit the property before making a decision to purchase.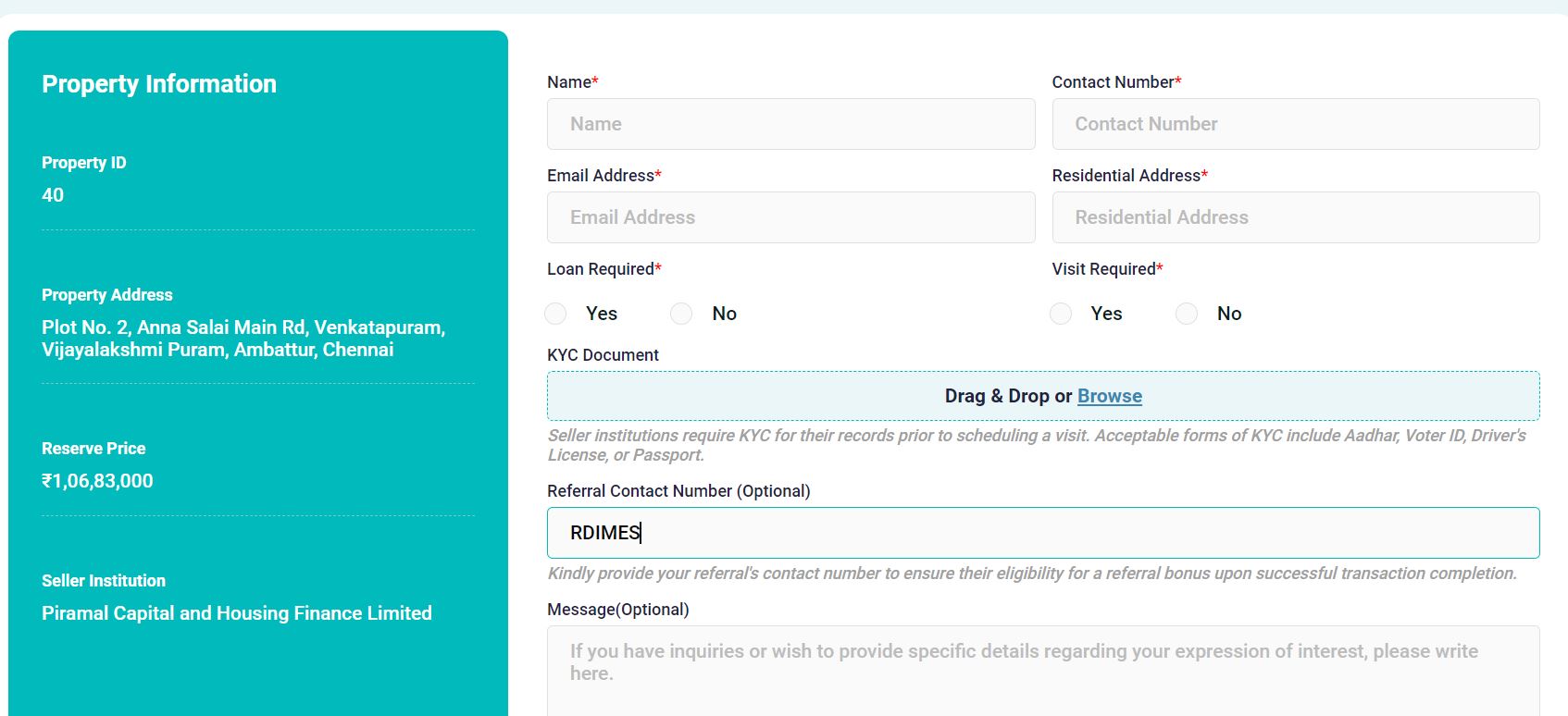 Hecta Features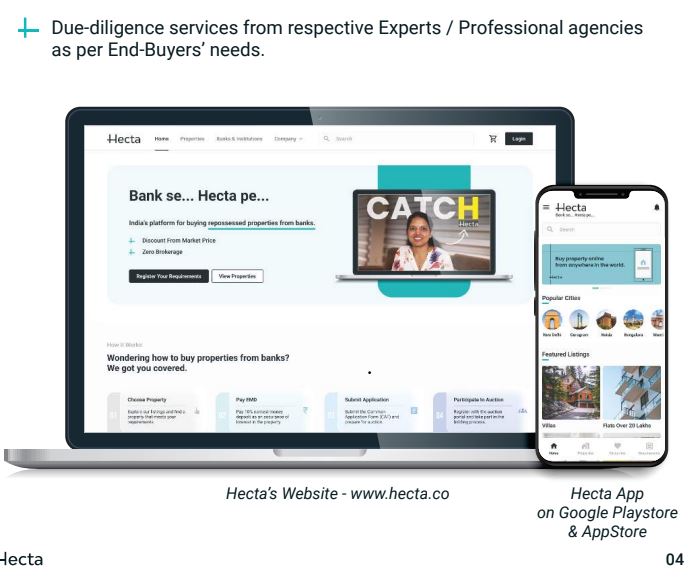 No Conflict with Auctions: Hecta stands out by providing only marketing services, ensuring no conflicts with auctions. This distinction allows the platform to focus solely on promoting properties without interfering with the auction process.
Free and Unlimited Listing: Listing properties on Hecta comes with no cost, and there's no limit to the number of properties that can be listed. This feature encourages Banks and Financial Institutions to showcase their inventory without worrying about additional expenses.
Buyer-Friendly Policies: Buyers benefit from a range of advantages, including discounted property prices, access to ready-to-possess properties, cashless transactions, and the absence of brokerage fees. Moreover, buyers can explore loan options, making the purchasing process more convenient.
Due-Diligence Services: Hecta provides due-diligence services for buyers, adding an extra layer of assurance and transparency to the purchasing process. This feature helps buyers make informed decisions, mitigating risks associated with property transactions.
Transaction-Based Seller Charges: Hecta adopts a fair approach by charging sellers based on successful transactions. This aligns the interests of the platform with the success of property deals, ensuring a win-win situation for all parties involved.
Hecta Team
Hecta is founded by Sridhar Samudrala in the year 2022. He was previously working with Tata Digital as the Chief Risk Officer and has worked with companies like EY and Paytm in his career. The entire Hecta team is full of experienced professionals in their own respective domains like tech, sales, operations, etc.
Hecta Funding
There does not seem to be public information available about funding rounds raised by Hecta since inception (if at all they have). We could find some data on Traxcn about 2 angel rounds raised in the months of August 2022 and December 2022. (Details) 
Hecta Alternatives
While there are no platforms that work specifically with repossessed properties, the following are a few other alternative investment platforms that work in the real estate sector.
Alyf-  Smart ownership- holiday home investment platform  (Link: Alyf Review)
Yieldwisex– Invest in pre-leased commercial properties
Conclusion
In the competitive landscape of real estate platforms, Hecta shines as a beacon of innovation and efficiency. It aims to simplify the process of increasing the discoverability of repossessed properties, thereby helping banks and financial institutes and yet at the same time helping investors get access to properties at potentially lower prices. The platform has a long way to go to improve its tech and user experience, however, the idea is promising with hardly any players in this segment. It will be interesting to see, how Hecta progresses further in the future.
Frequently Asked Questions (FAQs)
Q1: How does Hecta ensure transparency in property transactions?
A1: Hecta ensures transparency through its due diligence services for buyers. This service provides comprehensive information about the properties, empowering buyers to make well-informed decisions.
Q2: Is there a limit to the number of properties that can be listed on Hecta?
A2: No, there is no limit. Hecta offers free and unlimited property listings, encouraging Banks and Financial Institutions to showcase their inventory without any additional costs.
Q3: What sets Hecta apart from other real estate platforms?
A3: Hecta distinguishes itself by providing only marketing services, avoiding conflicts with auctions. Additionally, it charges sellers based on successful transactions, aligning its interests with the success of property deals.
Q4: How does Hecta contribute to economic growth?
A4: Hecta aspires to be an enabling ecosystem for Banks and Financial Institutions to resolve NPAs. By facilitating the sale of repossessed properties, it allows institutions to use the proceeds to improve the credit growth of the economy.
Q4: Can you share any Hecta reviews from customers?
A4: A quick search online yields quite a few Hecta reviews from happy customers. While the platform is quite new and hasnt had lot of traction as yet. Hence the number of reviews published online seems limited.
If you want to explore options beyond conventional investments  with 12-30% returns check the below list –