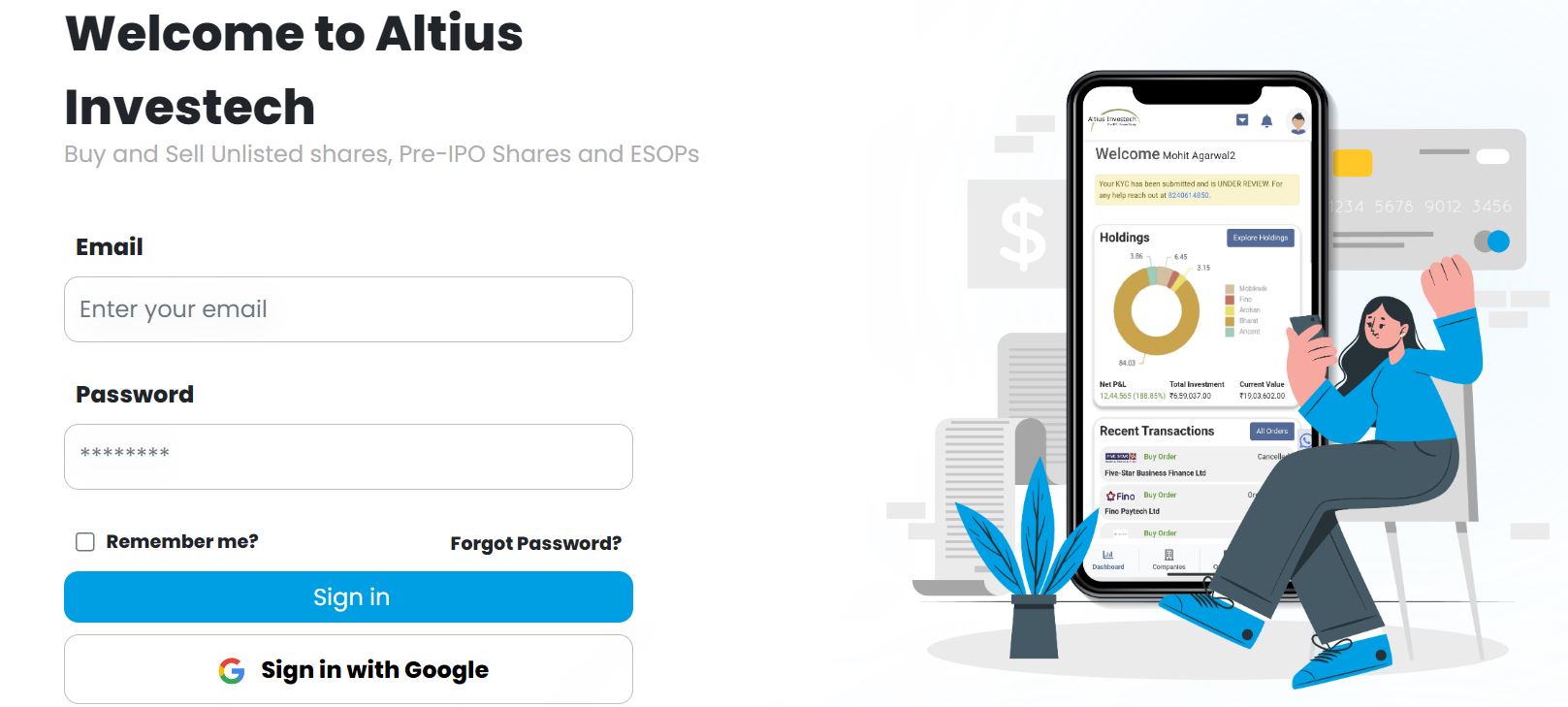 Altius is a platform that makes unlisted investments super easy. If you invest in the stock market, you may have heard about companies going public and coming up with their IPO. Investors apply the IPOs and expect quick returns in 5-6 days. However, along with IPOs, there is another market that allows investors to invest in companies before it launches their IPO. Share brokers manage pre-IPOs, and if you want to invest in a pre-IPO, you need to invest through a broker. The broker will inform you about the company currently accepting pre-IPO investments and the price of each share. In this blog, we will discuss a pre-IPO investment in detail. 
What is Altius Investech 
Altius is one of India's leading platforms that allows buying and selling of unlisted and pre-IPO investments. They have experienced management of over 20 years in financial services and are trusted by over 8,000 investors in more than 15 countries. The company has handled investments of over 300 Crore in pre-IPO space and provides end-to-end digital-enabled space investing. 
Why should you invest in Unlisted Shares in India through Altius?
Get access to investment opportunities before the broader market does:

Pre- IPO investments have solid business models and lower valuations than listed stocks of the same sector. And once a company's IPO is live, its valuation skyrockets since it has to compete with prominent players. You can grab this opportunity by buying unlisted shares. For instance, many stocks in the IT sector have a significant upside potential; before the company goes public, early investors can gain the most.

Diversification:

Investing in pre-IPO stocks is a great way to diversify your portfolio, as these are not correlated with the listed companies. It allows you to get a hold of a company at a fraction of its market value and can provide higher returns. In addition, unlisted shares in India are the least affected by stock market volatility. For example, the market crash of 2008 and the pandemic of 2020 does not impact these investments to a large extent. 

Discounted Price:

This is one of the significant pros of investing in pre-IPO shares. You can invest in fundamentally strong companies at a discounted price. Traders can sell these shares in the secondary market, and long-term investors can hold them long-term to create wealth. 
Features of Altius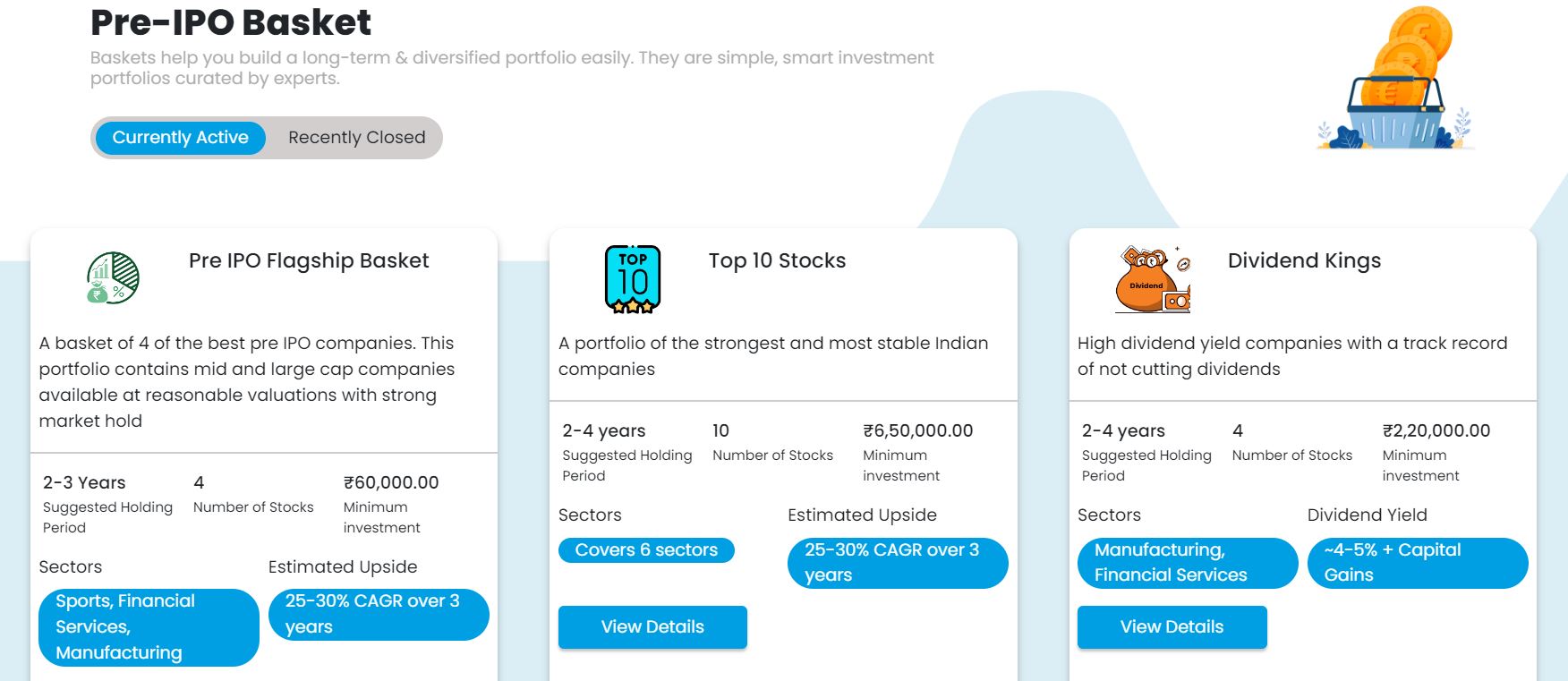 Invest in Unlisted Companies:

Altius allows you to invest in companies that are not listed on the stock exchange, and you can invest in companies with a good track record.  Altius provides a great opportunity to buy a basket of shares to create a diversified portfolio. A pre-IPO basket is a feature that allows buying baskets based on a theme.

Invest in Start-Up Investing

: With Altius, you can invest in new-age growth startups with a low investment amount and venture capital and private equity funds. 

ESOP Shareholders and Existing Investors:

You can diversify your holdings and get exits from ESOPs in startups with attractive market valuations. 
Altius Investech Reserach and Screening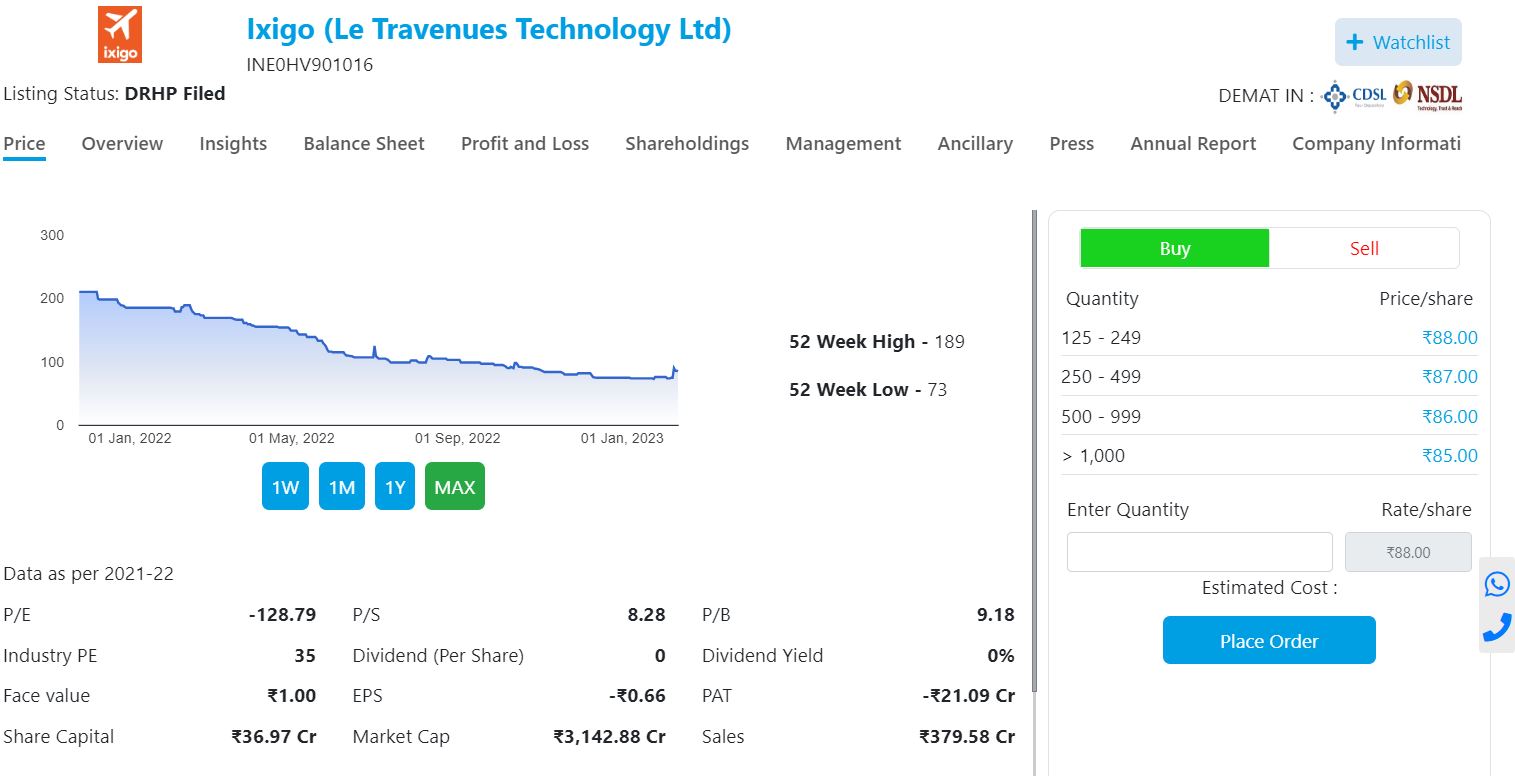 One of the best features of Altius Invetech is that it offers very detailed research of unlisted stock which includes financials and charts to decide the best offerings. Information provided by the platform are:
Daily Price chart
Annual Reports
Financial Ratios
News and Other information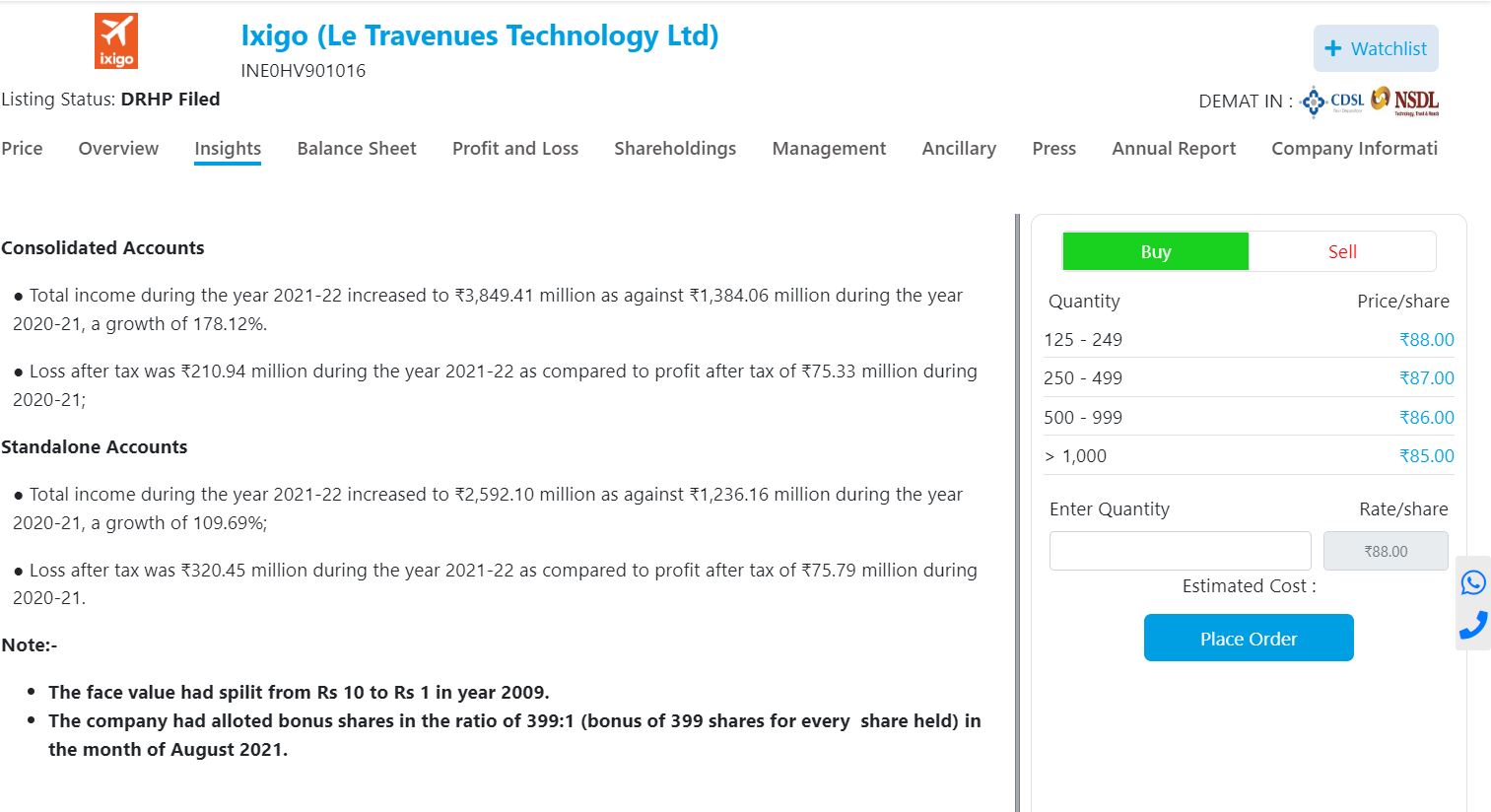 Altius Founders
Altius is founded by Sandip Ginodia and Abhishek Ginodia. They have a history of working in the Financial Services Industry,  skilled in Portfolio Management, Business Relationship Management, Financial Planning, Asset Management, and Equities . They have more than 25 years of experience in Equity markets, Insurance, and Mutual Funds. He has been in the Pre- IPO market for the last 15 years. The company was earlier called Abhishek Securities and was one of the first platforms in India to buy unlisted shares in India.
How does Altius work? 
Investing in pre-IPO investments is an easy process with Altius. Here are the steps involved: 
Step 1: Sign Up and Complete KYC- Create an account with Altius and complete the KYC process to verify your account.
Step 2: Place an Order- After opening the account, select a company you wish to invest in and the number of shares you want to purchase and place an order.
Step 3: Complete the Payment- Select the payment method of your choice and complete the payment.
Step 4: Your Trade will be executed- Once you make the payment, your trade will be executed within 24 hours and the shares will be transferred to your DEMAT account
Altius Alternatives
There are a few other platforms that offer unlisted shares in the Indian market .Some of the top platform are below
Unlisted Kart 

TradeUnlisted
What sets Altius apart is that it has a strong B2B connection which helps to offer the best quotes in the market. The screener provided by Altius Research is second to none!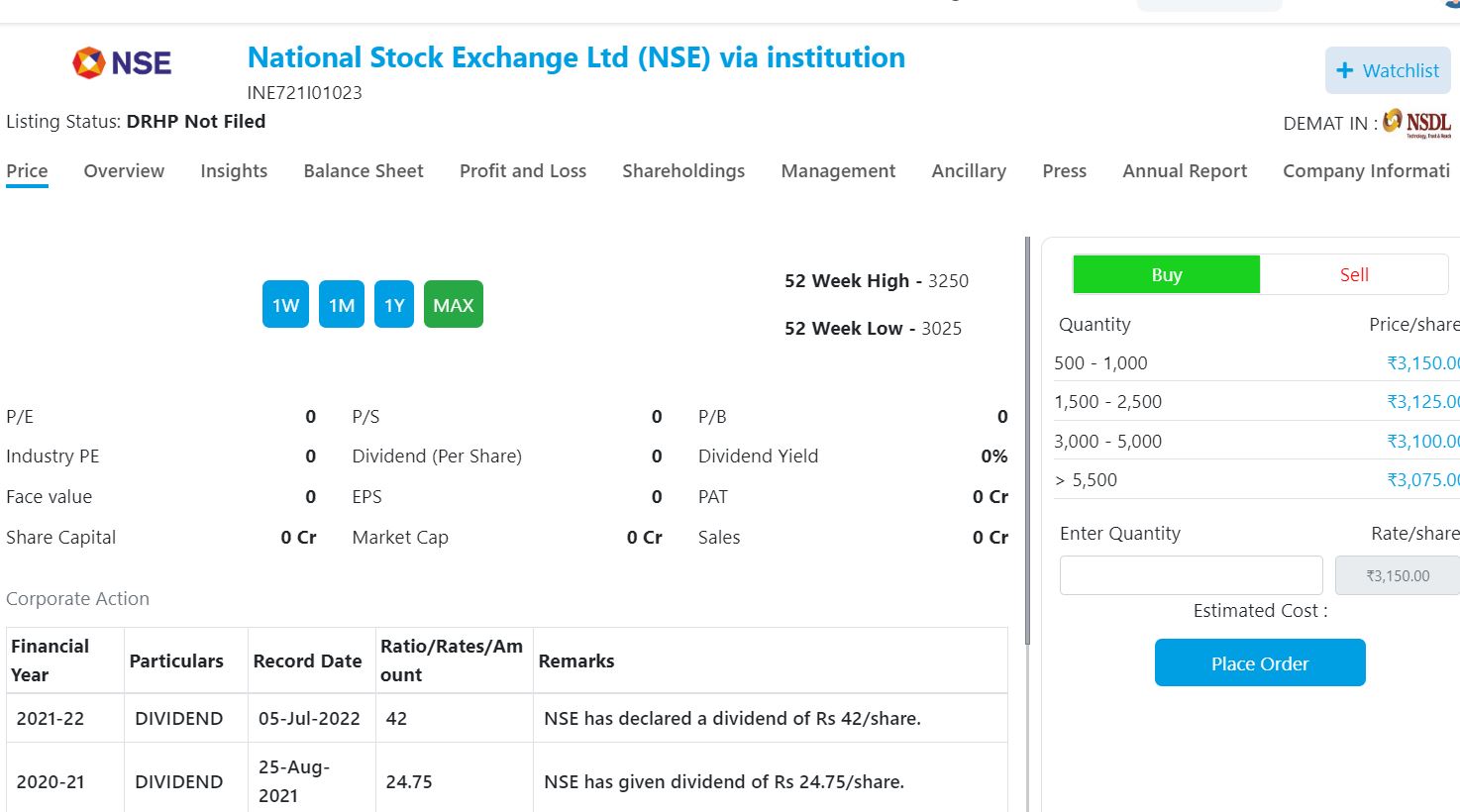 Altius also offers some alternative investments ,few of those are sourced from other platforms while some are unique to Altius
Unlisted Shares Capital Gain Tax Rate
Unlisted shares are traded in the over-the-counter (OTC) market and are not listed in official stock exchanges such as the Bombay Stock Exchange (BSE) or National Stock Exchange (NSE). The trading of unlisted shares takes place through brokers or direct sellers. Since these stocks are not traded in the stock exchange, no STT (Securities Transaction Tax) is levied, but the unlisted shares' capital gain taxes rate is different. 
The capital gain tax rate depends on whether the unlisted stocks are long-term or short-term. For example, if the unlisted stocks are kept for less than two years, then the capital gain tax is considered as short-term capital gains and are taxable at 30%; on the other hand, long-term gains are regarded if the stocks are held for more than two years and are taxable at 10% without indexation benefits (indexation is the benefit provided to increase the cost of the asset to give the effect of inflation).
Frequently Asked Questions (FAQs)
Is it profitable to invest in unlisted shares in India?
It has the potential to provide high returns on investments. Many IT sector stocks have considerable upside potential. So early investors get an opportunity to get better returns.
Is there any lock-in period for unlisted and pre-IPO investments?
The equity share capital owned by the company before launching its IPO must be locked as per the regulations for one year after the shares are allocated. 
Is buying unlisted shares legal? 
Trading of unlisted shares takes place in over-the-counter markets. It is not illegal, but it is not traded on the stock exchanges.
Can I sell pre-IPO stocks?
Yes, pre-IPO stocks can be sold through a brokerage firm, and you can sell your investments through primary and secondary markets both.
Can retail investors invest in pre-IPO?
Yes, retail investors can invest in pre-IPO. Earlier, only banks, hedge funds, and HNI were allowed to invest because of enormous investment size, but these days retail investors can also participate in unlisted shares. 
How do I report income from the sale of unlisted shares in ITR?
You must file ITR-2 and report income from the sale of unlisted shares of a domestic or a foreign company as capital gains. Long-term capital gains are taxed at 10% with our indexation benefits, while short-term capital gains are taxed at 30%. 
Can STT be paid on unlisted shares?
Securities Transaction Tax (STT) is the tax applied to trading listed shares on the stock exchanges. That's why STT does not apply to unlisted shares. But when a company launches its Initial Public Offering (IPO), STT is charged on the unlisted shares.