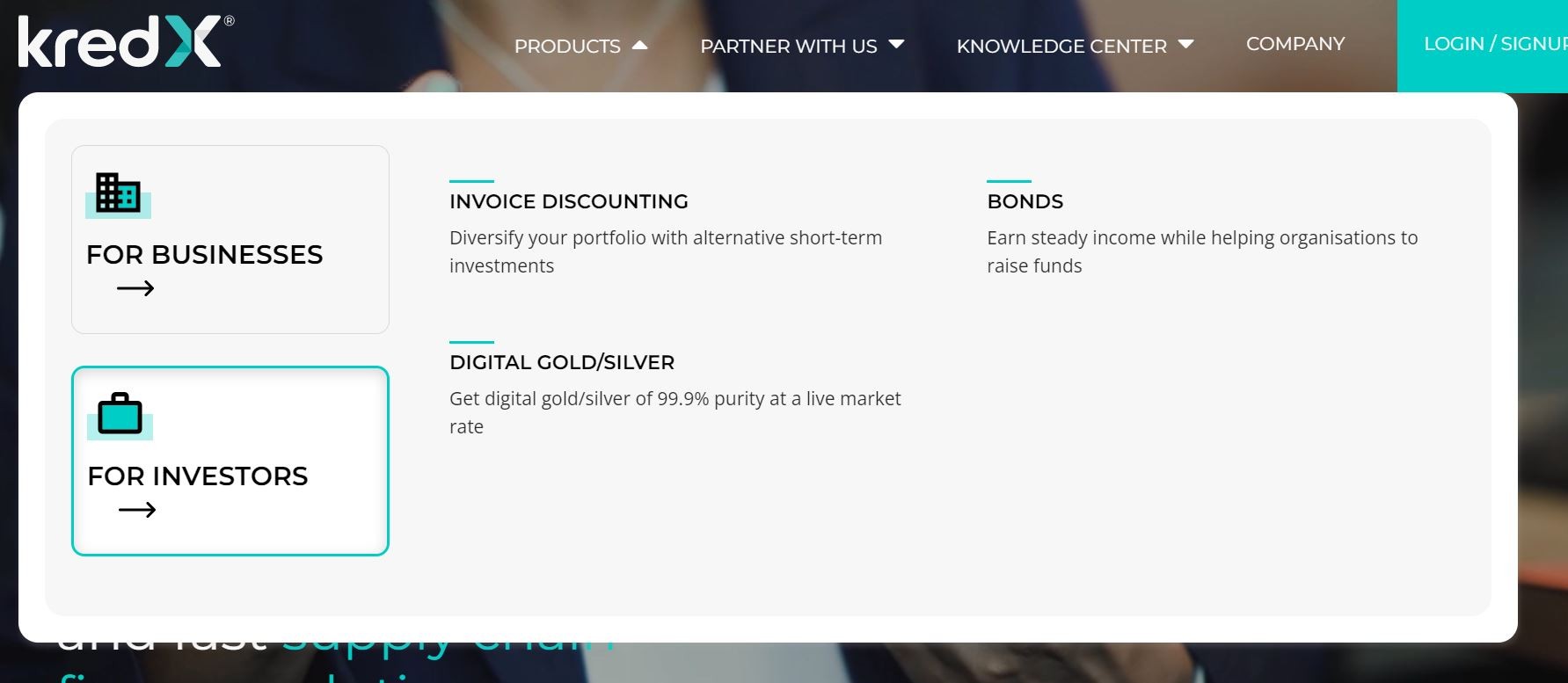 With increasing awareness among Indians for alternative assets, a lot of platforms have been coming up in recent times- many offering unique alternative asset investing. A while ago, when alternative investing was not so popular, there were still quite a few platforms offering such services.
One of the oldest such platforms in India is KredX launched in the year 2015. Since then the company has gone through a rebranding exercise with a new logo and new offerings for investors and businesses. In this KredX Review, let us understand their offerings in detail and evaluate the platform to know whether it is worth investing in?
What is KredX?
KredX terms itself as a supply chain financing solution provider. For companies and small businesses, it provides financing and cash flow management including Buy Now Pay Later (BNPL Service) for B2B payments, invoice discounting, import-export financing, etc. They have very recently launched KredX Cashback Card in partnership with ICICI Bank for vendor payments which gives cashback/rewards on vendor payments.
KredX started in the year 2015 and has been adding quite a few products for both investors and businesses over the years. KredX team comprises founders & team members with years of experience in banking, financing, etc. KredX backers include Sequoia, Tiger Global, and Prime Venture Partners.
KredX Offerings for Investors
Current offerings from KredX for investors are primarily three at the moment, which are as follows-
1. Invoice Discounting
2. Digital Gold/Silver
3. Bonds
Let us know to understand these offerings in detail.
KredX Invoice Discounting
KredX has been one of the first platforms in India to offer invoice discounting to retail investors. In invoice discounting, you fund a business's unpaid invoices at a discounted rate, thus providing immediate liquidity.
KredX acts as a platform for businesses and investors to sell/purchase invoices raised on blue-chip companies. The duration of invoices is on average around 30-90 days and investors willing to park their money for the short term can fund these invoices making attractive returns with considering minimal risks. All invoices listed on KredX are verified before being listed on the platform. You can make up to 15% returns by investing in invoice discounting with KredX.
KredX Digital Gold and Digital Silver
KredX also provides a platform where you buy and sell digital gold and silver of 99.9% purity. The prices are live market rates and there is full transparency. You can even buy digital gold and request physical delivery of your gold.
Digital Gold & Silver facility is offered by KredX in partnership with Augmont. While KredX acts as a marketplace or platform, all sale/purchase, and physical bullion delivery are handled by Augmont. While there are many such platforms in India offering digital gold/silver trading platforms (Augmont itself provides the service directly through their app), it makes sense to use this platform if you want to avail other offerings like bonds and invoice discounting under a single roof.
KredX Bonds
In this service, you can invest in bonds of different companies and organizations through KredX. You get a dedicated relationship manager who will be in touch with you for facilitating investments in bonds. Bonds offer higher returns than traditional options like FDs and saving bank accounts with lower risk.
KredX Alternatives
Since KredX offerings for investors are basically divided into 3 products, there are alternatives for each of them. I have reviewed the alternatives also separately on this blog.
Invoice Discounting Alternatives
● Tradecred
● Jiraaf
Digital Gold/Silver Alternatives
(Most of them offer only physical gold with Augmont offering both silver & gold)
● Augmont
● Kuvera
● Paytm/Phonepe/Amazon Gold Vault
● India Gold
Bonds
● Goldenpi
● India Bonds
KredX vs Tradecred- Best Invoice Discounting Platform in India
Since KredX's main service at the time of launch was invoice/bill discounting and there are only a few invoices or bill discounting platforms in India, I thought of adding a separate section in this post.
Tradecred is a dedicated platform for invoice discounting and has been operational for around 4-5 years. There is a constant flow of invoices which is well received by investors as well. KredX was one of the pioneers of bill discounting in India and has since then diversified into multiple products for both businesses and investors. While defaults have been near zero on Tradecred (as far as my knowledge and experience goes- read my 3 years of experience as an investor in Tradecred), there have been a few negative incidences on KredX in 2019. A quick search on Google would lead you to more details. I have tried to highlight a few details known to me in the next section below.
There is also a new promising platform Jiraaf which lists alternative investment opportunities of multiple types including invoice discounting. I have recently started investing with them and the experience has been amazing. Read my detailed Jiraaf review for more details.
However, at the same time, it is important to note that, invoice discounting as an asset class has an element of risk attached to it inherently- irrespective of the platform used. Do your due diligence properly for individual invoices you invest in and diversify across multiple invoices to minimize risk.
Past Issues with KredX
In 2019 there was some delay in invoices for a few of the enterprises  namely
Future Enterprise
Cox and King
To my knowledge, people have started receiving some of the principal back in parts recently for Future Investments. However, it would be unfair to paint all deals on the platform with the same brush. Defaults can impact any platform and Investors needs to do their due diligence. Both these entities were heavily indebted and were risky bets to start with.
Most of the invoices on the platform have been paid in time and the platform has improved its listing process however it is very important that investors do not solely rely on the platform's risk rating
My Experience with KredX
I have used KredX since 2018 and have invested in multiple deals till now without any default.I use Kredx along with Jiraaf and Tradecred for investing in invoice discounting. The reason is that it provides different enterprises which are not available on other platforms. It helps to diversify my risk and gives me more variety and options to invest in. I might consider investing in bonds and digital gold in the future. Some of the deals I invested in recently are:
Bizongo (Smartpaddle)
Saveo Healthtech
Conclusion
I have tried to cover in-depth about the platform in this Kredx Review. I hope you would have got all the relevant information. As mentioned earlier, any alternative investment option comes with risk elements attached to it. Diversify well across multiple deals and assets and align with safe instruments to increase overall returns on your portfolio.