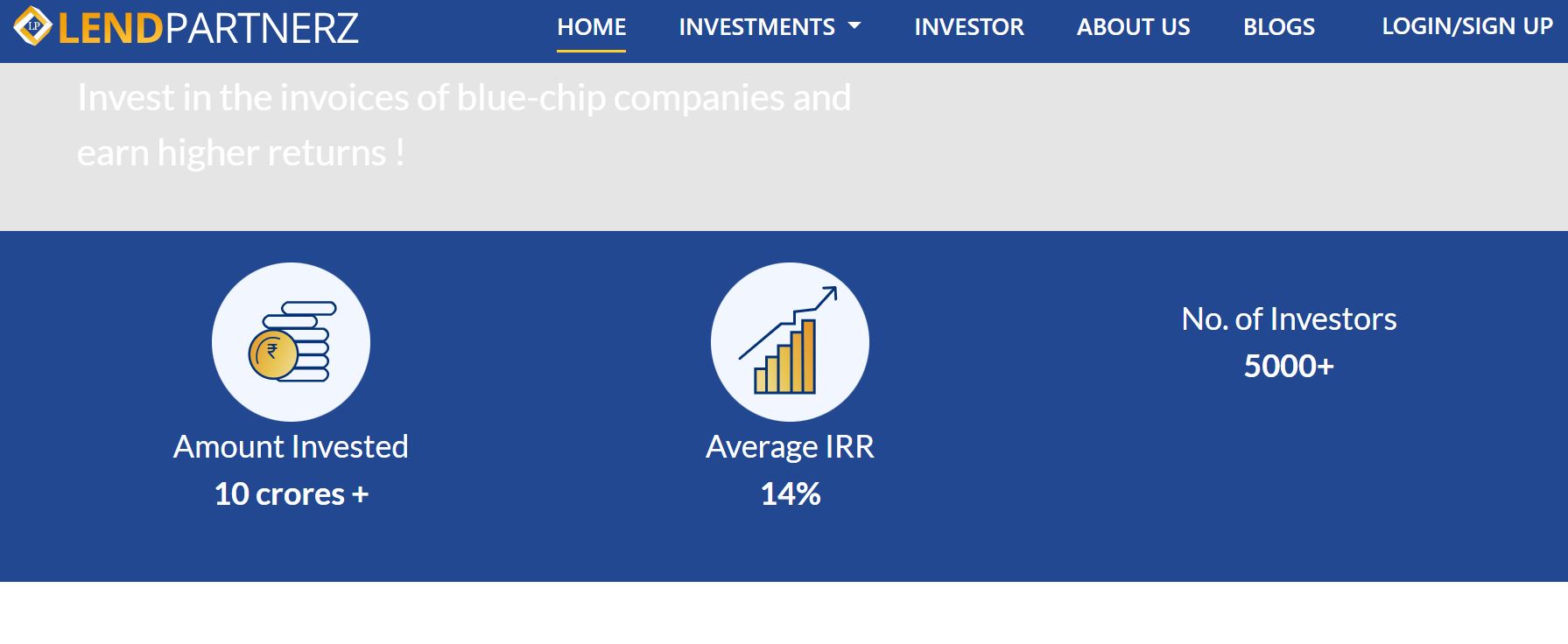 In recent months, India has witnessed rapid growth in alternative investment platforms, revolutionizing the investment landscape of the country. These platforms, powered by technology and fueled by changing investor preferences- predominantly the need for diversification & higher than average returns, have provided individuals with access to a diverse range of investment opportunities beyond traditional options like stocks and bonds.
In this article, we review Lend Partnerz, which is predominantly an invoice discounting platform. Learn details about its offerings, expected returns, the background of the company and founders, and the pros and cons. Before we evaluate the platform, for the sake of new investors, let us first understand invoice discounting alternative investment channels and their benefits in brief.
What is invoice discounting?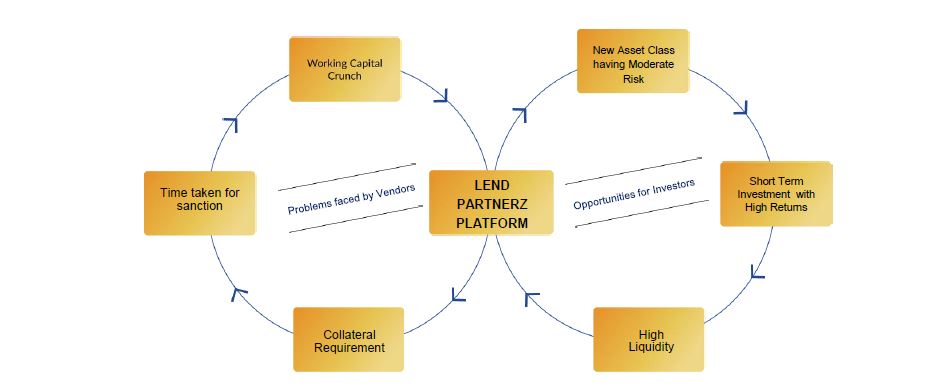 Invoice discounting is a strategy used by vendors to secure working capital by leveraging unpaid invoices, enabling them to sustain their operations. To meet their financial needs, vendors may choose to "discount" their invoices, making them more appealing to potential investors. Hence, the term "invoice discounting" is derived from this practice.
A vendor may choose to discount their invoice raised on the bluechip company with a payment duration of 30 days by 2% to secure the money in hand immediately. The blue-chip company then pays back the full amount payable making the invoice discounting investor a cool 2% profit over the investment/invoice payment duration.
Why invest in invoice discounting?
There are several compelling reasons to consider investing in invoice discounting:
Stable and predictable returns: Invoice discounting offers a reliable investment opportunity with predictable returns. As an investor, you purchase invoices at a discounted rate and earn interest or fees when the invoices are repaid. This steady cash flow can provide a consistent income stream.

Lower risk compared to other investments: Invoice discounting is often considered a lower-risk investment compared to other options such as stocks or real estate. Since invoices represent money owed by reputable businesses, there is a reduced risk of default compared to other types of loans.

Short investment cycles: Invoice discounting typically involves short-term financing, with invoice repayment periods ranging from a few weeks to a few months. This allows for quicker turnaround times and the opportunity to reinvest funds more frequently, potentially maximizing your returns.

Diversification of investment portfolio: Investing in invoice discounting can be an effective way to diversify your investment portfolio. By adding this alternative asset class, you can reduce the overall risk of your portfolio and potentially achieve a more balanced and stable return profile.
While invoice discounting can offer enticing benefits, it's essential to conduct thorough research, evaluate specific investment opportunities, and consider potential risks before making any investment decisions.
What is Lend Partnerz?
Lend Partnerz is predominantly an invoice discounting platform that helps investors invest their money into discounting of invoices and earn handsome returns of around 15-18%. They claim to use AI and ML to verify and check the background and repayment capability of vendors who list invoices for discounts on their platform.
The core team of Lend Partnerz includes Shashank Lunkad, Mohit Kokil & Kshitij Lunkad who are the CEO, CTO & legal adviser respectively. All of them have years of experience in finance & their respective domains. The team has the backing of several entrepreneurs, and banking & finance experts as their advisors. Let us now see how it works.
How does it work?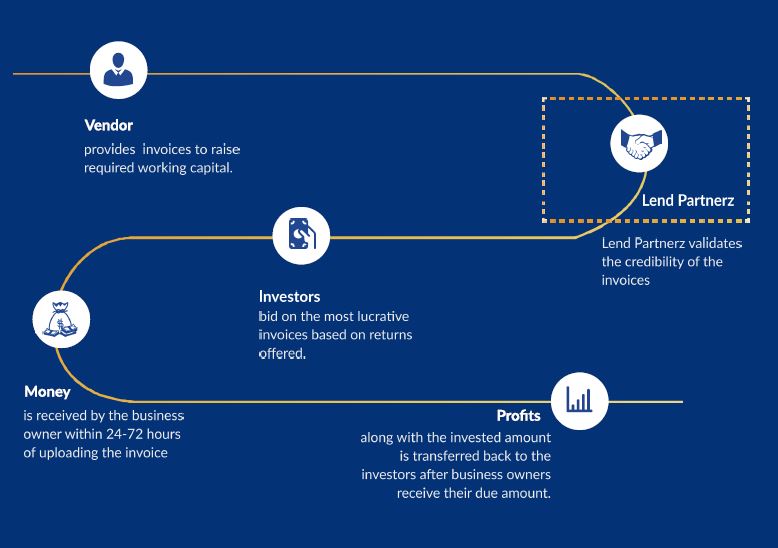 Businesses provide goods or services to their customers and issue invoices with payment terms. They choose to get these invoices discounted through Lend Partnerz to get immediate funds (albeit at a small discount/fee) 

As an investor, you come in and offer to buy these unpaid invoices from the business at a lower price than their face value. This discount acts as your investment return.

The business, in need of immediate cash flow, agrees to sell the invoices to you at a discounted rate.

You provide the business with the funds upfront, based on the agreed-upon discounted value of the invoices.

When the party pays the invoice, the payment is made directly to the business, not to you as the investor.

The business then repays you the amount you initially advanced, plus the agreed-upon discount (your return).
In summary, as an investor in invoice discounting, you offer upfront funds to businesses in exchange for purchasing their unpaid invoices at a discounted rate. Once the invoices are paid, the business repays you the initial amount you provided, along with your return in the form of a discount.
Lend Partnerz Founders
Lend Parnterz has a team of 10+ people with Shashank Lunkad being the CEO who has 10+ years of experience in financial services. The company is backed by angel investors as of now.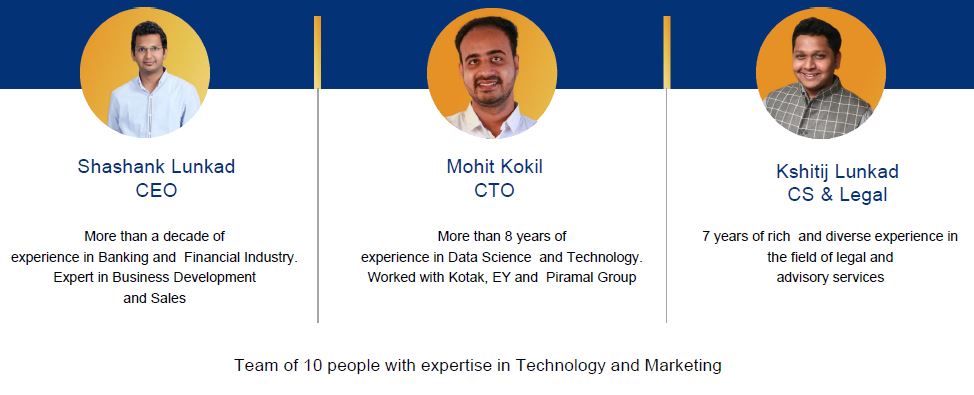 Frequently asked questions about Lend Partnerz
#1 What is the minimum investment in invoice discounting at Lend Partnerz
The minimum amount of investment for invoice discounting at Lend Partnerz is Rs. 1 Lakh.
#2 What is the tenure of invoices on Lend Partnerz
The tenure of invoices on Lend Partnerz ranges from 30 days and may go up to 90 days for most invoices.
#3 What happens if Lend Partnerz goes out of business?
Lend Partnerz, in partnership with their affiliated bank, has established dedicated escrow accounts for each member, facilitating secure fund transfers. All monetary transactions are conducted exclusively through these escrow accounts. In the event of Lend Partnerz undergoing liquidation due to financial or legal circumstances, the funds held in the members' escrow accounts will be promptly returned to the respective owners. It is important to note that the funds involved in the process will not be transferred to Lend Partnerz's own account at any stage, except for service fees, government taxes, and similar obligations.
#4 What returns can I expect at Lend Partnerz?
The returns for invoice discounting at Lend Partnerz can range up to 15-18% per annum.
Lend Partnerz Alternatives
There are several players in the alternative investment space which deal with invoice discounting. Some of them have been in the market for more than 4-5 years and are quite popular. Listing some of them below. We have published detailed reviews for all of them and have been invested with most platforms since their inception.
Conclusion
In conclusion, Lend Partnerz emerges as a promising invoice discounting platform, among other popular invoice discounting platforms. Though somewhat not so popular online compared to its competitors like Tradecred and Jiraaf, it does offer a compelling proposition for those seeking to diversify their portfolios across multiple platforms. Furthermore, Lend Partnerz may soon be launching real estate financing which will act as another alternative investment option within the platform for investors. All in all, it does make sense to register on this platform in case you want to diversify your invoice discounting portfolio & investments across platforms and companies. However as it is a new investment for us, we will monitor the performance before adding more capital