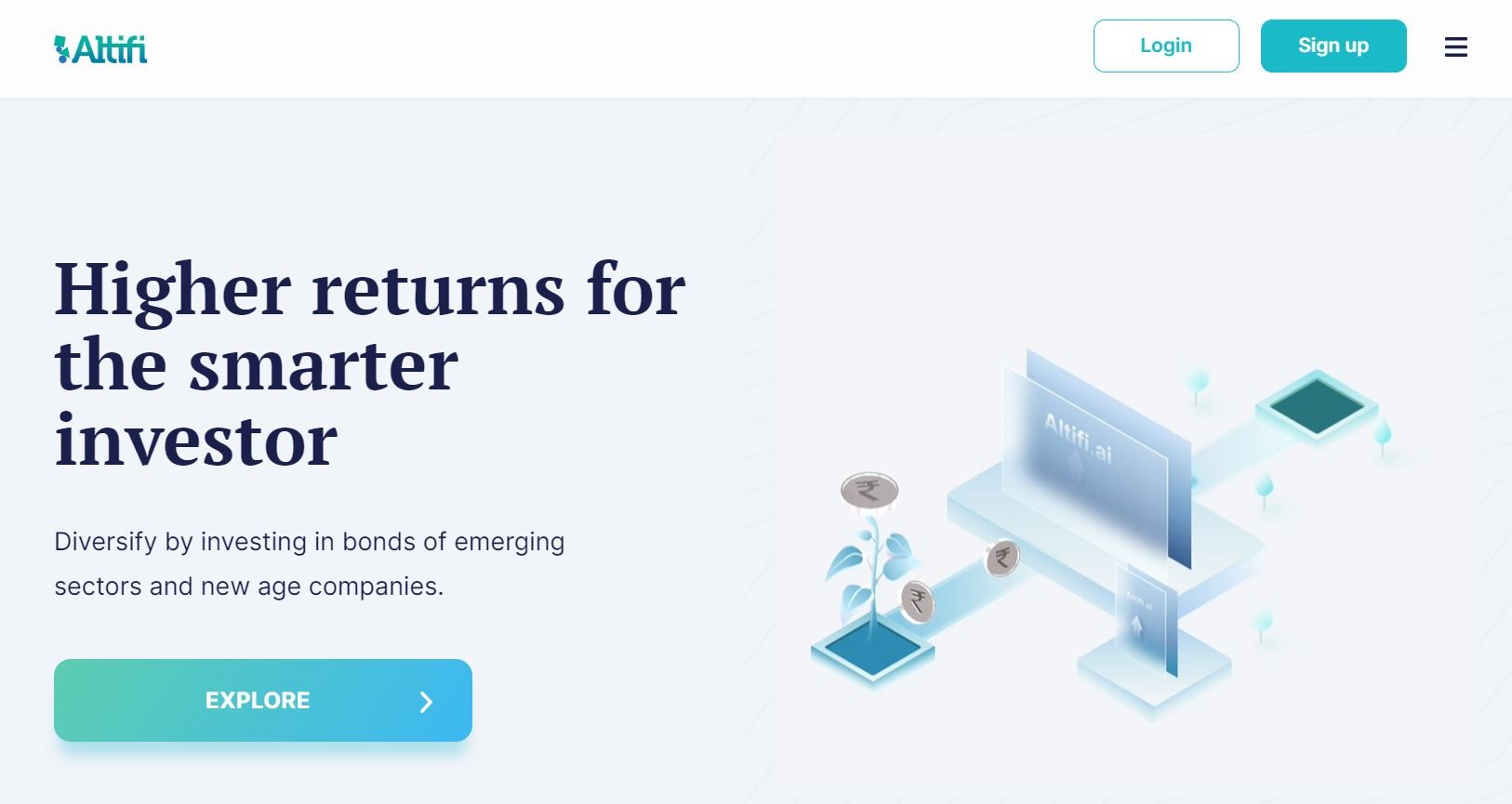 With reducing interest rates on fixed deposits and even equity market returns narrowing down in recent times, investors have started looking for greener pastures in the form of alternative investments. One such attractive asset class, which has started gaining a lot of investor interest these days is corporate bonds. They offer higher returns than fixed deposits, are available for tenures ranging from a few months to years, and have a decent risk profile- depending on the company which issues the bonds.
In this article, we will evaluate a platform called Altifi which lists bonds and commercial papers of emerging companies in various sectors. In this Altifi review, let us evaluate all parameters and understand how it compares with other similar platforms available in India like Goldenpi and WintWealth.
What is AltiFi?

AltiFi is a new-age investment platform that enables retail investors to invest in fixed-income securities. It offers these securities that were so far available only to institutional investors, retail investors, affluent individuals, and HNIs. Altifi is a platform that lists bonds and commercial papers of emerging companies in various sectors that institutions, HNIs, and retail investors can buy. It is a part of Northern Arc Capital which is a reputed institution in the field of financing, syndication & structuring, and fund management.
Altifi has some similarities to other platforms in India like Bondkart and Goldenpi where individuals can buy bonds. However, Altfi is not a pure place marketplace, because it lists only those bonds which are subscribed by its parent company. Northern Arc. Altifi focuses on bonds that are issued by companies having strong credit and which the parent company Northern Arc has comfort in underwriting.
The Yield of bonds ranges from 8-13%. Apart from the bonds, tax-efficient structures like MLD are also prevalent.
Altifi- Northern Arc Group
Altifi is a part of the Northern Arc group. Northern Arc is one of India's leading diversified NBFCs, set up in the year 2008, to enable access to finance for the underserved in an efficient, scalable and reliable manner. To date, it has completed over 1 lakh crore of funding for low-income households and small businesses.
Northern Arc, has been in the business of enabling debt capital for small & mid-sized financial institutions as well as emerging corporates for over a decade now. It has thus far enabled over 1.2 lakh crore of funding for these entities (over 400 of them) from over 500 reputed institutional investors. These investors cut across segments – Banks (Private, foreign, public), Mutual Funds, Development Finance Institutions (ADB, US DFC, JICA, FMO, CDC, Blue Orchard, etc.), Wealth firms, Insurance companies, etc. One of the key reasons these investors choose to work with us is our diligence framework, both at the onboarding stage as well as on an ongoing basis.
Northern Arc employs a unique on-the-field risk monitoring approach, besides the typical corporate governance, financial, and portfolio diligence that most investors/ lenders do. We have a specific team that goes to the field including remote branches to visit branches and end customers. This, in conjunction with regular portfolio data across all transactions structured & invested by us, helps us detect stress earlier compared to many others.
It has a strong backing of SMBC (14th largest bank in the world and second largest in Japan), LeapFrog and Accion (globally reputed PE firms), Eight Roads (part of Fidelity Investments), Affirma Capital (earlier Standard Chartered PE), IIFL and Dvara Trust.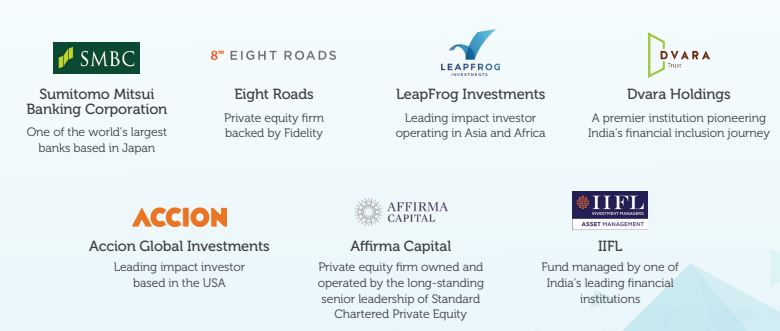 How does it work?
Once registered on Altifi, you need to provide your Demat account details which include either NSDL or CDSL . The KYC approval process is fast and within 24 hours you are eligible to buy bonds. You can use net banking or UPI to purchase bond units which will reflect in your demat account within 2 days.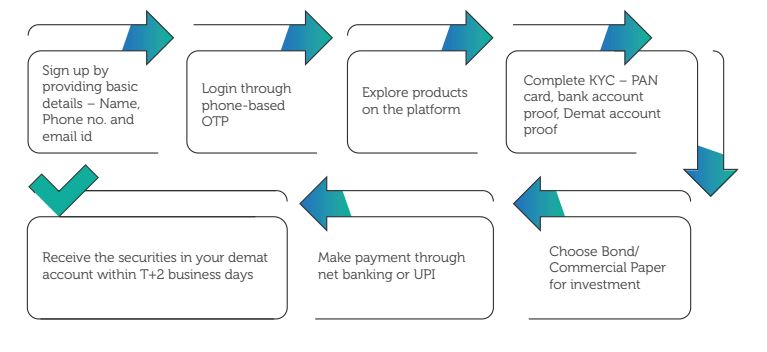 Is Altifi Safe?
One of the salient features of the platform is that all issuances on the platform are underwritten by Northern Arc. The NBFC also invests in the listed products.
 How Northern arc has skin in the game
All securities are first taken on Northern Arc's balance sheet and then sold down. While there is no mandatory minimum retention, they invariably tend to hold on to most securities (or) would at least have exposure to other securities of the same issuer, ensuring a high level of incentive alignment.
As a business segment, AltiFi works in conjunction with other teams of Northern Arc. This helps us utilize the capabilities across product sourcing, diligence, underwriting, structuring, risk monitoring, and technology. Northern Arc currently has over 300 employees.
Current Deals on Altifi
There are many deals live on the platform with an attractive yield.  Some of the bonds are in the form of MLD (Market Linked Debentures) which are taxed liked equity investments.
| | | | | |
| --- | --- | --- | --- | --- |
| Name of the Issuer | Product | Credit Rating | Yields (XIRR)% | Residual tenor |
| Svatantra Microfin | NCD | A+ | 9.80% | 7 months |
| Asirvad Micro Finance Limited | NCD | AA- | 9.50% | 9 months |
| Annapurna Finance | NCD | A- | 10.80% | 14 months |
| Dvara Kshetriya Gramin Financial Services | MLD | A- | 12.25% | 23 months |
| Kinara Capital | NCD | BBB | 12.75% | 29 months |
| Kissht | NCD | BBB | 13.00% | 6 months |
| Stashfin | NCD | BBB- | 13.00% | 11 months |
| U GRO Capital | MLD | AA+ | 9.50% | 15 months |
| Muthoot | MLD | A | 11.00% | 20 months |
| Navi | NCD | A | 10.10% | 15 months |
| All commercial papers | | | | |
My Experience using Altifi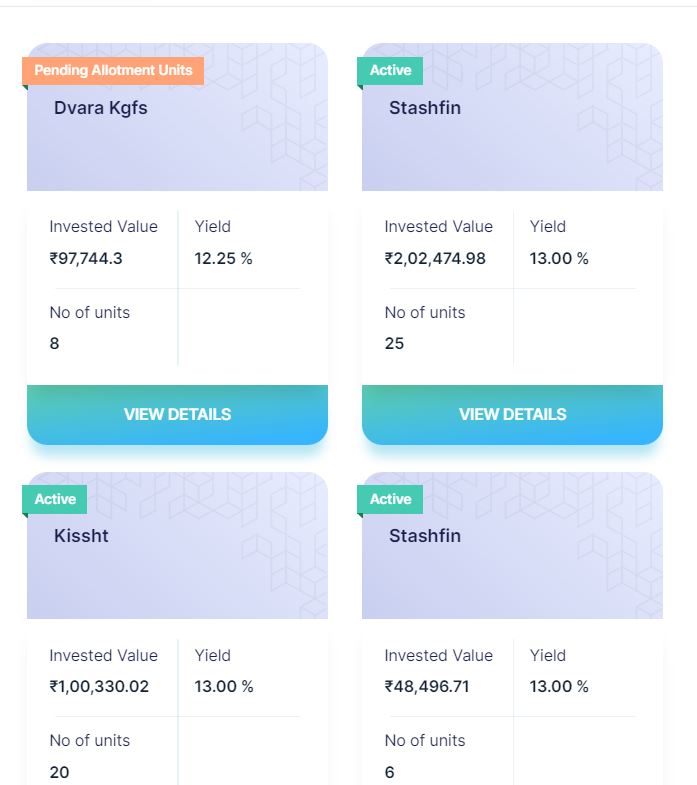 I have invested in multiple deals through Altifi. I primarily invest in higher-yielding securities where post-tax returns are significantly higher than debt mutual funds. Some of the bonds which I have purchased to date are
Kissht
Stashfin
Dvara Kgfs
Rupeek
The tenor of all my purchases is lower than 24 months.
Altifi Alternatives
There are few bond platforms that provide access to listed and unlisted bonds however apart from Wintwealth none of them invest in bonds themselves or have a risk management framework for listing bonds which makes Altifi more secured than other platforms.Some of the other bond platforms are
GoldenPi
Wint Wealth
Bondskart
IndiaBonds
There are a few platforms in India that offer different types of alternative investment options.  Some of the alternatives  you can consider with similar yields are as follows:
Grip Invest is a platform that lists equipment leasing, inventory-based financing, and commercial real estate investing deals on it. It has a constant flow of new deals and has been one of the pioneers in this space in India. The minimum amount to invest is Rs.10000 and you can get an average IRR of 12-15%+ depending on which deals you invest in.
Leafround lets you invest in assets that are then leased to Enterprises. They have multiple opportunities available to invest on the platform. The minimum investment is Rs.10000 and you can expect 20-25%  IRR.
This is a new but fast-growing alternative investment opportunity listing platform backed by Sequoia and other popular angel investors. Apart from invoice discounting, corporate debt, and other instruments, it also has equipment lease-based investment options on its platform. The minimum investment is slightly higher at Rs.100000 per deal but might vary depending on deals.
Klubworks  is India's first revenue-based platform with an expected IRR of 20-27% . Revenue-based financing or royalty-based financing (RBF) is a type of financial capital provided to small or growing businesses. You can start investing with INR 2.5 Lakhs. The investors inject capital into a business in return for a fixed percentage of ongoing gross revenues. Therefore, the payment increases and decreases based on business revenues, typically measured as either daily revenue or monthly revenue.
Conclusion
Altifi seems to be a great offering by Northern Arc. The platform offers high-yield bonds,a segment that is mostly available only for HNI investors till now. Having a large company like Northern Arc investing in the bonds and doing the risk assessment makes the offering more secure. However, it is important for the investor to do their own due diligence before investing. I will review my investment and different securities on Altifi periodically.