What  is A REIT?
REIT stands for Real Estate Investment Trust
REITs are securities linked to real estate that can be traded on stock exchanges once they get listed. The structure of REITs is similar to that of a mutual fund. Just like mutual funds, there are sponsors, trustees, fund managers and unit holders in REITs. However, unlike mutual funds, where the underlying asset is bonds, stocks and gold, REITs invest in physical real estate. The money collected is deployed in income-generating real estate. This income gets distributed among the unit holders. Besides regular income from rents and leases, gains from capital appreciation of real estate also form an income for the unit holders.
In India People have an affinity to Invest in Real Estate either through buying Plots, Independent houses or Flats.
Uptill now this was the only mode for taking real estate exposure but with the launch of Embassy REIT a new mode is available.
Background of Embassy REIT:
The Embassy Office Parks REIT's initial public offering (IPO) is India's first real estate investment trust listing (REIT) and sponsored by American equity investor Blackstone Group and Indian developer Embassy Group. Blackstone and Bengaluru-based Embassy Office Park are looking to raise Rs 4,750 crore from the IPO
When it comes to office and commercial real estate, it can't get better than what the Blackstone Embassy Office Park REIT offers. Here is a sample: up to 32.7 million square feet of seven global quality office parks in India's fastest growing cities — Bengaluru, Pune, Mumbai and Noida; 160-plus marquee tenants such as JP Morgan, Google, Microsoft, Accenture, PWC, Rolls Royce.  Almost half of this REIT's portfolio is rented out of Fortune 500 companies on an average lease life of 7 years.
These are simply the best rent-yielding assets you can get in the country's commercial real estate, which until this REIT came along, a retail investor couldn't even dream of owning. What was available for investments in commercial were dodgy "assured" returns schemes from low-on-credibility builders who couldn't even raise enough money from institutional investors to finish their building and hence took to wooing retail investors with unsustainable returns and often left them stranded with unfinished projects and broken promises. Now, you can dramatically upgrade in terms of quality with the Blackstone-Embassy REIT. Your money is well diversified over 75 grade A assets in prime locations
Returns will be in the form of Rental yield + Capital appreciation
Which will be  around 8% in rental yield and 3-6% Capital appreciation in the long term depending how the real estate market fares
US market REIT vs Equity performance: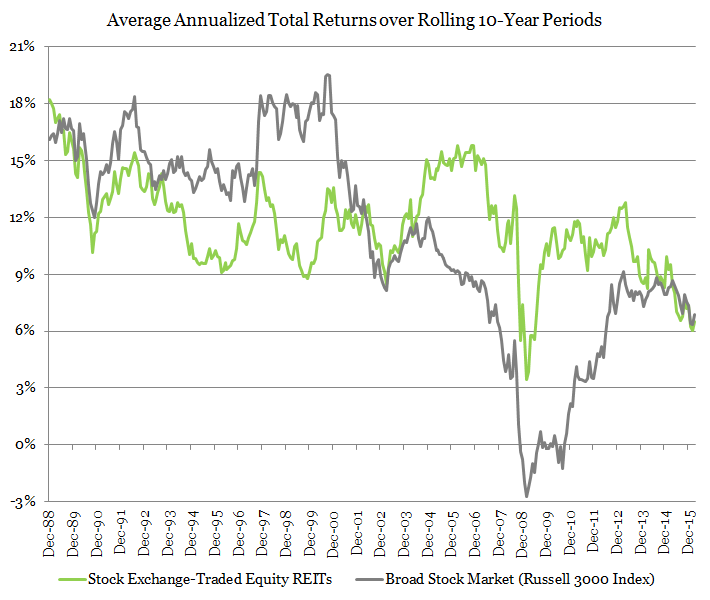 In USA REIT have outperformed stocks in the long run. Even if they don't outperform in India they are good addition to diversify the portfolio
Let's Compare REIT vs Real Estate.
One caveat I would like to add is that if someone plans to buy house for living then off course  the comparison is futile as it's a personal choice.
Various Positives of REIT over Real estate are:
Minimum amount to invest is 1.2 lakhs as of now which is quite low compared to the cheapest flats.
It has decent liquidity and can be bought and sold easily.
It is diversified across multiple quality assets unlike a single bet on a flat
You dont have to spend on maintenance ,parking, middlemen etc
No chances of fraud.
You can add this to your equity portfolio and thus diversify your investments.
Residential  rental is around 2-3% and retail people generally cant buy commercial property because  of non availability of loans
Positives of Real Estate:
You can take leverage through home loan( risky but can give high returns if real estate does well)
If you have deep knowledge  about the micro structure then a concentrated bet can be helpful( it's like buying a single stock which becomes multibagger)
You can refurbish flat , use it to generate high yield if you have the right skill and connect.
Conclusion:
REIT makes sense for all those people who are bullish on the real estate sector and want to diversify their portfolio.
If  you have  very good knowledge about local real estate market, Decent networth or you getting a  very good deal then go for standalone properties