There are plenty of choices available at your disposal when it comes to investments- FDs, mutual funds, stocks, and many more. However, today, we will be introducing you to a not so popular investment option- invoice discounting via a platform called Tradcred. In this Tradecred review, let us understand what is invoice discounting, the best invoice discounting platforms in India and an exhaustive Tradecred review. 
What is TradeCred?

Tradecred is a great investment option that is based on the concept of invoice discounting. This is an alternate debt platform for retail investors. The alternate debts would include instruments such as trade receivables discounting (invoice discounting), leasing, bonds, debts etc. 
Click to Register for FREE on Tradecred
Invoice Discounting in India via Tradecred
Invoice discounting is a type of fundraising option opted for by the companies. This involves raising small funds from retail investors for the short term. A platform like Tradecred extends this opportunity to the more basic investors such as you and me. 
Imagine a situation where a company is selling a product on an e-commerce portal such as Amazon. Amazon offers you an invoice with a promise to pay you off in 60 days. But since you have overheads to pay, you will present this invoice on a platform like Tradecred. Real investors will invest the money and thus help the company raise funds to meet its immediate needs. Once the invoice is paid by the e-commerce portal, your investment is returned along with appropriate interest. 
How does Tradecred work?
TradeCred lets the companies list their invoices on its platform. The invoices or debts are listed as deals. The investors are allowed to buy a portion of the deal or the entire deal as per their preferences. Each of these deals come with their start and end times. 
As the deal is closed, the company will pay the investor his investment along with the interest for the period of the deal. 
Invoices of several companies are available on the platform like– 
Amazon

Firstcry

Infosys

Godrej

Tata Qlik

HCL

Coca Cola

Swiggy
How to invest in TradeCred? 
To sign up on TradeCred, you need to have a proper phone number linked to the Aadhar card, PAN card, and bank account. It takes less than five minutes to register on Tradecred.
Click to Register for FREE on Tradecred
Choose the appropriate option for your genre of investor and you would be taken to the next page. On the next page fill in all the relevant details that include legal name, email, mobile number, DOB, PAN number, and Aadhar number.
Once your account has been created properly, the next step would involve adding funds to your account. Do note that simply adding funds to the account will not make you an investor. You need to choose a suitable deal and invest in it.
Is TradeCred Safe & Legit? 
TradeCred is completely legitimate and safe. Its history has shown that it has never defaulted in any of the deals so far in its existence. The money in the Tradecred accounts is not held by them. All the amount is managed through an escrow account managed by the ICICI bank. 
The deals on TradeCred are listed from reputed companies such as Amazon and Godrej. The repayments are made on time.
Tradecred vs Kredx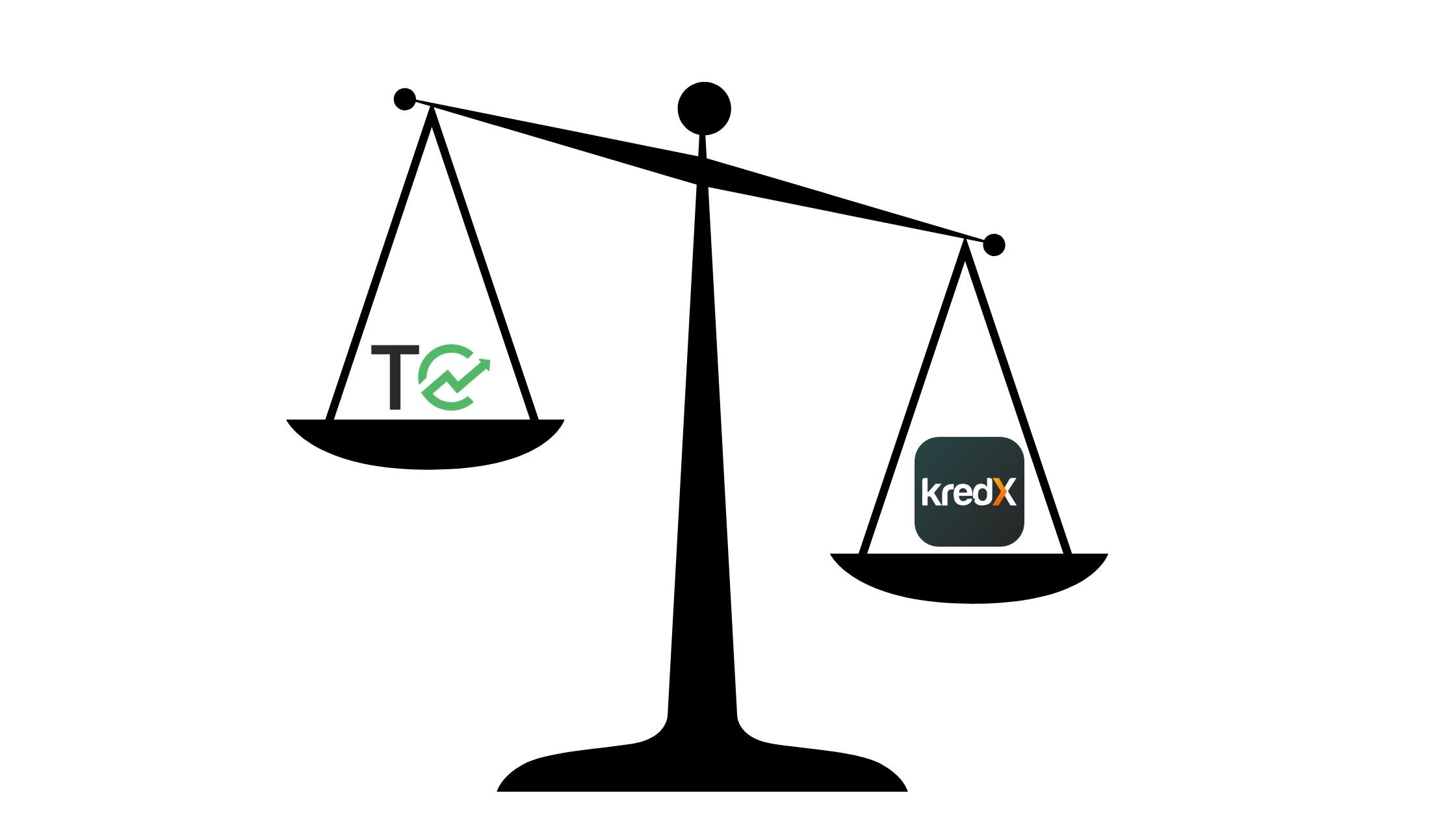 There are many Tradecred alternatives. However, one of their top competitors in India is Kredx. It has been considered to be a great alternative to TradeCred. In our view, Tradecred is a great and better option when compared to KredX. 
A few points to support Tradecred vs Kredx
There are not many deals available on KredX. That would mean you would have your money in your account lying idle. 

KredX is known to have a few defaults in the past. That would perhaps make it a little unsafe option to invest in. 

The availability of enhanced features such as Bank Guarantee or Instant Liquidity makes Tradecred one of the most unique options that you would want to go with. 
Advantages of Tradecred
It offers you decent returns. Close to 12 per cent returns would make it a truly formidable choice. 

Ease of starting and maintaining your investments. 

The strong team that manages and maintain the system can make it a truly formidable and safer option 

Smoother transactions can be yet another prime option that you would find quite impressive. 
Disadvantages of Tradecred
The minimum investment can be out of the reach of some potential investors. 

Risks associated.
Click to Register for FREE on Tradecred
Risks associated with TradeCred
Almost every investment option comes with its risk factors- that's the case with TradeCred as well. It would largely be dependent on your risk appetite. 
The risk factors involved with Tradecred would ideally put it somewhere between mutual funds and bonds. You will find it a category belonging to a higher risk than the bonds, but at a lower risk than the mutual funds. 
Tradecred works with the concept of invoice discounting and it should be the right choice for short term investments. The rate of returns might change over time. In the case of the bonds, the return rate is fixed over time. You will be able to get an assured return. In the case of mutual funds, you will find the returns being largely dependent on the markets going up or down. However, mutual funds earn a higher rate of interest and earning than invoice discounting. There might also be cases where the underlying company or vendor defaults or becomes bankrupt.
Tradecred Review- Final Conclusion
We hope that you would have received complete details of invoice discounting and the platform in this Tradecred review. You can also read my detailed Tradecred review highlighting my experience with Tradecred in the last 3 years. 
Below are a few frequently asked questions about Tradecred-
What is Tradecred Minimum Investment?
The minimum amount that you can invest in Tradecred is Rs. 50000. You can deposit Rs. 50000 or more in your account and any amount less than that is not allowed. The minimum amount that can be invested in a deal would be Rs 50000. 
Who are the people behind it- the Tradecred founders?
Tradecred founders are known for their extensive knowledge in the realm of experience in financial matters. 
Mr Hardik Shah, Founder & CEO has the following credentials – 
He is a Chartered Accountant and a Chartered Financial Analyst (USA)

He has 8 years of experience across Banking, FinTech, M&A, Treasury, Supply Chain, Financial Product Structuring and Equity Research

Known for the previous stints at EY, Ambit Capital, Reliance Jio, Allcargo.
Who are the TradeCred investors? Have they received any funding?
Some of the Tradecred investors who feature on their website are-
Hari Mundra – Independent Director @ ICICI Bank, Associated in CFO/MD capacity with RPG Group, Essar Oil, Wockhardt

Mr. Pushkar Singh – CEO & Co-Founder @ LetsTransport, Forbes 30 under 30 Asia, Business world, Tech Czars 2018

Late Mr. Samir Bangara – Co-Founder & Managing Director @ Qyuki, backed by Alibaba and InfoEdge India
Is TradeCred Safe?
TradeCred is quite safe and you would be able to make use of the service for your investment opportunities. It is backed by strong founders, management team and investors. The previous history on non-defaulting payments should be yet another great option that should make it a truly formidable choice ever.