Last Update: 30 September 2021

Ever since writing this post, Rupeecircle has undergone a management change. I have stopped my reinvestments in Rupeecircle until things stabilize at the platform end.

You can consider alternative investment platforms in India like Finzy (P2P), Tradeced (Invoice Discounting), Wint Wealth (Covered Bonds) and Grip Invest (Asset Backed Investments) to invest your money.
I have been investing on RupeeCircle P2P Lending for more than 3 year. Hence, I thought it makes sens to write this Rupeecircle review. Covid and the subsequent lockdown was the world had never witnessed anything like this pandemic before. While the toll on humanity is unprecedented, its economic impact is uncertain. The bottom is still awaited, making it difficult to forecast the future. While the government and regulators do their best to bring relief to the economy, there was a substantial impact on the P2P lending sector from both the demand and supply chain perspective.
It is fair to say some of the platforms were performing poorly even before the Covid-19 and there performance deteriorated further. Some platform like Finzy , Tradeced ,GrowFix and Grip Invest have done well under stressed economic conditions.
Platforms that are compliant with the regulations, have a sensible underwriting mechanism, established business practices, sound and secure tech-stack and an efficient workforce will surely emerge stronger on the other side of this ordeal.


Positive of P2P platforms RupeeCircle during the covid
Transparent and proactive communication. I believe that our focus on honest and clear communication has been the key to maintaining strong investor confidence.
Quickly adjusting internal operations. As an online company, capability to serve clients online and let employees work from home. These factors proved hugely beneficial when the clients could easily access services anywhere and anytime.
Strong internal product analytics. This helped them make smart and timely data-driven decisions.
One of my best performing P2P platform was Rupee Circle (free code PIND145 ). It had very few defaults and Yield were quite high! I2IFunding also did considerably well.
How did my Rupee Circle (free code PIND145 ) portfolio fared before and after Covid19 ?
P2P RupeeCircle Performance before Covid
I have been investing in Rupee Circle(free code PIND145 ) since 2018.The average yield of my investment were around 27% . After factoring in the fees and NPA ,my P2P Lending portfolio was giving me close to 20% till Feb 2020.
The NPA was at 3% level on a conservative basis.

Covid 19 Impact on P2P RupeeCircle
When Covid-19 hit at the start of 2020, it quickly started to become apparent the pandemic would test the industry and provide it with a unique opportunity to prove its worth.
Fast forward six months since the start of the lockdown, we can now say that this was indeed a challenging test for the industry, one that allowed some P2P Lending platforms to emerge stronger while many other platforms had to scale back their operations or shut down.
Moratorium Impact on P2P Lending
There was RBI moratorium of 3 months on all NBFC including P2P Lending and all the inflows literally stopped. I was expecting a huge impact  of covid 19 on the portfolio due to 2 reasons:
Platforms  were unable to collect EMI due to RBI restriction and lockdown
Due to the economic crisis capability of the borrowers to pay back declined.
In the initial days, almost 40-45% of my portfolio was in the moratorium.
RupeeCircle Present Condition
Now almost 15% of my portfolio is in delay mostly due to the moratorium provided by RupeeCircle P2P Lending. If exclude from the moratorium cases NPA will stand at 4%. If I consider the complete write off for my  delayed portfolio (including a moratorium) my current yield will fall down to 10.3%


On a more optimistic scenario if 50% of the delayed loans start paying I will end up  with 15% yield.
Going Forward
Most of my NPA have been on RupeeCircle P2P Lending I invested in the period Dec- Jan 2020 and got impacted due to Covid . Now as the covid impact has subsided the NPA level will start going back to precovid levels and you can expect 18-19% return after factoring in defaults.
Important reason my portfolio performed well is that I selected borrowers with
Low EMI to salary Ratio
Owned House
Salaried People
No recent delinquency
High Level of Diversification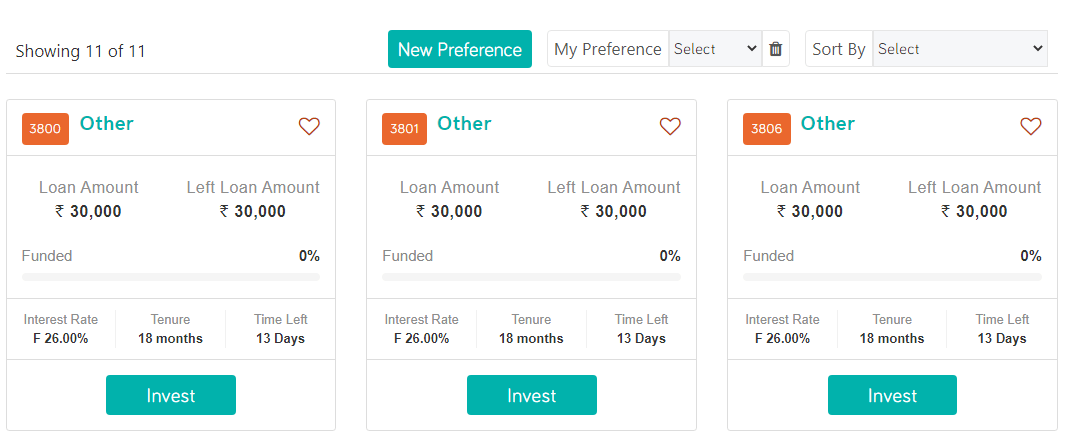 Considering the low yield environment  and equity market being very expensive is a positive for P2P Lending ,Rupee Circle(free code PIND145 ) returns seem attractive and even at higher level of defaults are worth the risk.