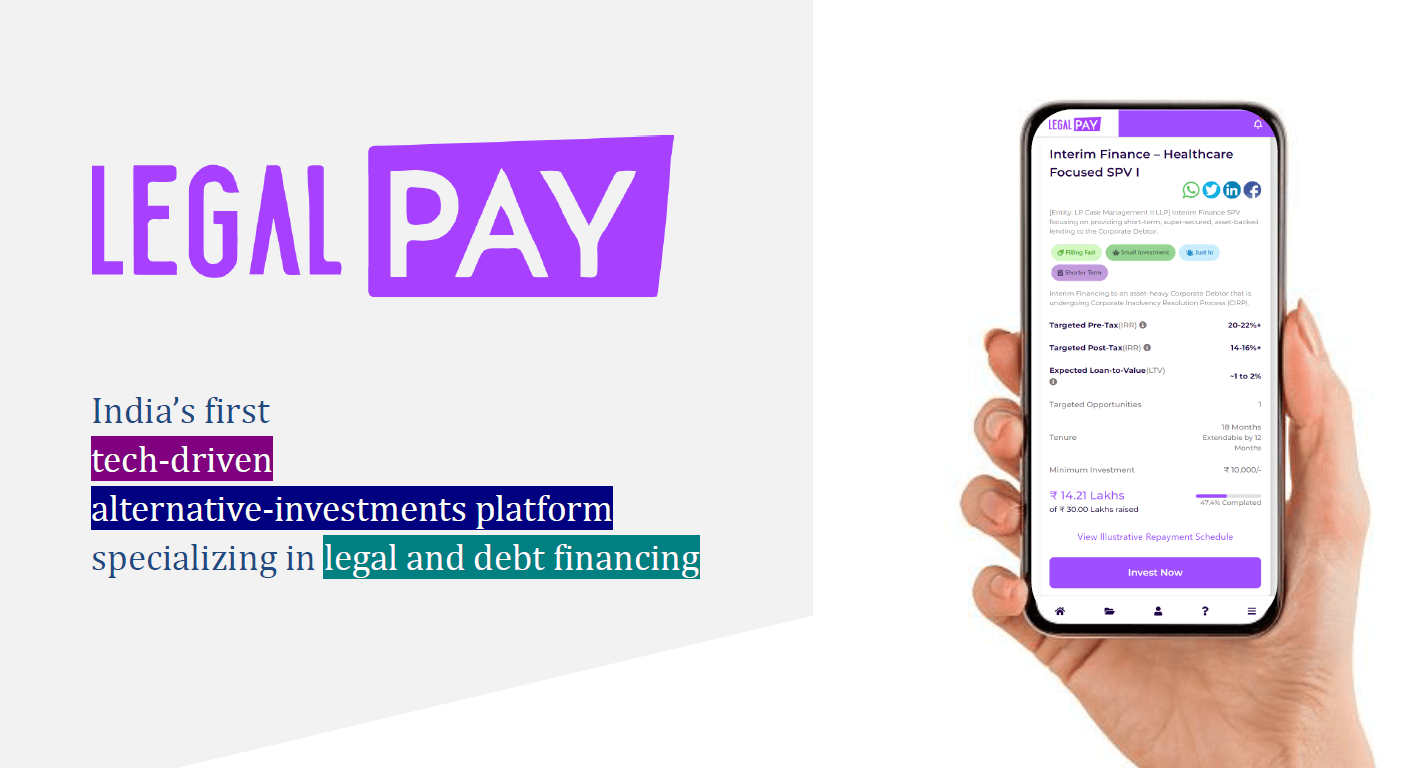 LegalPay Interim finance is one of a kind deals in the Indian alternative ecosystem. In my earlier post I had covered about Legalpay litigation funding which has higher IRR but is longer term and more riskier product.
LegalPay Introduction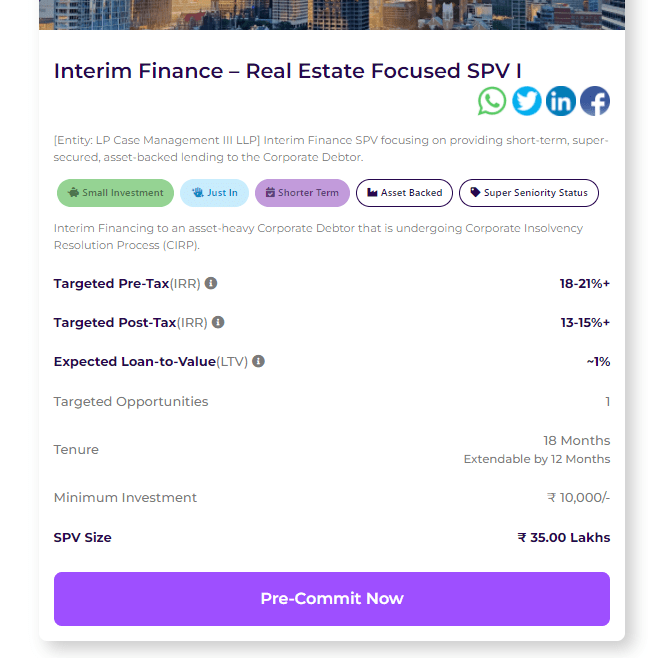 LegalPay is India's first data-driven and tech-enabled alternative-investments platform modernizing investor's portfolios by becoming a trusted destination for access to non-market linked income-generating structured opportunities in the insolvency, legal, and debt markets. The current product offerings include Interim Finance and Litigation Finance which have consistently provided higher returns than traditional asset classes.
What is LegalPay's Interim finance model?
LegalPay's Interim Finance Model (a short-term, super-secure lending product) is offered to companies under insolvency, where Resolution Professionals need funding solutions to meet exigencies and protect the assets of the company.
Meaning:
"Interim Financing" allows an insolvent company to remain operational during the time when it is undergoing the corporate insolvency resolution process (CIRP).
Need:
Interim Finance is no less than an SOS and enables the Resolution Professional (RP) to meet urgent and necessary expenses, which cannot be deferred until the approval of the resolution plan.
Time Period:
As per IBC, 2016, the term of Interim Finance cannot go beyond 330 days (maximum timeline for completion of CIRP). In case of liquidation of Corporate Debtor, the maximum period will not stretch beyond 1 year from the liquidation commencement date, extendable up to 90 days in exceptional circumstances.
Scope of Interim Finance:
During the period of CIRP, the RP must ensure the going concern status of the Corporate Debtor. While doing so, the RP must make certain payments such as
– payment to professionals appointed (valuers, RPs fees).
– payment to the workmen.
– payment to the security personnel etc.
Use Promo code FV48G4
Interim Finance Market
Interim Finance of INR 150 crores was raised by RP of Alok Industries Ltd. from Edelweiss ARC. A similar product was obtained by Bharti Defense and Infrastructure Ltd that helped it to successfully deliver a vessel to the Indian Coast Guard.
LegalPay targets mid-market companies including MSMEs undergoing insolvencies in which the requirement of interim finance ranges from ₹10 lakhs to ₹10 crores. Recently, LegalPay closed a transaction of interim finance of an undisclosed amount to Yashomati Hospitals Pvt. Ltd.
A similar product structure, Debtor-in-Possession (DIP) has already been in practice in developed markets such as the US, UK, Australia, and Canada.
Is LegalPay Interim Finance Safe?
Legal Pay Interim finance has lower risk than some products with similar high yields.
Super Seniority Status – Interim Financier has the first right to receive repayment of Principal + Interest under S. 53 of IBC
Short-term investment product – Investors are typically expected to realize returns within 18 months (extendable by 12 months)
Asset-backed – High asset cover, 50x-100x of the financing amount (LTV < 2%)
Low ticket size- Start investing with a ticket size as low as INR 10,000
Lucrative returns – Targeted pre-tax IRRs upwards of 22-25%
Monthly payments – Payout at regular intervals
Real-time Monitoring- Transparent investment process allowing investors to track their portfolios on a real-time basis
Uncorrelated to the market – Legal financing investments do not depend on the capital market.
Diversification – Invest in Interim Finance to diversify your portfolio as per your risk appetite.
How does LegalPay Interim Finance work ?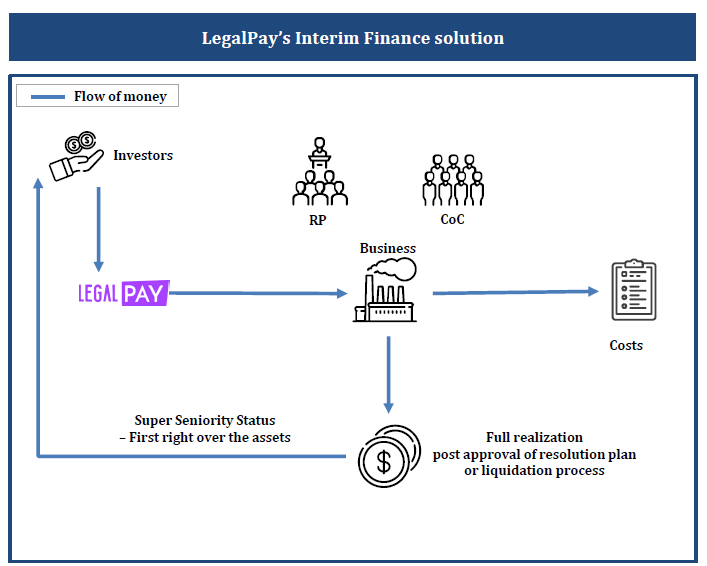 The process of interim finance is simple.
After the identification of interim finance opportunities by LegalPay, an SPV is opened wherein investors pool money to provide interim finance to the corporate debtor.
This money is then transferred to the corporate debtor by LegalPay via its channel partners. This money is then used by the resolution professional to keep the corporate debtor as a going concern.
Full realization of returns by the investors post-approval of the resolution plan or liquidation process.
Legalpay Team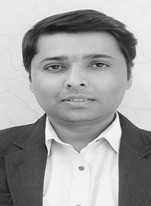 LegalPay is led by Kundan Shahi, a serial entrepreneur with more than a decade of experience in the legal domain. Kundan brings experience and leadership to the Company. Before founding LegalPay, he was the founder of advok8.in, a legal tech startup with litigation financing as one of its verticals. He has been instrumental in growing and building LegalPay by hiring competent professionals who share the same vision as him. LegalPay currently consists of 50+ professionals with varied backgrounds having more than 40+ years of experience in the finance and legal domain. They have recently raised funding.
Conclusion
Legal Pay Interim finance is an interesting avenue with low correlation to the broader market. I have invested in a few opportunities. Over the next few months, I will share my experience of my investments. If the returns are on time we can look forward to increasing the allocation.