Legalpay is India's first platform which offers Litigation funding as an asset class. Legalpay (Use Promo code FV48G4 to get gift) provides a marketplace that connects investors  with plaintiffs and law firms who have strong cases and need capital to win those cases. The platform expects 20-25% IRR for the investors
What is Litigation Finance?
Litigation finance (also called litigation funding) is the practice where a third party unrelated to the lawsuit provides capital to a plaintiff involved in litigation in return for a portion of any financial recovery from the lawsuit.
It unlocks the value of legal claims by providing capital to plaintiffs before their cases are resolved. Litigation finance firms want to cherry pick the right lawsuits where they can win .
Example of Litigation Funding
Let's say a driver is injured in a car accident and the insurance company refuses to pay the claim. It may  offer an amount far lower than what the driver needs for long-term costs associated with the accident. If the driver can't afford to pursue the claim, the insurance company may get away without paying anything , or they may pay far less than the plaintiff would receive if he had the financial power to remain in the lawsuit. By turning to a legal finance provider for  financing, the driver can recover the appropriate and needed amount from the other party without being bankrupted by the expense of a protracted lawsuit. The Investor will benefit by getting some returns from the proceeds of the case if outcome is favorable.
Litigation Finance as an Investment
Litigation Funding is very popular globally. In one of my articles I had covered Axiafunder which has generated outstanding returns for Investors. The appetite for 'litigation funding', amongst claimants as well as investors, has never been greater. Appetite for litigation funding  has been pushed to greater lengths and breadths as a result of widening  liberalisation.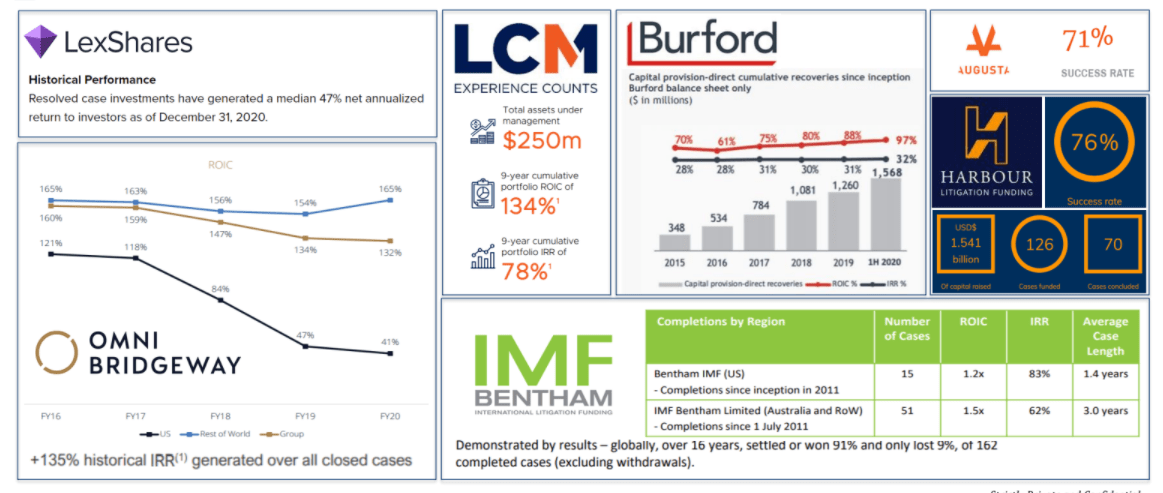 Legalpay invest in curated plaintiff which have high probability success rate
Types of Deals on LegalPay
Litigation Funding
Interim Finance deals
Unlike Litigation finance Interim finance are short term deals  which are raisd by resolution professionals during resolution process period. These are recovered before any other dues are recovered from the company going through bankruptcy process .The IRR is close to 20-25%
Current Deals on LegalPay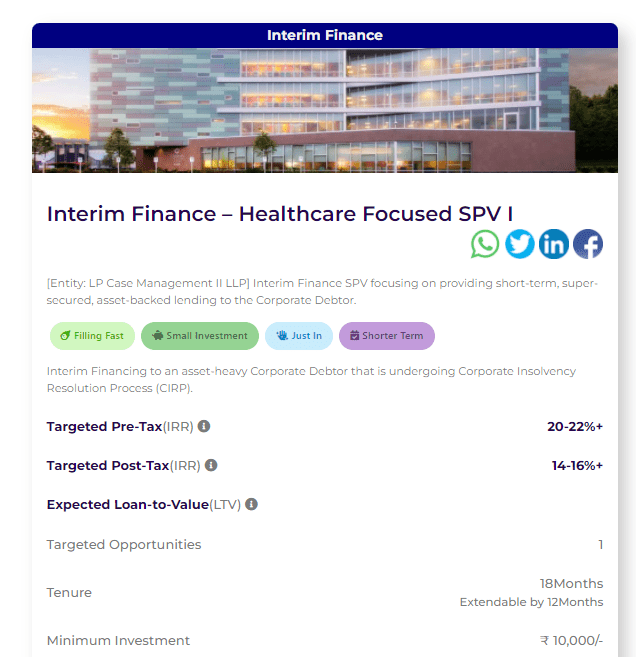 LegalPay's (Use Promo code FV48G4 to get gift) Arbitration Focused SPV  provides case management services to various plaintiffs/claimants/litigants. The SPV takes contributions from various investors, who contribute the sum as Limited Partners (LPs). 
Once investments/contributions are made by the investors, the investors become Limited Partners (LPs) in the SPV with profit-sharing-ratio (PSR) in the proportion to the sum contributed. Each contribution such investors/LPs make in the pool is diversified across various claims/cases in accordance with the SPV's pre-defined thesis.
 Once agreements are executed, the SPV shall take up to a 3-month period to commit to a basket of underlying cases. The deployment/allocation of funds in such cases will happen over the respective course of case progressions (usually between 12-36 months). 
Investors/LPs will be able to see the case progress of the basket of underlying cases/claims in the portfolio tab as soon as case commitments (cost allocations are started) are made .
LegalPay Returns Targeted
SPV shall target to generate a Net Pre-Tax Return (IRR – Internal Rate of Return) ranging between 20-25%+ on a portfolio level by investing in various litigation financing opportunities. The actual IRR shall vary depending on the tenure of closure, success rates, case proceedings, etc., and can even go higher than the targeted IRR.
Upon realization of profits from the clients (claimants/plaintiffs/litigants) by SPV through any litigation/arbitration (on disposal of the legal case), LegalPay charges a success fee equivalent to 20% of the profits above the Hurdle Rate (14%) but prior to the provision of income tax. The Hurdle Rate is fixed at 14% for this particular SPV. Also the returns are from LLP hence they would not be taxed at hand of investors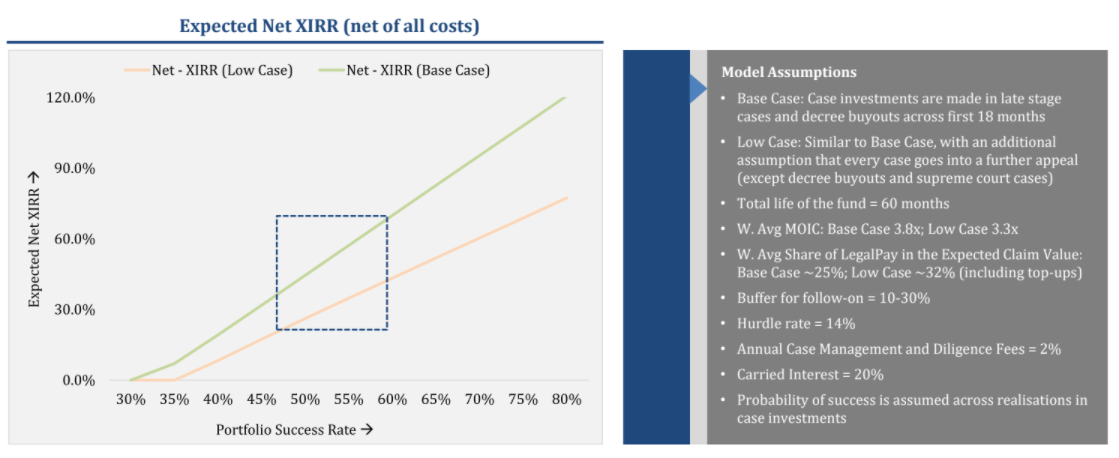 LegalPay Account opening
Account Opening and Investing Process is straightforward in Legalpay . Use Promo code FV48G4 to register for Free and get gift. Once registered complete KYC and you are ready to invest .Minimum amount is only INR 25000

Conclusion
Litigation Funding is an alternative in the real sense as it has no correlation with stock market. It has become a popular investment outside India to achieve High IRR. Legalpay is a new platform in India. I have invested INR 25000 to test the platform. I suggest people to invest a small amount initially. In the next few months I will be publishing the performance of this platform.