All you Need to Know About Venture Debt
As an investor, you might encounter newer terms every day. This is largely true due to the ever-evolving nature of the financial markets. Another term that's been doing the rounds is venture debt. In simple terms, venture debt is a corporate debt provided to nascent startups or micro, small, and medium enterprises (MSMEs), which typically have a negative cash flow.
Venture Debt requires an understanding of the chances of success of the business model, while also being aware of the negative cash flow. However, this gives an opportunity to make good returns if you understand the nature of business.
Irrespective, venture debt has become an attractive option for startups to scale their business rapidly without diluting their shareholding in the organization. Startups can access funds as working capital through debt. It also leads to the generation of a track record with debt for improved banking relationships. Further, venture debt can be structured to match the specific cash flows. It can also lead to events like equity raising.
Jiraaf Vilcart Opportunity
Jiraaf has recently listed venture debt offered by Vilcart, a rural-focused, tech-driven B2B retail and supply chain solution provider. Indeed, Jiraaf has thoroughly researched the opportunity by understanding the founders, business model, and segmented growth profile.
Vilcart recorded strong revenue growth in Q4, which was nearly equal to the FY21 revenue. The organization has demonstrated the ability to scale, with monthly revenue of Rs. 28 crores. The company has also recorded strong unit economics and operating margin by burning Rs. 1 cr per month.
The company's terms are attractive, to say the least. With less than 10% of the estimated equity value of investors and less than 1 week of sales on average, the company is providing an IRR of 17% over 15 months.
Issuer: Vilcart
Issue amount: Rs. 5 crores
Minimum investment: Rs. 5 lakhs
Tenor: 15 months
Instrument: Non-convertible debentures
Payment: Interest plus payment on maturity
Investor IRR: 17%
Uncapped Participation in upside for high ticket Investment (INR 25 Lakh plus)
Vilcart Introduction
Rural commerce startup VilCart, helps village Kirana stores easily procure inventory, and manage logistics and supply chains.VilCart is operationally reaching breakeven soon and is expected to turn a profit thereafter, thanks, largely, to the tight leash it has on expenses.
VilCart has, to date, raised around Rs 15 crore in total, from investors including Prashanth Prakash of Accel Partners, and Nabventures Fund, a venture capital fund started by the National Bank for Agriculture and Rural Development (NABARD). Jyothirmayee, CEO of Hiveminds; Anand Banka, Head of Investments at Vedanta and Ex-director of EY; Kalita Kapur, AGM of Vendanta; and Girish, Founder of Qspiders and Testyantra, are also early backers in the company.
Financials of Vilcart
The company has recorded strong and encouraging financials over the past couple of years. The provisional gross revenue for FY22 is Rs. 233 crores as against Rs. 80 crore in FY21.
The monthly revenue run rate has grown by more than twice since April 2021.
Strong revenue growth was recorded in Q4 FY22, which was nearly equal to the FY21 revenue.
The monthly cash burn is just Rs. 1 crore, which is much less than the revenue.
Though the gross margin has remained static, Q3 and Q4 saw expansion to more locations. This led to a slight dip in the operating margin. EBITDA margin continued to improve in Q4 despite team expansion.
The inventory cycle is 15 days while payable days are capped at 7 from the suppliers.
The inventory outstanding is 2 weeks at the current MRR of Rs. 27 crores.
The company has no external debt on the books.
Proposed debt is expected to be less than a week of revenue for Vilcart. This gives significant options for repayment. Moreover, the company can repay the debt by elongating the working capital.
Founding Members of Vilcart
Prasanna Kumar C: Having been a CA with an experience of over 13 years, Prasanna is the co-founder and CEO of Vilcart. He has been recognized as an exceptional leader by Times 40 under 40 in 2021. His core expertise lies in building organizational structures, internal control systems, and team building. He has previously rendered his service to organizations like KNS Infra and Cspeak.
Amith Mali: Amith graduated from Visvesvaraya Technological University. He is the co-founder and CMO at Vilcart. Amith possesses an experience of over 13 years and has worked in several key positions like Director of Head Marketing & Business analyst at Cluster Info Solutions.
Prashanth Prakash: Prashanth is a board director in the company and has invested in his personal capacity. He also happens to be a partner in Accel Capital.
Vilcart – Risk and Mitigants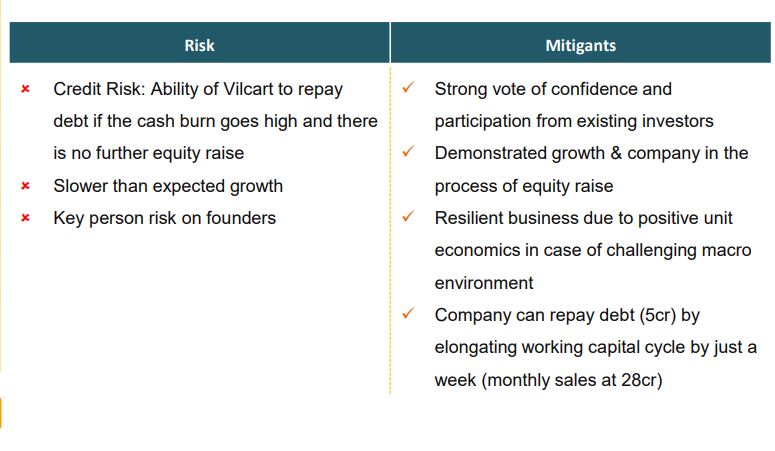 The biggest risk with Vilcart is that under severely deteriorating macro conditions or business operations it will have less cushion compared to a large enterprise. The high return given to the investors factors in this uncertainty. Considering the short nature of the debt the risk should be manageable considering the current growth of the company.
Takeaway
Investing in venture debt through Vilcart is an interesting option as the yield is attractive. Besides, the tenure of 15 months makes it a suitable asset to invest in for a short period of time. However, people should assess their risk appetite considering the minimum amount is INR 5 Lakh and only a small portion of your networth should be deployed in venture debt.
Wint Wealth June Deal – Aryadhan NCD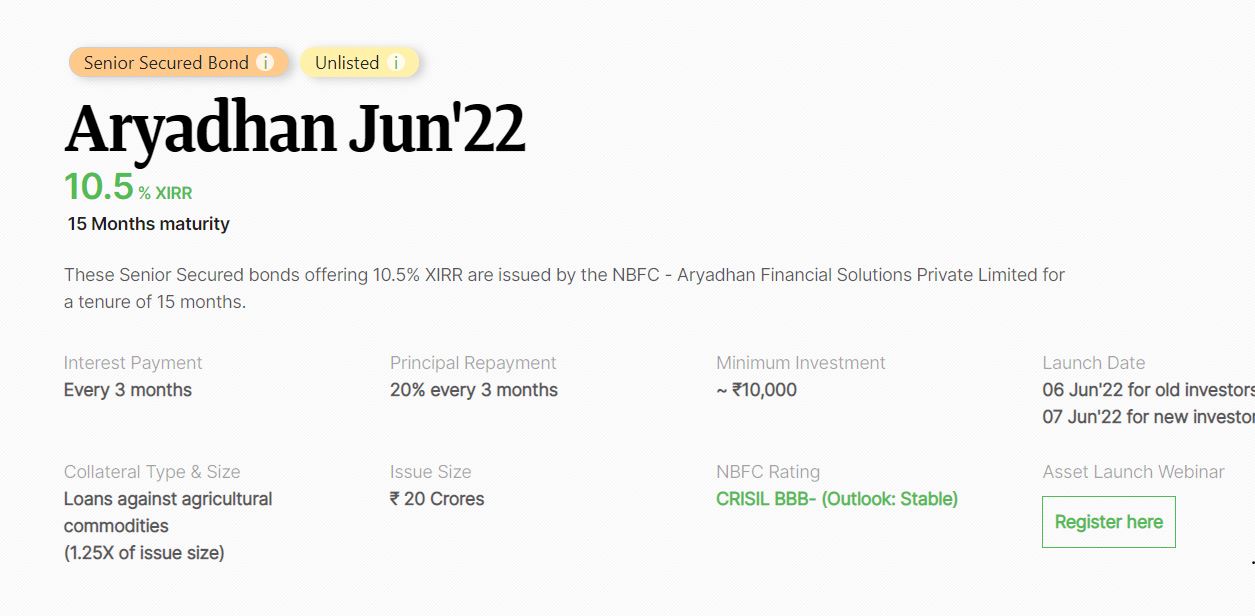 Wintwealth has made Aryadhan available again for investors who missed out on the opportunity in April. Detailed Review of Aryadhan –Aryadhan Review.I subscribed to Aryadhan in April. The bond has a decent yield for the 15 months tenor. The risk is much lower as it is a well-capitalized company with low leverage.