Portfolio diversification is the golden rule of personal finance management. The turbulence in the stock markets – with the Sensex having fallen over 10% since April '22 – has brought this maxim back into focus. But Indian investors have it tough. On one hand, there is no evidence that stock markets have bottomed out. On the other hand, an inflation rate of 7.5 percent means that fixed deposits are earning negative returns, even before accounting for taxes.
That is where Alternative Investments come to the rescue. Over the past 2 years, Revenue Based Financing platforms have facilitated hundreds of transactions for growing startups where individual patron investors have earned above-marketing IRRs ranging from 15-25 percent. Combined with the ultra-low default rates, this means that these patron investors have seen their wealth grow, even as the other market instruments have been battered by one macroeconomic shock after another – Covid, Ukraine crisis, and now rising inflation. This is because these patrons take exposure to real revenues, which are resilient to market sentiment driving equity markets.
Register for Klub Asset Finance
Klub is now adding new asset classes to provide even greater diversification opportunities to their patrons.
Here are the 5 most important questions on Asset Financing, answered: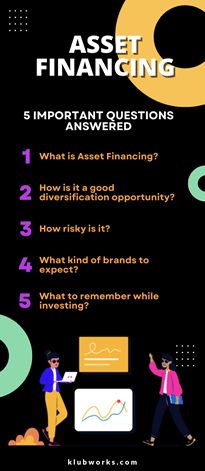 #1 What is Asset Financing on Klub?
Asset financing is an investment mechanism through which investors purchase long-term assets such as vehicles, furniture, kitchen equipment, and machinery, and lease them out to a brand. In return, the brand makes a fixed monthly payment to the investors, often with a large payment after 2-3 years, when the brand purchases the depreciated assets.
But the more things change, the more they remain the same. All opportunities are analyzed by Klub's in-house Investment Analysis team, which presents the financial information and risks to Patrons before they commit the deal. Klub's operational and legal platform makes investments and repayments super simple. The Klub experience that is loved by over 7000 Patrons, therefore, remains largely unchanged.
#2 How is it a good diversification opportunity?
Regular Klub investments already provide diversification to Patrons because the returns are linked to revenues earned by the brand, rather than to market sentiment. Asset Financing offers a third layer of diversification because it is linked to the costs incurred by the brand, thereby making it independent of even the revenues. These revenue-generating assets – furniture, vehicles, equipment, etc. – are necessary for brands to earn revenues, and therefore give Patrons a stake closer to the beating heart of the business.
#3 How risky is Klub Asset Financing?
Asset Financing has a fundamentally different risk profile from the regular Klub investments (and equities, of course), thus strengthening the case for diversification. For example, it provides a fixed monthly revenue stream, unlike the variability inherent in revenue-based financing. Moreover, in case of default, the investors can take back the leased assets and sell them in the market, thus providing a quicker path to liquidation and capital recovery.
Which of the two types of investments on Klub is better? Well, that depends on your risk tolerance and return exposure. If you are looking to dabble in alternative investments, taking exposure to both might be a good idea. Each leads to different cash flows, is driven by different kinds of risk, and can help you diversify with better returns.
#4 What kind of brands to expect?
Asset Financing, by definition, is suitable for asset-heaving businesses, i.e. those brands for which assets form a large part of their costs. For such businesses, Asset Financing converts capex into opex, thus reducing upfront capital requirements.
The first few opportunities lined up for investors by Klub are in the vehicle rental space. To start with, Klub is facilitating investment for Zypp Electric, India's leading electric vehicle start-up. The company aims to make last-mile logistics emission-free, thus contributing to a more sustainable planet. Zypp's user base is growing 300% month-on-month, and it counts among its partner's leading names like Zomato, Swiggy, BigBasket, Amazon, Myntra, and JioMart.
#5 What to remember while investing?
Asset Financing is a good option for investors who prefer low-to-moderate risk, predictable returns, and medium-to-long-term commitments. To make this asset class accessible to a wide range of investors, Klub has made some changes to how the investment platform works. The minimum investment commitment has been changed from Rs. 2.5 lakh to Rs. 1 lakh, just for asset financing opportunities. In a time of dwindling public markets and alternative financing taking the lead, Asset financing might just be the next class of investments to be at the center of convenience, predictability & returns.
Conclusion
Klub Asset financing is an interesting value proposition to diversify in asset-backed investments. We would evaluate the upcoming asset finance deals when they are listed on the platform. There are only a few platforms that offer asset-backed investment currently. Having another platform will provide investors with more options to choose and select the deals as per their risk appetite.