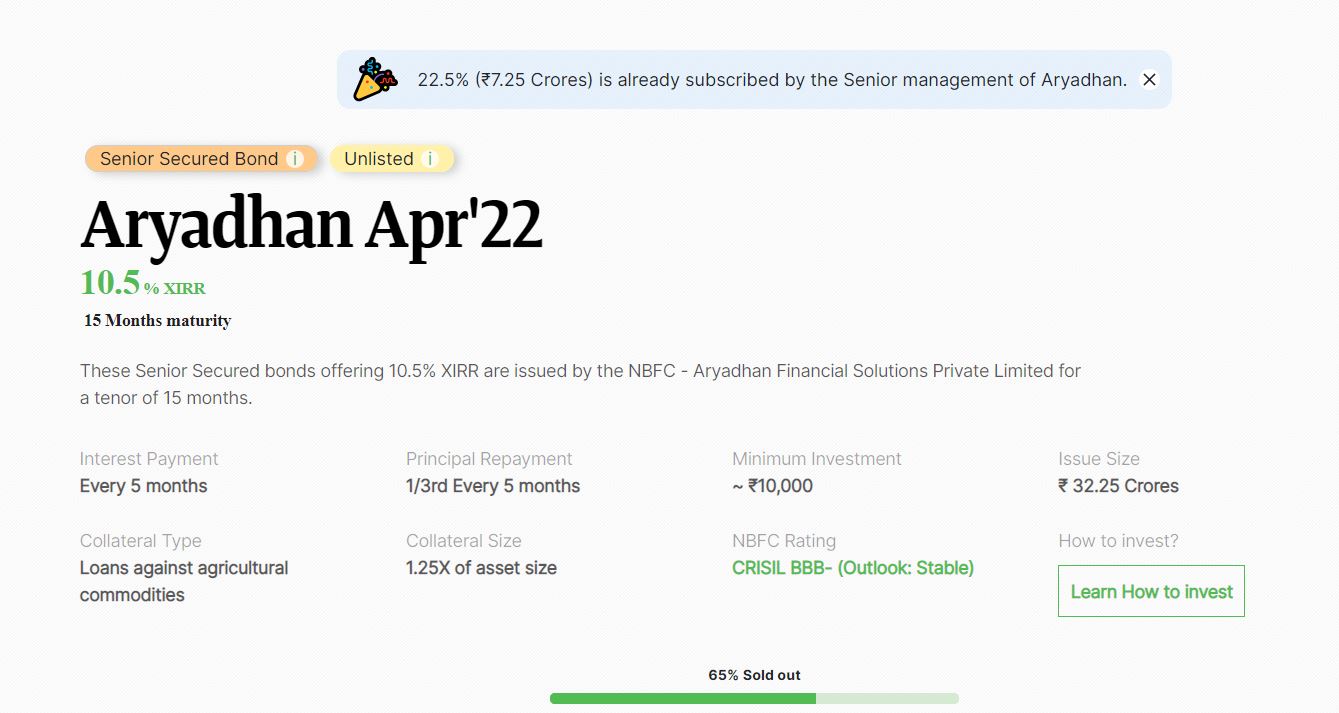 With an aim of democratizing debt assets in India, WintWealth ensures that as investors, you know the assets as much as they do. Founded by a passionate team and backed by marquee investors like Nithin Kamath and Kunal Shah, WintWealth makes it a point to list assets that reap the maximum returns for the investors. 
Following on the same lines, WintWealth has listed a new asset on the platform, Aryadhan. It is a senior secured and unlisted bond that is offering returns to the tune of 10.5% XIRR. The asset has a maturity of 15 months currently and has been sold out 54% already. Notably, 22.5% of the investment of Rs. 7.25 crores has already been subscribed by the senior management of Aryadhan which is a positive. Let us look at some other details before you invest in Aryadhan
WintWealth Aryadhan deal Details
Register for Free on Wint Wealth
Issuer:

Aryadhan Financial Solutions Private Limited 

Minimum investment:

Rs. 10,000

Interest rate:

10.5% 

Interest payment:

Every 5 months

Issue size:

Rs. 32.25 crores

About Aryadhan Financial Solutions Private Limited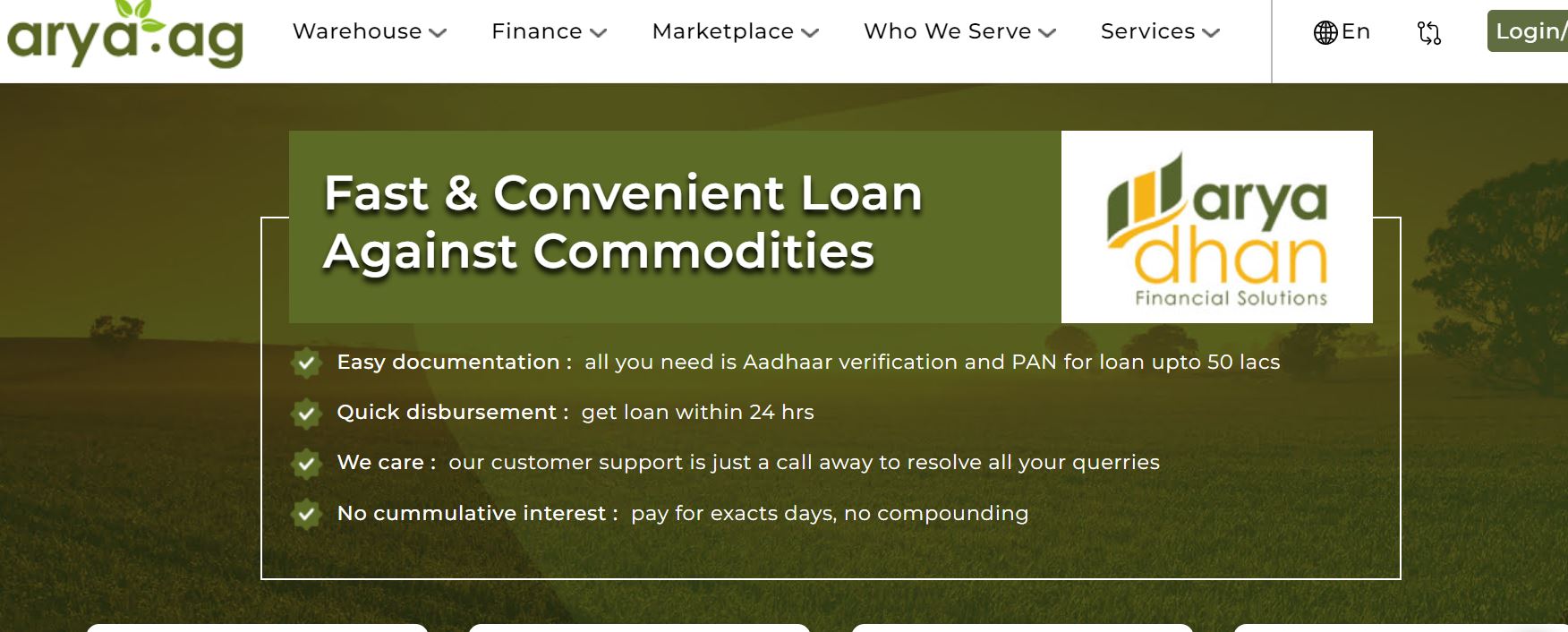 Aryadhan Financial Solutions Private Limited is a Noida-based company.  Aryadhan has been incorporated as a wholly-owned subsidiary of Arya Collateral with the aim of offering financing services to customers who are storing commodities at Arya Collateral's warehousing.
The parent company has been raising mammoth amounts of late. For instance, in the past three years, Arya Collateral has raised Rs, 473 crores despite the challenging economic environment. Some major investors include LGT Lightstone Aspada, LR India holdings Limited, Accion Quona Capital, Omnivore Capital Management Advisors, and Asia Impact. Arya Capital went on to infuse Rs. 100 crores in fiscal 2022, Rs 75 crores in fiscal 2021, and Rs 42 crores in fiscal 2020 in Aryadhan financial solutions private limited.  
Financials and Credit Overview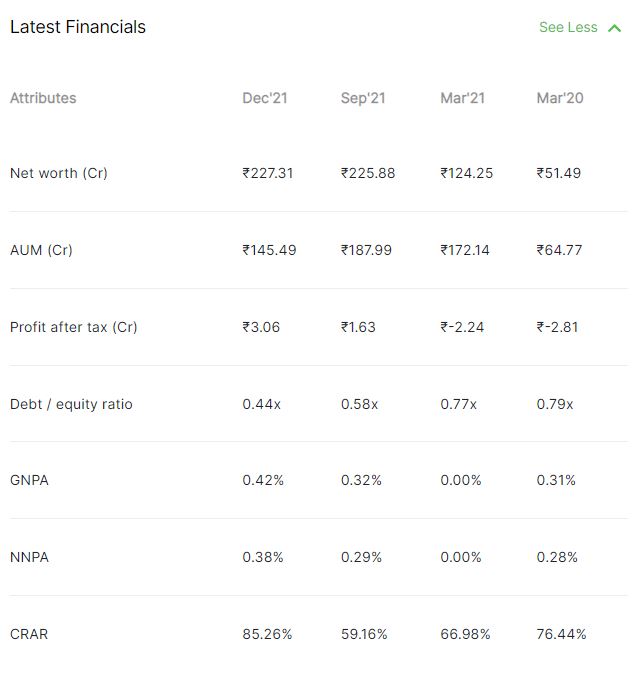 Positives
Having started operations in the second half of fiscal 2018, Aryadhan has scaled up its loan book to the tune of Rs. 232 crores as reported up to March 31, 2022.

Aryadhan has so far succeeded in maintaining its asset quality metrics. The company's GNPA stood at 2.22% as of March 31, 2022, while its Net NPA is Zero.

The company has reported a net worth of Rs. 227.31 crores until December 2021. This is a sharp rise of 175.82 crores in nine months due to infusion from the parent company.

Aryadhan became profitable in fiscal 2022 with profit after tax (PAT) of Rs 3.06 crores, which hints at good results as compared to a loss of Rs 2.24 crores. in fiscal 2021 which was primarily due to scaling of operations.

Aryadhan has a very low debt to equity ratio of 0.44 as reported in December 2021. This means that they have more than 2x capital of their outstanding loans!

Aryadhan possessed an adequate liquidity cover of 1.5 times for three months. Liquidity has been majorly boosted by steady collections of Rs. 13 crores per month, over the past 2-3 months. This shows Asset liability mismatch risk is low.

The monthly flow of collection is adequate to look after the company's monthly debt obligation as well as its operating expenses. 

Bondholders will get an unconditional and irrevocable guarantee from the parent company.
Risks
The company is comparatively new and hence does not have a long track record of performance.
Board and Key Management 

Prasanna Rao
Prasanna Rao is the co-founder and CEO of Arya Collateral Warehousing Services. Prior to his role at Arya Collateral Warehousing Services, Prasanna Rao has worked in key positions at SecurEyes and ICICI Bank. 
Chattanathan Devarajan
Chattanathan Devarajan is one of the co-founders of Arya Collateral Warehousing Services. He has been associated with the organization since July 2019. Prior to that, he operated as the group product head  of rural and inclusive banking at ICICI Bank.  
Anand Chandra
Anand Chandra was appointed as the director of Aryadhan Financial Solutions Private Limited in January 2017. He heads the Business Development and management initiatives of the collateral management business of the company. He has also been associated with ICICI Bank Limited as their product head.
Conclusion
Aryadhan appears to be a decent investment. The company has very low leverage and is profitable with strong collateral against its outstanding lending. I will be subscribing to a few units of this issuance. Moreover, the return on investment when compared to the tenure of 15 months is 10.5%, making it an attractive option to invest for a short period of time.