Heavyfinance is a unique P2P platform based in Vilnius, Lithuania. The platform was launched in 2020. Mortgage guarantees cover all projects . The mortgages on heavy agricultural machinery (tractors, shredders, etc. ), allows to invest in secured loans while diversifying the type of asset compared to the typical real estate mortgage guarantee platforms (Estateguru style).
While the site is new, the team behind it have a track record in this space – CEO Laimonas Noreika previously founded another successful Lithuanian P2P site Finbee.
Most members of the team have a background in equipment sales and leasing. Heavyfinance focuses on lending to small and mid-sized farmers located in the European Union.
The interest rates available to investors are higher than you would expect relative to the risk of the loans. It also means that there is scope for HeavyFinance to grow significantly in the coming years.
Type of Loans
Details of typical loans on Heavyfinance are:
Interest rates from 9% to 14%
Minimum investment 100 EUR
loan terms usually between 4 months and 3 years
No fees for investors
secondary market
Machinery is insured and serves as security for the loans
LTVs are reasonable – generally 50-70%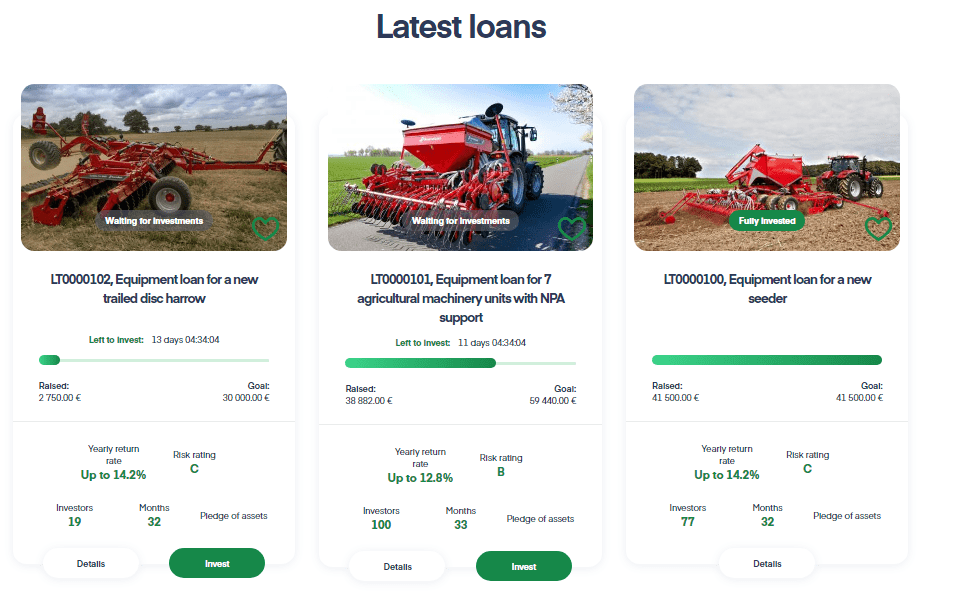 Detailed description od projects
Heavyfinance Risk Management
All operations in HeavyFinance are covered by heavy machinery,which means in case there are problems in the repayment of a specific loan, HeavyFinance will proceed to the sale of the mortgaged assets to ensure the collection thereof.
Comparing HeavyFinance with other secured lending companies such as Estateguru, it must be taken into account that agricultural machinery is more liquid and can better preserve its value in times of crisis than real estate.
Heavy Finance has the authorization and direct supervision of the Central Bank of Lithuania, and is subject to strict regulations that include, for example, the segregation of funds from its investor users. In this sense – like the rest of the Lithuanian platforms – it has a robust regulatory framework unlike most Latvian and Estonian platforms.
It has personalities with a long history and reputation. Its CEO and founder, Laimonas Noreika has previously been the CEO of a veteran in the sector like Finbee for 4 years.
It has minimum investment requirement of 100 Euro which is good enough for maximum diversification.
How to Invest in Heavyfinance
Heavyfinance has tieup with Paysera hence you need to open an acount on paysera for IBAN
Step 1) -Register on Heavyfinance using link – Heavyfinance . You will get 40 Euro if you invest 1000 euro within 1 month of registering.
Step 2) Complete KYC.Simple process which includes sharing details and photo.
Step 3) Open Paysera Account for IBAN and complete KYC. Details on IBAN
Step4) Use Instarem. to transfer money to Paysera at nominal rates
Step 5) Invest in the projects . Money will be debited from your Paysera account.
Conclusion
Heavyfinance is a new but promising P2P platform which provides high returns for assets backed by heavy equipment. The team has good experience in the business and the collateral is also easier to sell compared to real estate based loans.