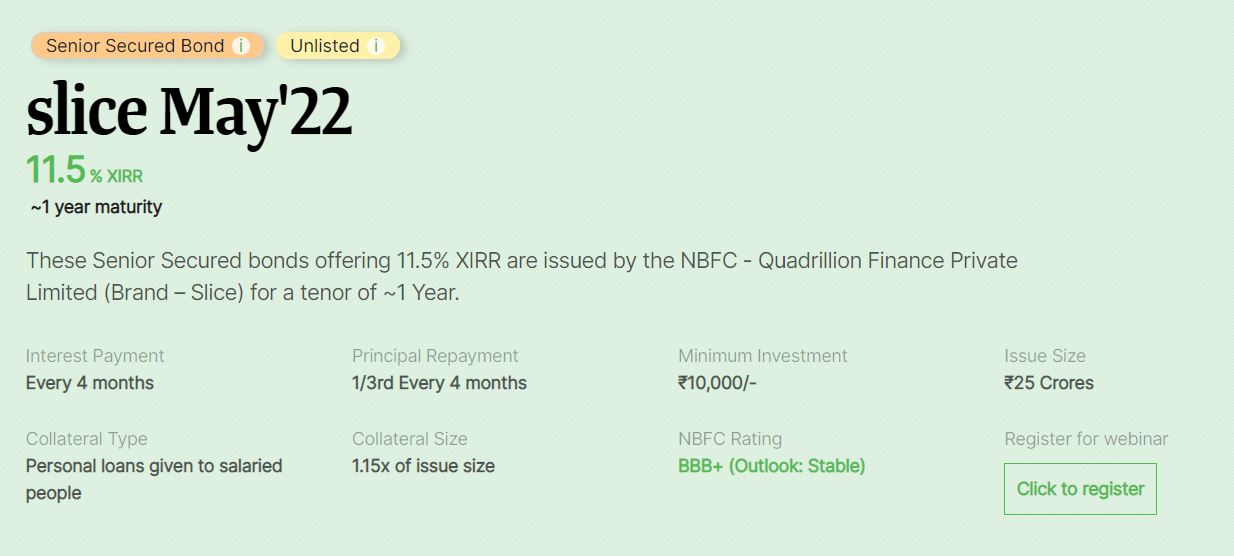 WintWealth has recently listed a new deal on the platform. It is a senior secured unlisted Slice NCD offering 11.5% XIRR. The term "senior" in a senior secured bond indicates that bondholders enjoy the senior-most priority to get repaid in case the NBFC defaults.I have evaluated the deal based on the below parameters.
WintWealth Slice Deal Details
Issuer -Quadrillion Finance Pvt. Ltd. (QFPL)
Credit Rating – BBB+
Interest Rate – 11.5% XIRR
Tenor – 1 Year
Trustee – Catalyst Trusteeship Limited
About Quadrillion Finance Private Limited
Quadrillion Finance Pvt. Ltd. (QFPL), is a Bengaluru-based NBFC, engaged in the business of unsecured retail financing to the salaried class, student segment, and self-employed, through the mobile application named 'slice'. The product profile includes a slice card, credit through Bank Transfer or Paytm, and an electronic gift voucher -all covered within an overall credit limit, assigned for a user. The company is using a tech platform owned by its parent company – Garagepreneurs Internet Private Limited (GIPL).GIPL was founded by Mr. Rajan Bajaj in 2015. It was initially used to acquire customers and allow its technology platform to be used for disbursements through FLDG arrangements(First Loss Default Guarantee) with other partner NBFCs. With the incorporation of its own NBFC – QFPL, GIPL provides capital support to the NBFC, and a major chunk of credit business is carried out through it. QFPL has a highly scalable business model, enabled by the use of automation and deployment of technology for
underwriting & risk management. The majority of the limits for the salaried segment are decided by its credit engine, based on predefined criteria.
Register for Free on Wint Wealth
Financials and Credit Overview

Slice is profitable with decent revenue growth.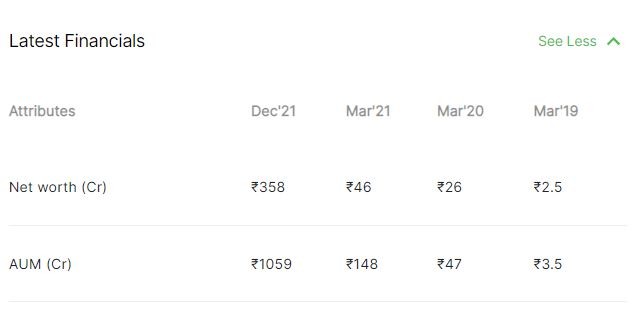 Net NPA is close to 0.1% and the networth is close to INR 358 Crore and at the consolidated level, the net worth is ~₹ 1000 Crore, and leverage (debt/equity) is less than 1.5 times.
The parent company has raised $220 million (Primary + Secondary) and it was last valued at $1+ billion (Unicorn) valuation.
Since December 2021, the parent company has infused ₹ 400 Crore as equity in the NBFC (Quadrillion) which increased NBFCs net worth to more than ₹ 500 Crore. Additional security, Bondholders also have a corporate guarantee from the parent company
Sustained improvement in consolidated profitability with Return on Total Assets (ROTA) of at least 3%
Improvement in liability profile with a reduction in the cost of funds
Liquidity Profile -QFPL's asset-liability maturity profile reflected a cumulative surplus position across all maturity buckets as of December 31, 2021. The company has principal debt repayments of Rs. 959.61 crore up to one year against which the contractual inflows from advances stood at Rs. 1,104.96 crore and cash and bank balances stood at Rs. 0.79 crore as of December 31, 2021. Liquidity remains supported by high collections driven by the short-term nature of the loan book (average tenor of around 4 months) and medium-term borrowings of around 12 months.
Key Risk – A higher share of short-term funding in the overall borrowing and risk of force majeure events like lockdown.
The repayment structure is as below

Slice Team
Slice was started six years ago by Rajan Bajaj. Rajan started his entrepreneurial journey in his early 20s with Mesh Internet in 2015. He later founded slice in 2016 to ease the financial anxiety that new-age customers go through when it comes to payments and credit.

Conclusion
The IRR of 11.5% is quite competitive considering the short tenure. Most of the bonds offering such yield have a tenor of 2-3 years. In the rising rate scenario, I prefer to go for a shorter period of investments. The minimum amount of INR 10k makes it attractive for all kinds of investors. I expect the deal to be subscribed in a short span of time. I will be participating in this and will update in my monthly review. However, each investor should assess the investment considering their own risk appetite and capital.