Last post I had covered how people can use secured loans to generate high yield.It is a great method to generate above average yield of 11-13%.
This post I will cover 2 interesting opportunities in:
Venture Capital (20%+ IRR opportunity)
International P2P Lending with ultra short duration and buyback guarantee (11% IRR)
If you want higher yield than debt investment then you need to invest in equity deals which have higher risk and return potential
Lot of people are interested in unlisted companies as they can provide very high return albeit with high risk.Most pre IPO deals happen after 3rd Stage. As it can be seen in the image there is limited upside for most of these deals as you would be buying at elevated prices if a company is doing well hence it's not very superior to public equity. In Venture capital investing you invest in 1-3rd stage which has higher potential (upto 100X in some cases) but risk is higher because it's hard to gauge the future .
The only way to do it properly is to invest in multiple startups and diversify the risk as it's not uncommon that quite a few startups fail !
Europe is the top place for equity crowdfunding as favourable laws allow it to flourish. The best platform in europe for equity Crowdfunding is:Seedrs
Seedrs is a well-established crowdfunding platform launched in 2012. The platform allows new businesses to raise capital by promoting the crowd who buy the company's shares. This is different from other platforms that engage in lending money to new companies.
The difference between equity and debt has advantages for both investors and businesses. Businesses do not hinder debt repayment and do not have to pay investors a fixed amount like loans if they can persuade the bank to borrow them. In return, the company gets the payments in the future, either as dividends when making profits or in the value of the shares when an acquisition takes place.
From an investor's point of view, these aspects can be attractive. This is because the investment can be paid several times, unlike a loan that pays only a fixed amount. Compromise is an additional risk because if the business fails, the investment will be completely lost.
What's great about Seedrs
Allows a minimum investment of 25Euro per deal
Platform provides statistics of the historical performance which shows 40% net return for investors
Some of the top companies raise through Seedrs
Have both pure Equity and Convertible Loans options
Secondary Market to sell your investments
Overview
On Seedrs startups can pitch to raise money offering investors an equity stake in the company. This is called p2p equity or equity crowdfunding. The startup discloses information about their product, plans (e.g. intended impact, monetisation strategy, use of proceed) and achievements so far to registered users. There is further information about the market they operate in and the team is presented.
The equity share offered is stated (e.g. 5%). This and the amount to be raised (e.g. 100,000 GBP) define the valuation of the startup that the startup has applied (in this example 19,00,000 pre-money, so post-money, that is after completed funding the startup's valuation would be 20,00,000 GBP and the 5% equity share of the new investors represent 5% of 20,00,000 = 100,000 GBP raised). Note that the valuation is based solely on what the startup deems appropriate. Of course if the startup aims to high it risks that there is not enough investor demand and the funding fails.
I just signed up online and submitted some documents to verify my identity. The process is pretty straightforward. Seedrs is open to international investors, so investors do not have to be UK residents.
After signing up, investors can browse the pitches that are currently raising money. A pitch is usually open for 60 days, but maybe closed early by the startup if the goal is reached earlier.


There are 3 types of campaign: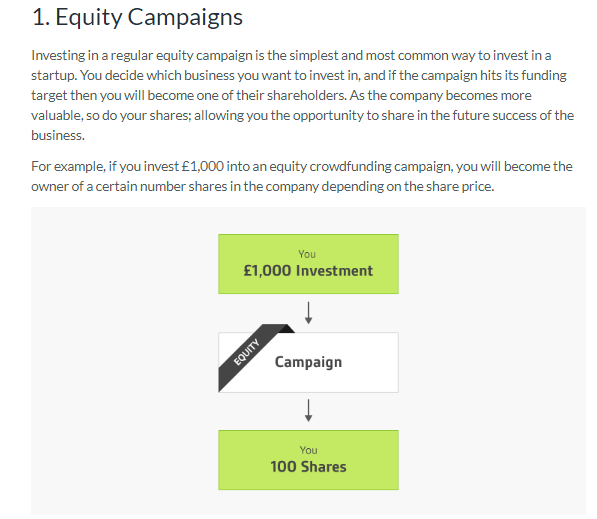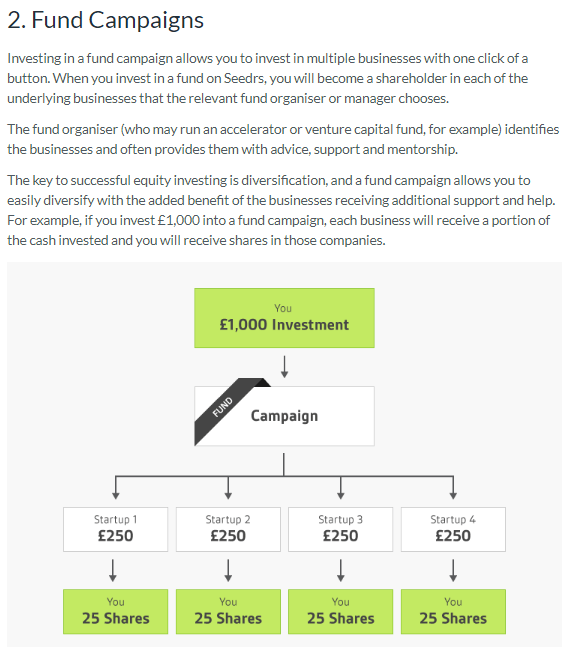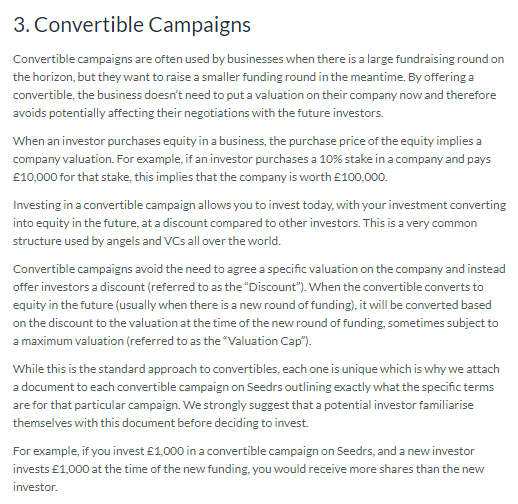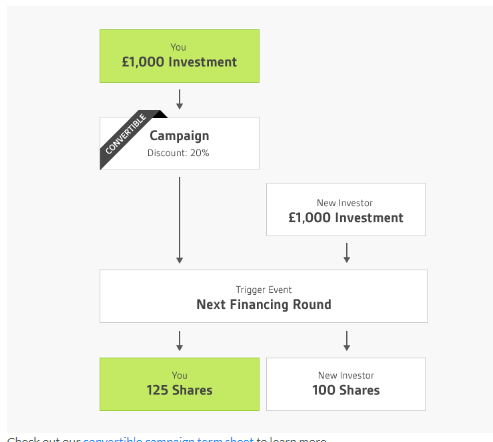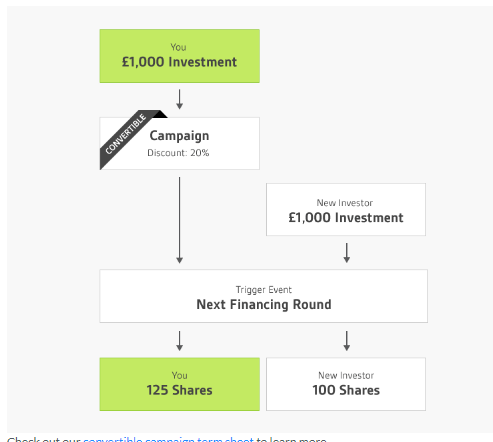 What happens after the funding
Seedrs completes all the paperwork with the startup. As Seedrs acts as a nominee for investors the individual investor does not have to do anything. The nominee structure means that the startup does not have to deal with each of the many individual investors but rather only with Seedrs as Seedrs represents all of these investors. Seedrs charges the investors a fee of 7.5% on the profits the investors make (note that this is not a fee on the investment amount (example: an investor invests 200 GBP in a pitch. Should there be an exit later where the value of the investors shares is now 300 GBP then Seedrs charges 7.5% of the 100 GBP profit; therefore the investor would be paid back 292.50 GBP). Note that your investment will be illiquid until the exit; as there are restrictions on selling the shares.
After the funding is completed the startup can communicate updates to the investors on how they are progressing. There are huge differences in how often the startups I invested in use this communication channel. Some post updates about once per quarter other rarely inform about the status.
How to get started as an investor?
Register using link and get 25 Euro Bonus if you invest 150 Euro within 30 days
Download Contomobile app for payment.
Use Wazirx to transfer money to contomobile.
International user can use Binance/Kraken etc
The Process can be found in detail in my post on international investment
Ultra short P2P Lending with Buyback Guarantee– PeerBerry
These days times are such that it's difficult to understand how long term loans will fare ,hence short term loans are a great option.One reason I stayed away from short loans was due to high risk of notional loss even with small NPA. To overcome this problem one interesting platform allows 1 month loans with buy back guarantee!
PeerBerry is a European investment platform within P2P lending. The platform is owned and operated by Aventus Group. It's a very successful and healthy company from 2009 with +600 employees and +10 years of experience as a loan originator.
PeerBerry has been gaining quite a lot of popularity among peer-to-peer platforms recently. As with many crowdlending platforms, PeerBerry originated in the Baltics – specifically Riga, Latvia.
At the time of this review, the platform has an average annual investment return of 11.51%, a solid return for most platforms. With more than 18,000 investors and over €212 million in funded loans, PeerBerry is certainly making some waves in the peer-to-peer business
At this point in time I want to focus on platform where there is protection for the invested money. I have selected this platform as it provides
Very short investment horizon -30 Days
Buyback guarantee within 30 Days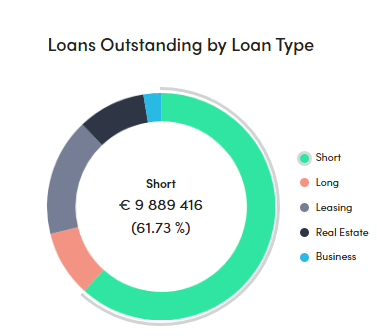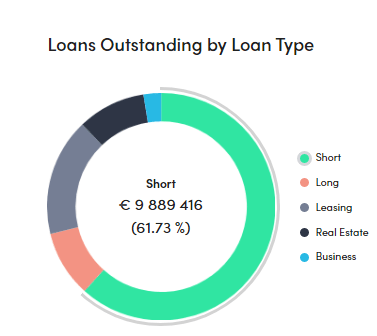 It means if a borrower does not return the money 30 days after due date ,the loan originator will return it.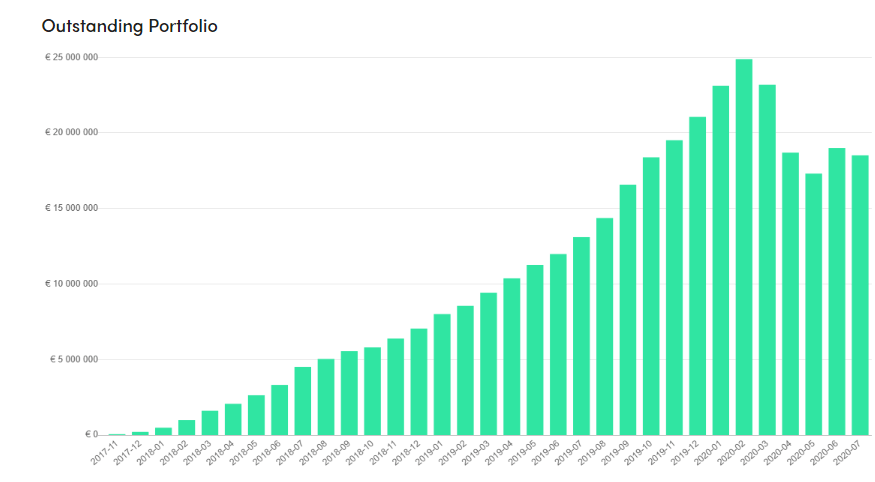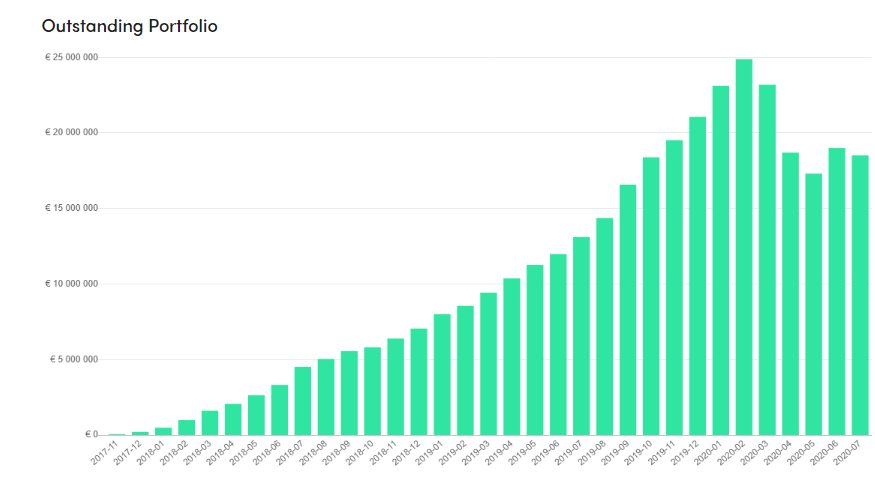 The platform offers loans from:
Lithuania
Poland
Belarus
Czech Republic
Kazakhstan
the Republic of Moldova
Russian, and
Ukraine
. To ensure that the platform has capacity to return the money I have selected a platform which is profitable with strong balancesheet.
Risk Mitigation
One of the main risks with any peer-to-peer platform is Loan Originator default. PeerBerry offers an additional guarantee, further to the BuyBack guarantee mentioned above, specifically for such potential cases.
The platform stated that their main partner, Aventus Group, has signed an additional guarantee agreement. This means that in case of loan originator default, Aventus Group and Gofingo will "do everything to protect your investments, maintain transparency and good reputation of all partners – loan originators", as A. Lekavičius explains .
80% of total loans on the platform are accounted for by Aventus Group, with Gofingo following at 15% and Lithome at 5%.
It is important to note that in 2019, Aventus Group posted a net profit of €12.6 million, whereas their equity stood at €14.3 million. These figures suggest that the company would be able to cover any liabilities, should they come up
What can I invest in?
PeerBerry offers mostly short-term loans on the consumer marketplace. The platform presents you with an overview of each loan, including the loan originator, amount, interest rate, remaining principal and days remaining for investing in the loan.
Borrower details are also available. These include the borrower's country, city, age, gender and number of loans taken.
Since most of the loans available mature in around 30 days, they are often considered to be Full Bullet loans. This means that the investor would receive the principal and interest at one go, through one payment, at the end of the investment period, as illustrated in the schedule in the screenshot below.
How to Invest?
Register using link and get 1% bonus yield for 90 Day- PeerBerry
use Contomobile to transfer and fund your account
Complete process below to transfer to Contomobile is given in the earlier post as below
Conclusion: Seedrs and Peerberry are interesting opportunity in long term and ultra short term duration which can boost the overall return of the portfolio
PS: Feedspot has covered us in their blog which has the most comprehensive list of Top 25 Mutual Fund Blogs