Reinvest24 is a real-estate crowdfunding platform that provides an opportunity to invest into:
Real estate development loans
Real estate properties
Currently, market coverage of the platform includes Baltic states, Moldova, Spain, Germany.It is one of the platforms that follows extensive due diligence and project monitoring. They scan the market for profitable projects and secure them for investors. If the project requires development – the team with over 10 years of experience in construction takes care of that process. As the result, they are able to provide our investors with detailed overviews of the progress of the project and keep risks low
Reinvest 24 Properties
Reinvest 24 has equity as well as debt projects in European countries with good yields. Below is a snapshot of major projects funded by Reinvest24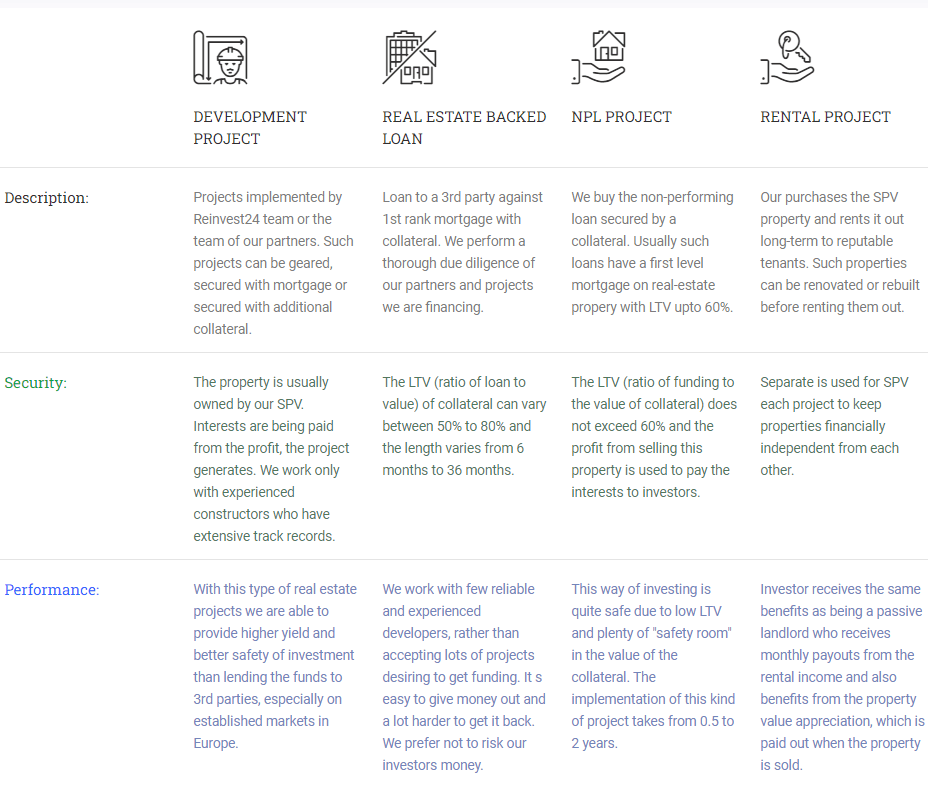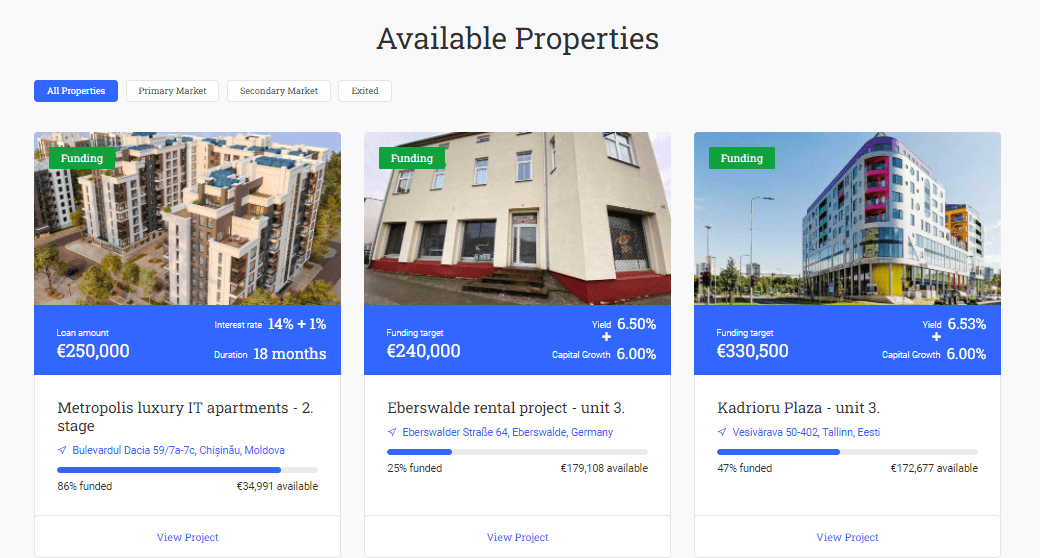 Reinvest24 Statistics
The platform currently boasts of zero default rates.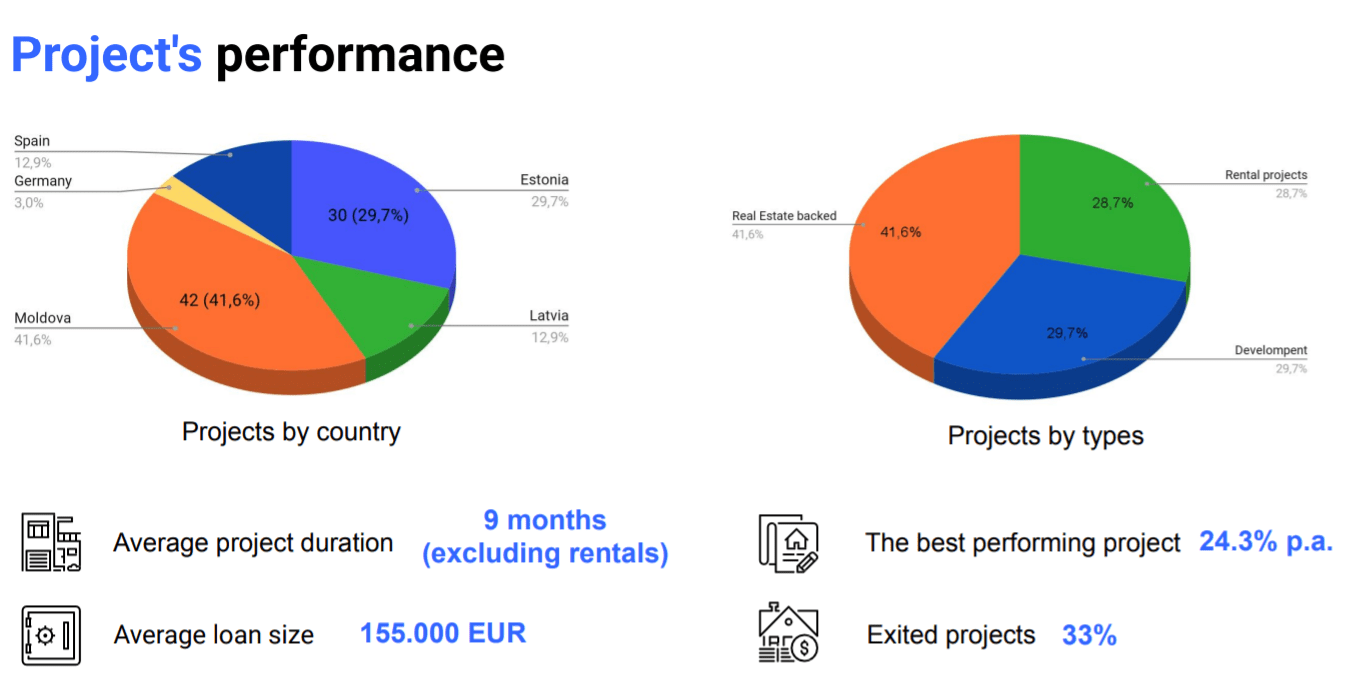 Is Reinvest24 Safe? – Risks Involved
Reinvest24 follows a comprehensive approach to find good projects and monitor them closely to avoid any risk. Some of the salient features of the approach are:
Investment options are located in different regions and are able to benefit from the growth and opportunities of that market and diversify the geographical and political risk.Reinvest24 is a getaway to Moldova, which offers big potential in terms of real estate developments and price growth. Currently, the market is 10-15 years behind Baltics, moving towards joining the EU
The team has extensive experience in Real estate projects, hence they are able to handle any complications in an existing project
For every major project, they have regular reports published in the Insider updates section on the blog. Also, there is a possibility to follow the progress of the projects with video overviews.
All Reinvest24 projects are backed with real estate assets and usually, it is a 1st rank mortgage, where LTV does not exceed 50%. As per the projects that have several stages of funding, the LTV is lower or equal to 50% at any stage of the duration of the project. It means that collateral coverage for the total amount issued to the project is at least 200% at any time.
My Experience using Reinvest24
I have used the platform for 18 months now and invested in both rental and debt deals. A lot of people I had referred have been using it as well from the same time. The Performance of the platform for Equity and Debt deals has been up to the mark. There has been no default till now and Returns have been in line with the expectations. There is more availability of investment opportunities now which is a big positive and will help to diversify more. If the performance stays consistent, I will definitely add more money to it in the future.
Reinvest24 Recent Developments
No Upfront Fees – Reinvest24 has done away with upfront fees. It means that 1% will be charged from the principal amount at the time of its repayment. This way, investors will earn from the entire amount invested, which will result in more earnings than before and make skin in the game for Reinvest24
Great Covid Performance – As of today, Reinvest24 has 105 projects out of which 33 are successfully exited. The best-performing project has generated a total of 24.3% IRR. During COVID, the platform did not have any major issues or defaults and overall was among the best platforms in terms of how issues were handled
Live View of Projects– You can monitor the development of Moldovan projects, without even leaving Your house! This is possible as Reinvest24 is proving a live stream view of the project's construction fields. You can find the link to the cameras in the Insider Updates of the project.
How to invest in Reinvest24?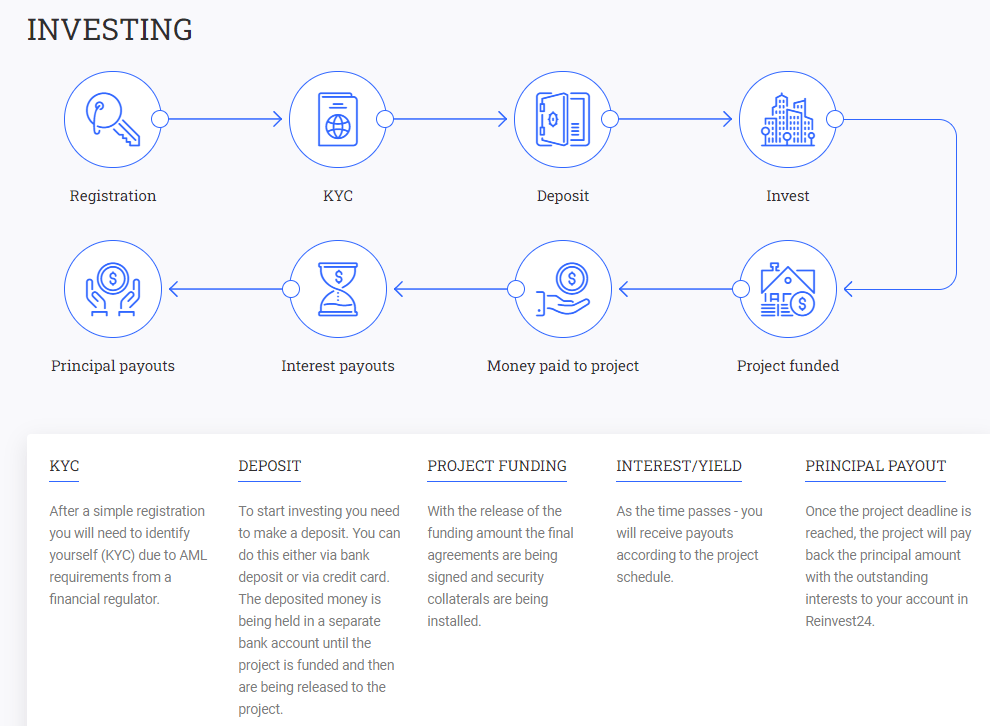 Account Setup is simple. Use the below link and complete your KYC.
Connect your multicurrency Account and you are ready to invest!
Now Winvesta Multicurrency Account has waived off the monthly fees. It is the cheapest way for Indians to manage a foreign portfolio.
Conclusion
I hope this post on Reinvest24 review would have given you a complete idea about the platform. Reinvest24 is a good platform to create a balanced portfolio of Equity and Debt Investment in European real estate. The performance since inception has been consistent. Investors can add it to their global portfolio to get high yields.