In this post I will cover performance of my:
P2P Portfolio
Invoice Discounting
Global Portfolio
Option Strategies
I will also cover some of the new products available to invest
P2P Portfolio current yield and NPA:

Positive Performing P2P Platforms:
I2IFunding: I have shifted most my investment to B category 1 year loans and few Group Loans . Idea is to invest in either safe loans or group loans which have cross guarantee hence lower risk than similar rated normal loans.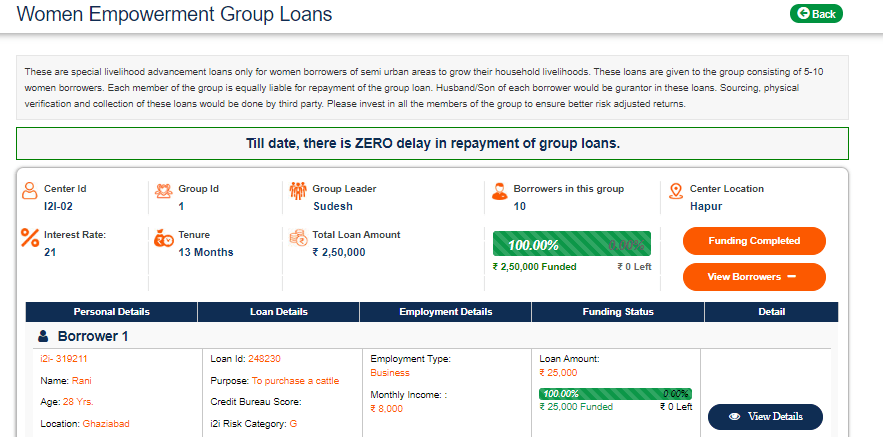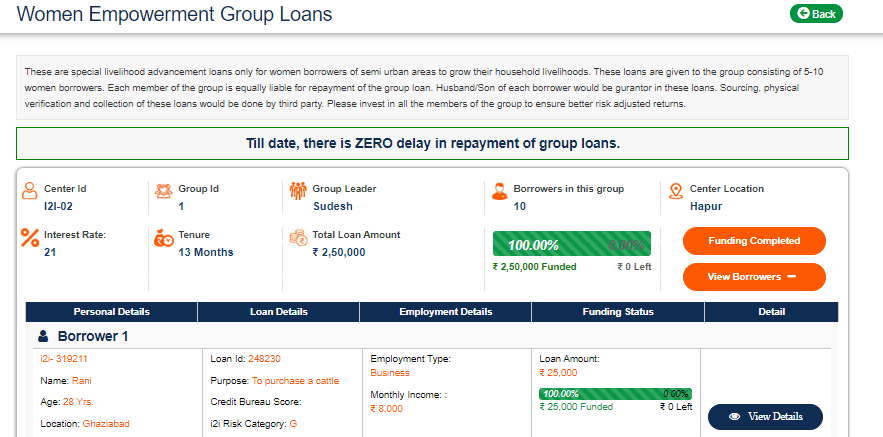 The performance of the portfolio has improved and expect few defaults in F and E most of the portfolio is performing well
RupeeCircle: Returns have been consistently good. Most of the investment are in the D to F category. I ensure the borrower has his own house and EMI ratio to Salary is not very high. One delay of a person due to unfortunate accidental death (AIG has started processing of insurance for the same)
Finzy: The first month EMI have been on time. Have been creating 1000 rs loan using auto invest portfolio feature.I will keep a tab for the next 6 months to see if it remain consistent before increasing capital.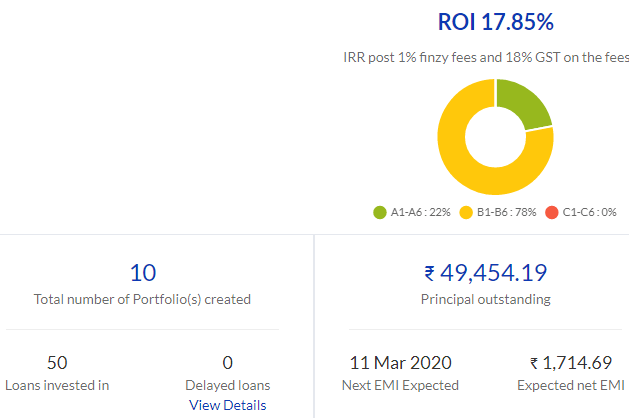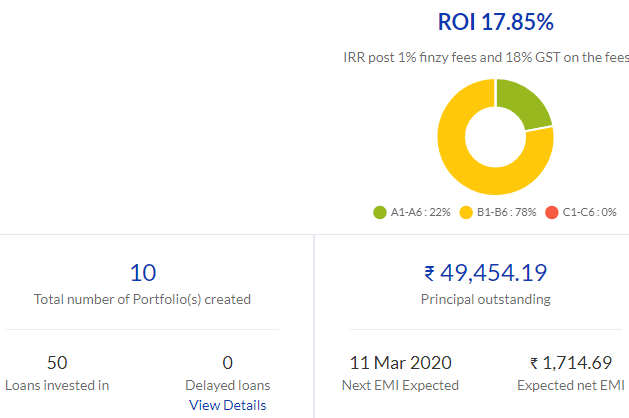 Faircent: Group Loans( Education and Consumer) have been performing well without any noticeable red flags. I am shifting my existing term loans to group loans.It's a good way to park money for medium term.
People who wish to invest in settlement finance can use Faircent for it @ 12%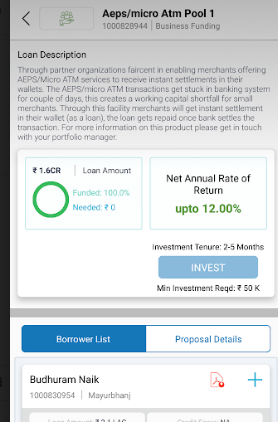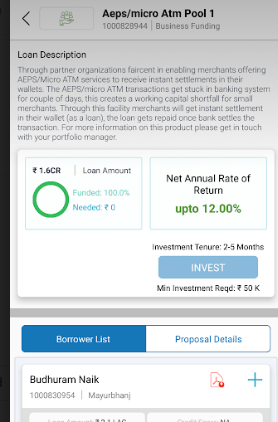 Underperforming P2P platform:
Lendenclub: Lot of money is stuck in default or NPA category. There is no clarity on status of these borrower which is quite a bummer. I am in the process of taking out money from LendenClub and putting it in rupeecircle.
Cashkumar: The platform doesn't have enough loans.Also among the existing loans I see lot of delays.Though the ROI is high I will reduce my exposure considering the high number of delay.
Apart from these : OMLP2P and Financepeer I am waiting for few changes before I decide to increase exposure.
OMLP2P( very few borrowers)
Financepeer( need to upgrade dashboard and User interface)
2) Invoice Discounting Performance
Invested in 3 Invoices this month: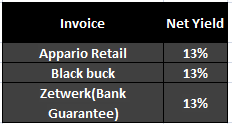 I am restricting myself to few names in invoice discounting rather than going for higher yield.
Faircent also has few settlement finance loans yielding 12%
3) Global Portfolio
Some of the top holding in my portfolio are: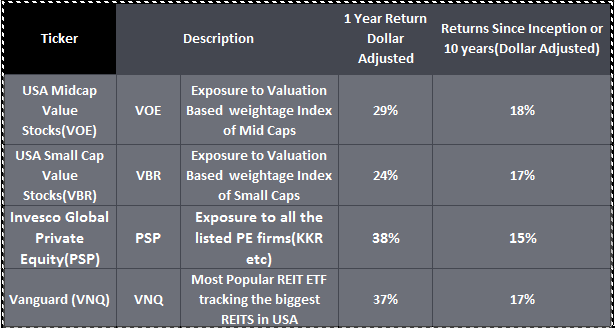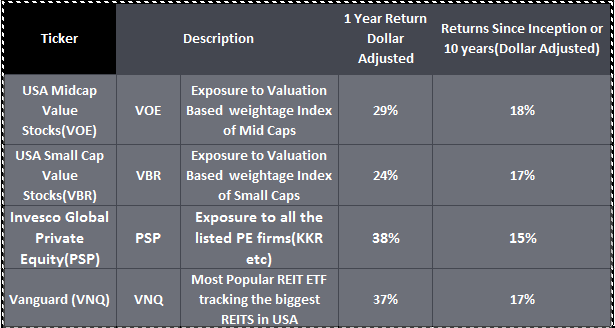 Apart from this I have few individual REITs also in my portfolio
I am using stockal to buy ETF and vested for selected stocks( zero commission on stocks)
4) Current Option Strategy :Jan Month
I had sold 12500 CE for March starting of the month as I felt market was overpriced and some correction was expected.


I booked profit after the catastrophic market crash during budget.
I initiated a new position of short Put 10500 Dec as the volatility had spiked an I feel market will stay above that level next few months.Once Market has rallied a bit and I make around 40-50% premium I will book profit.
Based on market valuation I will either sell calls or puts or both after that (also depending on option prices)
Footnotes:
Global Investing Platform Stockal
https://www.stockal.com/signup
under partner ID use "Randomdimes" to get additional future benefits and renewal discounts
For global Investing through Vested
Use this to register and get 5$ in your account (https://app.vested.co.in/referrals?code=RORA74993 )
For buying zero cost MF and lowest Derivative Trading
For alternate investment you can use these links
Finzy Referral Code:
https://finzy.com/invest?partner=MAN635
or you can apply the code : MAN635
(First Use the link to register then add the Code "discount50@i2i" while paying to get 50% off)
Rupee Circle Referral Code- PIND145
Rupee Circle
LendenClub Referral Code – LDC11989
LendenClub
OMLP2P Referral Link
(Use Code MNJ6547)
Invoice Discounting Platform TradeCred Link:
https://buy.tradecred.com/onboarding/apply-now/TC0152
For specific queries ping me on 9967974993 or mail me on rohanrautela9@gmail.com