People who had invested in the Indian stock markets enjoyed a good run last decade, as the market more than doubled up in value since 2010. BSE Sensex, one of India's most liquid benchmark Index started the decade at around 17,500 and ended at over 41,000, clocking in over 136% return.
Indian Property Index fared slightly worse and gave 80% returns in 10 years,after adding rental yield total will be north of 100% returns ( almost 2x returns in 10 years)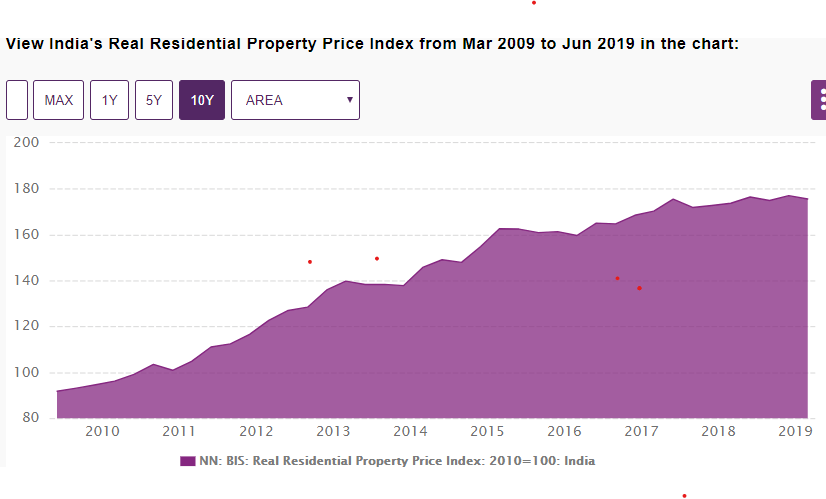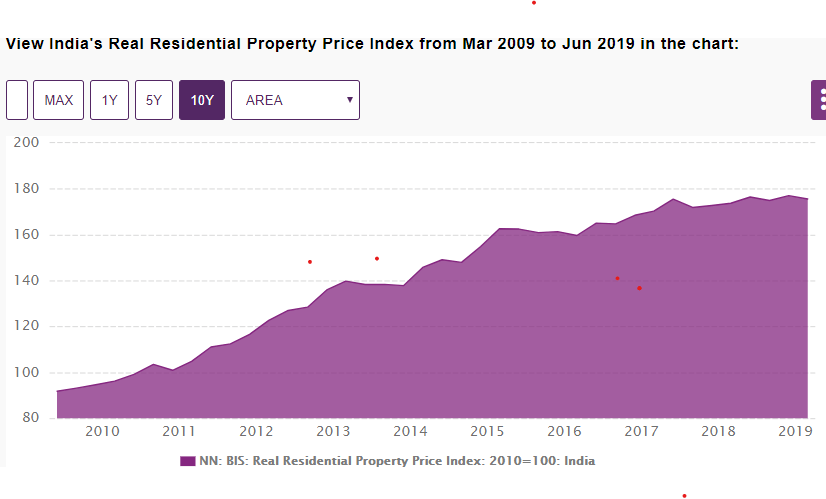 US Stock Market and REIT Performance in the same period
In the same period, S&P 500, USA's most liquid benchmark index produced a slightly higher yield of 190%, starting the decade at 1115 and ending at 3231.
A simple comparison of charts for US vs Indian Stock Market and Real Estate would show that US investments would have outperformed by more than 50%, or by 4.5% per year (compounded). The answer does not factor in the Dollar appreciation
One important component when investing in US stock markets from India is that US markets are denominated in USD, while Indian investments are typically in INR. So for a true comparison, we need to compare how much returns an Indian resident would have generated if he invested INR 100 into S&P 500 (by buying USD for INR 100 in 2010) vs investing those in Sensex. Here's the simple math to get to the result
Data
| | | | |
| --- | --- | --- | --- |
| | SENSEX | S&P 500 | USD INR |
| 31-Dec-09 | 17,464.81 | 1,115.10 | 46.53 |
| 31-Dec-19 | 41,253.74 | 3,230.78 | 71.38 |
Investment in Sensex
Starting Capital = INR 100
Sensex Return = 136.21%
Ending Capital = INR 236.21
Investment in S&P 500
Starting Capital = USD 100/46.53 = $2.15
S&P 500 Return = 189.73%
Ending Capital = USD 2.15*(1.8973+1) = $6.23
Ending Capital in INR = 6.23*71.38 = INR 485
Outperformance = 208%
Investing in Indian Real Estate
Starting Capital = INR 100
Indian Real Estate Return = 189.73%
Ending Capital in INR =  INR 189.73

add Rental yield at 3%+ Capital appreciation = INR 230
Investing in USA REITS
Starting Capital = USD 100/46.53 = $2.15
REIT Return = 245%
Ending Capital = USD 2.15*(2.5+1) = $7.4
Ending Capital in INR = 7.4*71.38 = INR 530
We can chart this out performance by converting S&P 500 and REIT index into INR, and comparing the performance with Indian assets if we invested 100 INR in each asset 10 years ago: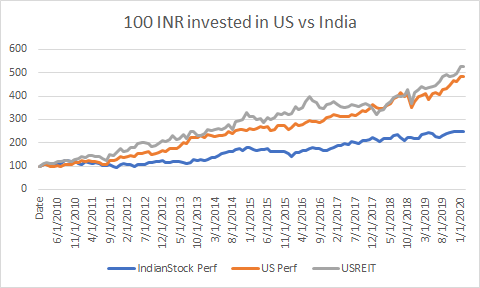 INR 100 invested last decade in S&P 500 in US would have returned INR 485, US REIT would have given 530 while the same amount invested in Sensex in India would have returned INR 236 and Indian Real Estate 240
When we add the USD/INR FX conversion to the equation,we see that US market has given more than double the return compared to Indian Market.
Indian Real Estate has been the biggest laggard even if we add rental income to it. Some people would argue that their property made money but that's cherry picking. It's like saying TESLA stock gave 100% percent in a year thus all stocks will give the same
It makes lot of sense to allocate some amount of your portfolio to foreign stocks and REIT to achieve high returns in the long run considering the barriers have become lower than ever !
Footnotes:
Global Investing Platform Stockal
https://www.stockal.com/signup
under partner ID use "Randomdimes" to get additional future benefits and renewal discounts
For global Investing through Vested
Use this to register and get 5$ in your account (https://app.vested.co.in/referrals?code=RORA74993 )
For buying zero cost MF and lowest Derivative Trading
For alternate investment you can use these links
Finzy Referral Code:
https://finzy.com/invest?partner=MAN635
or you can apply the code : MAN635
(First Use the link to register then add the Code "discount50@i2i" while paying to get 50% off)
Rupee Circle Referral Code- PIND145
Rupee Circle
LendenClub Referral Code – LDC11989
LendenClub
OMLP2P Referral Link
(Use Code MNJ6547)
Invoice Discounting Platform TradeCred Link:
https://buy.tradecred.com/onboarding/apply-now/TC0152
For specific queries ping me on 9967974993 or mail me on rohanrautela9@gmail.com