Market Outlook : India's GDP growth fell to a lower-than-expected -23.9% y-o-y in Q2 (Consensus: -18.0%, Nomura: -15.2%) vs 3.1% in Q1, led by a steep decline in domestic demand, and reflecting the impact of India's stringent lockdowns!
Markets have pretty much ignored all the negative signs ! I have been cutting the amount of monthly systematic investment in Market since Nifty crossed 11000.I have made a decision to close all new equity invest if Nifty Touch 12000 and start redeeming 10% for every 5% increase post that.
I have increased allocation to short term investment and Option Trading on Expiry. The reason is to keep capital handy if required incase of any high yield opportunity in Equity or Alternate Segment comes my way.
Yield Generation Platform Performance (Annualized)
My performance across all yield generation assets have now stabilized in the range of 8.5%-15%. A new addition has been GRIP Invest and Lendermarket to the portfolio! Among all the assets Youholder in liquid account and Crowdestor in International Investment have performed the best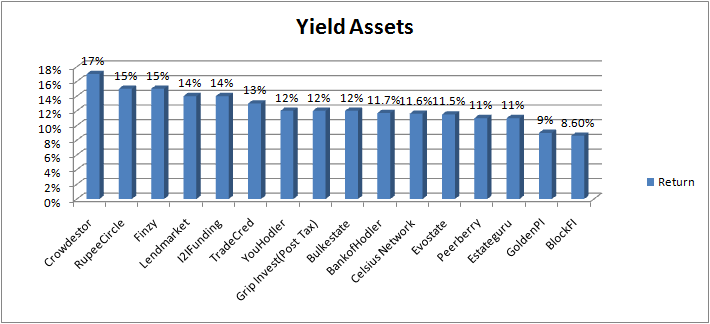 Cryptocurrency portfolio is refusing to go down and unfortunately I did not get a chance to add more when I Could. Bitcoin has been one of the worst performing crypto with 100% Returns in a quarter!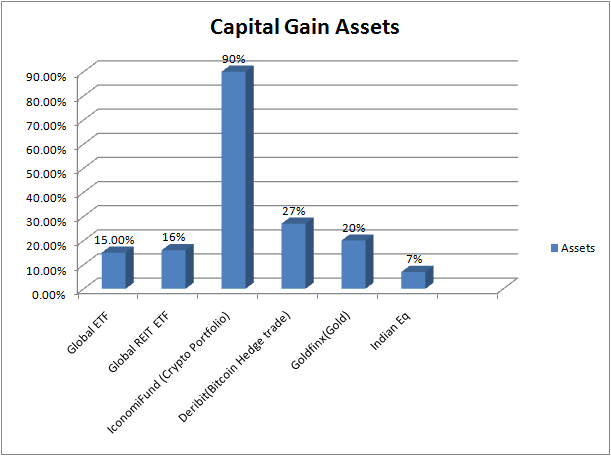 **Interestingly while writing this very post crypto market has corrected 20%. I will be using this opportunity to slightly increase my weightage in Iconomi !My preferred fund has been crush crypto
People have a very biased way of looking at risk. Most people look risk from a logarithmic scale. For instance a portfolio with chance of making 500% with 50 percent chance and other 50 percent chance of zero has expected payoff of 250% while if they upside is 50% and downside is also 50% with 70 and 30 probability expected payoff is just 20%.
Most people will choose portfolio 2 but if they add small amount of portfolio1 they can improve returns significantly.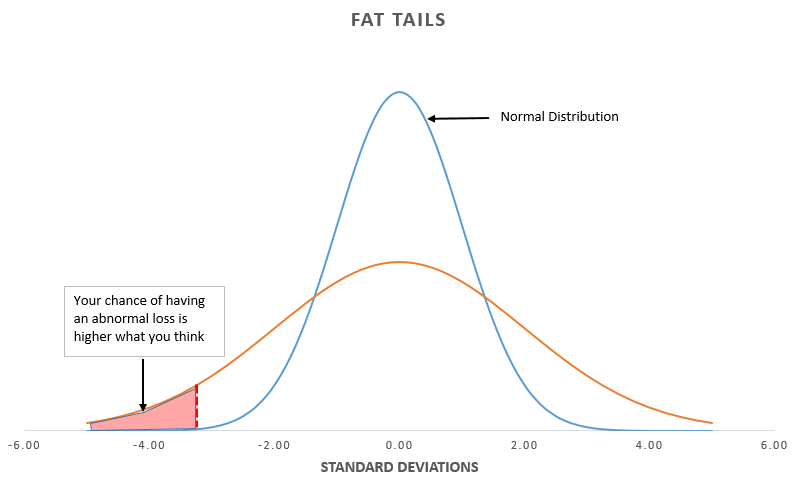 Crypto has higher chance of going up and down. 100 bucks of crypto can become 500 in 3 years or 0 in worse scenario. In equity 100 can become 150 or 50.. Downside difference is just 50 while upside 350!
if you add 30 crypto to portfolio your upside is 150 which is same as equity with lower max loss. Hence adding a small amount of crypto can boost reward.
International Investment Porfolio
My International investment portfolio has been given me very stable return with Zero NPA as yet.
Some Interesting live borrowers on Crowdestor
Average yield on Crowdestor is between 20-25%
Equity/REIT Portfolio
This month Indian stock market took a breather ,its looking at cues from it's US counterpart to see if there is a scope for another rally!
I think Rupee devaluation can be the major party pooper when FPI(foreign portfolio Investor)will take out money abruptly.
This quarter has been highlighted by some off the roof valuations!
Tesla,Netflix,Zoom etc
Tesla is more valuable than Toyota,Volkswagen and Audi put together. It may be great in technology but it is reaching euphoria level!
I booked profit at 400 and now it crossed 500! I would prefer to be in sideline now as holding Tesla at 500 is beyond my risk appetite!
Crypto Interest Account
Celsius Network has increased interest rate to 11.55% which has put it in line with Yohodler as one of the highest yielding reputed platform.
Crypto Investment Platform
The performance of my crypto portfolio has continued the stellar performance .Today market corrected and I will take this opportunity to add money to Crypto crush portfolio in Iconomi. I have taken out money from Ember Fund to Iconomi due to better options to invest there.

I had sold a 20000 Bitcoin Call when market crossed 12000. It has given me good returns with the correction. I think this is the only asset you can target 100% return in a year.

The mining operations have started in Ivory Cost and in the next couple of months we can expect first delivery of gold to the wallets and will pull the price of coin upward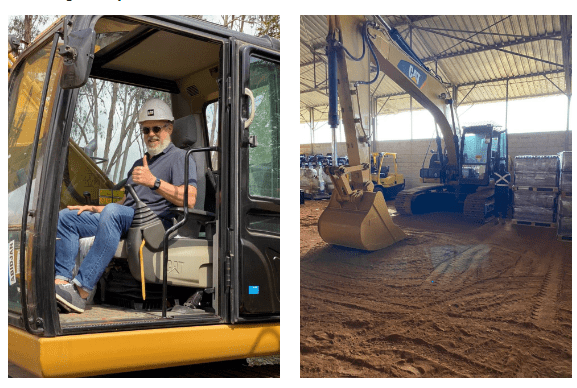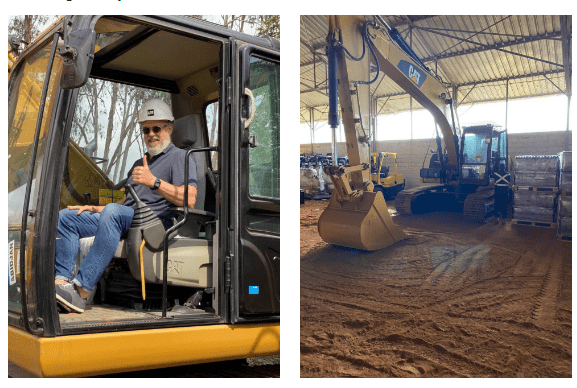 GoldFinX price has been more or less stable (35% from IPO Level) even though gold corrected a bit in the last week. I expect it to pick up pace with the gold momentum and the increase in gold reserve.
This is another platform which has shown consistency even during the lockdown period and maintained "Zero NPA"
Some Interesting Invoices this month: Flipkart at 11.8% for 82 days is a decent return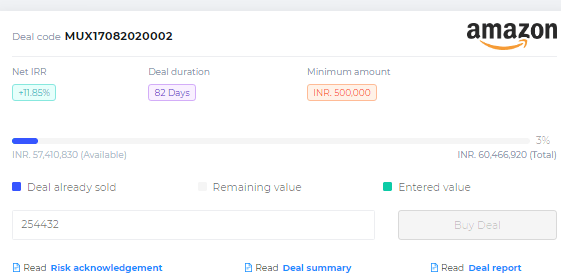 Corporate Bond yields have dipped in the past couple of month. One reason for that is the government intervention in the form of providing liquidity under Partial credit Guarantee (PCG) and Targeted Long Term Repo (TLRO) schemes. In simple words government has given incentive to banks to lend.Hence overall market is able to borrow at lower rate.
Considering the yields I see only 2 names are currently live where money can be invested for short term:



I am still focusing on shorter yield spectrum because I feel long term uncertainty persists in economy
P2P Lending India
Now the moratorium is over and collection will pickup . We can expect cash coming back for redeployment in the next 2-3 months.What I have realised in the last few months is that in most business model we should prefer platform which have people with prior knowledge of the relevant industry and not people with fintech experience but who lack industry experience. RupeeCircle and Finzy have founders who have more industry experience than say Lendenclub which will matter in a crisis like this.
As of now I am going for safe loans on Finzy and I2IFunding and few speculative loans on Rupeecircle.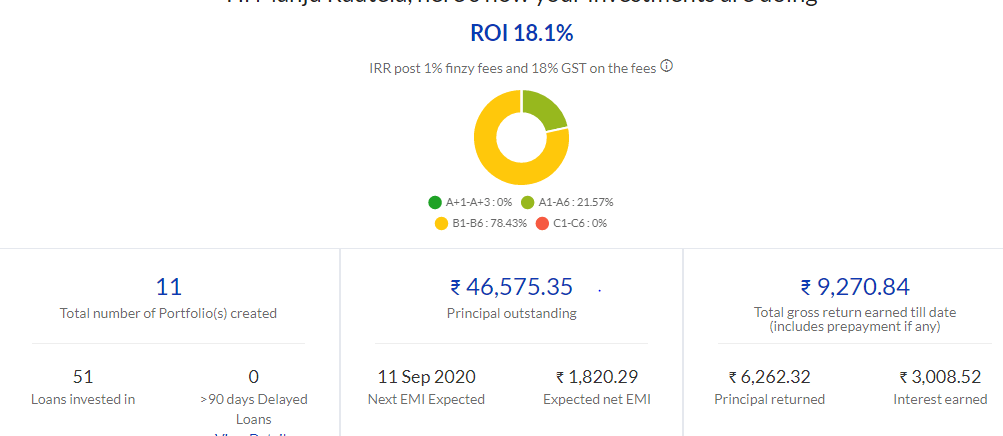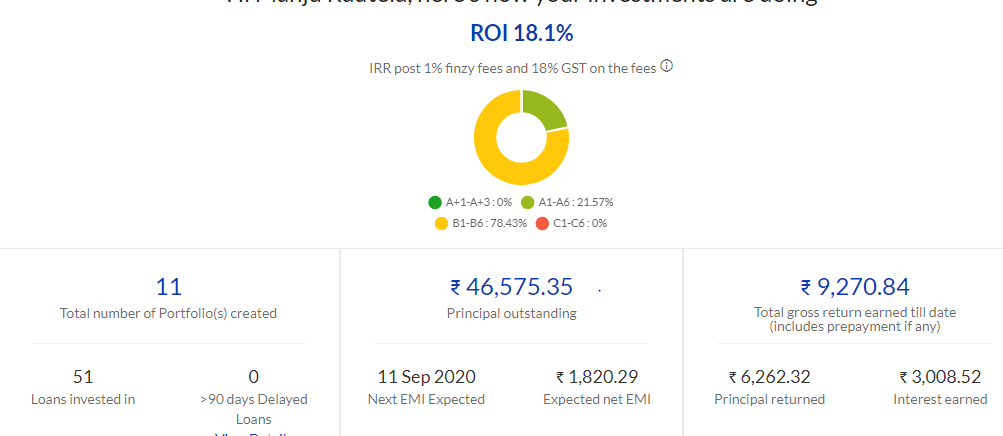 In RupeeCircle I Am redeploying in selected credit:
Own house
Decent Salary
Low Debt/Income
Cibil 700+
Considering these are loan at 25% ROI, I can absorb decent NPA
I2IFunding has started with Urban claps loan and few business loan backed by NBFC. Increase in Covid related restriction can impact Urban Clap.Business Loan seem to be backed by NBFC called Prest.

Loan against invoice backed by guarantor for repeat borrowers can be looked into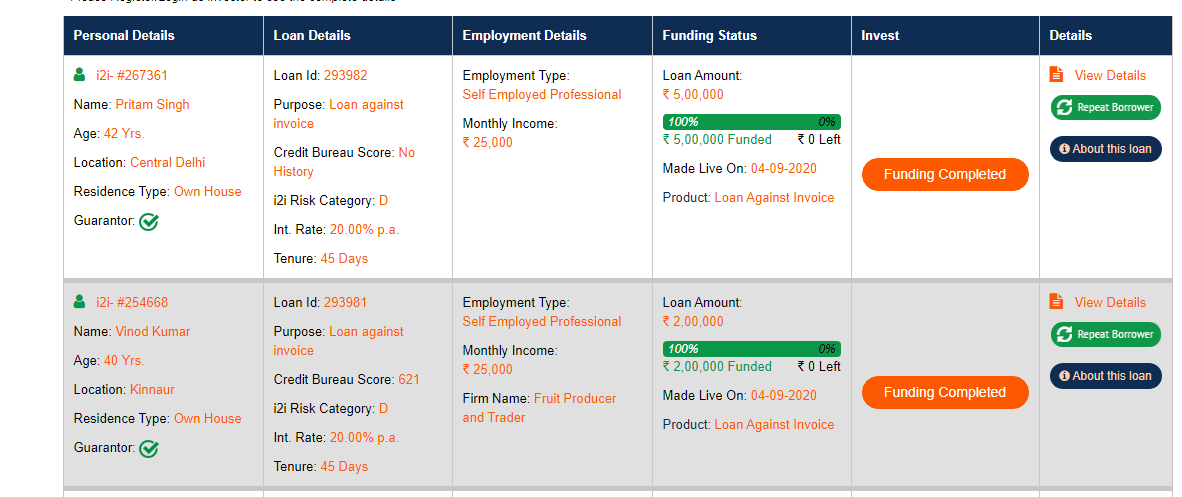 Equipment Lease Investing:GripInvest
I have started receiving payments for my initial investment which is a positive sign.The asset class is interesting as it provides tax benefit and is high yielding at the same time with collateral backed security.