What is Litigation finance?
In a nutshell, the idea is to fund plaintiffs and law firms in cases where it looks like there will be a winning ruling. When everything goes the right way, the capital that helps fund the lawsuits is returned — and then some — in return for the risk taken
People with large portfolio have multiple problems. They worry about things like portfolio construction, relative returns, macro outlooks, diversification and return correlations. An ideal new investment for them is one that offers high returns, some extra diversification, and low correlation with the rest of their investment portfolio
The potential returns are high, and they are not influenced by factors such as economic conditions, real estate prices, or global pandemics. The key risk is the outcome of the case being funded.
There are some downsides of course. Investors need to invest across several cases to limit the impact of a single lawsuit being unsuccessful. The investments are also not liquid and will take up to 3 years to generate a return. However, if you have a large enough investment portfolio to be able to allocate funds to these types of investments.
Example of Litigation Finance :
Let's suppose that your hospital gives you wrong diagnosis and charge you incorrectly
You want to sue them and take them to court to get what you think you are entitled to. Unfortunately, you are unable to afford the legal fees
Therefore, you seek the services of a litigation finance company
If the company think that the case has potential, they will help with the lawyer fees,some have connection with good lawyers
If the case is successful, the firm will get a share of any proceeds
What are the options in Litigation Finance?
Currently there are 2 options for Litigation Finance:
AXIAFUNDER
Currently among global options AxiaFunder is accepting international investors.Founded in 2016, AxiaFunder is an online crowdfunding platform that specializes exclusively in litigation finance.
AXIAFUNDER CASE RECORD
According to AxiaFunder, the platform has thus far hosted 9 litigation cases on its platform. Of this, 7 cases are still ongoing. The remaining two, as per AxiaFunder, were successful. It notes that each case made a return of 43% and 94%. This figure is based on the 'net investor return', meaning that this is after fees.
AxiaFunder says that it only invests in cases that have a favourable expected outcome for investors of at least 70 percent.
Often its cases are settled before they go to trial meaning investors are typically paid before a claimant, further improving returns.
Types of Litigation Cases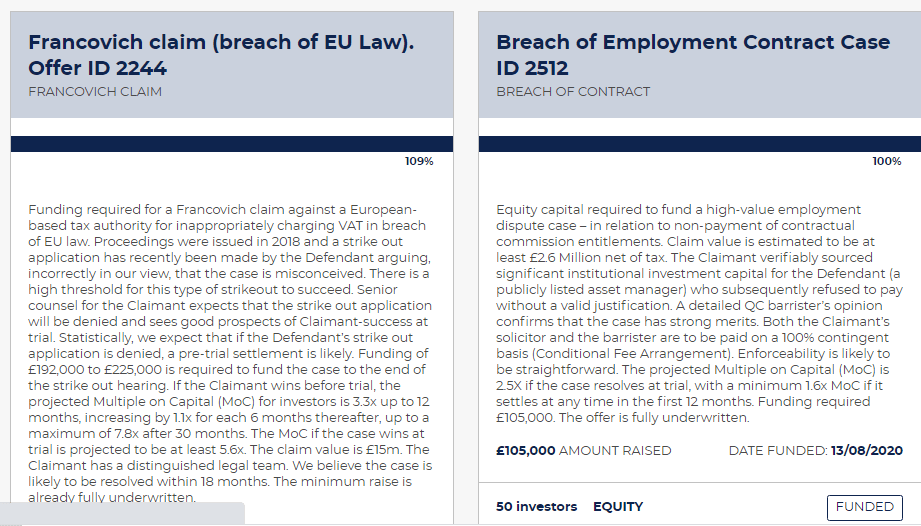 As evident from the above, the types of litigation cases on AxiaFunder are diverse
TEAM
The AxiaFunder team seems to have a good background in Litigation, Alternative Finance and Fintech which is essential for success of the venture.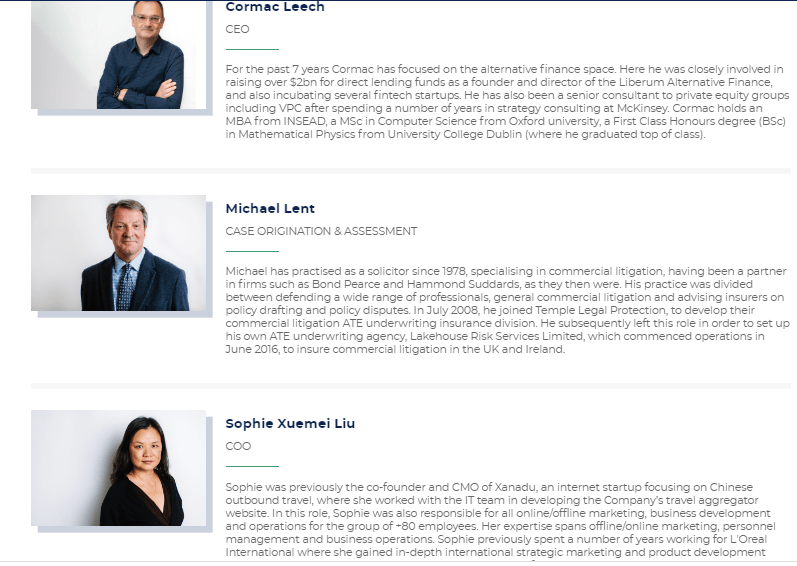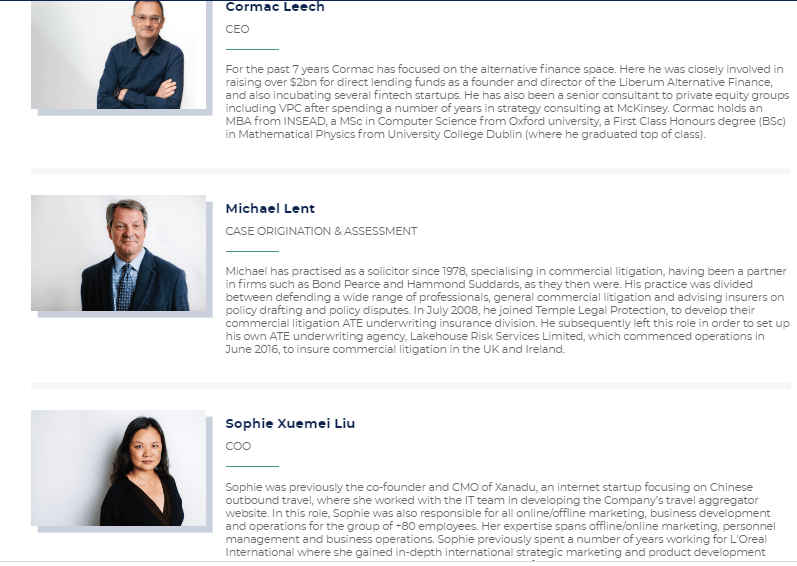 Expected Returns of AxiaFunder?
According to AxiaFunder, investors can expect to make between 20-30% per year, which is obviously huge.
With that in mind, you will need to assess the merits of each and every opportunity individually, as opposed to viewing AxiaFunder as an ongoing investment stream.
Despite market volatility in the wake of COVID-19, litigation funding offers retail and institutional investors an opportunity to diversify their investment portfolio. The next case for the platform is against an EU Member state for a breach of EU law and AxiaFunder says investors can expect returns of 5.5x if the case wins at trial.
AxiaFunder's latest round of cases was fully funded less than 24 hours after the launch of its marketing campaign—a positive sign for the popularity of the platform.
Since its launch , the platform has raised £775,000 of litigation funding for six commercial cases and recently closed an equity round of over £250,000 of working capital hosted by the crowdfunding platform Seedrs.
It is important to remember that there is no guarantee that your invested litigation case will be successful hence diversification is the key
REGISTERATION PROCESS
You can register using the link AxiaFunder
You need to complete your KYC and answers questions on the platform.One important thing,as investment gets completed very fast it's critical that you complete all the registration process and KYC well before a new case is available to invest.
The Minimum amount per case is 500 Pound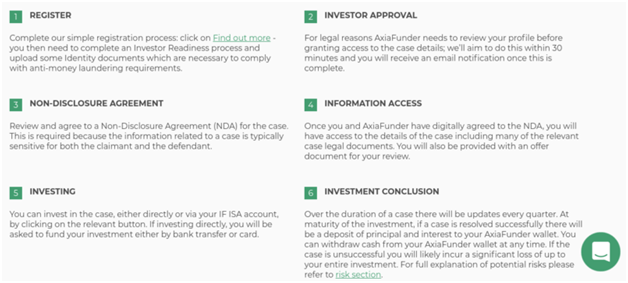 ——————————————————————————————————————–
LEGALPAY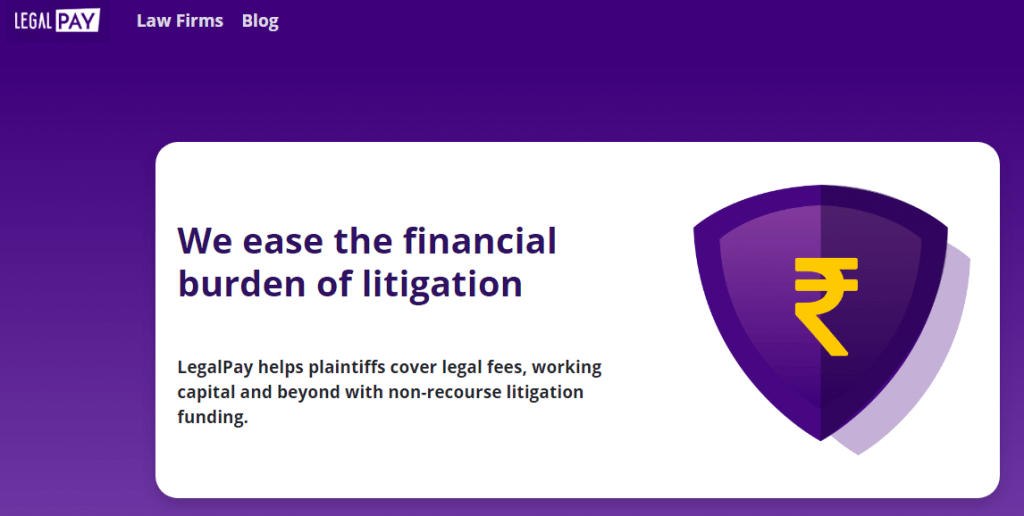 In India to my knowledge only one company provides investment opportunity in litigation financing;Legal Pay.One major difference between AxiaFunder and Legalpay is that the latter is a fund which means they invest in multiple litigation opportunities to diversify unlike Axiafunder
It is a Third Party Litigation Funding platform which allows investors to invest in lawsuits and earn as high as 50% returns on their investments. They vet all legal cases that get that need funding and only allow 1 out of 200 cases to be eligible for funding.
Legalpay is India's first and only focused litigation financing fund at the moment.They invest in commercial lawsuits between corporate involving litigation and arbitration in higher forums in the country.They Invest from 5 lakh and go as high as 10 cr
TEAM
The team has background in Fintech and Legal and is predominantly based out of NCR. Most of the members have been part of the founding team of a legaltech company Advok8 in the past.
Litigation Funding Example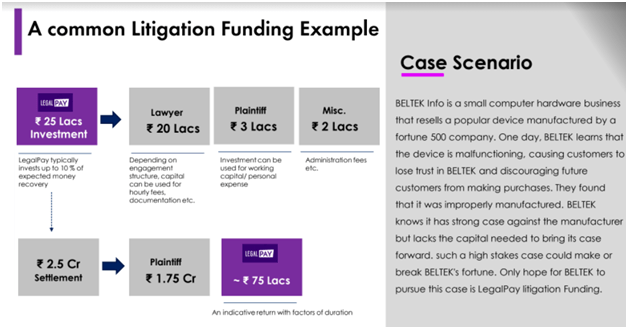 Case Selection Process
Investment Process
The total amount of capital commitment is INR 5 Lakh which the platform will spread across multiple cases. However you do not have to pay all at once.The Investment process is as follows:
5 lakh commitment to be deployed over 3 years
Make 10% deposit initially
40% is deposited in next 6 months
In year 2 and 3 they make capital call for 25% each
Your investment start making return from 2-3 year.
The below example will make it succinct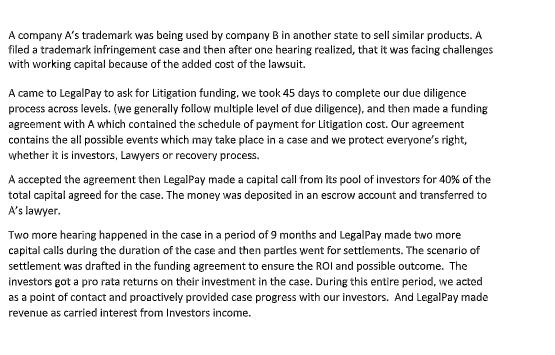 People who are interested and want to know more can register below and a representative of the company will reach out to you.
Conclusion
I found the concept of litigation funding quite interesting. On one hand it provides people/companies who have been wronged an opportunity to fight a case while on other hand the investor has a chance to get good returns.
AxiaFunder and Legal Pay have a potential to earn north of 30-40% IRR for client but like all high return investment it has high risk which is comparable to private equity investment, as you can lose few cases which can impact initial investment. This is a great opportunity for people with large portfolio who would want to look beyond the conventional asset class . As the minimum per case is 500 Pound in Axiafunder and 5 Lakh (8-10 cases in fund)in LegalPay Fund, this investment suits sophisticated investors looking to increase their portfolio yield.