We live in a fast-paced world where traditional investment options do not always provide the expected returns, and investors are always looking for innovative ways to grow their wealth. One such platform has caught investors' attention that is Mobikwik Xtra. 
This blog will discuss Mobikwik Xtra, a fintech company offering a unique investment opportunity. But first, let's understand Mobikwik Xtra's benefits, features, alternatives, and overall performance. 
What is Mobikwik Xtra? 
Mobikwik Xtra is a financial service offered by Mobikwik, a popular app for digital wallets and payment. Mobikwik Xtra allows you to invest in peer-to-peer lending, where you can earn up to 12% p.a. by lending directly to creditworthy borrowers. The investment is made via Lendbox, an RBI- regulated peer to peer investing platform. 
Mobikwik Xtra Founders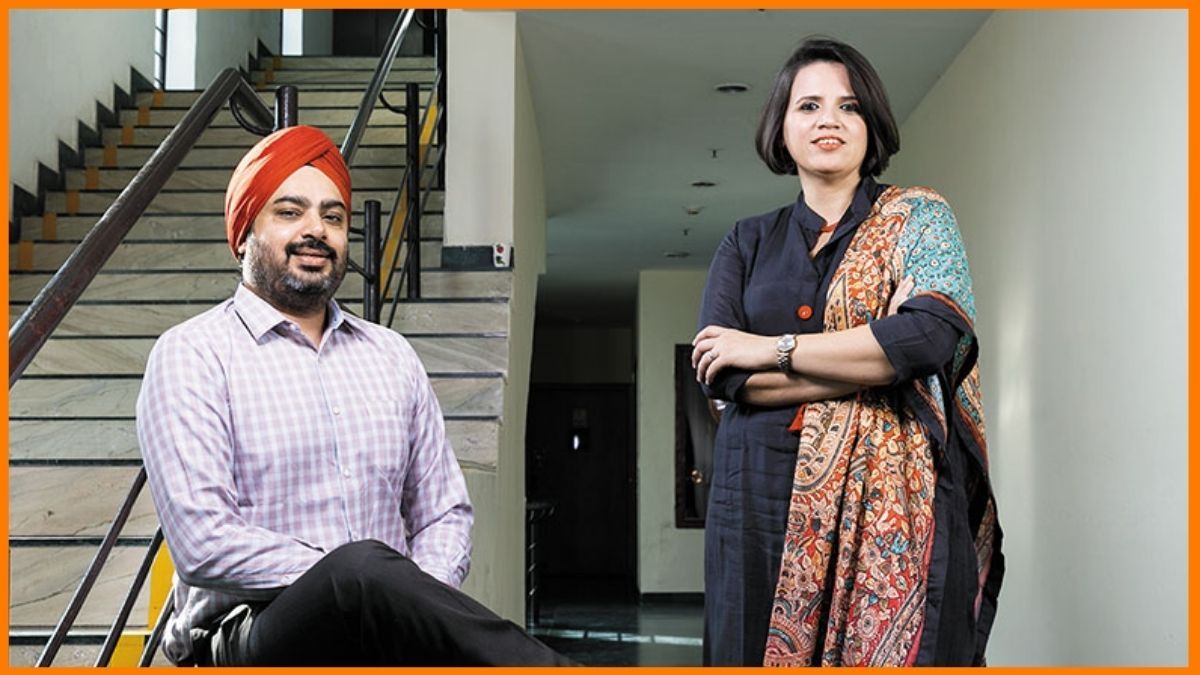 Bipin Preet Singh:

He is the co-founder of Mobikwik. Bipin deeply understands the fintech industry and has played a crucial role in shaping Mobikwik's strategic direction.

Upasana Taku:

She is the co founder of Mobikwik. Upasana focuses on improving the user experience and producing development and is responsible for designing the platform to cater to the requirements of both lenders and borrowers. Her expertise in financial services and technology has contributed a lot to the growth and success.
What is Mobikwik Xtra Business Model? 

Mobikwik Xtra follows a peer-to-peer (P2P) investing model, a financial platform that connects lenders and borrowers at a common platform, allowing you to bypass traditional investment options. This can be explained as follows:
Serves as an Intermediary:

Mobikwik Xtra is an intermediary between the lenders and borrowers where you, as a lender, can register on the platform, go through the borrower profiles, and invest in opportunities that align with your goals.

Credit Assessment: It relies on lendbox for the process of credit assessment. Lendbox uses advanced algorithms and data analytics that helps in accessing the creditworthiness of the borrowers.
Investment Options

: As a lender, you can select from various investment options and loans with different durations and interest rates based on your risk appetite. 

Revenue Generation:

The platform generates revenue from different means. Mobikwik Xtra charges borrowers a processing fee and charges lenders a platform fee.
How does Mobikwik Xtra Manages Risk?
Lendbox performs a set of security check, which is provided to its partner Mobikwik Xtra's customers:
History of the Borrowers:

Lendbox analyses essential factors, including credit history, income, employment, and other crucial financial aspects, to predict the ability of the borrower to repay the loan.

Diversification:

You, as an investor, can diversify your investments across multiple loans and borrowers, mitigating the risk of default.

Risk-Based Pricing:

The platform follows a risk-based pricing approach where borrowers with high credit scores are charged a higher interest rate, helping compensate the lenders for the higher risk and incentivizing borrowers to maintain healthy credit behavior.

Repayment Behaviour:

Through the support of Lendbox, continuously monitors the performance of the loan, identifies any potential risk, tracks the borrowers' repayment behavior, and takes any corrective actions if required.

The Recovery procedure:

Lendbox protects lenders' interests by following a recovery procedure to recover the outstanding loan amount, and they may engage collection agencies to recover the amount.

Maintains Reserve Funds:

Lendbox maintains reserve funds to recover any losses that may arise due to delays in payments and have an insurance policy to protect the lenders' investment.
Products Offered 

Peer-to-Peer Lending: The platform lets you lend funds directly to creditworthy borrowers. You can browse various options by checking borrowers' profiles, assessing their creditworthiness, and selecting loans to invest in. You can earn up to 12% returns p.a. by lending directly to the borrowers.
How to Invest with Mobikwik Xtra
Step 1: Use my referral link to download the app.
Step 2: Setup your MobiKwik UPI & complete your KYC.
Step 3: Just send Rs. 25 to any friend & get Rs. 20 back in your wallet.
Download Now: You can refer your friends too to earn up to Rs. 20 every time.
Mobikwik Xtra Alternatives
The most obvious alternative for Mobikwik is Lendbox which manages the risk for Mobikwik and has multiple partners thus making it a less risky option. Other platforms with similar or higher returns are :
India P2P:

It

is a platform connecting lenders and borrowers directly at a commonplace. It operates under regulatory guidelines set by the Reserve Bank of India (RBI) and provides alternative investment options for investors looking to diversify their investments.

Lendbox:

It is one of India's leading P2P lending platforms and is an RBI-certified NBFC with around 2,00,000 registered borrowers and 20,000 registered investors. The platform has provided an average of 24% ROI, which can help you save and create a high passive income.

Altifi:

It is a new-age investment platform that allows retail investors to invest in fixed-income securities. The platform allows investing in securities that were earlier available only for institutional investors, retail investors, affluent individuals, and HNIs.

Jiraaf:

This is a fast-growing alternative investment opportunity listing platform backed by Sequoia and other popular angel investors. The platform offers invoice discounting, corporate debt, and other instruments. It also provides equipment lease-based investment options on the platform, and the minimum investment amount is INR 1 lakh, but it may vary depending on the deals.
Mobikwik Xtra VS BharatPe 12% Club: A Comparison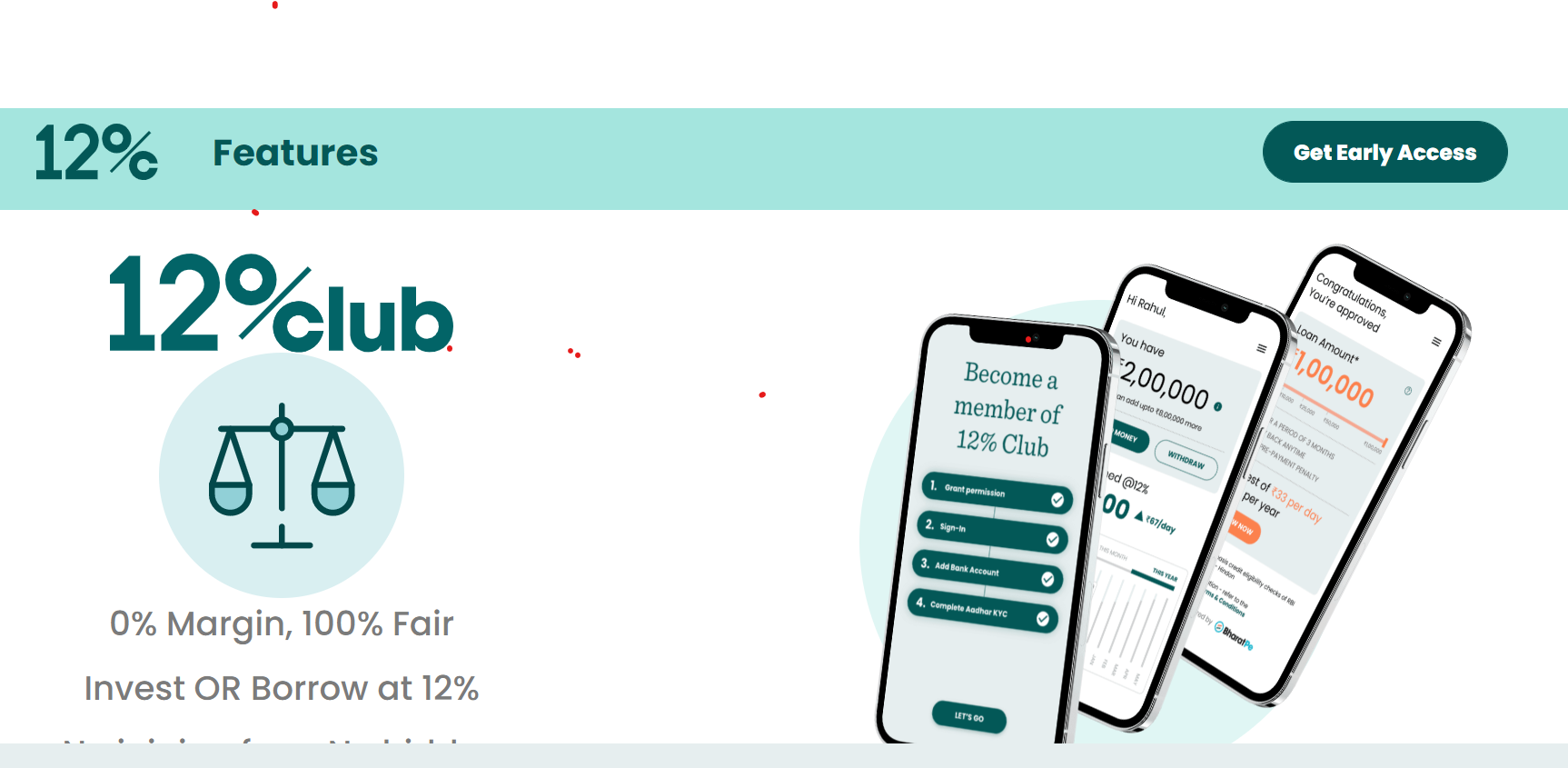 BharatPe 12% Club and Mobikwik are both fintech platforms, but they both fulfill different financial needs of the users. Let's compare both platforms: 
| | | |
| --- | --- | --- |
| Basis  | BharatPe 12% Club | Mobikwik Xtra |
| Services Offered  | It is an investment option offered by BharatPe that provides a yield of 12% p.a. approx. | It is an investment platform that connects lenders and creditworthy borrowers with 12% rate |
| Target Audience | BharatPe 12% of club customers are generally merchants using the BharatPe app. | Mobikwik Xtra customers are generally Mobikwik wallet users. |
| Underlying P2P | Lendenclub and Rupeecircle are the underlying P2P platform that provides services to BharatPe 12% Club. | Lendbox is the underlying P2P that provides services to Mobikwik Xtra. |
| Risk | Default of Bharat pe Merchants | Default of MobiKwik BNPL users |
| Regulatory Compliance | BharatPe 12% club operates within the regulatory framework set by the Reserve Bank of India (RBI). | It also operates within the regulatory framework set by the Reserve Bank of India (RBI). |
Mobikwik Xtra VS Lendbox: A Comparison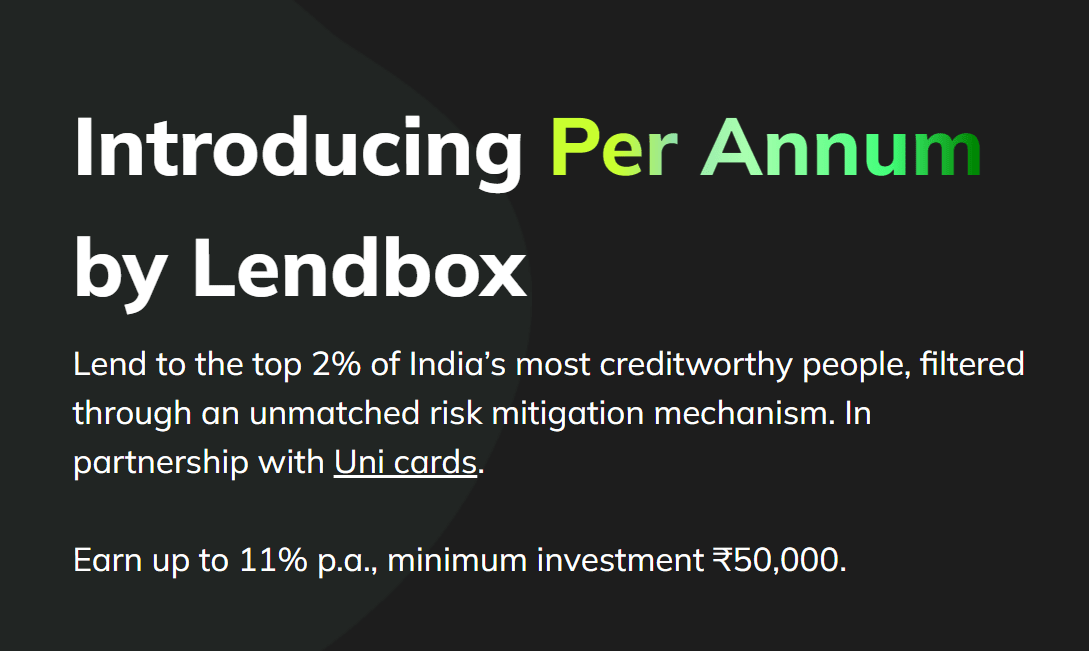 | | | |
| --- | --- | --- |
| Basis | Lendbox | Mobikwik Xtra |
| Services Offered  | It operates as a peer-to-peer lending platform and connects lenders directly with borrowers. It offers different types of loans such as personal loans, business loans, and education loans. | It also operates as a peer-to-peer lending platform, it uses Lendbox services which act as an intermediary and allows lenders to lend money to creditworthy borrowers and earn returns.  |
| Platform Usage | It serves as a comprehensive lending platform handling loan origination, credit assessment etc.  | It serves mainly as a facilitator and connects lenders and borrowers at a commonplace. |
| Investment opportunities | Lendbox provides an investment option for lenders by allowing them to invest in borrower loans and earn returns based on the interest charged. It has a large base of borrowers, allowing lenders to select and compare as per their preferences. | It  provides an investment opportunity to invest the funds directly in personal loans and earn interest. However, it has limited borrowers and does not have multiple partners  |
| | | |
Mobikwik Xtra Vs Lendbox: Why We Prefer Lendbox?
Both platforms offer financial services, but their approach may be different. Let's understand why Lendbox is preferred over Mobikwik Xtra:
Intermediaries: Lendbox is a Peer to peer lending platform and manages the risk, while Mobikwik Xtra is a marketing interface and includes provides P2P through a partnership with Lendbox.

Transparency: Lendbox allows you to check loan details such as the borrower's profile, credit history, and loan purpose, while limited details are available on Mobikwik Xtra.

Diversity: Lendbox offers more diversity as it has a larger user base and partners like UNICards, FreoPay, etc while Mobikwik Xtra has a limited base of borrowers and includes intermediaries.
Conclusion
Mobikwik Xtra stands out as a promising player in peer-to-peer (P2P) investing options offering individual investors an opportunity to earn high returns by lending directly to creditworthy borrowers. With its user-friendly platform, credit assessment process, and various investment options, the platform has offered a transparent place for lenders and borrowers to connect at a commonplace.
However one needs to understand that it is not directly managing the risk, hence lendbox is a better way to access this asset class.
Frequently Asked Questions (FAQs)
Mobikwik Xtra's performance to date has been fine but it can be risky for investors as it includes credit risk and is subject to the default pattern of MobiKwik borrowers and the investment pattern of Mobikwik Xtra investors
Does Mobikwik give a loan?
Yes, the platform offers loans through its partner Non- Banking Financial Companies (NBFCs) and offers various products, including personal loans.
What is Mobikwik Xtra?
It is an investment platform that allows you to earn up to 12% p.a. by lending to creditworthy borrowers and is RBI- a regulated peer-to-peer investing platform.
Who can invest in Mobikwik Xtra? Are NRIs allowed to invest?
Any individual, residence of India or NRI above 18 years of age or company with an active PAN Card and Indian bank account are allowed to invest .
Are there any fees associated with investing in Mobikwik Xtra?
No, Mobikwik Xtra does not charge any investment fee or commission for deposits or withdrawals.
What is the minimum investment amount with Mobikwik Xtra?
You can start investing for as low as INR 1,000 and may go up to INR 10 lakhs. And if you wish to invest more than INR 10 lakhs, a net worth certificate is required per the RBI guidelines.