Fractional real estate investing is essentially purchasing a portion of an investment property. A group of like-minded investors pool their money together, allowing them to invest in higher value properties than they otherwise would have access to.
Fractional real estate investment is a new way to invest in commercial real-estate. The concept of fractional ownership in the real estate has been prevalent in the US and Europe for a decade and is now picking up in India.
The alternate real estate asset class has been the playground for largely institutional investors since years and is now emerging as an investment avenue for the aspiring middle class and retail investors.
Benefits of Fractional real estate investment
One of the primary advantages of fractional real-estate investment is that it is the best way to invest in premium CRE(commercial real estate ).The model enables one to invest in fractions of premium commercial properties to earn a monthly rental yield and thereby build long-term wealth.
Fractional investments are a lucrative option for retail investors for whom CRE isn't otherwise accessible owing to their high ticket prices. Besides regular rental income and long term appreciation of a stable asset class the model enables one to diversify his investments across multiple properties and locations and sufficient diversification thereby tends to reduce the portfolio risks.
Important Differences In REIT Versus Real Estate Crowdfunding
The main difference between a Fractional investment and a REIT investment is that with Fractional you are investing directly into tangible commercial real estate. Whereas with a REIT, you are investing in a corporation that in turn invests your money into real estate.
Best Fractional Real Estate Platform in India
Propshare
Propshare is the most popular and oldest real estate platform in India. They have already sold multiple properties through this model and have received favorable reviews from existing investors
Management Team
Strong management team with good expertise of the complex real estate market.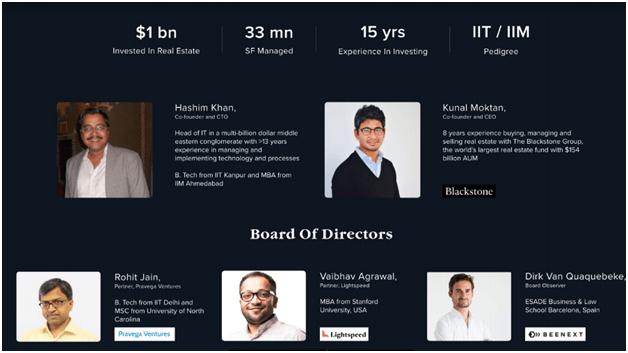 Prior experience of the Team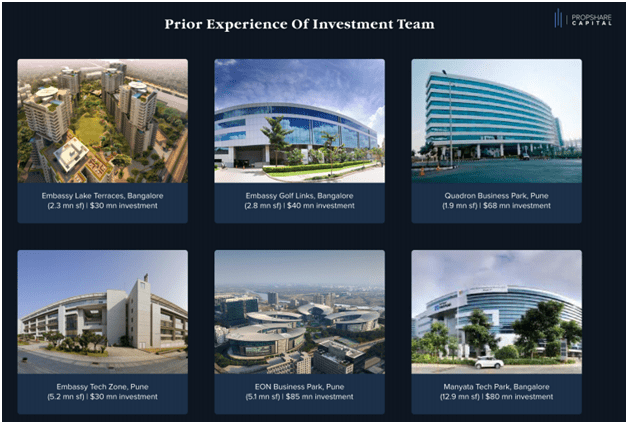 Recent Exit and Business Model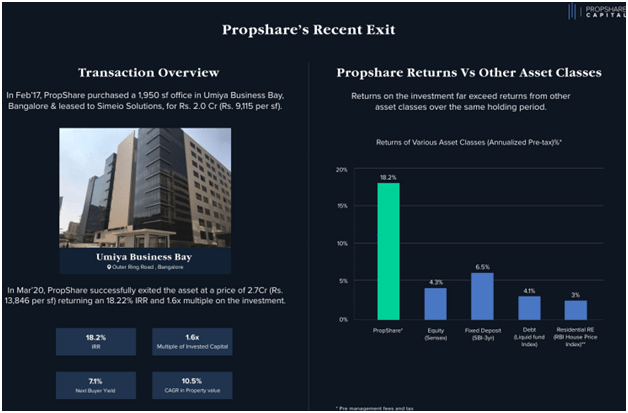 Propshare generally invest in a property for 3 years. The idea is that the investor can earn rental yield (8-9%) for 3 years and when the property is sold after 3 years they get capital gain hence the IRR can be 12-15% provided real estate appreciates. They also run a distressed real estate fund .
Minimum Investment :INR 25 Lakh
Expected IRR: 12-15%
StrataProp
This is another platform which has been gaining traction in last few months. It has fewer properties than propshare but the USP is that it focuses on warehouse investment which have higher rental yield (10-12%).
Management Team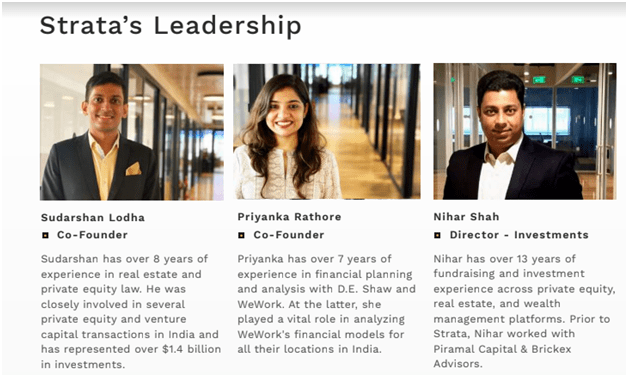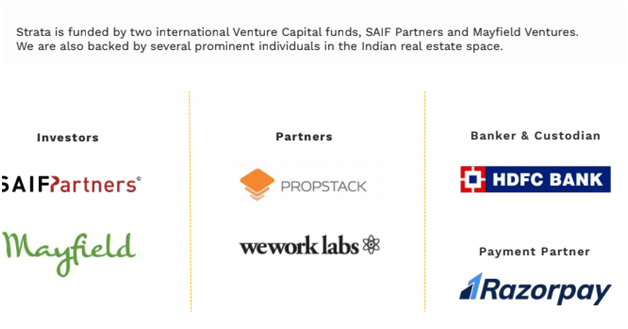 Investment Structure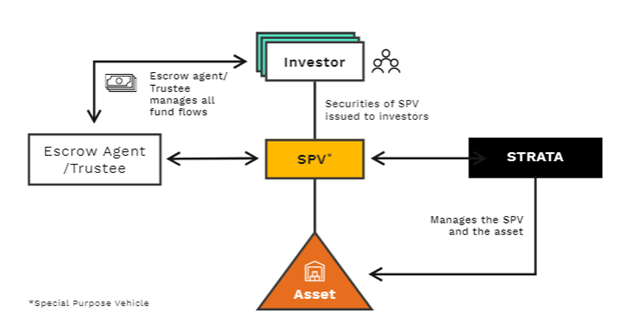 Recent Investments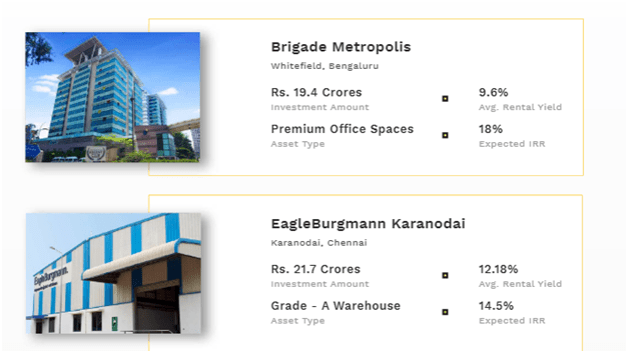 Business Model
StrataProp generally invest for a higher tenor (approx 5 year) and minimum investment is around INR 20 Lakh and it specialized in warehouse investment.
RealX
RealX is actually a fractional real estate platform in the true sense of the word!
While other platforms provide access to real estate investment through an SPV structure or some fund structure this platform provides direct ownership of the underlying property which gives owner more legal control over the asset( you can take loan against your investment etc) and you can invest lower amount.
The names of the first co-owners and their respective details are included in the registered document. The same information is also credited into the blockchain based registry system (PropChain). The accounts of respective co-owner's then reflect respective amounts of FRAX held by them. Subsequent co-owners who buy these FRAX through the original (or any of the subsequent owners) will have their ownerships recorded on PropChain once their sale is registered. They buyer and seller both will receive copies of the sale documents.
Management Team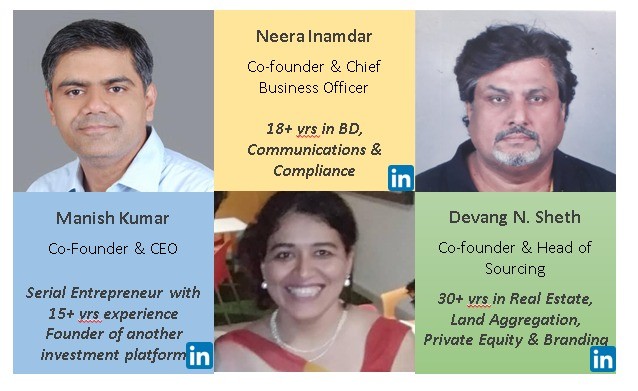 Business Model
RealX provide opportunity to invest in both commercial and Residential properties. The lock in is 3 years post which properties can be sold to get capital gains.
Another USP of the platform is that the minimum amount is INR 5lakh which makes it easy for retail investors to participate
All property deals, after due diligence, are presented online to express interest. Once a property reaches its sale price, the property goes offline and the sale is executed at the registrar (with names of first co-owners as part of the sale deed). Post registration, the same set of co-ownership records (as registered) are created on a BlockChain based registry system (called PropChain) for all successful property transactions.
Post investment, professional Property Managers manage the day-to-day operations of the property. All rents are collected and processed through by RealX, and all co-owners can simply enjoy proportionate share of rental income (after suitable deductions).
All co-owners are free to negotiate any sale of their fractional holdings on the platform (after the initial lock-in period). They can also choose to vote on any buy-out proposal that may be presented to them through the Property Manager.
Conclusion
These three platforms were selected based on discussion with promoters and existing investors. Which one is best for investors?
If someone is looking to invest in commercial property and do not have capital restriction propshare seems a good option.
If preference is income generation rather than being bullish on capital appreciation Strataprop provides a good opportunity through warehouse investment which can generate 11-12% yield.
People who do not wish to invest 20-25 lakhs can start with RealX as it  has low investment minimum and provides access to commercial properties.
If you are interested in going through the investment decks and connecting to promoter as well as existing investors ,you can show your interest by registering here.