The age today belongs to neo banks, and you would find that there have been several neo banks that have mushroomed. While not all of them may be trustworthy, and it is quite early to make any specific statement about them – whether positive or negative – may not be that easy at this nascent stage, we thought of checking out a few great options that can prove to be quite handy in achieving better efficiency. One such entity that has been creating news is FamPay. Let us go through a concise and impartial FamPay review for the benefit of the investors.
What is FamPay?
FamPay is a neo bank and is specifically designed for the benefit of minors and teenagers for an efficient way of making payments. The neo banks came into being after the demonetization drive that was undertaken in 2016, and FamPay is one of the excellent options from this perspective.
FamPay is not your regular bank but a Neo Bank. Neo banks, as we have been aware these days, is a bank that does not have a physical branch. They offer their services entirely online. You will only be able to deposit or withdraw the money only through online mode.
FamPay is an Indian based payments app service that has been designed for teenagers and their families. The task is completed through the specifically designed FamPay special prepaid cards, which are referred to as FamCards. As long as the minors have the permission and consent of the parents, they will be able to make money transfers, withdrawals, P2P payments, and even card payments. The service also lets the parents to send money to their kid's FamPay account so that they can spend the money as per their preferences. Read ahead to know all aspects about the platform in this detailed Fampay Review.
How does FamPay work?
FamPay works in the same way as other neo banks or traditional banks do. The only difference lies in the fact that FamPay is a neo bank designed for minors. Of course, the app needs the consent of the parent so that the minor can operate the account easily.
Parents sign up for the FamPay service using his or her Aadhaar number and phone number and invite their teenagers to the app. The teenager thus gets access to the app. Thus your minor teenager will get a secure FamPay IDFC First Bank account, and the account will be managed by the parent or guardian. The card or the account is not linked to the normal bank account of the parent. The parent will have access to how much amount the teenager can spend.
FamPay Visa Card – What you should know?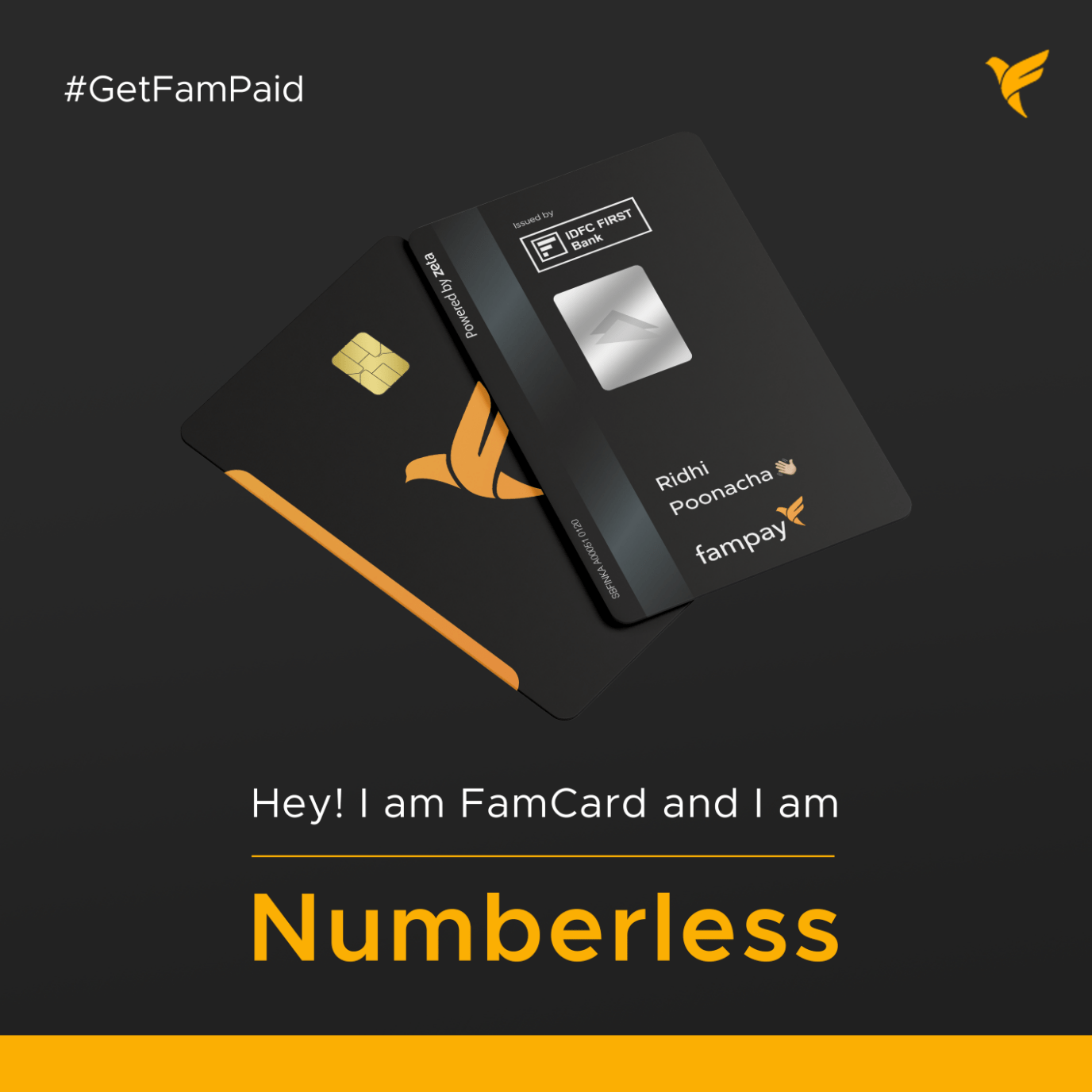 FamCard is India's first numberless card with doodles. Designed only for teens, the card is what would provide financial freedom with an adequate limitation for minors. The card comes with plenty of options and features that would include tap and pay functionality, acceptability practically anywhere and a secure card option ever.
FamPay has partnered with Visa for providing teens and Gen Z with Doodle cards. The first personalized Visa card comes with customized doodles that the minors and teenagers will find quite interesting and unique in their way. The FamPay Visa card lets the teens make NFC enabled payments on the Visa network in India.
The card is made available with two designs – the FamCard and FamCard Me. Teens will be able to design their doodles so that the card would resemble their personality. FamCard provides you access to 4X rewards on every purchase or spending that are made using the card. The FamCoins you earn can be redeemed to get exclusive offers, cashback, gift cards, and more.
FamPay Card Fees
The FamCard is made available to you in two different modes or forms. The pricing of the card will be dependent on the type of card that you choose. Details of which are mentioned below in this Fampay Review.
FamCard
FamCard is available at Rs. 99.
The features that you stand to get with the card would include
2X FarmCoins rewards
Customised name
Tap and pay feature
FamCard Me
FamCard Me is available at Rs. 299
The features would include
4X FamCoins as rewards
Customised name
Tap and Pay enabled
Design with doodles
Subscriptions of top brands
What are FamCoins?
FamCoins are FamPay's method of rewarding users and account holders. You can collect 2X FamCoins for each of your purchases if you are on the regular FamCard and 4X Famcoins if you are using FamCard Me.
You can collect as many FamCoins as you would want to and redeem them for getting giveaways, participating in the contests, getting exclusive offers, gift cards and many more other benefits. The Famcoins will also be valid at your favourite stores soon. The feature is yet to be launched and can be a treat when it is made available.
How to create a FamPay account?
It should not take more than 15 minutes to open your FamPay account. The account you create will be a zero balance account, and that comes with a few of the limitations. You will be able to keep only Rs. 10000 in your account. Once you are over 18 years of age, you will be able to keep more than Rs. 100000.
You can create two types of accounts with FamPay – Minimum KYC and Full KYC.
Minimum KYC Account
The minimum KYC account is best suited for you if you are a minor. The account is linked with your Aadhaar number and is linked to your mobile number. You will need to provide the PAN card of your guardian.
The account will have the following limitations –
Account limit – Rs. 10000
Transaction limit – Rs. 1000
Full KYC Account
If you are above 18, you will be able to open a full KYC account. The account will need you to have the Aadhaar number and PAN card number to open the account. The account is linked to your mobile number.
The account comes with an Account limit of Rs. 100000, and there is no transaction limit of any nature.
You can simply download and install the app from your official app store and sign up for the account.
Fampay Review – Conclusion
FamPay is a unique option that is designed to help minors and teens in undertaking their finances more efficiently. Approved by RBI, the service does come with a sort of security, and you can be assured of a good deal of service quality, especially if you are a minor or a teenager.
We would recommend it to you if you are looking to inculcate a sense of financial independence subject to certain limitations. It is an excellent service, and you would find it quite an innovative financial product. We hope this Fampay review would be useful in helping you make a decision about best banking and payment solution for teenagers.
Frequently Asked Questions about Fampay
How long does it take for the FamCard to get processed?
You should ideally get your FamCard to get processed within the span of around 10 to 14 working days.
What are the transaction limits on the FamPay account?
If you have a Full KYC account, there will be an account limit of Rs. 1 lakh and no transaction limit. If you have a Minimum KYC account, the account limit will be Rs. 10000, and the transaction limit will be Rs. 1000.
Where can I use FamCard?
FamCard was earlier working on the RuPay network. The service provider now works with Visa and gets access to a great degree of experience in terms of transactions. You should be able to use your FamCard at any point of sale that accepts RuPay and Visa cards.
What is FamPay used for?
Powered by IDFC First Bank, the FamPay service is focused on providing a payment platform for teenagers. Anyone below the age of 18 years can open an account and use it for sending or receiving money. The payments and other transactions are done through prepaid cards or UPI.