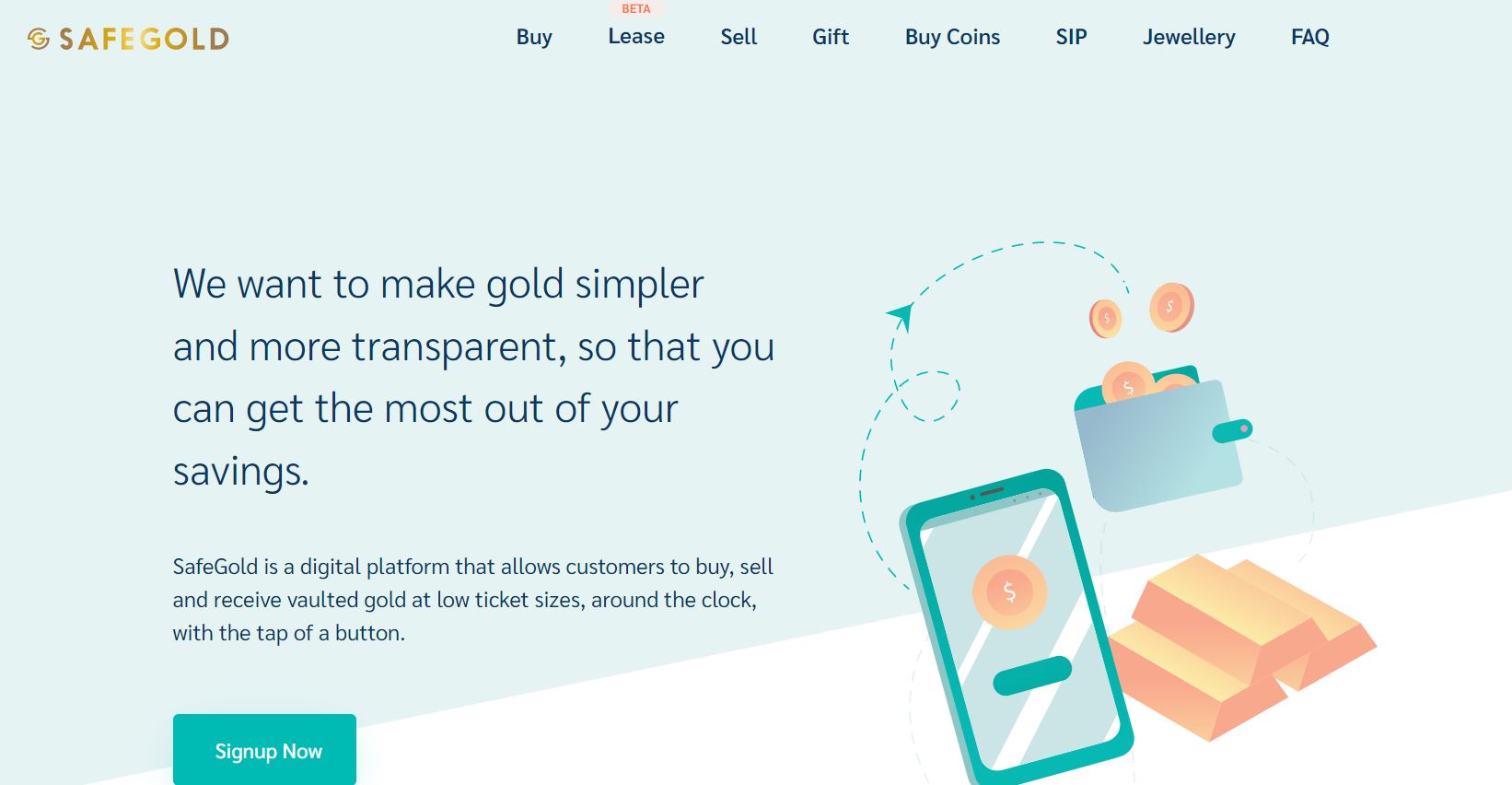 Indians have a long-standing tradition of investing in gold, with the metal often being seen as a symbol of wealth, prosperity, and security. Gold is also considered to be a hedge against inflation and a store of value. With advancements in technology and the new generation, while the concept of investing in gold has stayed, people have been looking for better and more efficient ways of investing and saving in gold as an asset. In this Safegold review, we will analyze the platform & the facilities it provides for gold consumers like us.
Why invest in digital gold?
There are several reasons why an individual may choose to invest in digital gold:
Convenience: Digital gold investing platforms offer a convenient way to buy, sell, and store gold, as transactions can be easily completed online or through mobile apps.

Liquidity: Digital gold can be easily bought and sold, providing investors with more flexibility and liquidity than traditional gold investment options such as physical coins or bars.

Low transaction costs: Digital gold platforms often have lower transaction costs than traditional gold investments, making them more accessible for smaller investors.

Portability: Digital gold can be stored in digital wallets and can be accessed from anywhere, so investors can move their assets easily.

Accessibility: Digital gold investing platforms can be accessed by a larger number of investors, including those who may not have access to traditional gold investment options.

Security: Digital gold is stored in secure vaults and is backed by physical gold, providing investors with the assurance that their assets are safe.
It's worth noting that, as with any investment, there are potential risks involved with digital gold investing and it's important to conduct thorough research and due diligence before making any decisions.
What is Safegold?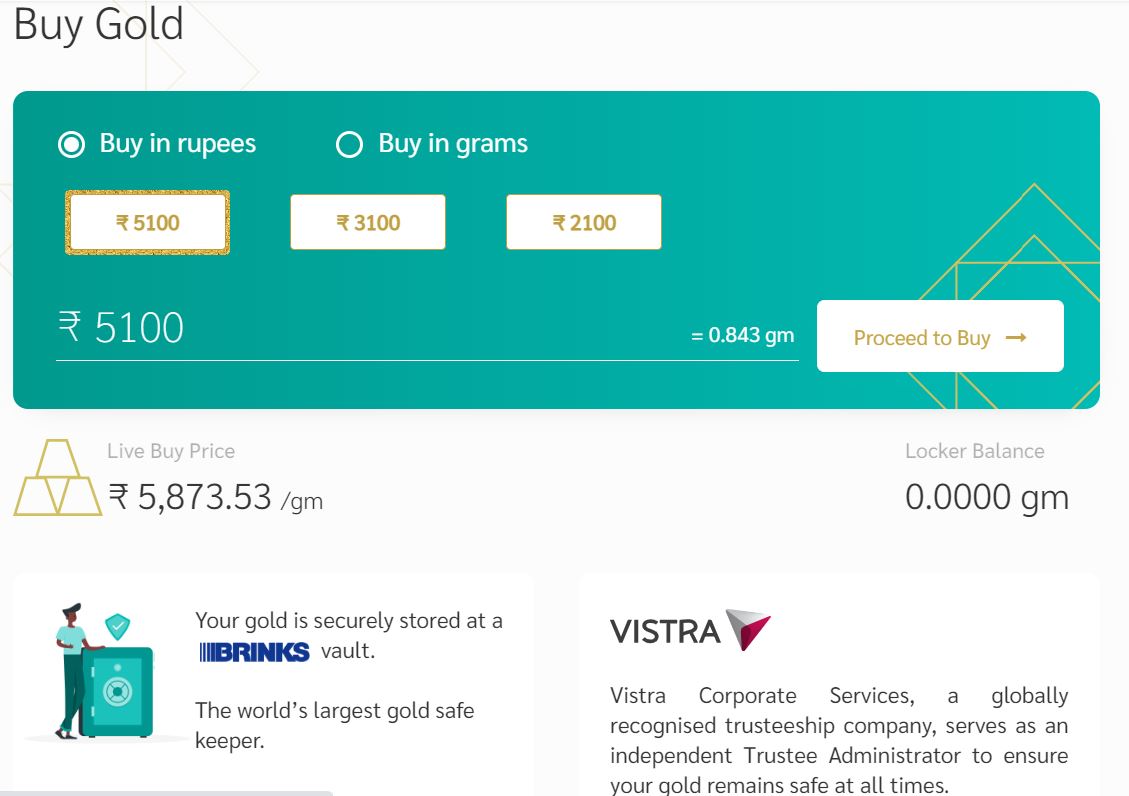 Safegold is a digital gold platform that allows individuals to purchase, store & sell gold in a digital format. You can start investing with as low as Rs.10 and it also has add-on facilities like exchanging your digital gold for jewellery and redeeming holdings for physical gold. It also has a unique program called Safegold Lease allowing you to earn interest on your digital gold holdings in form of additional gold added to your account.
Safegold Jewellery Exchange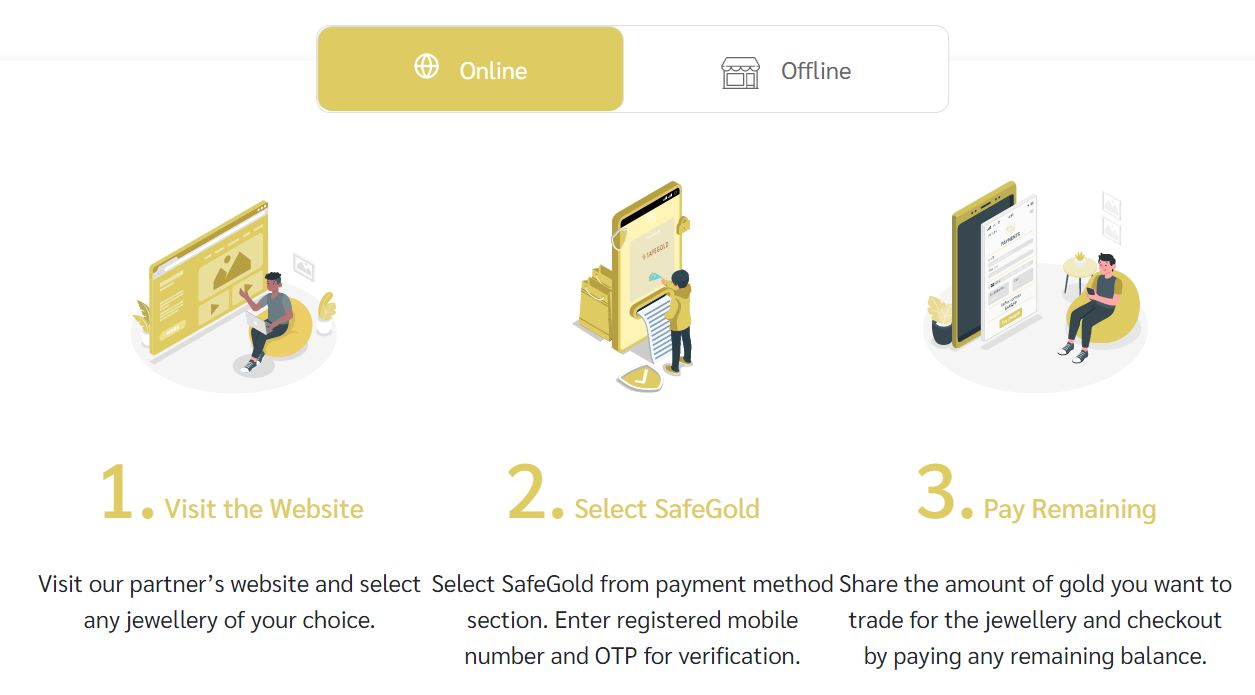 Safegold Jewellery exchange is a very innovative program that lets you redeem your digital gold holding for jewellery at Safegold's partner store online or offline. Currently, their partner is a famous jewellery brand- Candere. This is a very unique feature that enables you to save in digital gold via their platform regularly in installments as low as Rs.10 and redeem your holdings for jewellery from their partner brands.
Safegold Lease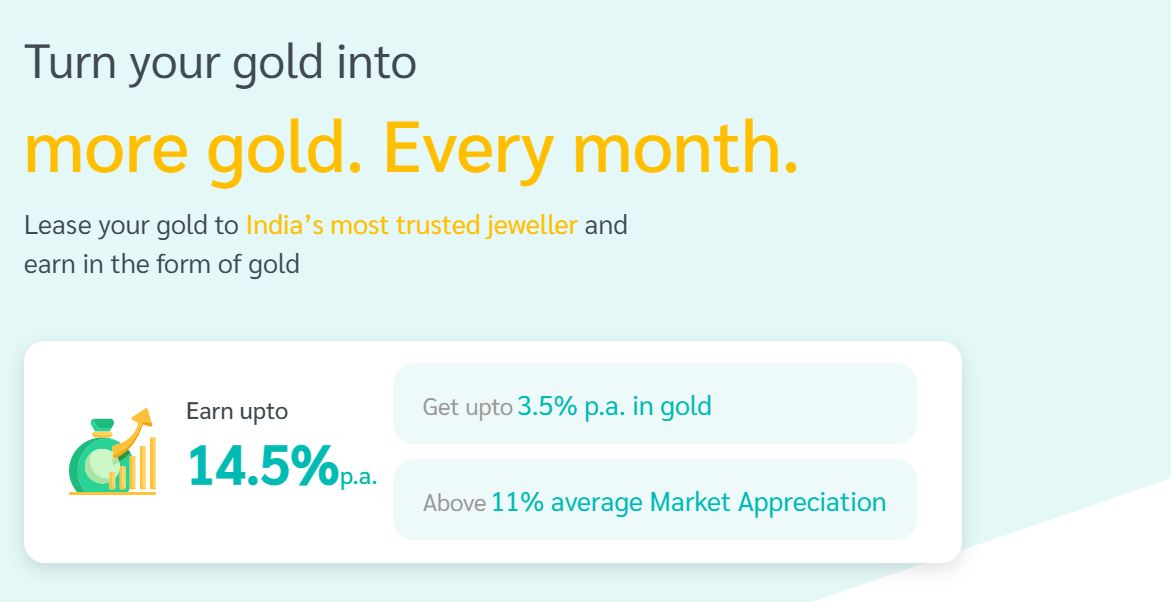 Safegold Lease is another unique program from Safegold that allows you to lease your digital gold to get returns in form of additional gold added to your account. You can start leasing from just 0.5 grams of gold with a maturity period of 6 months and get interested in the form of additional gold up to 4% per annum.
Is Safegold safe?
SafeGold is the retail brand of Digital Gold India Private Limited- an institutionally backed company, primarily owned by Invent Advisors Private Limited. World Gold Council (India) Private Limited and other investors hold a minority stake in the company.
SafeGold has partnered with leading secured logistics and vault service provider- Brinks for secure storage of the gold. They take out a comprehensive insurance policy, for the gold holdings. When the gold is in transit from the vault, Safegold takes an insurance cover.
The gold purchased by customers is separate from the assets of the company. The gold purchased by the transferred to the custodian appointed by the company. In case of any adverse event happening to the company (like shutdown), it will not affect the gold purchased by you. The title of the gold clearly rests with the customer and the physical gold stored with the custodian on account of SafeGold customers is not an asset of the company in any way.
Safegold Customer Care
Following are the ways to get in touch with Safegold customer care:
Email: You can send an email to Safegold's customer support team at support@safegold.com and they will respond to your query as soon as possible.
Phone: You can call Safegold's customer support team on +91- 888 1000 800
Social Media: You can also reach out to Safegold through their social media handles like Facebook, Twitter, and Instagram.
How to do Safegold login?
In order to access your account on Safegold, you will need to perform a login process. Below are the steps on how to do a Safegold login:
Go to the Safegold website.

Click on the "Login" button located on the top right corner of the homepage.

Enter your registered email address and password in the appropriate fields.

Click on the "Login" button to access your account.
If you have forgotten your password, you can click on the "Forgot Password" link on the login page and follow the instructions to reset your password.
Difference between MMTC PAMP and Safegold
MMTC PAMP and Safegold are both platforms that allow individuals to purchase and store gold in a digital format. However, there are some key differences between the two.
MMTC PAMP is a joint venture between Switzerland-based bullion brand, PAMP SA, and MMTC Ltd, a Government of India Undertaking, MMTC-PAMP seamlessly marries Swiss excellence with Indian insights. It offers a variety of gold and silver products, including bars, coins, and medallions. The platform also allows customers to store their digital gold in MMTC PAMP's secure vaults, and can also opt for home delivery.
Safegold, on the other hand, is a digital gold platform that allows users to purchase and store gold in a digital format. It also offers customers the facility to buy physical gold coins, exchange their digital gold holdings for jewellery at partner brand outlets and lease their digital gold to earn interest in the form of digital gold.
In summary, MMTC PAMP is a company that offers physical gold and silver products, as well as digital gold as one of their offerings, while Safegold is a digital gold platform that offers buying/selling/delivery of digital gold, physical coins and jewellery exchange/leasing of digital gold.
Safegold Alternatives
Apart from Safegold there are various other platforms. which allow you to buy and hold digital gold online. While many of them have partnered with Safegold itself for providing this service to their customers, there are a few other competitors as well.
Augmont: This is a close competitor of Safegold. The USP of this platform is that it also allows you to invest in digital silver and not just digital gold. It also offers add-on facilities like Gold SIP, selling old physical gold for the best price, gold loans, gold EMI, etc.
MMTC PAMP Digital Gold: MMTC PAMP is a digital gold investment platform that allows individuals to purchase and store digital versions of gold. The platform is a partnership between MMTC Limited, one of India's largest bullion institutions with Govt of India undertaking, and PAMP, a Swiss-based precious metals refiner.
Sovereign Gold Bond: These are bonds issued by the Government of India that offer an additional 2.5% per annum over the gold performance during the period. The capital gains on gold are tax-free which makes it very attractive. Many times these bonds are trading at a discount and the yield is much higher than 2.5%. Wint wealth can help you to lockin the higher yield without making any efforts.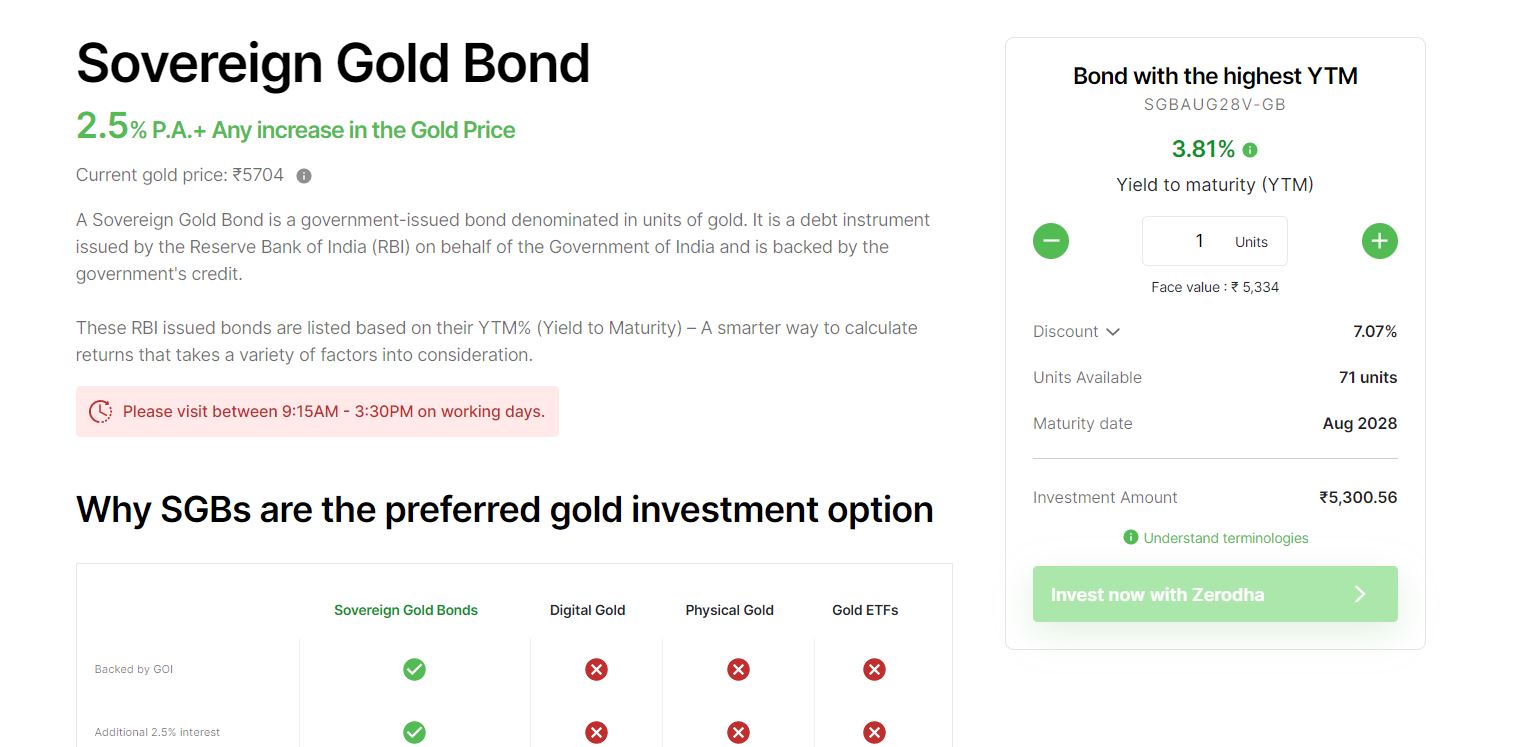 Best Gold Investment Option for Investors
With so many different avenues like ETF, physical gold, digital gold, and Sovereign Gold people tend to get confused. Below are the parameters which can help you choose the best option
Highest Return- If you are in the highest tax slab rate Sovereign gold bonds are the best option as the returns are not taxed. They also provide a 2.5% annual coupon over the lifetime. They have less liquidity and hence ideal for people looking for long-term investment
Highest Liquidity – Gold ETFs provide the highest liquidity as you can sell them anytime during market hours. Digital gold has also very good liquidity, and you can expect to redeem gold for cash within 72 Hours.
If you are looking for a balance between returns and liquidity Digital gold might be ideal as it has good liquidity and the leasing can help you to generate an additional 3.5% on your gold!
Conclusion
In conclusion, digital gold platforms offer a new and convenient way for investors to gain exposure to the precious metal market. Safegold seems to be a very convenient and safe way to save in digital gold. If you are doing frequent trading, be aware of the buy-sell spread and GST which will be applied which may eat into your profits. For most people, sovereign gold bonds due to their efficient taxation could still be the best option.