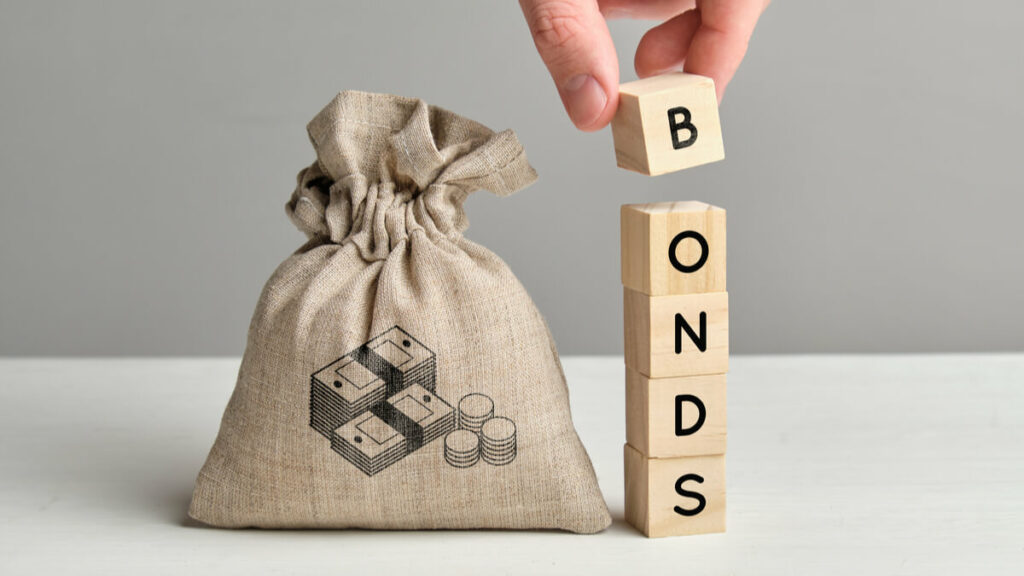 Bond investing is becoming increasingly popular in India. Amidst increasing volatility in stock markets and decreasing FD rates, retail investors are now looking for lucrative fixed income investments and alternative investments, to diversify their portfolios. However, most online bond investment platforms in India aren't as evolved as online stock brokers like Zerodha and Groww.
In this post, I'm going to cover the best bond investment platforms in India and their key features.
A good bond investment platform needs to fulfill a few basic requirements of investors which includes secure transactions, credibility, reliability, and a praiseworthy support system. A bond investing platform needs to provide investors with all the information needed to make an informed investment choice. These include credit ratings, Yield to Maturity, or simply Yield, Coupon or interest rate, etc.
Before I cover the list of best bond investment platforms in India, let's have a look at the things you should look for in a bond investment platform or a bond investment app.
Things to Look for in a Bond Investment Platform
Bond investment in India is nothing new, however, traditionally it has been limited to High Net Worth Individuals (HNIs) with minimum investments going as high as lakhs and crores.
But with Fintech startups mushrooming in India, now even retail investors can invest in bonds, starting with as little as a few thousand Rupees.
Now since most of these bond investment platforms are less than a decade old, and can be classified as Fintech Startups, it is important that you look at a few things before you invest through them.
Promoters and Investors
One way to gauge the credibility of a bond investment app or platform is to research its founders. People sitting in key managerial positions can tell you a lot about the company's reliability, its likeliness to survive and thrive, and its vision. Bond investment is a long-term commitment, and it is imperative that the investment platform survives till your bond matures!
Having industry leaders and well-known firms from the finance sector as investors can tell you a lot about the company's trustworthiness.
Zerodha, for example, is the leading stock broker in India, and having Zerodha's founders as investors, if not anything, is a sign of dependability. At least that's how trust works!
Regulatory Clearance
In India, Government Securities, which includes Government Bonds are issued by the Reserve Bank of India and are supervised by the same.
On the other hand, SEBI regulates corporate bonds issued by both PSUs as well as Private sector companies. Most online bond investment platforms in India are subsidiaries of NBFCs and are hence under RBI's watch.
Secured Transactions
Fintech companies and online payment gateways have facilitated effortless online transactions. However, online banking frauds are still on the rise!
RBI's annual report mentioned a 28% increase in the occurrence of bank frauds of Rs. 1,00,000 and above between FY19 and FY20.
Thus it is important to be extra cautious while transacting online. Make sure your bond investment platform enables safe and secured transactions.
Availability of Information
Bond investing can be grueling and confusing for someone with little or no prior knowledge about how bonds work.
This is why it is important that your bond investment platform has all the information you need to make informed investment choices.
It is important that you analyze and compare bond yields, coupon rates, taxation applicable, credit rating, face value, accrued interest, and many more intricacies before you finally make an investment. A good online bond investment platform needs to provide all this information to the investors. Furthermore, these days Fintech companies are spending tons of money on marketing and educational content to educate investors about their products and services.
Make sure your bond investment platform has an extensive knowledge base to help you learn more about the platform as well as bond investing.
Customer Support
Make sure your bond investment platform has a commendable customer support system in place.
Finance and investing are best experienced with professional advice and guidance. Most Fintech platforms these days provide investors with consultation and advisory calls, as well as live customer support. These are basic features that you should know about, before using an online bond investment platform.  Now that we have the criteria out of the way, let's have a look at the best bond investment platforms in India one by one.
Wint Wealth
Wint Wealth is a leading bond investment platform in India with over 25,000 investors onboard. The platform provides carefully curated senior secured bonds to retail investors starting at a very low ticket size of just Rs. 10,000.  Traditionally bonds have been accessible and affordable for only High Net Worth Individuals (HNIs) with a typical minimum investment of a few lakhs and even crores!
Wint Wealth is working towards democratizing debt investments in India, by making unique assets like bonds accessible and affordable to small retail investors.
Wint Wealth is backed and promoted by some of the most prominent Fintech founders in India, including the likes of Nithin Kamath of Zerodha, Kunal Shah of CRED, and Pravin Jadhav of Paytm Money and financial influencers like Ankur Warikoo, Rachana Ranade, Akshat Srivastava and many more.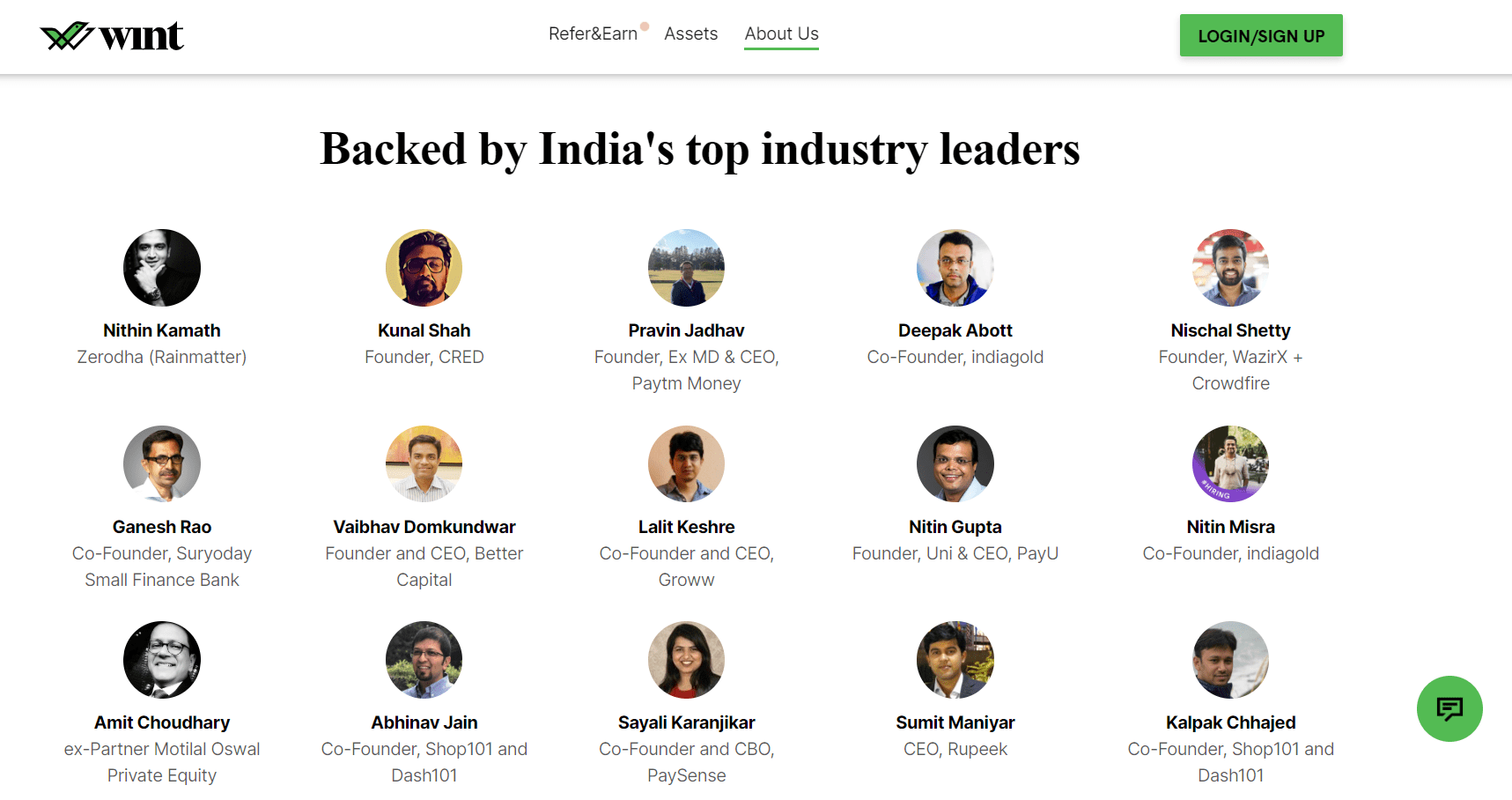 The platform is gaining popularity in India, as an online bond investment platform for the masses.
You can check our detailed Wint Wealth review here.
Register for Free on Wint Wealth
Wint Wealth provides investors with carefully curated secured bonds often backed by secured collateral.
One can start investing in these bonds for as low as Rs. 10,000. Once purchased, the bond units are credited to your Demat account and can be tracked on the Wint Wealth dashboard along with timely updates.
The platform lists bonds with all relevant information easily accessible to investors. One of the best features of Wint Wealth is that it mentions risks alongside the fixed returns of each bond.
Both listed and unlisted bonds are available on the platform, and you can identify them with the help of the tags provided.
Basic information about the bond, such as Credit Rating, Interest and Principal Repayment details, minimum investment, etc. are given at the outset.
And more technical information such as pre-tax rates can also be checked in dedicated sections.
The platform comes with an inbuilt calculator that allows you to visualize your re-payments. Furthermore, a comparison is also provided to help you understand how the particular bond would perform compared to stocks, cryptos, debt mutual funds, and other assets.
All these features and the fact that Wint Wealth is backed by some of the most trusted industry leaders make it one of the best bond investment platforms in India.
GoldenPi Bonds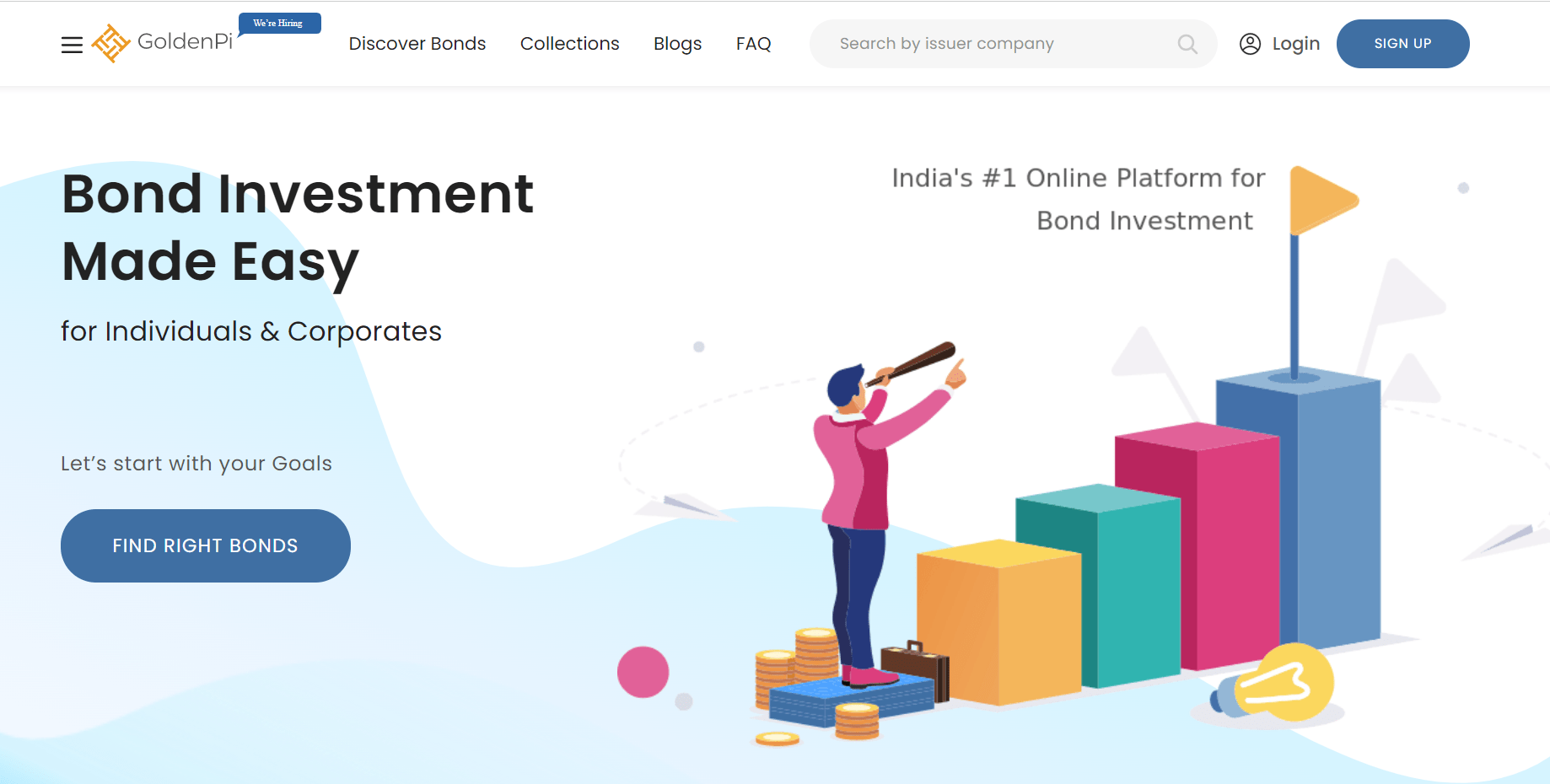 GoldenPi claims to be India's No.1 platform for online bond investment, with over 2,50,000 registered investors on the platform.
It is one of the earliest fintech companies in India to bring Bonds and Debentures to individual investors and has been around for over five years.
GoldenPi is backed by Zerodha's Rainmatter Capital, and received Rs. 3.5 crore funding from the same. The platform has also partnered with leading brokers and financial institutions like Zerodha, IIFL Securities, Axis Direct, etc.
GoldenPi provides investors with a large collection of bonds to choose from, based on individual financial needs. Ultra short-term bonds, highly safe bonds or tax-free bonds, you can choose what suits your needs the best.
You can start investing in bonds for as little as Rs. 10,000. And the process is as simple as it can get, all you need to do is to register and complete the KYC process. GoldenPi also facilitates UPI transactions, making things much easier for investors.
The platform has an extensive database of blog posts and educational content to guide you in your bond investment journey.
GoldenPi lets you filter your bond searches as per your investment purpose, credit ratings, yield, issuer type, investment amount, etc.
GoldenPi offers bonds with minimum investment as low as Rs. 10,000, and as high as Rs. 1 crore and above. You can use the filtering mechanism available to look for what suits you best.
RBI Retail Direct
RBI Retail Direct is an online Government Securities investment platform run by the Reserve Bank of India.
The scheme was announced by RBI in early 2021 in order to increase retail participation in government securities. The platform was introduced for improving ease of access by retail investors through online access to the government securities market.
Government Securities (G-Secs) is a term used to describe investment products issued by the central and state governments of India. Government Bonds are a sub-category of Government Securities.
RBI Retail Direct lets you invest in safe and secure G-Secs of the following types:
i) Government of India Treasury Bills;
ii) Government of India dated securities;
iii) Sovereign Gold Bonds (SGB);
iv) State Development Loans (SDLs)
The platform being run by the RBI itself is a sign of utmost credibility and reliability.
So if you want to invest in ultra-safe Government Bonds and other securities, you can check out RBI Retail Direct.
 Bonds India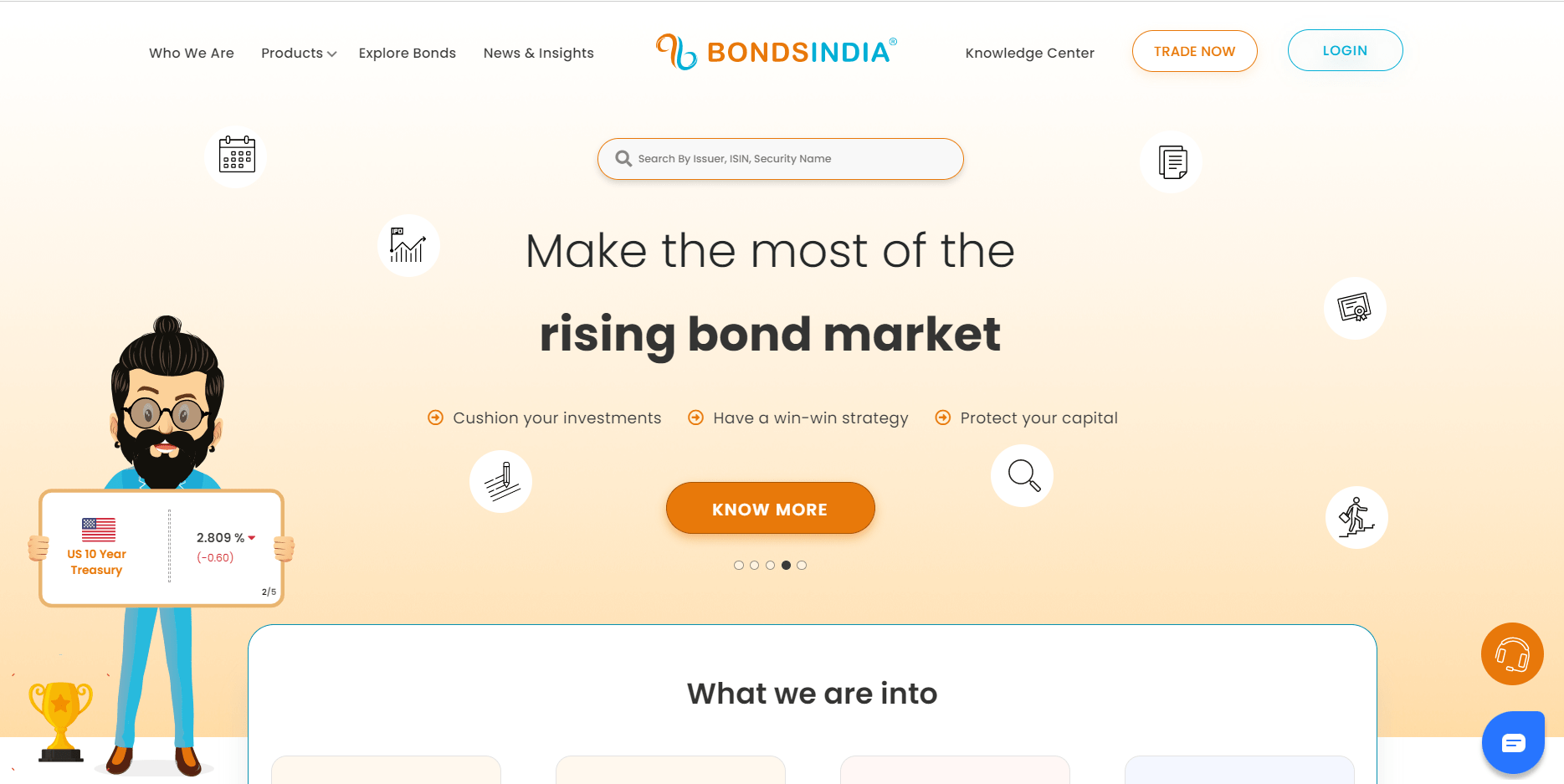 Bondsindia is an online platform that lets you invest in different types of fixed income investment instruments including corporate bonds, tax-free bonds, 54EC bonds, government bonds, and fixed deposits.
This bond investment platform enables investors to trade their fixed income securities, like corporate bonds.
Bondsindia's unique bond-trading engine is integrated with their exchange that offers real-time price discovery along with end-to-end online transactions. You can start your bond investment journey for as low as a few hundred or thousand rupees, and choose from a plethora of corporate and PSU bonds listed on the platform.
The platform provides investors with all the information they need to invest in a bond. You can use the inbuilt filter to search for bonds that suit your financial needs and abilities.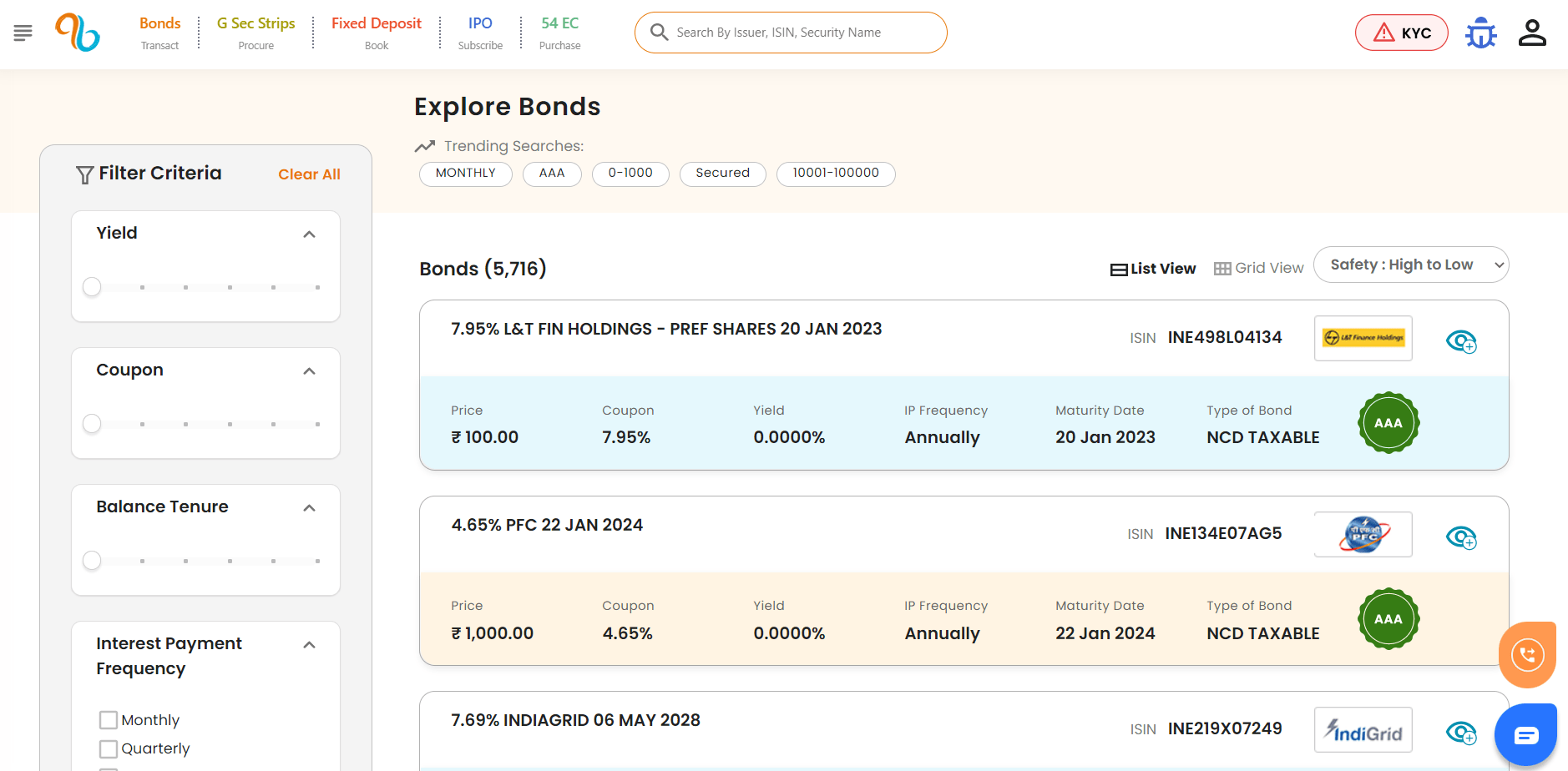 Use the filter wisely to look for impressive bonds. The filter lets you search bonds based on coupon, yield, interest payment frequency, level of security, credit rating, face value, type of issuer, and a lot more.
In case you aren't familiar with these bond investment terminologies, then Bondsindia also has an impressive 'Knowledge Centre' to help you out.
Here you can learn all about bond investing, and how you can choose the best bonds for you.
The platform provides a pleasant customer support experience, with live chatting and call-back facilities available, that can be accessed from the floating icons on the screen.
All these features make Bondsinda a worthy contender in our list of best bond investment platforms in India.
 BondsKart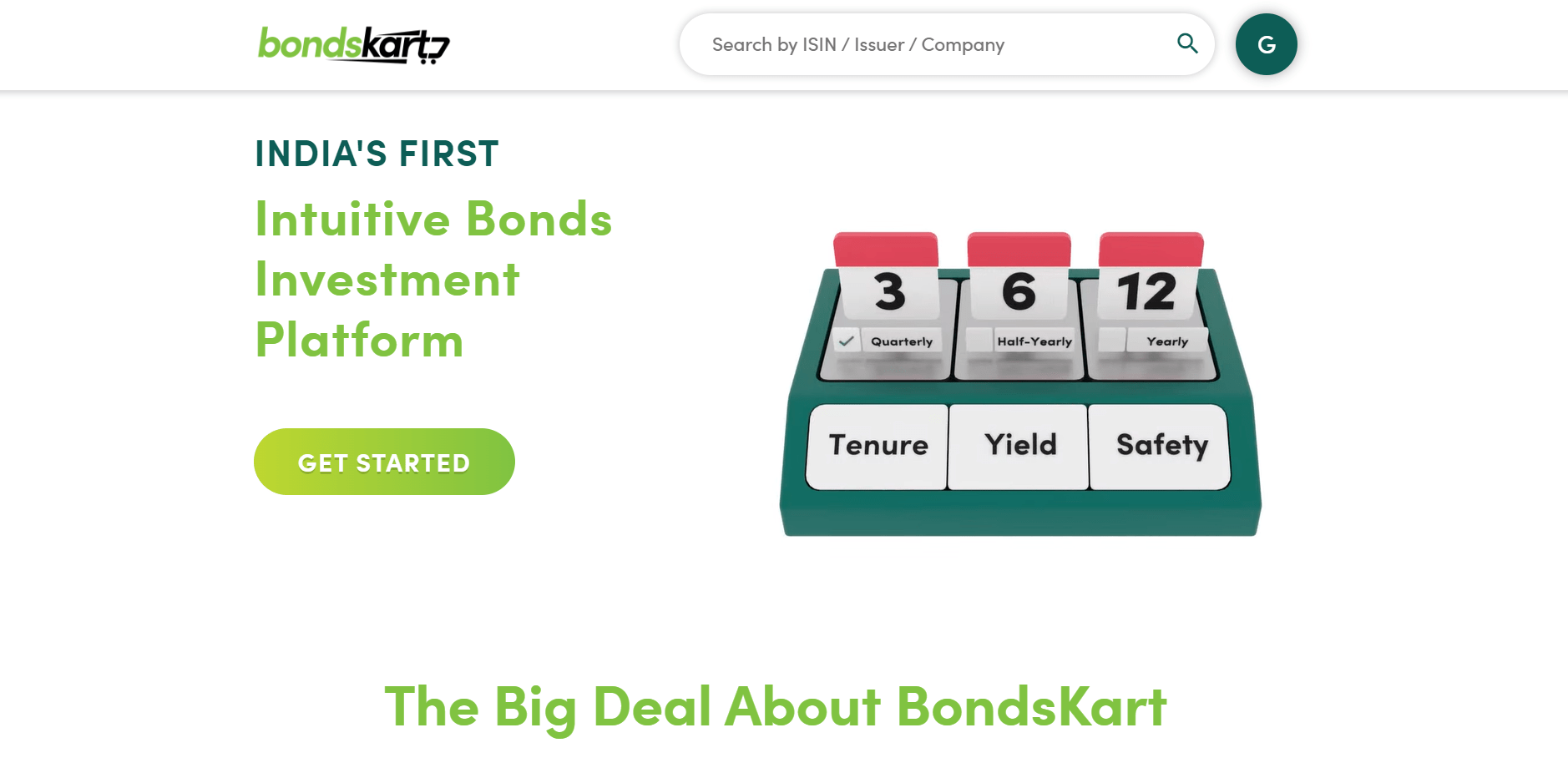 BondsKart is a bond investing platform in India backed by JM Financial, one of the oldest merchant bankers in the country. JM Financial is a reputed name in the capital market segment of India.
BondsKart lets retail investors invest in a rich variety of premium bonds and debentures in just a few clicks.
The platform hosts a curated inventory of nearly 80 premium-grade bonds that range from AA to AAA ratings.
This bond investing platform promises end-to-end security when it comes to the safety and security of transactions.
The platform offers a range of bonds, specially curated by their experts in the form of 'Popular Collections'. These collections let you choose bonds based on your own financial goals.
The platform allows you to filter your bond searches based on different parameters of bond investing, like yield, minimum investment, interest payment frequency, safety or credit ratings, etc.
BondsKart provides all the information required to make an informed choice and gives detailed insights into the quality of the bond and its issuer.
You can also call a BondsKart expert and get advice, assistance as well as insights into a particular bond.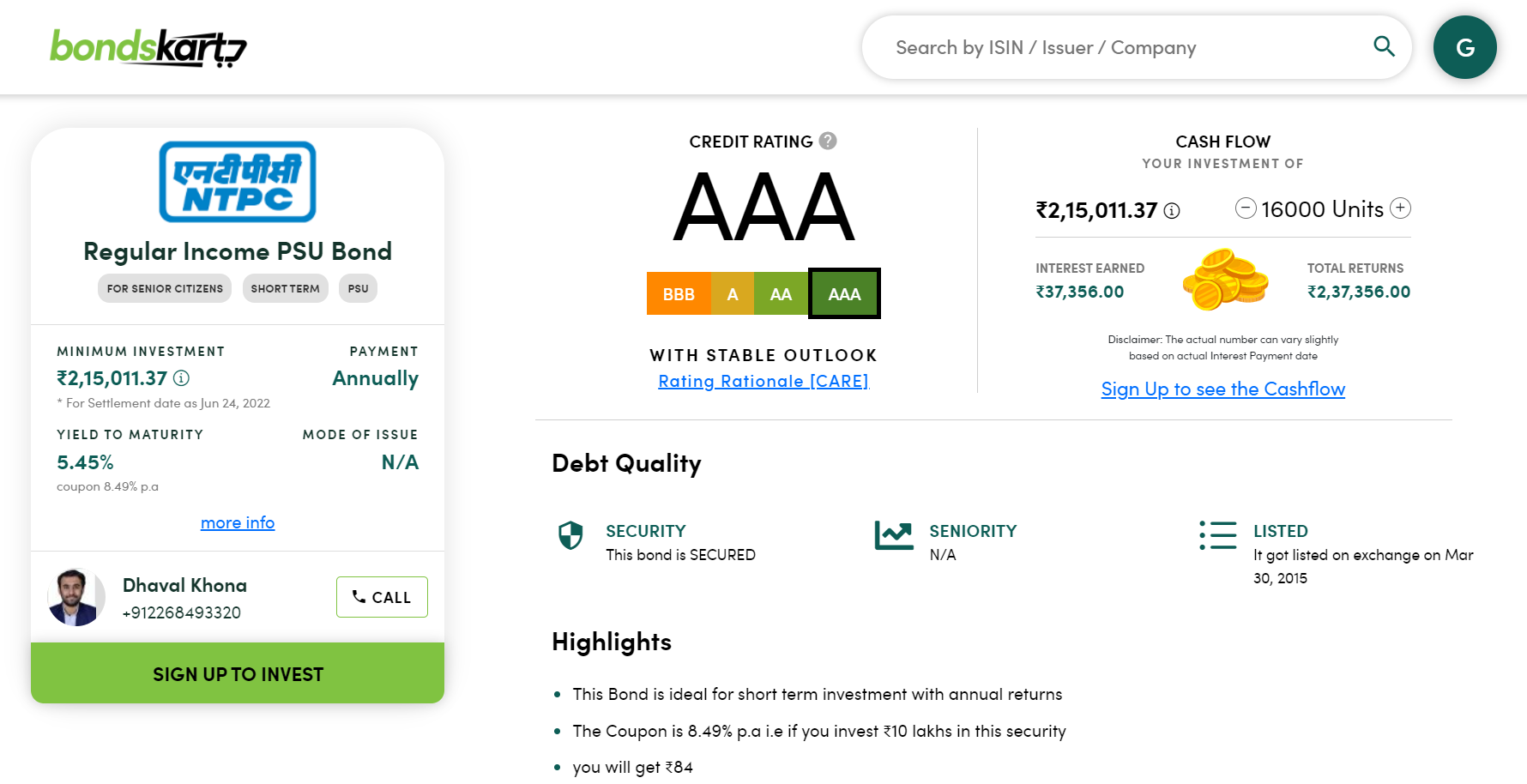 The platform also has an extensive 'Knowledgebase' to educate investors about bond investing and its intricacies.
BondsKart only lists premium bonds with high credit ratings, and their minimum investment amount can go up to a few lakhs. However, these are some of the most secured bonds in the Indian bond market.
With this, we come to the end of the list of top bond investment platforms in India.
Bonds Alternatives in India
There are few platforms in India that can provide high yield with less volatility. A complete list of such assets can be found in the blog.Some of the platforms to consider are : 
Grip Invest is a platform that lists equipment leasing, inventory-based financing, and commercial real estate investing deals on it. It has a constant flow of new deals and has been one of the pioneers in this space in India. The minimum amount to invest is Rs.10000 and you can get an average IRR of 12-15%+ depending on which deals you invest in.
This is a new but fast-growing alternative investment opportunity listing platform backed by Sequoia and other popular angel investors. Apart from invoice discounting, corporate debt, and other instruments, it also has equipment lease-based investment options on its platform. The minimum investment is slightly higher at Rs.100000 per deal but might vary depending on deals.
IndiaP2P Founded in 2021, is a P2P investment platform that has got an RBI license of P2P-NBFC. The platform offers up to 18% return on investments.IndiaP2P is a Microfinance focussed P2P that targets women Joint Liability Group (JLG) borrowers for lending. Women borrowers have a much lower default level compared to Men
I hope you found this post helpful. Reach out to us, in case you want to know any further detail about bond investment platforms, or any other investment query as such!