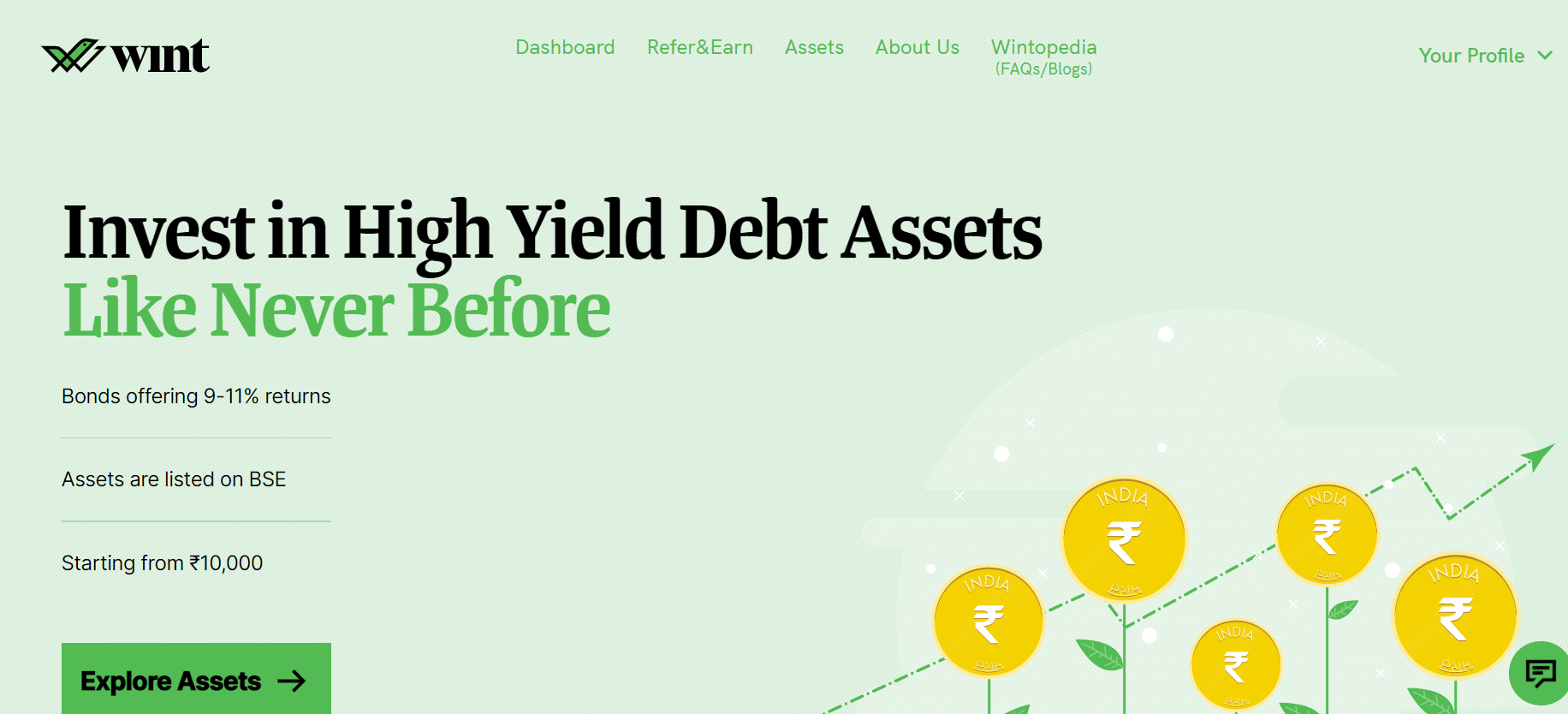 Wint Wealth has become widely popular with Indian investors. It provides access to a high-yield asset class that was only available to High Net Worth individuals till now. It is a significant step to democratize alternative investments in India and provide diversification opportunities to investors. In this Wint Wealth Review, let us understand the platform in-depth and how you can generate up to 11-12% yield with lesser risks.
What are Bonds
Bonds are akin to fixed assets. Bonds, which are financial securities, represent money the issuers owe to their buyers, and the issuer repays the principal amount on maturity and interest until it matures. Majorly, bonds can be of two types:
Unsecured Bonds: Unsecured bonds do not include any collateral in the agreement. Let's say that if the company stops operating or becomes bankrupt, you have fewer chances of recovering your initial investment.
Secured Bonds: On the other hand, a secured bond is backed by sufficient collateral. That means if the company stops operating or goes bankrupt, you have the security of getting your investment back. 
Different Types of Bonds 
Based on the Issuer
Government Securities 
They are also known as G- Secs and are issued by the Central Government to borrow public funds for the country's development, and they are one of the safest bonds.
Corporate Bonds 
Private companies issue these bonds to raise capital to grow, and they offer higher interest rates than G- Secs but also have a higher risk.
Public Sector Bonds 
Public Sector Undertakings are issued. These bonds are known as public-sector bonds. These are the companies owned and managed by the government.
State Development Loans (SDLs)
The state government issues these bonds to raise funds for the development of the state. The credit risk is lower in these bonds.
Sovereign Gold Bonds (SGBs)
Sovereign Gold Bonds (SGBs) are bonds backed by assets and are issued by the Central Government. These bonds are denominated in gold, each worth one gram of gold. Investing in gold is an excellent option if you do not want to hold gold physically.
Types of Bonds Based on Nature and Frequency of Interest Payments
Fixed Rate Bonds 
These bonds offer fixed interest rates, pre-determined and paid in regular intervals, which can be annual, half-yearly, quarterly or monthly. 
Floating Rate Bonds
As the name suggests, the interest rates do not remain fixed in the bond tenure and keep fluctuating depending on a selected benchmark interest rate. 
Zero-Coupon Bonds 
These bonds do not provide interest but are issued at a discount of their face value, and while they are matured, they are redeemed at their face value. 
Perpetual Bonds 
These bonds generally take the form of subordinated debt and can also be called because they do not have a maturity date. Still, they pay the pre-determined interest rate to the investor throughout the holding period of the bond. 
    5. Senior Secured Bonds
These bonds get priority rights of getting the payments as compared to the subordinated bonds and loans. Moreover, these bonds have some collateral with them such as property, receivables etc. which could be used in the recovery case of default by the issuer. Investing in Wint Wealth's Senior Secured Bonds can be a good option if you seek stable returns and a higher level of security than unsecured bonds. In simple words, senior secured bonds mean that if the company goes bankrupt, the senior secured bondholders will have the highest priority and be paid back first. 
What is Wint Wealth?
Resolution of default is a long and tedious process with a lot of legalities. Each lender is fighting to get their money back which can take years, and in many cases, some processes get stuck in fraud investigation. This is evident from some of the latest defaults like ILFS, DHFL, and Sintex.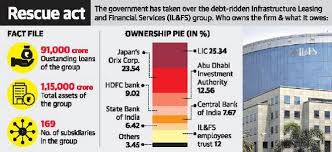 More than a year has passed since the ILFS default. Lenders are clueless about how much more time will it take and what will they get after that! To make it worse some of the investors with deep pockets want to get preferential treatment in asset monetization proceedings. Wint Wealth is able to sidestep these problems by creating exclusive collateral for investors using products like Covered Bonds and Senior Secured Bonds.
Register for Free on Wint Wealth
What is the Wint Wealth Business Model?
Wint Wealth is a fintech platform that works closely with companies that are looking to raise money. They allow retail investors to invest in innovative products to provide lending to those companies. These products have a lower risk compared to unsecured bonds.
Traditionally, these investments were only available to the Ultra HNIs with a ticket size between Rs. 50L to 1Cr. With their high-rated asset-backed debt products, they aim to democratize fixed-income assets for retail investors to enter the debt landscape with a ticket size as low as Rs. 10,000. This helps first-time debt investors to diversify their investments toward debt.
Wint Wealth has introduced senior secured Bonds/covered bonds for retail investors which provide enhanced security. Wint Wealth products are created to provide
Fixed/ steady returns (9-12%).
Physical collateral like gold, real estate, or vehicles used as collateral
Bankruptcy protected framework
Low Minimum Investments
The normal cash flow of the Issuer will service the interest payment under business-as-usual circumstances.
Cashflow from the collateral pool (gold loans, property loans, etc) will be utilized for payment if predefined trigger events occur (eg delay in interest payment)
Based on predefined investment criteria (until the start of the principal amortization), the cash flow from the pool will be used to acquire additional loan assets from the issuer so that collateral cover is always present
FD is required in some cases for additional collateral
Why Wintwealth?
Typically, these kinds of bonds have a very high ticket size, and individual investors cannot invest in these instruments as the minimum investment is INR 10 lakhs.
Another way to invest in these bonds is through mutual funds where the mutual funds invest in these funds but it include their margins and costs. As the tax benefit of these mutual funds has been revoked by the finance ministry bonds have become more attractive.
But all these problems are solved by Wint, as it allows retail investors to invest in these instruments for as low as INR 10,000. You can directly invest in these bonds without intermediaries, which results in higher returns for the investors. 
What are the Features of Wint Wealth? 
Stable Returns:

Investing in bonds provides stable returns over time, which is impossible in the stock market. The stock market is known for its unpredictable nature with both significant gains and losses hence investing all your funds in the stock market can be risky. Diversifying some of your funds for fixed returns is an excellent choice for your portfolio as it prevents you from market volatility. 

Higher Returns than Fixed Deposits:

Investing in bonds provide you with 9-11% returns on average which is higher than Fixed Deposits. 

Secured Investment:

Due to multiple instances of financial fraud in the industry, many buyers hesitate to invest directly. Wint Wealth addresses this issue by carefully selecting the most secure investment options from the top businesses, which ensures safe investment.

Small Investment Amount:

Wint Wealth enables you to participate in fixed-income securities for as low as Rs. 10,000, significantly lower than traditional bond investments. This means you do not need to make significant investments to invest in these assets. 
Wint Wealth Founding Team

Wint Wealth founder Ajinkya Kulkarni got together with 3 other individuals to start this company. The founders come with a diverse background in growing digital businesses and a deep understanding of Credit Risk.
Ajinkya and Abhik are experts in digital business models in the lending and payment space.  Shashank has expertise in the technological aspects of the platforms to enhance user experience.
They roped in Anshul Gupta, the 4th founder from Northern Arc which is a pioneer in underwriting innovative credit products which have high yield and robust risk mitigation features.

Benefits of Wint Wealth
Good Returns:

The investment options on Wint Wealth offers you around 9-11% returns on their Senior Secured Bonds, which is a good return in the category of fixed return security.

Short Duration:

Typically, bonds come with a lock-in period of around 5-8 years, but with Wint Wealth, you can invest for a short term of as low as two years.

Listed on the Stock Market:

The bonds on Wint Wealth's platform are listed on the stock market, providing liquidity for the instruments. 

Fully Regulated:

Wint Wealth is regulated by SEBI and RBI, making it a safe and secure platform for investors.

Diversification:

Investing in bonds allows you to diversify your portfolio and reduce the risk of stock market fluctuations.
Wint Wealth and Zerodha Connection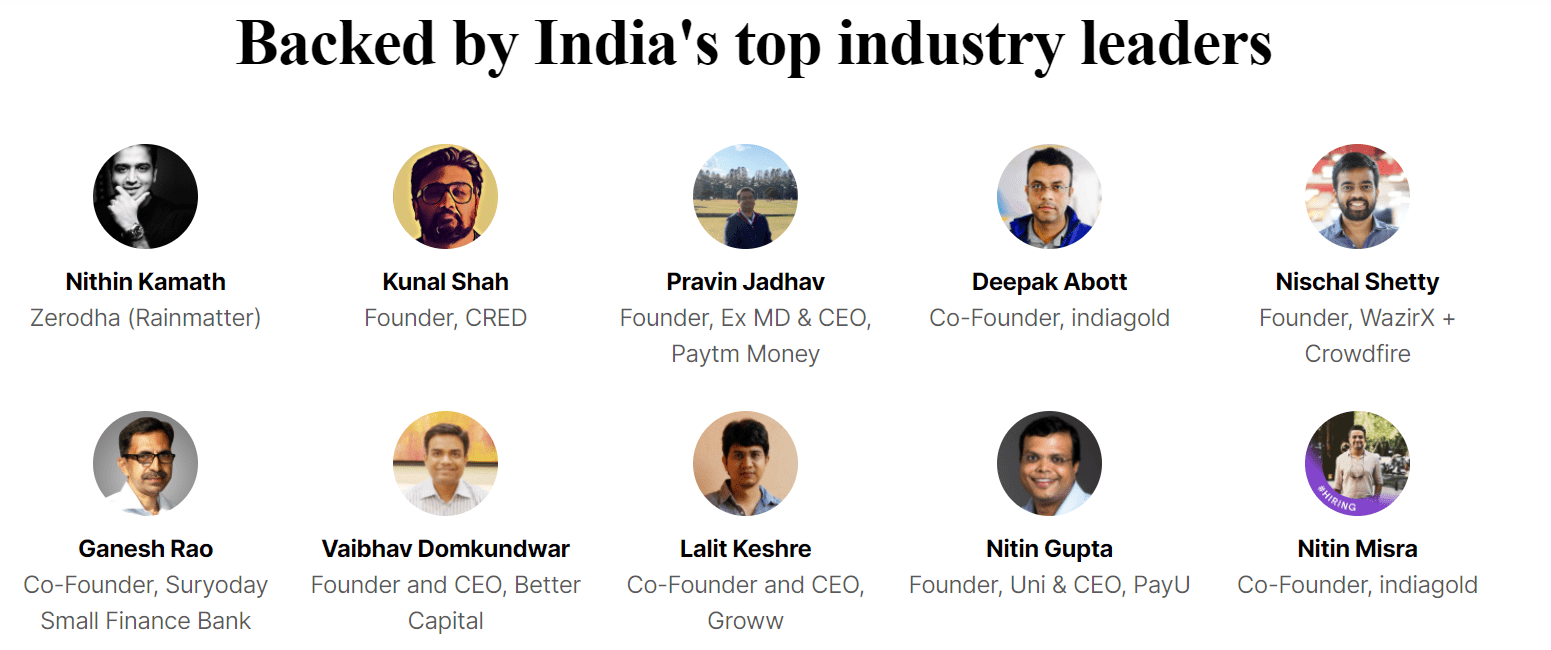 Wint Wealth raised $2Mn in seed funding from high-profile investors. It includes Zerodha, Kunal Shah, and Wazirx founder Nischal Shetty. Wint Wealth funding by Zerodha is through their Rain Matter Fund.
Rainmatter is a subsidiary of Zerodha. The Bangalore-based incubator provides well-equipped workspaces, mentorship, and funding ($100K-$1M) to innovative startups in the capital markets space in exchange for minority stakes.
They have further received  USD 15 Mn led by Eight Road Ventures in May 2022
Is Wint Wealth Safe?
There are two aspects of safety in the parlance of investment platforms
Genuinity of the platform
Deals available on the platform
There is sufficient evidence to suggest the platform is trustworthy and acts in the interest of Investors. It is backed by credible people. The platform takes sufficient steps to educate investors on the deals it introduces for investment
The safety of the deals available on Wint Wealth has to be considered by comparing the products offering similar returns. All future deals on Wint Wealth will be public issues which means they are regulated by SEBI and the platform needs to follow the requisite protocols. Secondly, the assets have an extra layer of security compared to similar NCDs available on the secondary market because of the covered bond feature!
Register for Free on Wint Wealth
Wint Wealth Risk 
Credit Risk:

In many cases, investors have a fear of their investments becoming worthless if a company fails because there are many cases where unsecured bonds have resulted in huge losses for the investors. But this risk is eliminated by Wint Wealth by listing companies only that have sufficient assets to cover their raised funds. In addition, the platform also offers Amortising Bonds that allow you to retrieve your principal amount in installments over a specific period, further reducing the risk of loss.

Risk of Fraud:

With the increase in cyber crimes, predicting the chances of fraud is daunting; hence, investors are not very confident with these investment options. But Wint Wealth ensures the complete safety of bonds by selecting and curating the bonds carefully by the experts.

Risk of Liquidity:

You can invest in bonds whenever they are available. However, you might need help selling them because many bonds do not have liquidity, even if they are listed on the stock exchanges. To reduce the risk, you should invest only the amount you can hold for a fixed period. Wint Wealth offers short-term bonds with a maturity of one to two years with good returns.
Wintwealth Fees
Wintwealth does not charge any fees to the investor. The fees are borne by the issuer and hence the return shown to you by the platform are the actual returns available to you as an investor.
Wint Wealth Vs Golden Pi: A Comparison
GoldenPi is another platform backed by Zerodha that allows investors to buy fixed-income securities. Some of the differences between Wint Wealth and Golden Pi are:
Ticket Size: Golden Pi has most bonds with a minimum investment requirement of INR 10 Lakh which can be high for most investors whereas you can start with INR 10k on Wintwealth

Diversification: Wint Wealth allows more diversification as you can create a more granular portfolio using smaller allocations to each bond.

Selection of Bonds: You select from bonds based on your risk appetite on Golden Pi, which ranges from high- security with fewer returns to high returns with less security. However, in Wint Wealth, safety and reducing risks in bonds are what the customers look for. Hence the returns remain constant at 9-11% with better security. 
How is Wint Wealth Taxed?
All bonds will be taxed as per your income slab hence it makes more sense to invest from an account that is under a lower tax bracket to reduce outgo.
How does Wint Wealth Make Money? 
Wint Wealth charges a percentage of the bonds listed on the websites, the users are not charged, but the Issuers are charged for listing. 
Wint Wealth- 2 Years of Experience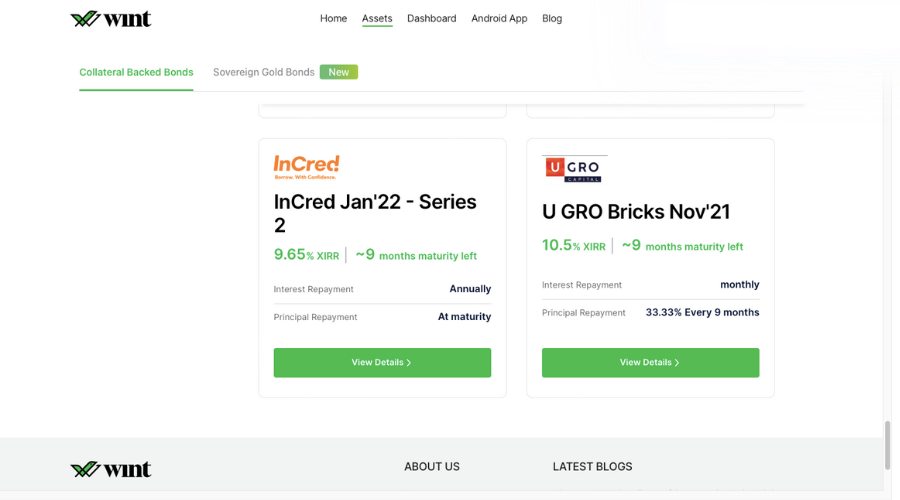 My investment experience with Wint Wealth was smooth. The platform is user-friendly, and a return of at least 9-11% can be expected with limited risk. I have invested in more than 7 opportunities listed on Wintwealth over the last 2 years.
Some of the bonds I invested in were 
Oxyzo
Slice
Aryadhan
IIFL
Wint Wealth Sovereign Gold Bonds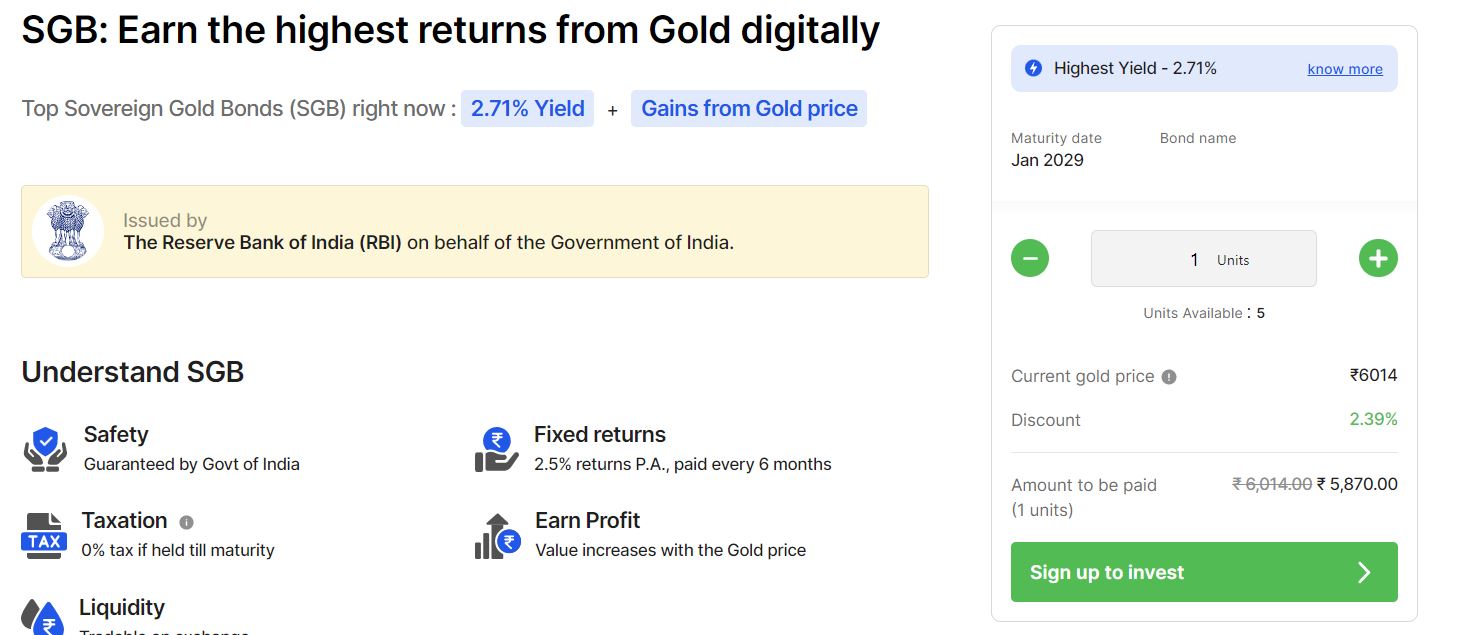 Wint Wealth has a great feature that allows you to buy sovereign gold bonds at a steep discount from Face value. The reason for that is many times these listed bonds are trading at a discount due to selling by other investors.
A sovereign gold bond is one of the best products for investing in gold as it is backed by the government. You get additional 2.5% fixed returns and the capital gains are tax-free at maturity.  I use Wint for purchasing Sovereign Gold Bond whenever gold value drops to average my returns.
Wint Wealth Alternatives
There are many platforms that can be used to complement Wint Wealth. Grip Invest is one platform that provides access to Bonds and Leasing Investment and provided 20-21% IRR. Another Wint Wealth Alternative is TradeCred which is a marketplace for Invoice Discounting. 
People can also explore Klubworks for revenue-based Financing. Lendbox and Leafround have also come up with interesting products with stable returns and low risk.
To get more exposure to other opportunities in High Yield Debt you can explore Jiraaf. A list of some of the platforms you can evaluate is 
Altifi

Jiraaf

Grip Invest

Klubwork

Lendbox

Tradecred
Wintwealth Login 
To find out all the investment opportunities and products offered by Wint Wealth, you need to login into the platform. When you open the Wint Wealth website, you can click on the 'Sign Up' or 'Register' button to make a new account, and once you complete your KYC process, you can set up your login credentials. 
You can access your Wint Wealth dashboard using your credentials and view your investments, ongoing opportunities, and performance reports. By reviewing the available investment options, check the details of every asset so that you can make sound decisions based on your investment goals and risk appetite. 
How to Invest in Senior Security Bonds from Wint Wealth?
Register for Free on Wint Wealth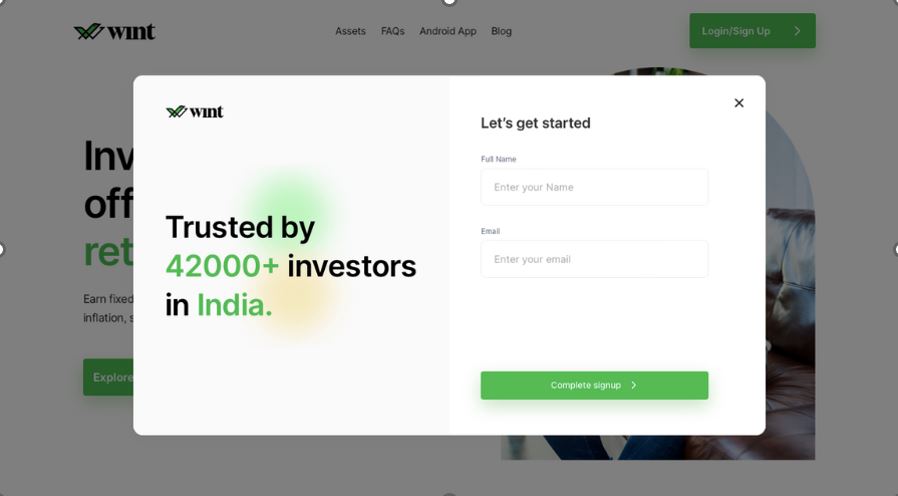 Step 1: Sign up on the platform and complete the KYC process; you can see the dashboard to find out and check all your investments if you have any.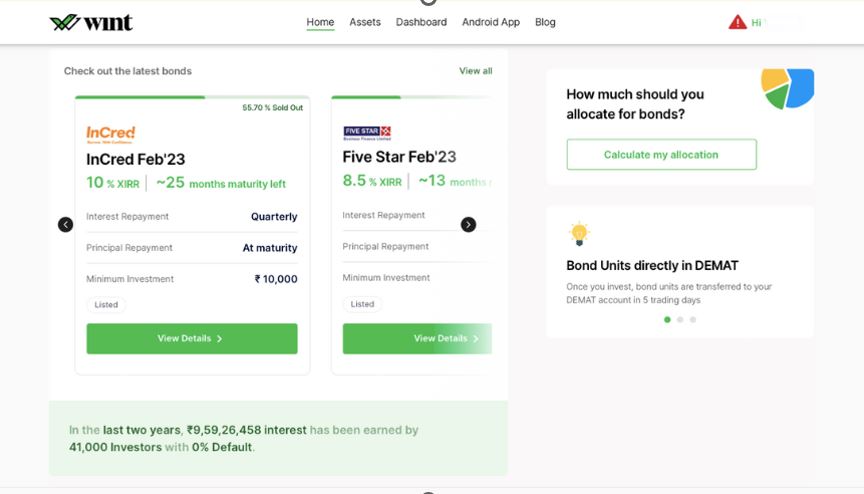 Step 2: Click on the "Assets" tab that will redirect you to the list of assets offered by Wint Wealth; you can learn more about the listed assets by clicking on "See Asset Details", and you will be able to see the following details:
Type of Interest Payment 

Principal Repayment 

Minimum Investment to Acquire

Issue Size of the Bond.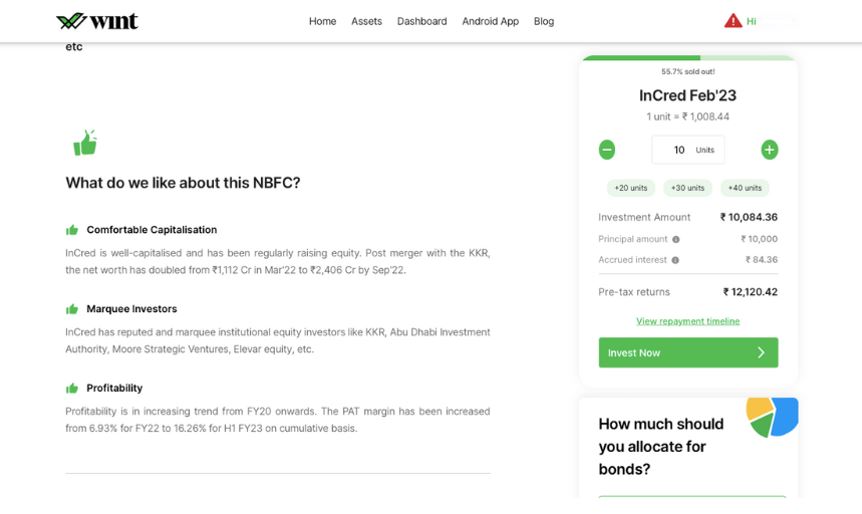 Step 3: If you are ready to invest in an asset, click on the "Invest Now" option, and then you will be redirected to the screen where you can select your investment lot and the expected returns you will be getting from the investment. You will then be redirected to the payment gateway, where you can pay and add the assets to your portfolio. 
Conclusion
Wint Wealth is a great platform for retail investors to diversify their investments. Most investors have a very high allocation to Fixed deposits which generate below-inflation returns. Allocation to platforms like Wint Wealth boosts overall portfolio returns and also diversifies the portfolio.
I have invested in Wint Wealth across a few deals and the performance has been satisfactory to date. You can check the monthly performance reports which I publish every month
Hope this Wint Wealth Review gave you a holistic understanding of the platform and the products it offers.
Frequently Asked Questions (FAQs) on Wintwealth
How does Wint Wealth make money?
Investors who buy senior security bonds get periodic interest on the investments. Wint Wealth charges interest from the issuing companies of 1-1.5% on the transaction done on the platform.
What is the minimum investment amount in Wint Wealth?
You can invest as low as Rs. 10,000 in the investment options on Wint Wealth.
Is it safe to invest through Wint Wealth?
Wint Wealth is regulated by the RBI and SEBI, making the platform safe and secure. 
Can I lose money even after investing in secured bonds?
Yes, you can still lose money in these investments. As there is no investment with zero risk and secured bonds are also an investing instrument, there is always a risk of losing your invested amount. 
Are Senior Secured Bonds Safe?
Senior secured bonds are considered the safest in the category as they are backed by collaterals and prioritize returning the principal amount in the event of liquidation.
What are some of the risks associated with Bonds? 
Some common types of bond risks are credit risk, inflation risk, and interest rate risk. 
 What is the coupon rate of a bond? 
It refers to the interest rates after the bond is issued, which results in the devaluation of pre-issued bonds. 
How do Senior Secured Bonds work? 
These bonds are debt instruments where the issuer company raises money from the public to grow their business and pays interest in exchange and the principal amount on maturity. These bonds are superior to unsecured and subordinated bonds, and at the time of liquidation, these bonds are given preference while getting the payment. 
Yes, typically, the rating is decided based on the bond issuer's creditworthiness and also takes into account the risk-return dynamic of the issue. 
These are the bonds issued by the government enterprises such as the Indian Railways Finance Corporation, the National Highways Association of India (NHAI), HUDCO, Rural Electrification Corporation (REC), etc. These are tax-free bonds, and the interest earned on these bonds is tax-free under section 10 of the Income Tax Act. 
Wint Wealth App
Wint Wealth also offers user-friendly mobile applications to make investment more accessible and convenient. You can download the application on your mobile phone for a better experience. 
In the app, you can log in to your accounts, browse and invest in different investment opportunities, track your portfolio performance, and get regular updates and notifications. 
Wintwealth mobile application allows you to manage your investment in a single place and has a user-friendly interface. Even if you are new to investing, you can easily make your customised portfolio and do a risk assessment. The Wint mobile application also provides portfolio management tools that use algorithms and data analytics to optimise and manage the portfolio better. 
Moreover, the Wint app provides educational sources such as articles, tutorials and expert insights, which empower you to gain financial knowledge and make better decisions. 
Frequently Asked Questions (FAQs)