Lot of people invest in Corporate FD to gain some extra return over bank FD's.  We know there is an element of risk as this is a form of unsecured lending and in event of company default capital maybe at risk. There is an alternate solution for people who can make 12%-15% which is much better than the top corporate FD  in the market with reduced risk .
What is the Solution?
Invoice Discounting Investment!
what is Invoice discounting?
Invoice discounting is the practice of using company's unpaid invoices to raise working capital & fulfil its financial needs. Traditionally, financial institutions including banks and NBFCs have been discounting invoices for MSMEs. Invoice discounting involves transfer of rights on an asset (invoice) from the seller (i.e. business) to the financier (i.e. investor) at an agreed value
The process is a simple method used by companies to generate working Capital. Let's say company A provide some services to company B.
Company A : mid sized enterprise(SME)
Company B: Blue chip company.
Now B has to pay A money for the services. A raise invoice for the payment. B being a big company takes 2-3 months for the payment.
Now A does not want to wait for the money as it needs immediate cash which can be deployed in business. Here comes invoice discounting.
The firm A borrows money from an investor keeping the invoice as collateral
The investor does not pay the full face value of the invoices; instead it pays the firm a percentage, 80-90%
As the investor now owns the unpaid invoices money , the money due from the end customers is credited to the investor
When the end customers pay the invoices, all the money goes to the investor
Thus investor had put in 90 bucks and got 100 end of 3 months which is the interest he earned.
The advantage over corporate FD is that this funding is backed by invoice as collateral and is thus a secured funding.
The companies which are going to pay are blue chip  thus unlikely to default.
Company A is legally liable to pay you even if company B does not honour the invoice.
All transaction take place in escrow account thus is reasonable safe.
How to to participate in Invoice Discounting?
In India Kredx is the most trusted invoice discounting platform. KredX is an online invoice discounting platform where business owners get an opportunity to raise funds for their working capital needs at attractive terms by selling their unpaid invoices raised on blue chip companies.
It is backed by Sequoia Capital has received more than  50 Cr Funding.
Points to Note:
KredX  minimum investment is 3Lakh , Time duration would be between  30 days to 90 days.Expected return would be 12-20% annualized.
KredX fees is 0.15% of investment amount.
Also, investors are made available the credit history of the SMEs and they know which Blue Chip company was the invoice raised for. KredX also does a verification of the invoice with the Blue Chip Company,gets a posted dated cheque from the SMEs in case of contingencies , operates an escrow account which helps the  investor get back the money in case the Blue Chip company does not pay
Example:
lets's say company A wants to raise money against invoice of 100,000
SME discounting rate = 15%
You will invest around 96000 and get back 100,000 after 3 months
Kredx Fees = .15% / month = 450 in 3 months (approx)
So you make around 3500 in  months or around 14% annual returns.
Sample screenshot of dashboard: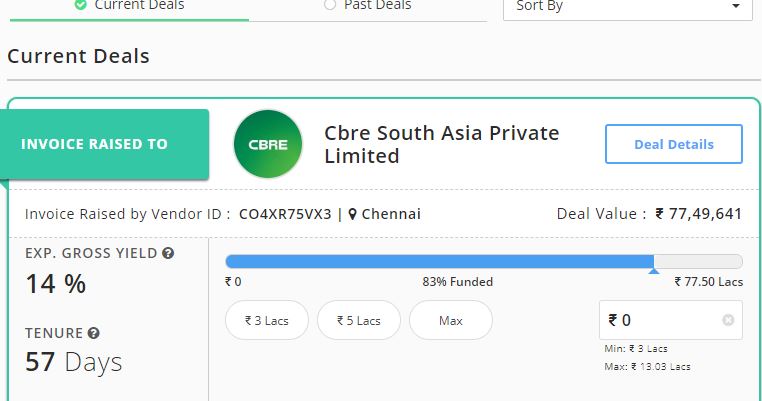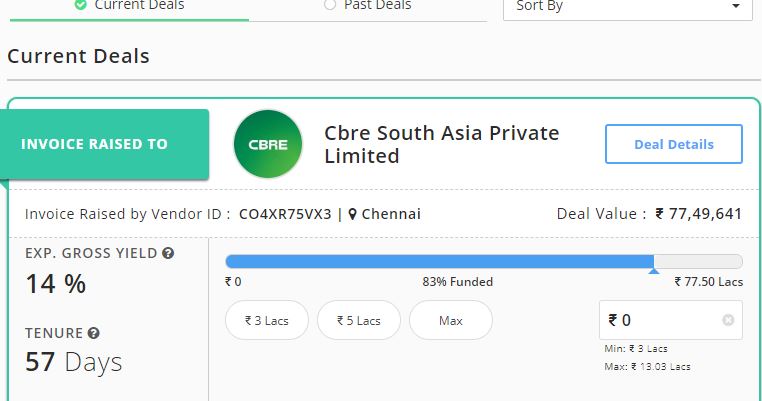 Pros:
Shorter investment duration(good liquidity)
secured Lending
Better than corporate FD
No defaults till date
Low correlation with stock market
Cons:
1. There is a small chance that Blue chip company defaults or SME becomes bankrupts within 3 months .Unlikely but possible
2. Minimum ticket is high at 3 lakhs
Conclusion:
People who have capital surplus and have deployed lot of money in Corporate FD, Liquid Fund , Bonds etc can use this asset class to achieve decent return.More secured and higher liquidity compared to corporate FD and unsecured bonds
Not a good investment for people who have just started investment because of high minimum ticket size.
People who are interested and want to know details/register for free please contact me on mail on rohanrautela9@gmail.com  or message me on 9967974993