This month I  have added significant amount of capital to the platform which I had  less share uptill now . My goal is to have a more uniform allocation among different platform.
This month I will also do a deep dive of my existing NPA across platforms
Portfolio Composition
April Allocation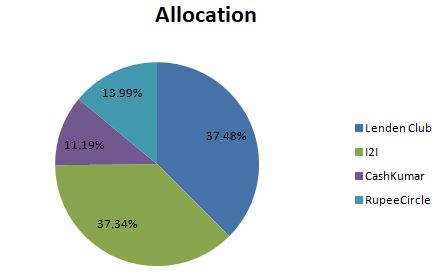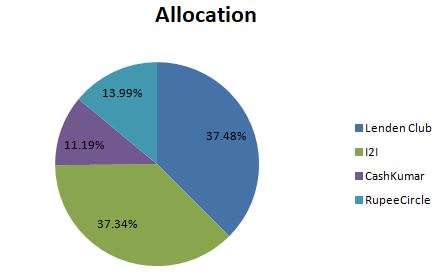 May Allocation: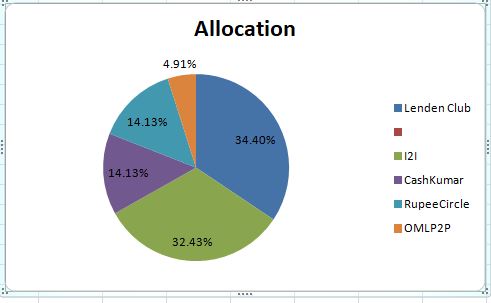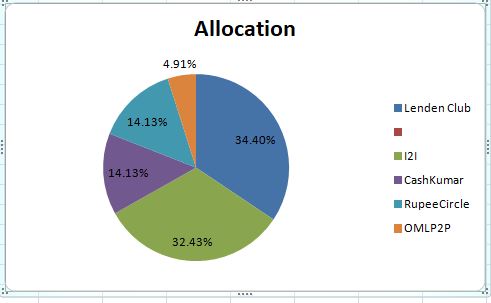 Portfolio Changes:
Have added OMLP2P this month
Have increased capital in RupeeCircle and Cashkumar
Have stopped unidentified category in Lendenclub for few months .Will calculate the impact on ROI
Goal is to increase allocation in platforms other than I2I and lendenclub now to have a more uniform portfolio
 Portfolio Performance: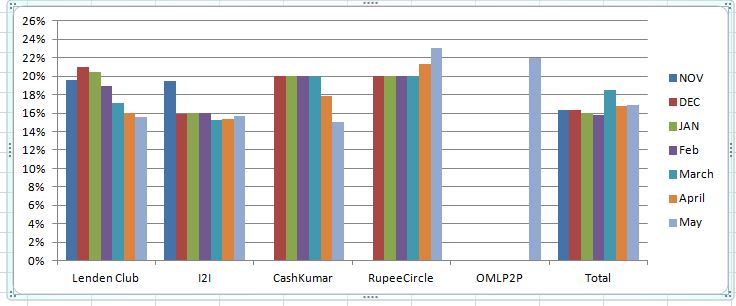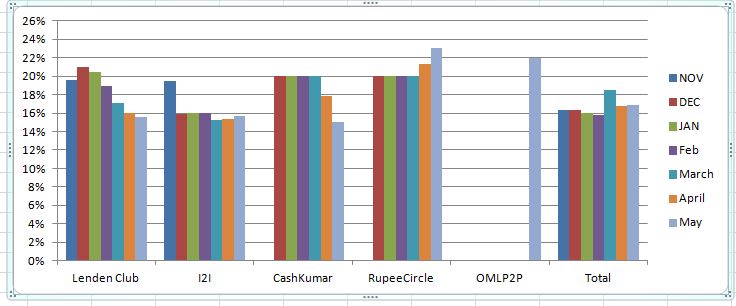 Performance Analysis:
LendenClub: The portfolio Return stands at 15.6% after factoring in all NPA. I consider zero recovery in case of NPA.
I have tried to break down my NPA into 2 parts. "Unidentified Risk" vs Others.
"Unidentified Risk " loan have been in my portfolio for almost half the time since I started investing.
Interestingly Half of my Interest has been earned from "unidentified " and other half from rest of the portfolio.
Of the 9.8% NPA almost 7.5%  can attributed to " unidentified". Though "unidentified" has generated  higher return ( same interest in less time) the NPA are quite high . If I would have avoided "unidentified " my interest might have been lower but net returns would have definitely be above 17%!
In other words the high ROI of 48% is getting offset by high NPA.
Problem with investing in non unidentified category is that auto invest hardly works and I have to check for loans every  morning at 10.30 am to invest. Thus investing a high amount is a challenge
I2IFunding:
In I2IFunding ,only 3 borrowers out of 93 are in delay of more than 75 Days. Other loans either got some form of repayment thus I do not consider as delinquent.
Even though only 3 loans are in delay due to higher ticket size in I2I total NPA is 4% plus. One loan itself is causing 2% of NPA.
One mistake I had done in I2I was to give loan to a person who made 10 enquiries in other institute ,the loan is one of the delinquent ones now. It was a sign  that the individual had tendency to over leverage and  I should had to refrained from investing!
Collection process of I2I is superior compared to lendenClub.
RupeeCircle: 
RupeeCircle has been the only platform where I have not suffered any NPA till now. Now I have been investing for more than 8 months and having no delinquency is  an achievement after investing in  27 Loans
Cashkumar:
In Cashkumar I have one delinquency. After evaluating the borrower I can see his average monthly balance was 1000 for last 3 months. It is a definite red flag. People who have low average balance will always struggle to pay EMI. Now I always ensure that average balance of individual is well above the future EMI.
Overall repayment has been ok with few delays but no major issues.
OMLP2P: 
I have recently started investing here thus no NPA till now. I like the variety of borrowers available.High Salaried and established business owners. This platform has helped me diversify some of the money when borrowers were not available in I2I and rupeecircle.
They have lowered minimum ticket to 2000 which is a big positive!
Footnotes:
I2I Referral Link
(First Use the link to register then add the Code I2I50%DISCOUNT while paying to get 50% off)
Rupee Circle Referral Code- PIND145
Rupee Circle
LendenClub Referral Code – LDC11989
LendenClub
OMLP2P Referral Link
Mail me to get Cashkumar Referral