Fractional Real Estate has bridged the gap to purchase attractive Commercial Real Estate Opportunities.
Now, those with a minimum of Rs 25 lakh can now own a portion of 'Grade-A' commercial real estate in large cities and industrial hubs that include IT (information technology) parks, office spaces in posh locations and warehouses that are leased out to large firms.
For each commercial property, a Specific Purpose Vehicle (SPV) is created. The funds collected from investors are routed through a trusteeship company or a limited liability partnership (LLP) within which the SPV operates. The SPV purchases the property. Each fractional owner is a shareholder in the SPV proportionate to his/her contribution to the property.
The SPV's only purpose is to hold the property on behalf of the customers. No other operational activities are carried out by it. The investment platform assumes responsibility of the SPV and the underlying property on behalf of the customers. While some portals buy the property and then sell it to fractional owners, others pool the money from investors and then purchase the asset. In both cases ownership is transferred to fractional owners through an SPV,
The investment portal offering the services has to obtain a license from RERA (Real Estate Regulatory Authority) for its operations.
How different is it from REIT (Real Estate Investment Trust)?
REITs are listed instrument which provide dividend through the rental cashflow generated by underlying assets. REIT have couple of disadvantage over fractional real estate a) They are generally richly valued as they are listed which makes yield around 5-6% for most of them. b) Some of them take leverage which means the company has credit risk even if underlying pool is good. REIT has advantage of lower minimum and higher liquidity
Fractional real estate is equivalent to having a stake in a premium commercial building worth Rs 50 crore generating good cash flow and is a leased asset to a verified institutional-grade tenant. It enables to divide the Rs 50 crore worth asset into fractions or shares that represent equity and debt in the underlying asset
Deal and Platform Evaluation
Fractional ownership is fairly new in India and currently only a few companies offer the opportunity to invest in fractional properties. The right trick is to conduct intensive market research and find out the company having experienced founders and a strong network of investors to offer the best possible investment opportunity. Most of such deals get subscribed really fast. I would be shortlisting such deals and posting on the platform.
Fractional Real Estate Live Deal- 9.5% Yield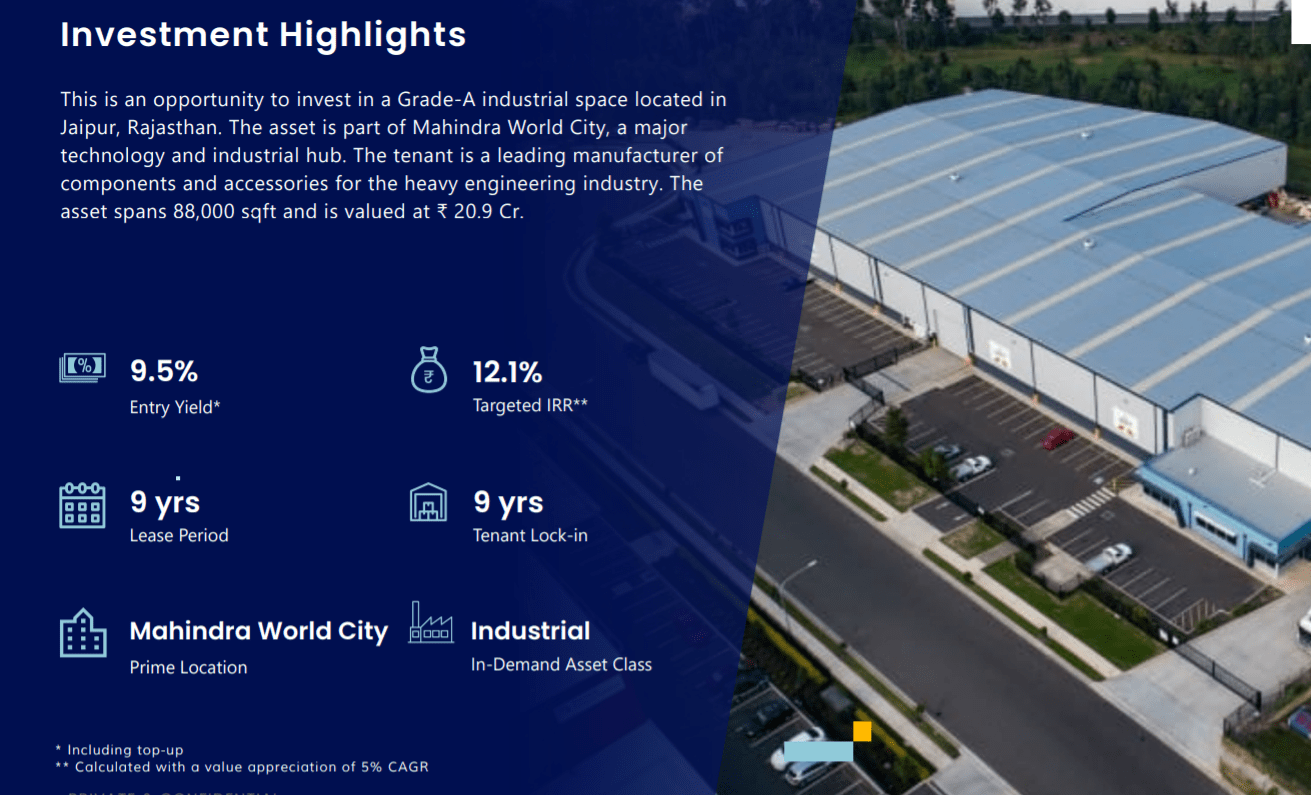 Investment required for participating in this opportunity – Minimum investment of Rs 25 lacs.
Your will be owning part of a company proportionate to your investment (through shares in this SPV) which will own the industrial space
Total investment involved here is appx 21 crores of which you will become partial owner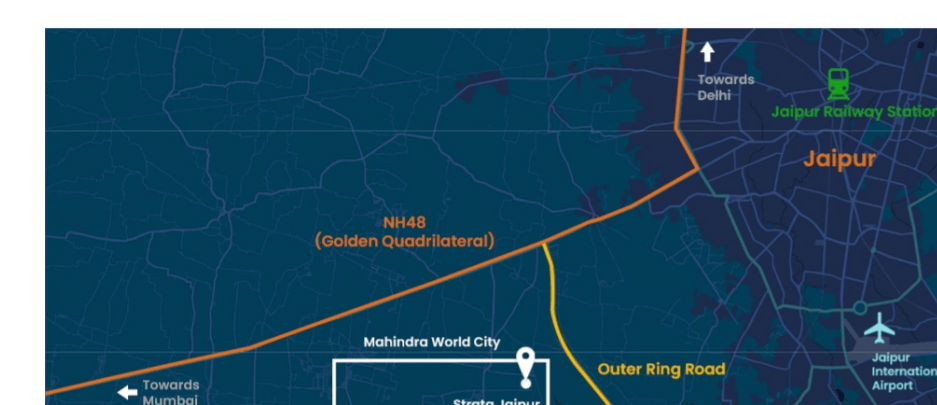 This property is in Mahindra world City . The company executing this deal has already done .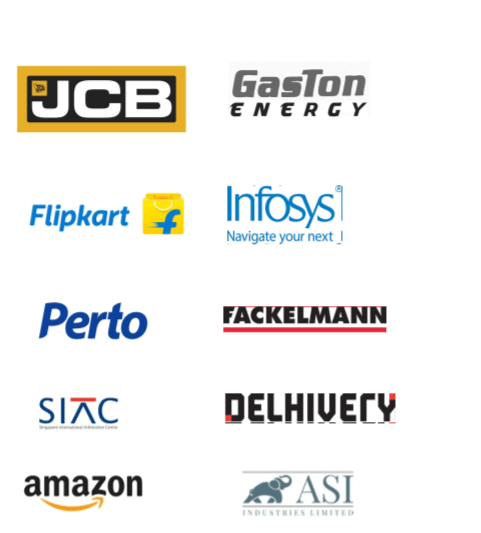 The tenant is a leading autoparts manufacturer who has signed up the space for 9 years lease with a 10% rent escalation per 3 years and an Nine-year lock in.
The rental returns after management fees and property taxes is appx 9.5% in year 1 and it goes up by 10% every 3 year.
Beyond this there will be capital appreciation – assuming a 5% capital appreciation per annum – the overall ROI comes to 12% plus.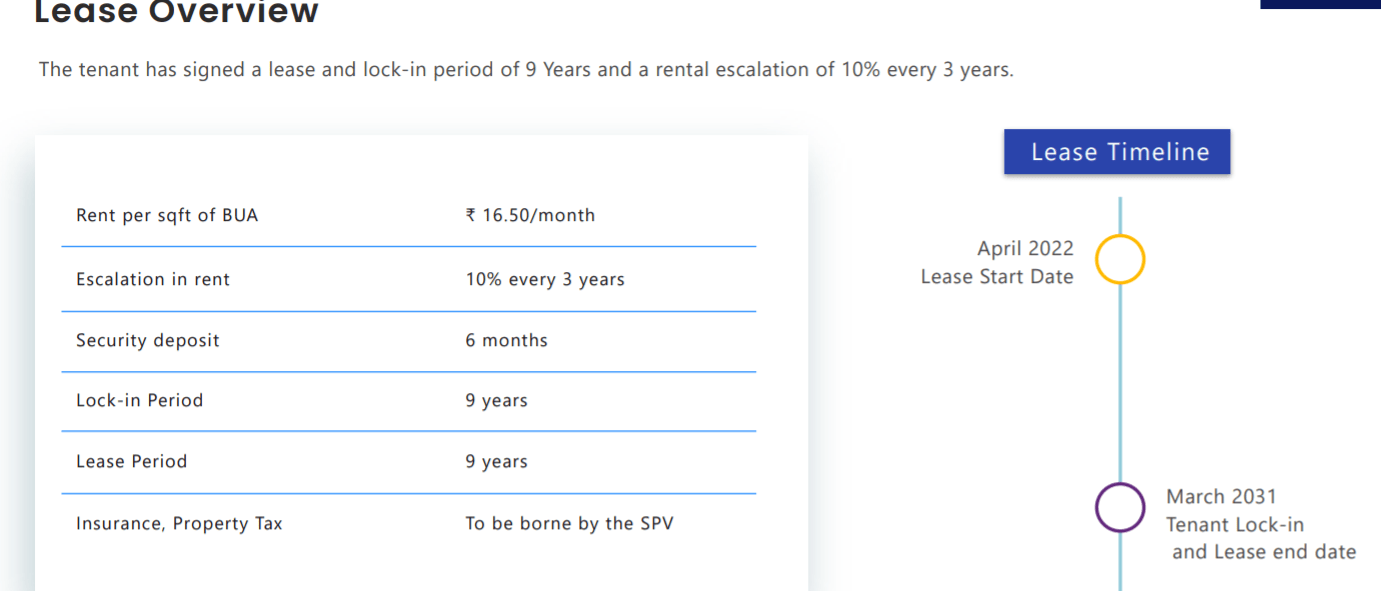 It is expected that deal will get subscribed within 10 days hence if interested do drop me a mail at investment@randomdimes.com or Whatsapp me Now! for details and meeting arrangement with the team
Conclusion
The investment opportunity is good if someone is interested in real estate. The Platform is credible and has done multiple deals in the past. I personally know people with existing investment. The minimum ticket is INR 25 Lakhs. Commercial real estate opportunity are more lucrative than residential and can be looked into for decent size portfolio for diversification