Lot of people are wondering which assets to buy in a market which is uncertain about future prospects.An easy way to determine is to weigh the upside vs downside from the current level and determine if the risk is worth taking. Some of the best opportunities come out when people are selling in panic.In Public Markets prices are factored very quickly as the price discovery is efficient through an open platform.Unlike public markets ,the private space doesn't immediately shows fair value so for bargain hunters public markets is a good place to start!
So considering the current scenario some of the assets which can provide good returns from current level are:
Real Estate Listed REITS:( 2 year Upside potential >20% CAGR)
There are 2 ways to invest in Real Estate:a) directly and b) through REITs.
The good part about direct investment is that it doesn't fluctuate in value everyday but which has made it a bad asset class to invest right now!
Why ?
Think about it. Is anybody buying property these days? This means the supply is overwhelmingly more than demand!
https://economictimes.indiatimes.com/markets/stocks/news/real-estate-prices-may-crash-up-to-20-post-covid-19-deepak-parekh/articleshow/75136953.cms
Then why are the sellers not providing discount. They are just playing the waiting game. Either coronavirus impact will slow down or government will provide some help. In either case if we buy something at the same cost which was being quoted 3 months back it's a bad deal.
Unless real estate asks for atleast 15% less I wouldnt touch it.
Now if we compare the REITs.These are listed companies and the market demand and supply automatically bring them to the perceived fairprice and now add the panic to it and you can expect discount to fair price in these.
It is easily reflected in the increase in dividend yield because of price drop. This is a good time to buy a good REIT ETF and maybe add a few REITS which have deep pockets and diverse rental properties.
Some of the interesting names to consider are given below, though people should do their own research and analysis too:
Reality Income REIT:
Digital Reality Trust
Global Medical REIT
Crown Castle REIT
You can buy using Stockal
Most of these REIT have diverse rental base and at current price dividends are north of 5-6% .I have collated few articles on the names which can provide more insight
https://seekingalpha.com/article/4335628-be-safe-buy-reits
https://seekingalpha.com/article/4337458-forget-coronavirus-2-healthcare-reits-win-no-matter-what
https://www.kiplinger.com/slideshow/investing/T052-S001-20-best-stocks-to-buy-now-for-the-next-bull-market/index.html
Equities (Global and Indian): ( 2 year Upside potential >13% +CAGR)
I had participated in buying when market had touched the lows. At the moment I am not looking to add more position and will add if the market corrects from here.
What all I am going to buy?
I will stay away for single stocks as market is very uncertain though I picked up ITC and might add a couple of blue chips if they fall 15-20% more from current level.
I will also add some large cap US ETF . Will stay away from europe ETF as it seems it will take more time for recovery there.
Will increase weightage to my Indian ETF also incase market goes back to 8000 level.(Nifty 50 and Nifty next 50)
Indian ETF can be bought through Zerodha
Natural Resources ( 2 year Upside potential >15%+ CAGR)
How have the natural resources performed in the current crash? They have suffered more than the equity. How can we add Natural resources to our portfolio.
Globally Flexshares Morningstar Global upstream Natural resource ETF provide best exposure on bullish view of natural resources as it has companies which directly benefit from mining and oil prices.
GUNR provides exposure to the rising demand for natural resources and tracks global companies in the energy, metals and agriculture sectors while maintaining a core exposure to the timberlands and water resources sectors, which is a part of the risk management theme.
GUNR takes an "upstream" focus that targets companies with ownership or direct access to the raw materials. These natural resource companies have revenues, earnings, cash flows, and valuations that are closely linked to natural resources. The upstream focus provides improved correlation to commodity futures compared to downstream operations, granting investments greater inflation protection.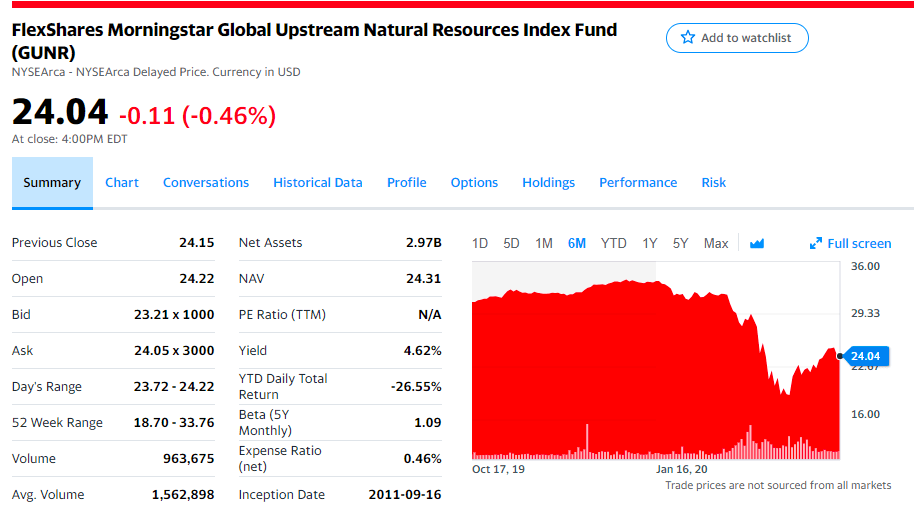 Should you buy at the moment?
I think as people will go back to work energy demand will increase but it may take some time .This could be a good opportunity to start accumulating and buying on dips.Current yield of 4.6% is a positive
Bottomline: Though the above asset classes look attractive people should invest in a staggered manner as they can get better price if the recession last more than expected and the asset fall further
Footnotes:
Global Investing Platform Stockal Discount Link
For global Investing through Vested
Use this to register and get 5$ in your account (https://app.vested.co.in/referrals?code=RORA74993 )
For buying zero cost MF and lowest Derivative Trading
For alternate investment you can use these links
Finzy Referral Code:
https://finzy.com/invest?partner=MAN635
or you can apply the code : MAN635
(First Use the link to register then add the Code "discount50@i2i" while paying to get 50% off)
Rupee Circle Referral Code- PIND145
Rupee Circle
OMLP2P Referral Link
(Use Code MNJ6547)
Invoice Discounting Platform TradeCred Link:
https://buy.tradecred.com/onboarding/apply-now/TC0152
For specific queries ping me on 9967974993 or mail me on rohanrautela9@gmail.com