The experience over the past couple of years amid the Covid-19 pandemic has brought to the fore the importance of investing in India. Indeed, investment plans did exist for a long time, however, the importance has grown manifold since 2020. Similarly, there has been a growing emphasis on alternative investments in the country. I have been covering my Alternative investment portfolio every month.
What Does Alternative Investment mean?
Alternative investment, in simpler terms, refers to a diverse set of non-traditional assets. This includes peer-to-peer (P2P) lending, real estate, venture capital, lease financing, revenue-based financing, invoice discounting, and so on. 
It is important to understand that investment options like mutual funds, cash, stocks, and bonds are not included in this category. Alternative investment options were earlier in vogue among the ultra-rich personalities and institutional investors only. However, more and more individuals and retail investors are switching towards alternative investments. 
Reasons to Invest in Alternative Investment Options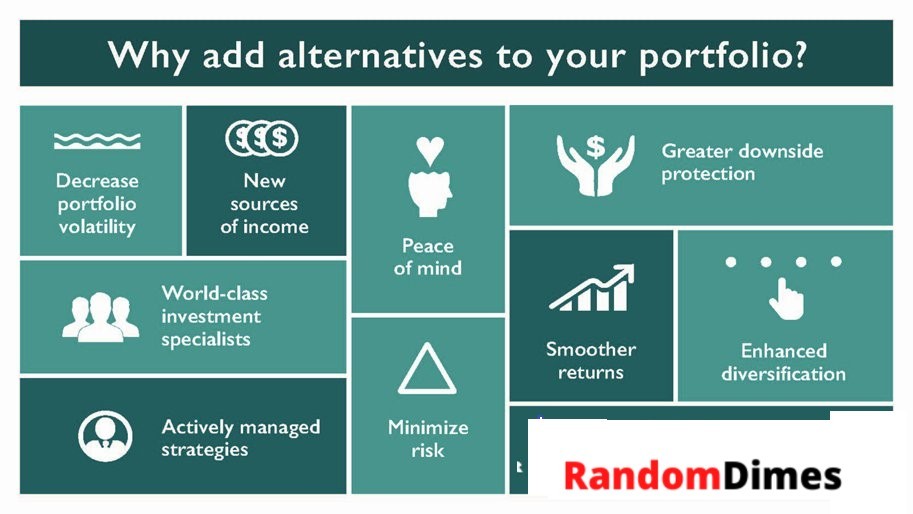 Inflation Beating Returns:

 
It is a general fact among investors that alternative investment options offer returns without factoring in the inflation in the economy. For instance, alternative investments beat inflation and offered higher returns in 2021. Despite that, other factors do make alternative investments prone to certain risks. Indeed, no investment is risk-free. 
Independent of Equity Market: 
Most of the alternative investment options are not linked to the equity market directly. Hence, these investments are risk-free in terms of general market conditions and volatility that exists. Due to the very same reason, alternative investments act as a hedge against inflation. 
Portfolio diversification is based on the idea of complementarity. This simply describes the degree to which two or more two assets move in opposite directions in specific conditions. An alternative investment is also based on the precinct of diversification of the portfolio to decrease the risk profile. Diversification can further be divided into – individual asset diversification, international market diversification, and asset class diversification. 
In most public assets, an investor is buying a paper asset, i.e. the discounted value of expected earnings in the future. Which means that they don't own anything. But, when they invest in an alternative like real estate, then they directly have the ownership of the same. Hence, the investor's name is on the title deed of each mortgage that they own.
Are Alternative Investments Safe?
Every investment option comes with its own benefits and risks. Similarly, investing through platforms that are trustworthy and transparent builds your confidence in the investment. For instance, an investor should check whether the lending partners are certified and regulated by the Reserve Bank of India (RBI). 
Similarly, the rate of return on alternative investments is not guaranteed, like any other investment option. However, it does have the potential of offering higher returns when compared to traditional options of investments. 
Best Alternative Investment Options in India
Having understood the benefits and safety aspects of alternative investments, let us now understand the best alternative investment options available in India. 
Peer-to-peer lending, also called P2P pending is one of the most important forms of alternative investments that emerged not very long ago. By opting for P2P lending, the lenders are directly in contact with the borrowers. This contact involves no traditional intermediary like a bank.  
Investors prefer to invest through P2P pending due to the fact that it has the potential to generate passive income through recurring monthly interest payments. Moreover, lucrative interest rates generally pegged at 12-18% and risk-based investment options are other key benefits of P2P lending. An individual can invest a minimum amount of Rs. 20,000 and can invest through platforms such as Lendbox and IndiaP2P.

Invoice discounting is another great option under alternative investment. This mode of investment provides instant access to cash that is tied up in unpaid invoices for businesses. The investor provides liquidity to vendors in lieu of getting some interest cost which is basically the difference between the invoice  amount and money paid by the investor
 As an investor, you can invest a minimum of Rs. 50,000. It is Important that you fund invoices where both parties (Vendor and Enterprise) are trustworthy and have sound financial health. Platforms like Tradecred  and Jiraaf provide this option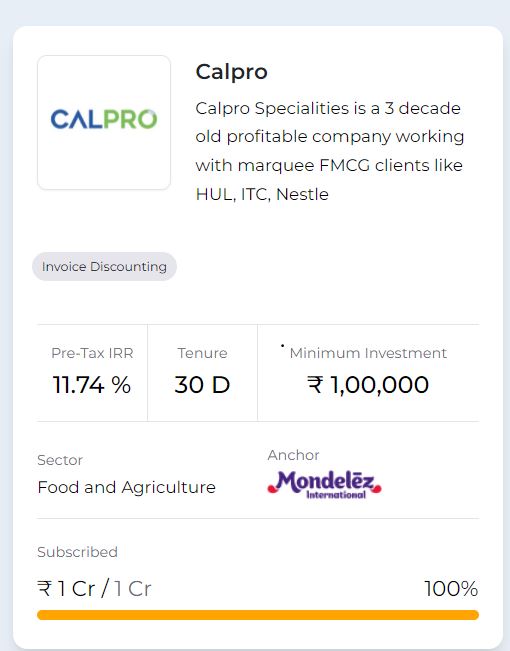 Fractional ownership of real estate has quickly gained popularity in India. This simply refers to a concept that allows a group of like-minded investors to own a commercial property and become fractional owners or investors with a minimum investment of Rs 20,000. 
The concept of investing in real estate simply divides the expensive purchase cost into several fractions, to allow people to participate in newer opportunities. Fractional real estate investment is poised to reduce the financial burden on a single investor or owner of the property. Platforms such as MYRE Capital and GripInvest are good options to invest in fractional real estate. 
Revenue-based financing is an alternative investment option in which investors provide capital to a company or an organization in return for a certain percentage of the company's total gross revenues.  It has become an attractive way of raising financial capital for companies. Klubworks is a major revenue-based financing platform that allows investors to invest with a minimum capital of Rs. 2 lakh.
Equipment financing is another important alternative investment option in India that describes the leasing of assets that you own. The business equipment could include any tangible asset apart from real estate and can include office furniture, computer equipment, machines used in manufacturing, medical equipment, and company vehicles. 
The lender holds ownership of assets and has the right to take over the assets if the lessee defaults. The lender can invest a minimum amount of Rs. 20,000 on platforms like Grip Invest and Jiraaf.  
Conclusion 
Alternative Investments have lately emerged as one of the best ways to diversify your portfolio with the aim of earning passive income regularly. These investment options have the potential to benefit the investor during high inflation and low yield. They also act as a hedge against risk to ensure a stable source of return.