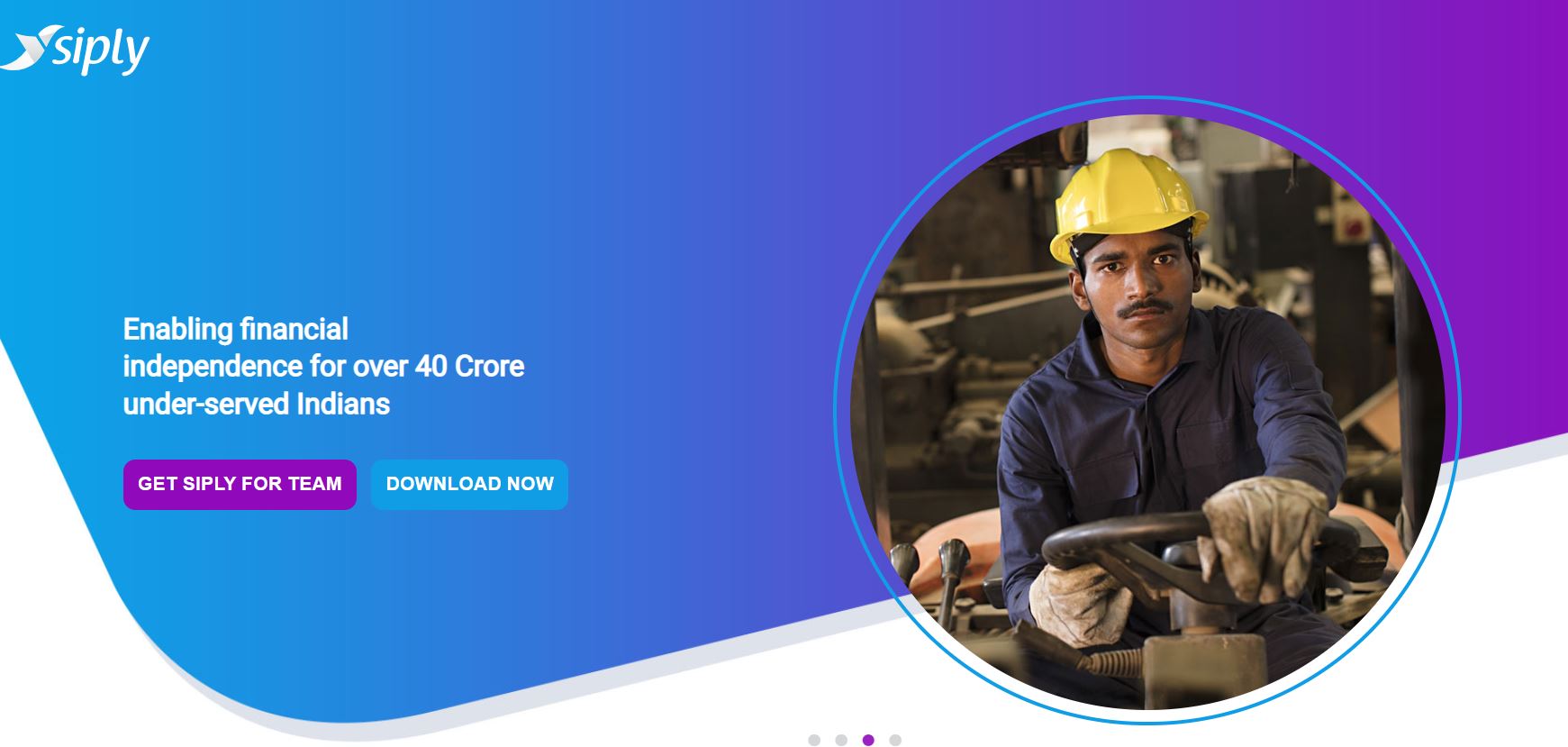 Are you looking for the best micro savings experience at its best? With a focus on investments, it is always a great option to invest in the right way to earn more money in a very decent way. If you are into investing money in multiple means and options such as the stock market, gold, mutual funds, FDs, and other instruments, the Siply app is perhaps the right one that you can go with. Get to know complete details in this Siply Review.
What is the Siply app?
Siply is an investment platform that can be used for the perfect investment options in varied areas of investment that you can opt for. The service has an app and website on the Google Play store, and the service has gone on to become extremely popular. It can be your one-stop solution for investing your money in many instruments such as mutual funds, FD, LIC, and gold without the need to visit a branch or office.
Siply has been one of the unique tools for letting you invest in Gold as a great means to help you earn good returns. The Siply app has been a good choice for investing in gold for as low money as just Re.1. The Siply app does not require any specific documents to go with as the app for investing in gold. The Siply app is directly linked to your mobile number, and thus you do not need to provide any documents.
You can even buy mutual funds using the Siply app. You can digitally sign the documents and do it using e-KYC for investing your money. The Siply app came into the being in 2020 and was started solely for gold investment options. The company has its headquartered in Bengaluru Karnataka.
There are several ways that the Siply app lets you invest in many ways. We will come to it later in the article.
How to download the Siply app and create an account?
Downloading the Siply app is rather easy and straightforward. The app is available on Play Store. You can simply go to the Play Store and download it on your device. Once the app has been downloaded, you can create an account.
You can download the Siply app at this link. Creating an account on Siply can be much easy and simple. You can just enter your mobile number and get an OTP for the purpose. You can either undertake a normal KYC  or decide to go with the specific KYC if you are looking to create a Demat account.
Create an account
Creating an account can be pretty easy on Siply. Here are the steps involved in how to create an account on Siply –
Download the Siply app to sign up for the service. You can also sign up on the website.
Click on Start Saving to begin using the app
You should find the option for entering your phone number. Enter your 10-digit mobile number and click on Continue
The OTP will be sent to your mobile number
Enter the OTP and click on Verify OTP
On the next page, fill up all the relevant information that the app will ask you. You will find three boxes indicating the full name, your state, and referral code if any. Then click on the Complete Registration option.
That should complete your registration process. Once completed, you will get Rs. 100 as gold. In some cases, this amount may even be less.
How to earn money on Siply?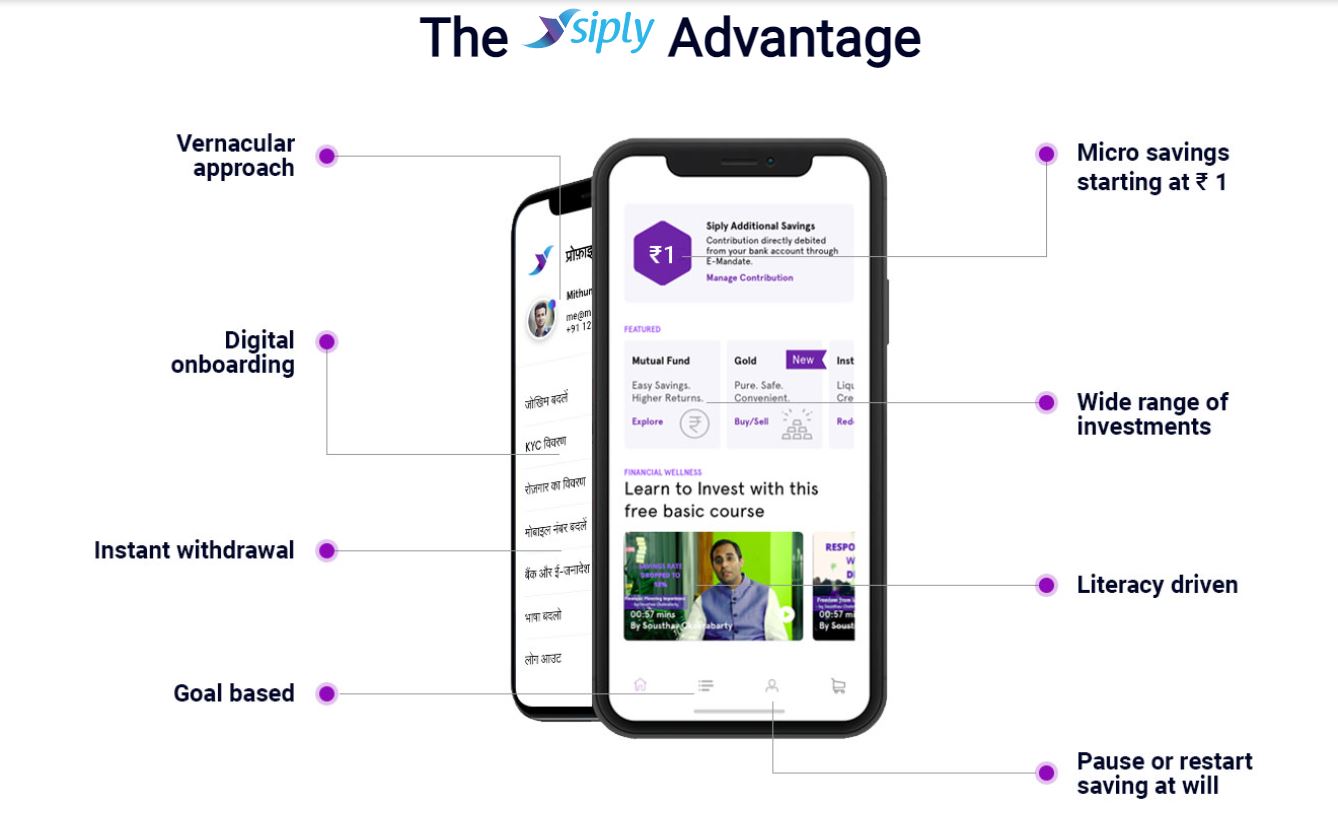 There are several ways that you can earn money. The platform provides you with an option for investment through investing in stocks, mutual funds, gold, LIC, and many other avenues. Let us learn a few means of earning money using the Siply app.
Earn through chit fund
One of the oldest means of investment, chit funds have been quite popular over the years. The microfinance option lets you save and borrow money at the same time. It is actually a group of people who agree to contribute a fixed amount each month. This amount is auctioned to the lowest bidder each month and the leftover funds are distributed equally among the participants.
Siply chits are one of the best options that can help you earn some decent money in a chit-fund format. The scheme is brought to you in association with the IBG echits. You can begin investing with an amount as low as Rs 1000 per month and earn good returns. You can make a choice between multiple chit options and durations.
Chitfunds can be risky when money is invested along with strangers and is best done with people you are familiar with to reduce risk. I generally refrain from investing in chitfunds!
Gold / Jewelry
Gold has been an evergreen investment and investing in gold has been preferred because of the best liquidity options that it offers. You can purchase a loan for as smaller an amount as you would consider. You can purchase gold for values starting at Re 1. The gold purchased is stored in a locker secured by IDBI Trusteeship.
The gold you purchase is 24 karat and you would also get a purity certificate from hallmark. The Siply app has recently added 22-karat pure gold jewelry. This will make your experience more pleasant and transparent in any way. You can buy jewelry on the app and make an online payment. Your jewelry will be delivered within 7 days.
Mutual Funds
Mutual funds have been one of the most popular means of investing for higher returns. If you are wary about looking for the best mutual funds and investing in them, it may be a good idea to get assistance from the financial expert of your choice.
Siply doubles up as your best adviser in terms of picking and investing in the right mutual funds. Siply offers you plenty of options to assist you in terms of saving for emergencies, tax saving plans, and other benefits that you would find quite interesting.
ChhotaStocks
Want to explore the share market, but do not have the relevant experience? Siply is here to help you. The plans available with ChhotaStocks help you in buy shares of 25 top companies across India. You can top company stocks for as low as Rs 100.
Siply also offers you multiple investment plans and options. Depending on whether you are an expert or a newbie, you can choose the right options as per your own preferences.
What makes Siply app a gold standard?
Siply is a gold standard, and we find it a decent means of helping you earn even when you do not have much income. Siply understands that most Indians do not have the option to invest due to limited financial means and not many options available for investment.
The microfinance options available on Siply should indeed make it a pioneer in bringing investments in gold and other instruments rather easy and simple. Siply has been making this possible by creating a platform for enterprises and thereby providing them with micro-saving options that their workforce can utilize.
With over 80000 registered users registered on the app, it has already carried out business worth Rs 25 Crore. The total number of transactions has crossed three lakhs in number as mentioned in reports online.
Salient Features of Siply App
Siply does provide you access to a host of benefits and advantages. Some of the advantages that you stand to gain with the Siply app can include
The app uses a vernacular approach. This can be useful for people across language barriers
The complete digital onboarding process. You do not need to visit the physical offices
The instant withdrawal options provide you with a full-fledged experience and flexibility
Goal-based investment options.
Micro saving options with investments as low as Re 1
A wide range of investment options
You can pause and restart your savings at your will.
The Closing Thoughts
Siply is indeed an excellent app for efficient and effective personal finance needs. Siply is an attempt by industry veterans in financial services and technology to create a financially inclusive India. It provides you with an innovative means of investing even with minimal investment options.
Check out the best options that are available at your disposal and stand a chance to enjoy a great deal of experience that you would find much more interesting in many ways with the app. It does offer you multiple avenues for investments. We hope you would have got sufficient understanding in this Siply app review.
FAQs
How does Siply work?
Siply works by offering you a micro-savings app that assists you in helping Indians with limited resources to save more. You can invest with a minimum amount as low as Re 1.
Is Siply safe?
Siply is definitely a safe app for investments. When you buy gold using the Siply app, the gold you purchased is secured through the IDBI Trusteeship. The gold that you purchase is 24 karats pure and carries a BIS Hallmark along with a purity certificate.