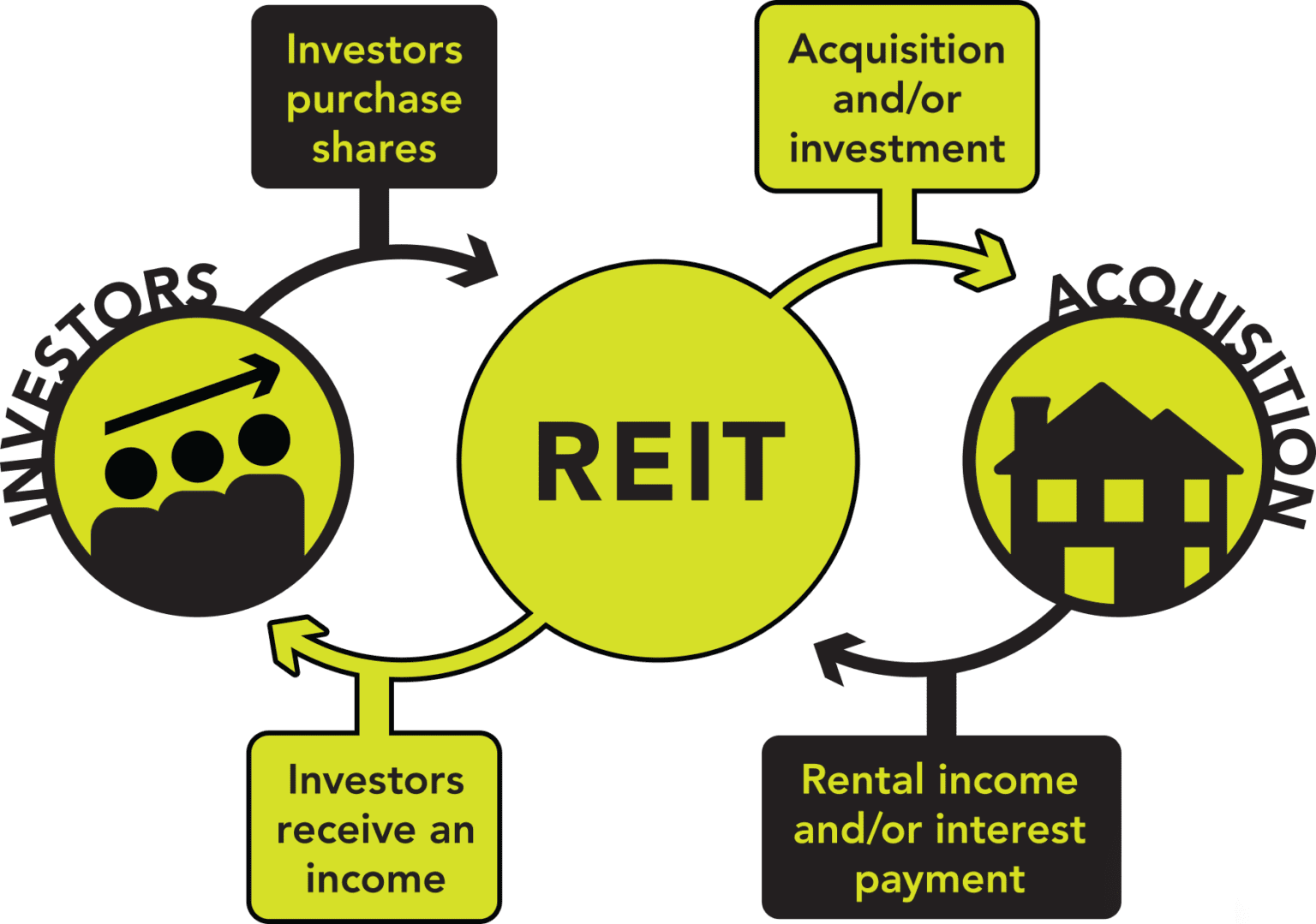 Which REIT stocks in India you should invest?
You must have heard your elders advising to invest in land as the value of land usually go up if there is no natural disaster damaging it. However, investing directly in the land takes a lot of effort, isn't it? In this age of digitalization and technology, you can invest in the land without purchasing it in physical form. Wondering how you can do that, so that answer is top REITs in India.
In this article, you will read intricate details about REIT investing in India, the top REITs in the country, how to invest in them, InvITs, and a lot more.
What are REITs?
Real Estate Investment Trusts (REITs) are investment instruments where money is pooled from different investors to buy real estate properties that will generate higher income. REITs earn from both capital appreciation of the properties and their rental income if any. As per SEBI, these REITs need to invest at least 80% of their assets in real estate properties.
In India, the first REIT was launched in 2019 which is Embassy Office Parks. At present, 3 REITs are listed in India. These are –
Embassy Office Parks REIT
Brookfield India REIT
Mindspace Business Parks REIT
So, if you want to invest in REITs in India, then these are your three choices. Let's discuss each one of these reit stocks in India in detail.
Embassy Office Parks REIT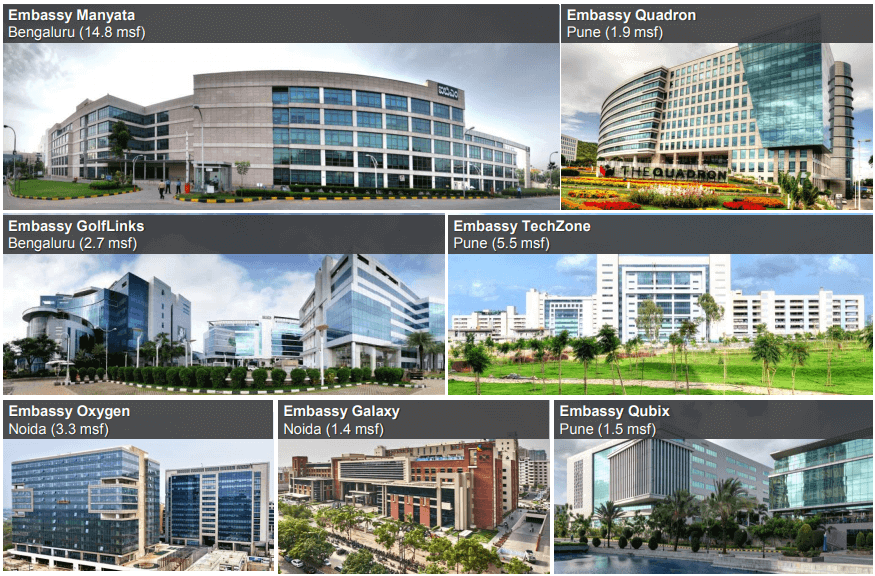 As mentioned above, this Embassy Office Parks introduced the concept of REIT investments in India back in 2019. At present, there are 42.6 million square feet in this company's possession which it operates. It includes 8 office parks and 4 city-center office buildings. The infrastructures are spread across multiple cities like Bengaluru, Mumbai, and Delhi metropolitan cities. While the above are the main possession of the REIT, there are also 2 operational hotels for business purposes, and there are 4 more to join the portfolio, at present, they are under construction. To top it all, a 100-megawatt solar park is also there which supplies renewable energy to the parks and other properties of the Embassy.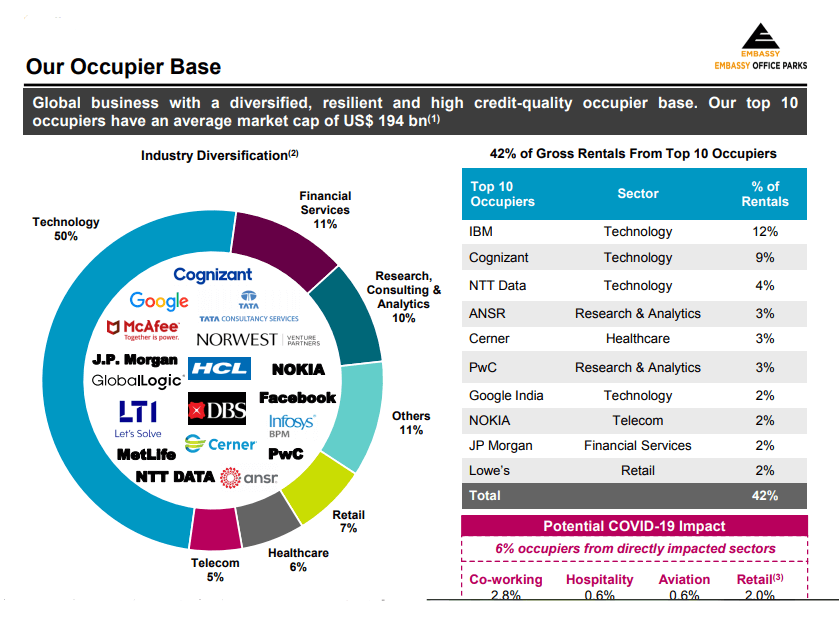 The market capitalization of this REIT as of the 5th of August, 2022 is Rs. 34962 crores. It has been offering impressive dividends and its current dividend yield is 5.82%.
Mindspace Business Parks REIT
Mindspace Business Parks REIT was listed in 2020 which is the second REIT in India to get listed. It is having around 5 integrated business parks and another 5 independent buildings for offices. The properties are spread across Hyderabad, Mumbai, Chennai, Pune, and others.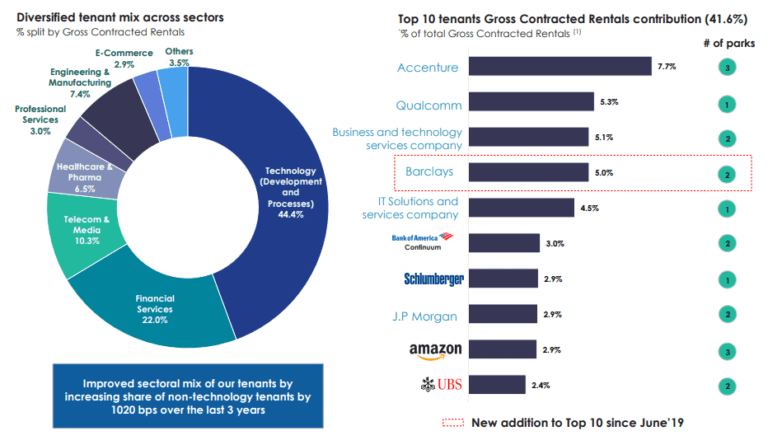 The present market capitalization of Mindspace REIT is Rs. 21843 crores and its net worth is Rs. 15,621 crores as of March 2022 and the dividend yield is around 5.01%.
Brookfield India REIT
The 3rd one is Brookfield India REIT which got listed last year in February 2021. This REIT has around 18.6 million square feet of area under its possession. Some of the popular real-estate projects that come under this REIT are Kensington in Pune, Mumbai, then there is Candor Techspace in sectors 62 and 135 of Noida, and sector 21 of Gurugram and Rajarhat in Kolkata.
The current market capitalization of this REIT is Rs. 11,057 crores, which makes it the third-largest REIT after Embassy and Mindspace. The current dividend yield is around 6.18% which is higher than that of Embassy and Mindspace.
How to invest in REITs in India?
If you are wondering how to invest in REITs in India, then investing in REITs is not difficult, rather if you know how to invest in stocks, you can invest in REITs in the same way. They are listed on stock exchanges like other stocks, and thus you need to have a Demat account to purchase and hold the REIT stocks in India.
SEBI has changed the minimum investment criteria for REITs which was earlier Rs. 50000 and now, you can invest in REITs with a minimum value of Rs. 10000 to Rs. 15000 depending on the REIT you are purchasing. This applies to both IPO and FPO. SEBI even reduced the minimum lot size for investment from 100 units to 1 unit which made retail investors explore the world of REITs.
What are InvITs?
There is another way to invest in the infrastructural development of India, that is via InvITs. Now, if you are wondering, what this new term is, then InvITs stands for Investment Trusts, which invests in different infrastructure projects like highway developments, roads, flyovers, and others. At present, there are 3 listed InvITs in India, which are IRB InvIT, Powergrid InvIT, and IndiaGrid InvIt.
IRB InvIt
This investment trust is operated by the parent company IRB InvIT fund Limited and at present, it is a whopping dividend yield of 13.54% and the market value is Rs. 3,172 crores.
IndiaGrid InvIT
The next InvIt in which you can invest is IndiaGrid which has a market capitalization of Rs. 9957 crores at present. The dividend yield of this InvIt is also quite high at 9.04%, which is good for the investors.
Power Grid InvIT
Power Grid InvIt is the new addition to the listed InvIT list in India. It was launched in 2020 and presently, its market capitalization is 12210 crores with a dividend yield of 8.94%.
Taxation on REITs and InvIT
REITs and InvITs share their profit mainly via dividends and thus taxation on dividends received is something as REIT investors in India, need to know. So, at present, all 3 REITs have not opted for a lower tax regime  and thus the dividends received from them are not taxable. However, if SPV of REITs opts for such a lower tax regime in India, then dividends will be taxable.
If you sell REITs and InvITs units within 36 months from the purchase of the same, then 15% short-term capital gain tax will be levied on the profit you earned and if sold after 36 months, then 10% long-term capital gain tax will be levied on profits exceeding Rs. 1 lakh.
REIT Investment Alternatives in India
  There are a few platforms in India that are into this segment- some dedicatedly to this segment whereas others offer different types of alternative investment options.  Most of these products are not listed hence have less market risk but have much higher deal specific risk. Some of the alternatives  you can consider with high yields are as follows:
Aasthy is a technology-driven real estate investment platform that takes care of all the conventional pitfalls associated with real estate investing. Aasthy is democratizing real estate investment by enabling small individual investors to invest in Grade A real estate assets, for as little as Rs. 5,000
Grip Invest is a platform that lists equipment leasing, inventory-based financing, and commercial real estate investing deals on it. It has a constant flow of new deals and has been one of the pioneers in this space in India. The minimum amount to invest is Rs.10000 and you can get an average IRR of 12-15%+ depending on which deals you invest in.
Leafround lets you invest in assets that are then leased to Enterprises. They have multiple opportunities available to invest on the platform. The minimum investment is Rs.10000 and you can expect 20-25%  IRR.
This is a new but fast-growing alternative investment opportunity listing platform backed by Sequoia and other popular angel investors. Apart from invoice discounting, corporate debt, and other instruments, it also has equipment lease-based investment options on its platform. The minimum investment is slightly higher at Rs.100000 per deal but might vary depending on deals.
There are few international options to explore for Real Estate like Reinvest24 and Lofty.
Final thoughts on REIT Investments
While REITs and InvITs are quite new in the world of investments, however, these have opened the door for many who believe in alternative investments and invest in land physically. With REITs and InvITs in India, they can now invest in the same without going through all the hassles of buying land physically.