In continuation of my blog posts on  P2P returns and performance  I am publishing my  latest quarterly portfolio .  I have steadily increased my exposure across various platforms and my performance has started stabilizing which is a good indicator of Portfolio health due  to diversification.
Portfolio Composition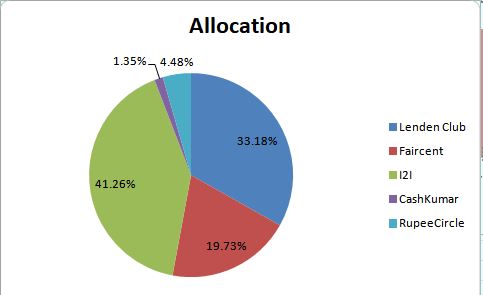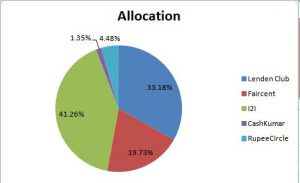 December Allocation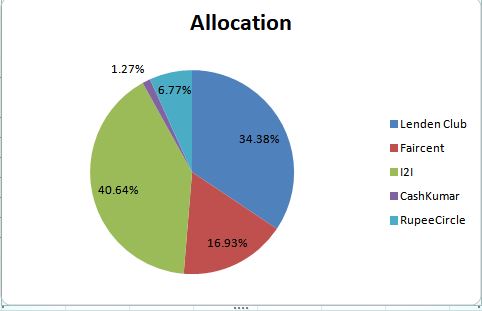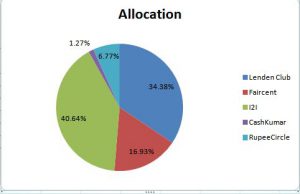 January allocation
Portfolio Changes: I am in the process of unwinding my Faircent exposure .The NPA scenario has still not improved .Hope to atleast get positive return in my investment in Faircent.
Have Kept lenden Portfolio almost constant. Reason is that most loans in lenden are of 3-4 months duration which causes lot of EMI inflow every month .I do not want to sit on cash surplus which means I have to  grow the Lenden portfolio slowly.
I2I portfolio has grown slightly .I use I2I for long duration lending thus my EMI inflow is pretty smooth and manageable
RupeeCircle and cashkumar are the new entry where I am in the process of increasing exposure
Calculating Portfolio Performance: I consider loans delayed by more than 45 Days past due date as NPA.This is  a conservative figure but gives me a good picture to understand portfolio performance. I am using XIRR in Lendenclub while NAR method in I2I to calculate return .With the development of My account page in I2I I will start using XIRR method in I2I too.
I dont have any NPA Cashkumar and RupeeCircle in till now(new portfolio ).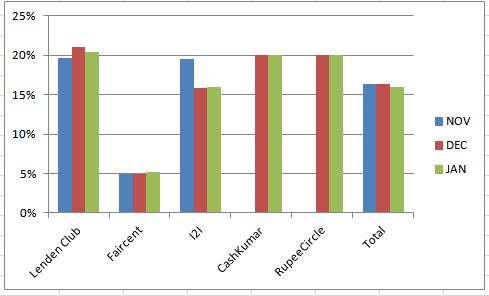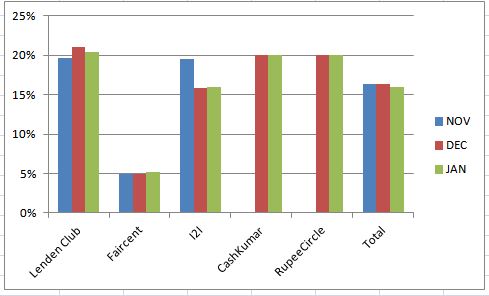 quarterly Performance
Points to note
As it is evident LendenClub has been performing really well. Lot of people stick to one platform which is giving good return.This is not a good way to invest as there are other problems sticking to one platform .Finding good  quality loans in one platform becomes tough after you have invested a substantial amount as you have lot of cash and few loans.Also platform underwriting may become worse when they scale ,so it is best to stay diversified.
The returns published on   dashboards  of most platforms are not actual return,they are expected return i.e the amount of money you will make in the investment provided they don't default.Its a future earning.I post my actual returns based on the defaults thus my numbers look lower but will be closer to real returns.
Do not invest more than 5000 in one loan.It may haunt you later unless you have a huge portfolio
Strategy Going Forward: 
Move all Faircent EMI to Lendenclub(better risk adjusted Return)
Keep growing investment corpus in RupeeCircle (use code PIND145 while registering to get portfolio analysis reports)
Increase investment in I2I  (use referral https://www.i2ifunding.com/referral/ud8cwng83/invest    ,add I2I50%DISCOUNT  code while registering to get 50% discount )
Increase investment in cashkumar( positives are:short term loans(<6 months), overall good platform performance with low npa, high interest)  Mail me for referral !
Will Run Portfolio analysis next month again and compare results
Will explore more platform .Platform covered  : finzy,Monexo,Lendbox,Faircent,I2I,Rupeecicle,cashkumar
People who wish to construct a quantitative P2P portfolio can email me.