This month I have added FinancePeer in my portfolio to take exposure to Education Loan borrowing. Apart from publishing my portfolio performance I will also cover :
My Receivable Finance Portfolio Investment
 Capital Structure of my investment and Liquidity Analysis
Portfolio Composition
May Allocation: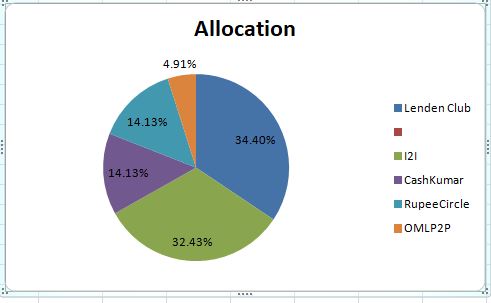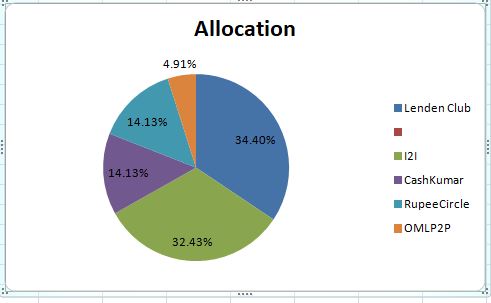 June Allocation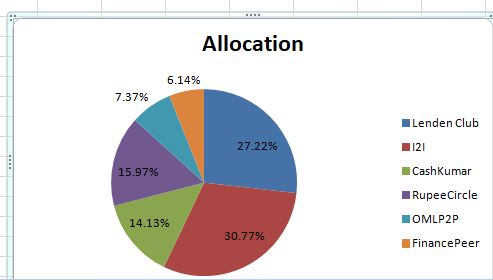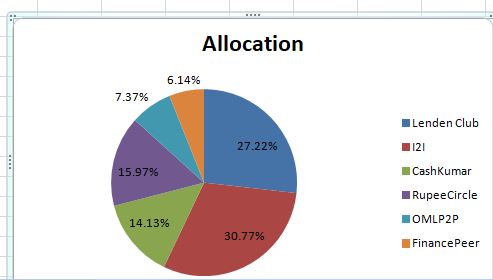 Portfolio Changes:
I have started investing FinancePeer
I have increased my portfolio exposure to RupeeCircle,OMLP2P
Have cut down my "InstaLoan" Portfolio in lenden .No more fresh deployment to instamoney
 Portfolio Performance: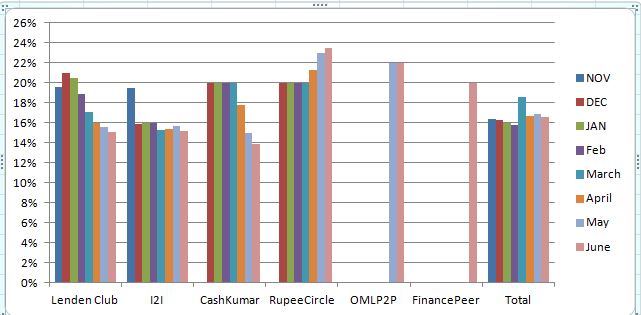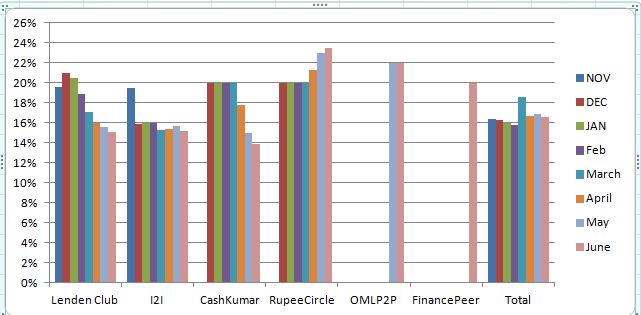 Performance Analysis:
Key Points from this month's performance are:
If you see lendenClub performance it has gradually dipped. Major culprit has been insta loans. Now as I am cutting down my Insta Loan exposure hopefully I will be able to gain 1-2% yield in next 4-5 months.
I2I has been more or less (between 14-16%). People who are starting in I2I should focus on safer loans( preferably C and  good D) .
RupeeCircle has been the only platform where yield have actually gone up with time. This is the first month where I have delay in EMI.If it doesnt go back to normal I may see a drop 1-2%  in yield after 2 months when I put it as an NPA though I have already considered 3% of return as NPA in form of provisioning.
Cashkumar have only 2.5% but due to short term lending and small size of book overall returns look low,which should improve with time.
FinancePeer I am sticking to only educational loans .Hope NPA are low as promised in the category.
OMLP2P ,as of now I have not faced any NPA but as my investment are fresh I will wait for a month or 2 before giving any verdict.
Invoice Discounting Performance:
I have been investing in a couple of Invoice discounting platforms. Some of the companies whose invoice I inivested in are Paytm and Indian Oil. Most of the invoice are blue chip.Some of the Invoice available to invest are:
Cognizant
Maersk
Yesbank
Amazon
Wipro
Oracle
BHEL
The range of yield is between 12-15% for the invoices  and duration 30 -90 days
My current Portfolio yield and duration:

Capital Structure:
Lot of people ask why they should invest in other assets when equity can give 10-15% in long run. The answer is ,do they have the capacity to digest monthly volatility of 5-6% on their complete corpus.Second, how do they mange their liquidity. What if they need money in next 3-6 months will they  book losses in mutual funds and redeem them?
Alternate asset class is a way to fill the place between low yield and high yield  , low liquidity vs high Liquidity .It also ensure construction of  a portfolio where asset classes have low correlation among them.
Let's Look at how a conventional portfolio looks like: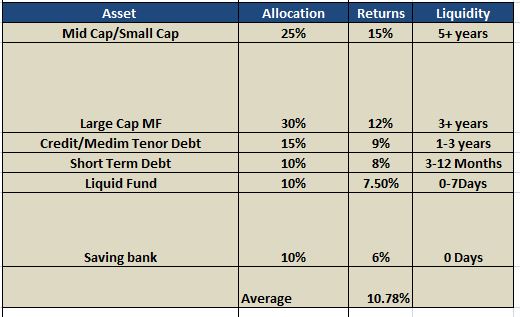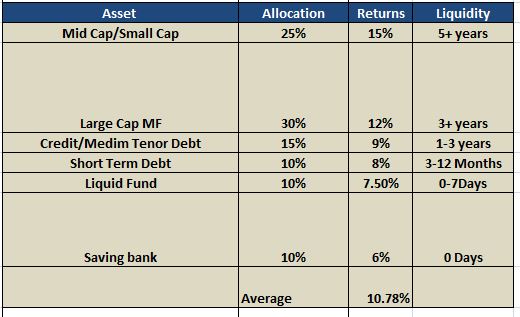 The allocation may vary depending on age. For instance a 35 year guy will allocate more to equity than 45 year old. If someone has 20 Lakh then 10% is saving = 2Lakhs, 25% small cap = 5 Lakh etc.
Now look at a portfolio with alternatives: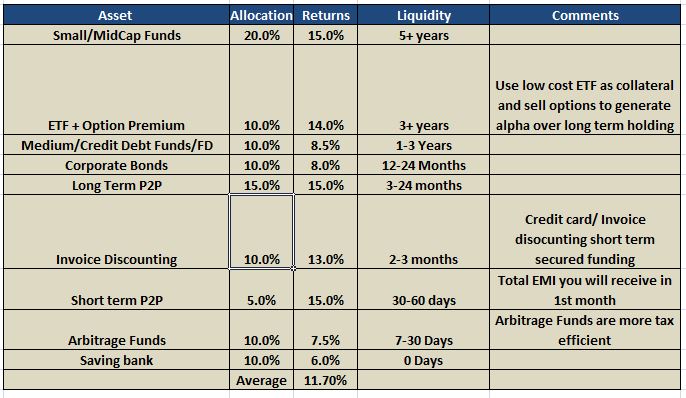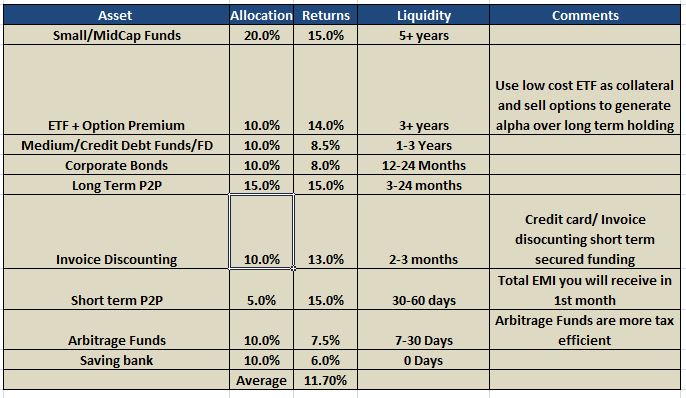 Three things stand out:
Overall return is higher 11.7% compared to 10.7% as our capital is not tied to low yielding assets.
We have more liquidity. Almost 50% portfolio cashflow is received within 2 years ,which implies we can use it for emergency or for near terms goal as we have more certainty.
Our asset classes have very low correlation among themselves.
in original portfolio  our equity can have 10% drawdown in a month and as 50% of our portfolio is in equity almost 5 percent of our portfolio will drop.
In alternate portfolio we have reduced equity allocation to 30% thus only 3% impact ,thus overall volatility of portfolio drops.
Therefore adding alternate asset classes in portfolio helps to improve Returns,  Liquidity and  lower Volatility
Footnotes:
I2I Referral Link
(First Use the link to register then add the Code I2I50%DISCOUNT while paying to get 50% off)
Rupee Circle Referral Code- PIND145
Rupee Circle
LendenClub Referral Code – LDC11989
LendenClub
OMLP2P Referral Link
(Use Code MNJ6547)
Mail me to get Cashkumar Referral
For starting invoice discounting mail me or drop a message on 9967974993 or mail me at rohanrautela9@gmail.com