Wish you all a very Happy New Year! Hope to find more interesting investment opportunities and hacks in 2020 .
In this post I will be covering two topics:
Analysis of the P2P platforms for 2019
New Loan and Invoice Products
Introduction to Model Portfolio
P2P Platforms performance
In the 2019 I experimented with multiple P2P platforms .Some of them proved to be successful while others felt short of expectations.
My year end status of investing across P2P platforms: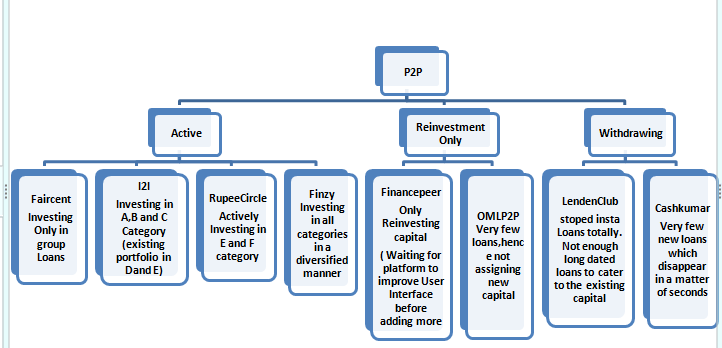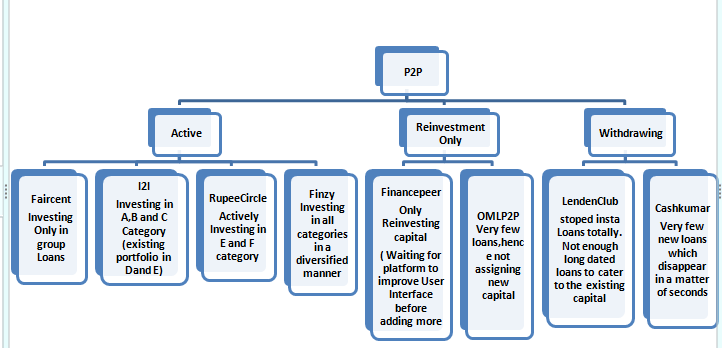 As it is evident there are 4 platforms where I am currently putting more money , while 2 where I am only reinvesting and other 2 where I am lowering my exposure.
Current Yield and NPA:


In LendenClub/Cashkumar I will be gradually taking out money every month and invest it in Finzy if the performance stays consistent for the next few months!
In RupeeCircle I will be increasing by capital in the next few months while I will keep it constant in OMLP2P and FinancePeer and monitor it closely.
New Product Evaluation:
Couple of new products were available for investors recently.
I2IFunding Education Loans
2. TradeCred invoice with Bank Guarantee
3. Finzy Investment Review
I2I Funding Education Loans:
I2I has recently tied up with an online education company to provide loans to people who are
" i2ifunding has partnered with a India's leading online immersive live tutoring platform which offers live tutoring and personalized online coaching sessions to students from class 5 to 9 in Math and Sciences from both CBSE and ICSE boards. This loan is given for the purchase of online tutoring classes. Company (Tutoring platform) is a guarantor in these loans and in case of default they will cancel the subscription of tutoring classes and repay the outstanding loan amount. "


Prima Facie the deal seems a good bet as guarantor is the company which will receive the money from the borrower thus the loan is hedged to an extent
TradeCred Invoice with Bank Guarantee:
TradeCred has recently launched a few deals with Zetwerk.Interestingly in some of the deals the vendor has been provided bank guarantee which gives an additional level of comfort.
Zetwerk has recently raised 32 million dollar funding so I consider it to be well capitalized in the short term.

Also TradeCred has enabled instant liquidity options to its client. Any deal with less than 60 days to maturity can be instantly redeemed and money will be provided in T+5 days to the account.


I always recommend that people should do their own due diligence before making the final decision
Finzy Investment Review:
I started my investment in Finzy . The process is very simple in whichFinzy provides an option to create portfolio on your behalf and they distribute the money across various risk category.
Minimum investment is 1000 hence I was able to invest in 50 Loans. Finzy creates a group of 5 loans and calls it a portfolio. Each portfolio will have loans from different risk category.
I was able to create 10 portfolio of 5000 each. My dashboard looks like this now: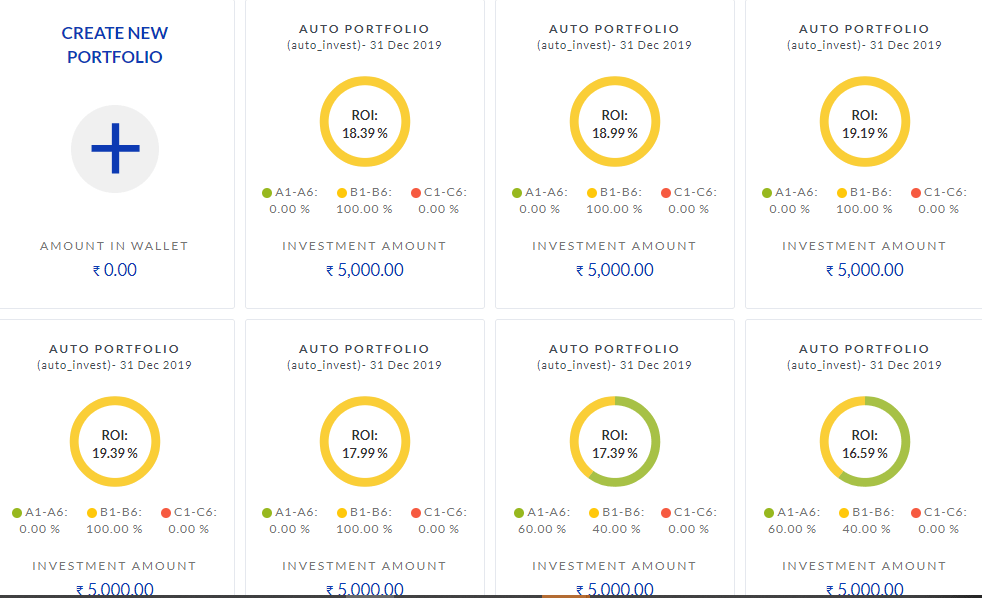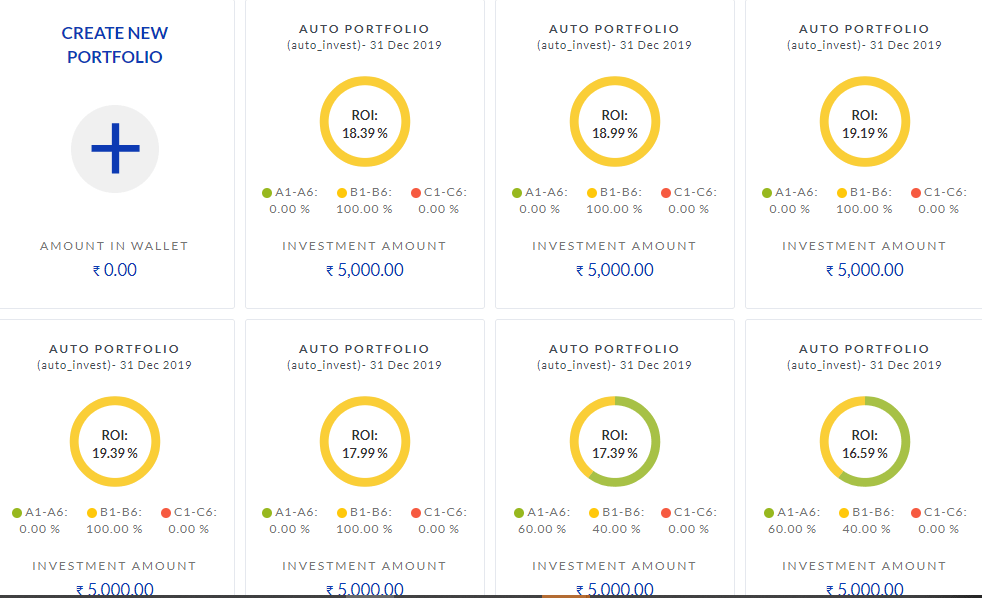 Finzy Portfolio does not pick any loans from C category. Average ROI after investing in all loans is around 17.9% . After Fees and NPA I expect to able to generate 14% return.The disbursal is a tad slow but that is not a major issue to worry.
I will closely monitor any NPA and delays and update in the performance in the subsequent months.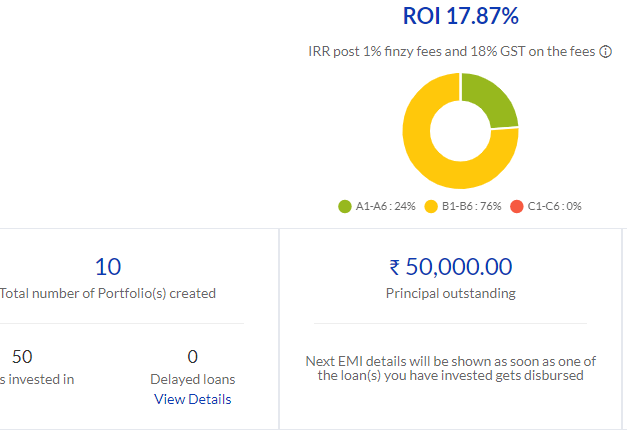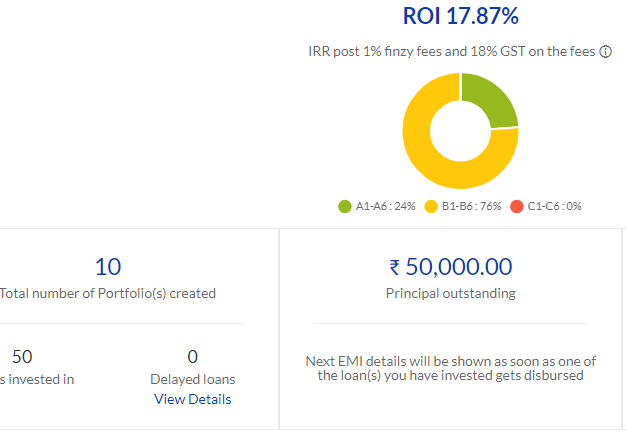 Portfolio Asset Allocation: From now Onwards I will create a page with my asset allocation across various assets. I will also publish performance of top rated funds/platforms etc in each asset category. It will make it easy for investors to compare and pick up assets for their portfolio.It will have assets across the globe and will be beneficial for people to start global investing.
Snapshort of the portfolio I am going to publish:


Footnotes:
Global Investing Platform Stockal
https://www.stockal.com/signup
under partner ID use "Randomdimes" to get additional future benefits and renewal discounts
For buying zero cost MF and lowest Derivative Trading
For alternate investment you can use these links
Finzy Referral Code:
https://finzy.com/invest?partner=MAN635
or you can apply the code : MAN635
(First Use the link to register then add the Code "discount50@i2i" while paying to get 50% off)
Rupee Circle Referral Code- PIND145
Rupee Circle
LendenClub Referral Code – LDC11989
LendenClub
OMLP2P Referral Link
(Use Code MNJ6547)
Invoice Discounting Platform TradeCred Link:
https://buy.tradecred.com/onboarding/apply-now/TC0152
For other Invoice discounting platform ping me on 9967974993 or mail me on rohanrautela9@gmail.com