When it comes to investing in P2P platforms I have covered various aspects related to calculation of returns and factoring of defaults .One important factor in choosing a platform and duration loan I would want to add is Platform fees!
How is the Fees calculated? Each platform  has its own method of levying the charges.Some of them charge an upfront fees while other charge on the EMI. It is basically comparison of a flat interest rate vs reducing balance interest rate.How  does this impact us? Here is comparison between 1% Fees charged upfront on 10000 investment vs 1% charged  on ROI. Paying on total principal is more expensive for shorter tenors.
We have taken a 12 month loan with 1% fees deduced from ROI. We end up paying 54.25 versus 100 if we would have paid upfront. Paying upfront is better deal when tenor is longer as  your cost is spread across time.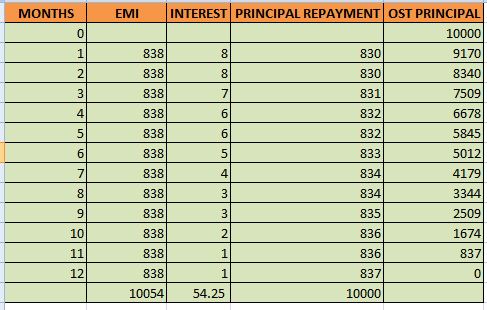 Here are the Fees details of the most popular platforms:
I2I Funding: Charge 1% upfront plus gst . If you want to compare it with ROI based charges ,for 1 year it is equivalent to 2% deducted from ROI and 1.13% for 2 years. So longer tenor loans are better in I2I Funding.
 Faircent: Same as I2I funding though it has higher registration charges also.
LendenClub : It has ROI based fees. Fees is variable depending on which ROI category we are investing. For  Loans below 25%  you have to pay 1% while for 48% you end up paying 3%. As it is a ROI based fees tenor does not impact fees .Ideal for short duration loans
RupeeCircle: Charge 1% with each EMI similar to Lenden. One issue is they charge 50 Rs document handling fees .For disbursement size of 5000 it is equivalent to1% which makes the platform expensive for short term loans. Only beyond 18 months its feasible to invest in the platform at decent cost.
Cashkumar :ROI based fees which varies from 0.75% to 1.5%. One of the cheapest platform and ideal for short duration.
Monexo:  For Investment less than 1Lakh in escrow they charge 4% +gst = 4.72% from ROI which is a bummer!
Finzy :Only have 36 months loan and they charge 1% from ROI which is slightly more than I2I for equivalent tenor.
Below is a reference table where we can compare platform fees for various tenor .I have converted all Fees in ROI based fees.
It means all numbers are average annual interest you have to pay from your ROI if you invest in that platform in that tenor.
eg: FOR I2I in 18 month loan you pay 1.5%per annum of your ROI as fees while in 24 months you pay 1.13%.


I have highlighted the tenors for each loan where you should invest .In short this is how your platform and tenor combination should be:
0- 18 months :  LendenClub  and Cashkumar
18- 36 Months: For 23% and less ROI loans prefer I2I,For 23% plus loans go for RupeeCircle,As a rule longer the duration of loan safer the borrower I prefer.
Offcourse you can use LendenClub and Cashkumar for longer term loans also but its best to stay diversified.
Happy Investing!