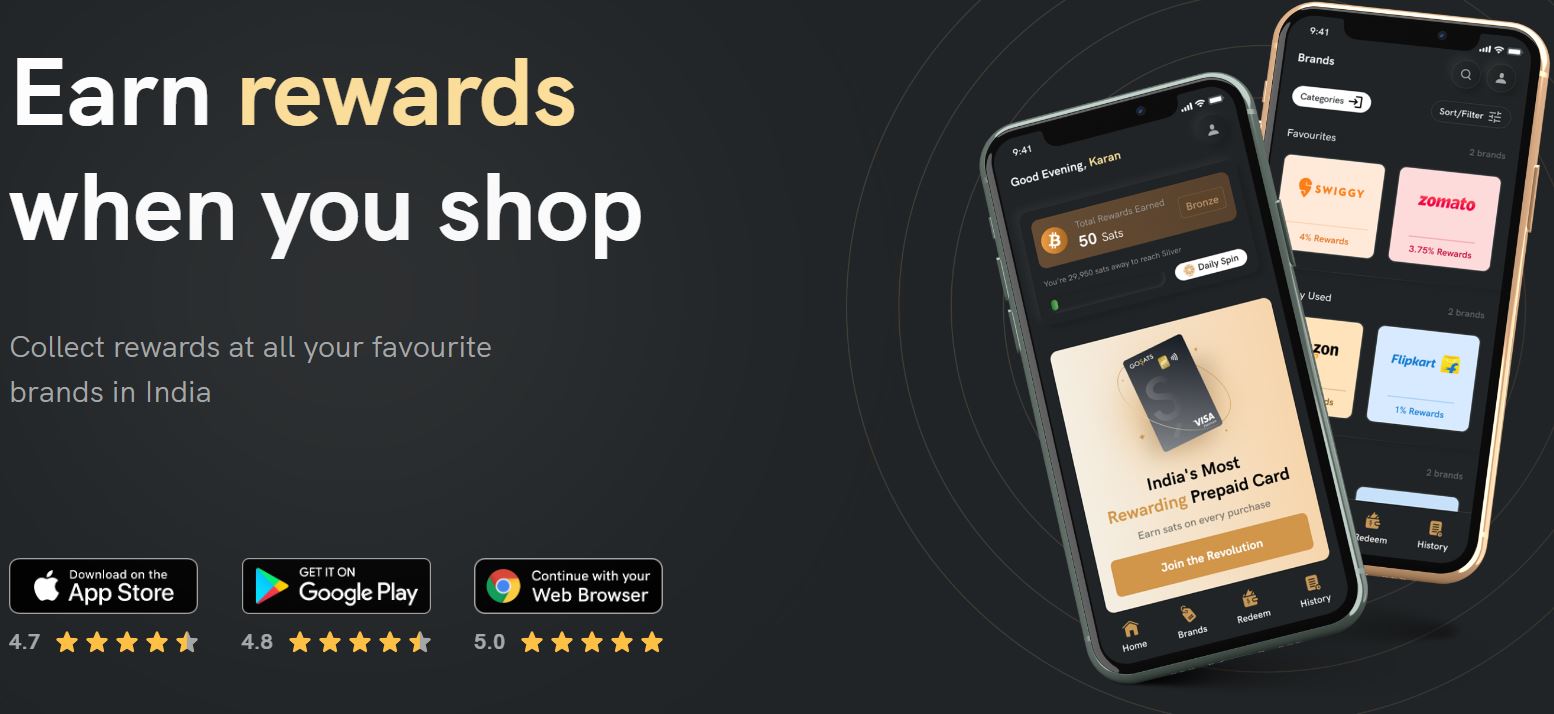 Many of us might know that you can earn cashback every time you shop online on most e-commerce websites in India using websites like Cashkaro. However, in most cases, these rewards are a tiny percentage of our spending and don't make a sizeable impact. Moreover, these cashbacks are offered in most cases as vouchers. What if there was a way to invest these tiny cashbacks into an asset that might grow in the future?
There is now a way to earn rewards as bitcoins every time you shop online on shopping online. In this article, we write about GoSats which helps you with this. Read ahead to know how you can earn bitcoins every time you shop with GoSats, learn about the GoSats card, and read our GoSats review at the end from our personal experience.
Why invest in Bitcoins?
Investing small sums of money in Bitcoin can be a wise financial move for several reasons. Firstly, Bitcoin has shown significant potential for long-term growth, and even a small investment today could yield substantial returns in the future. Additionally, investing in small amounts allows you to dip your toes into the cryptocurrency market without risking a large portion of your savings. 
When you can invest a small sum of money into an asset like Bitcoin, without putting in additional money from your pocket, it's a cherry on the cake.
What is GoSats?
GoSats is a mobile application founded in the year 2020 that gives cashback and rewards in the form of sats every time you shop online with brands listed on their app. You can also buy gift vouchers on their platform and get rewards in sats. More importantly, they also have a prepaid VISA card which can be used at all regular online and offline merchants (just like a normal credit/debit card) and you can earn up to 1.5% rewards in the form of sats. These accumulated sats can be withdrawn as bitcoins. Goats is available for both Android and iOS users.
Note: Satoshi is the atomic unit of BTC; each bitcoin is divisible into 100,000,000 satoshis, which are often abbreviated to Sats.
How to Earn Bitcoins with GoSats app?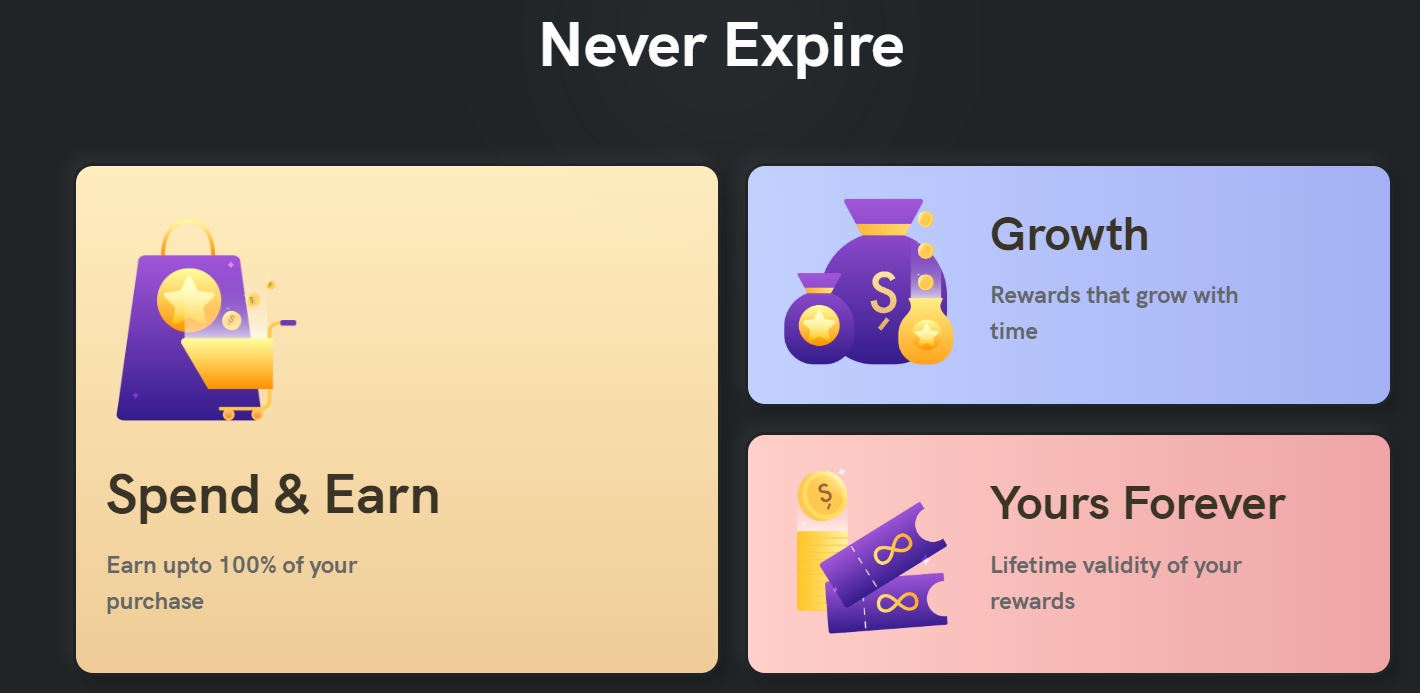 There are essentially 3 ways to earn rewards as Bitcoins with the GoSats app.
Shop at their partner brands
You can earn rewards by shopping at their partner brands.  While making a purchase, you just need to land on the partner website through GoSats. You need to complete your purchase there like you would usually do. The system will track your purchase and will start showing up in the app. Once the transaction is validated and confirmed (usually around 30-60 days), the SATS will be added to your balance.
Example: if you are placing an order on Swiggy, go to the GoSats app, search for Swiggy, and click on 'Shop on Swiggy'. Swiggy website will open on your phone browser, you just need to log in and make a purchase like you normally do. Once the transaction is complete, the reward (100 sats for purchasing on Swiggy at the time of writing the article) will be added to your account. These sats will be available for redemption after confirmation from the merchant (usually up to 60 days)

Buy gift vouchers on their mobile app
You can buy vouchers for the brands listed on GoSats and get rewards in the form of sats as mentioned on the respective brands listing page. Unlike the shopping rewards, These sats are instantly added to your account and need not wait for confirmation. Vouchers purchased can be used to make payments to the respective brand's store.
Example: You can buy gift vouchers from Uber and get sats worth 1.75% value back as a reward. If you buy an Uber voucher worth Rs.1000, you will get INR 17.5 worth of sats in your account. 
Use GoSats Card & earn rewards
This is one of the unique and most interesting ways to earn sats or Bitcoin rewards without any additional effort on our regular day-to-day use. Gosats has launched a VISA card which works exactly like a credit or debit card. You can use it to make payments at any merchant outlets online or offline that accept cards and get up to 1.5% rewards as sats. This card is like a prepaid card which can be loaded with the desired amount from the Gosats app as required. The minimum transaction needs to be Rs.200 to earn rewards using the card.
Example: I have the Gosats Elite card which allows me to get 1.5% rewards. I make a purchase of Rs.500 at the regular grocery store in my society and make the payment using a Gosats card. I will receive INR 7.5 worth of sats as a reward in the Gosats app.

You can buy Hardware Wallets on Etherbit
GoSats Card- Earn up to 1.5% cashback as Bitcoin on every swipe
Gosats has 2 variants of the cards. The major difference between both is the annual charge and the percentage of rewards each one gives
GoSats Intro Card-

Comes with one time charge of Rs.499 (no annual renewal charges). Gives rewards of 0.5% on card usage. Preloaded balance of Rs.100 is included in the charges paid.

GoSats Elite Card-

Comes with an annual charge of Rs.999. Gives rewards of 1.5% on the card usage. Preloaded balance of Rs.250 included in the charges paid.
Following is the comparison chart of the two card variants: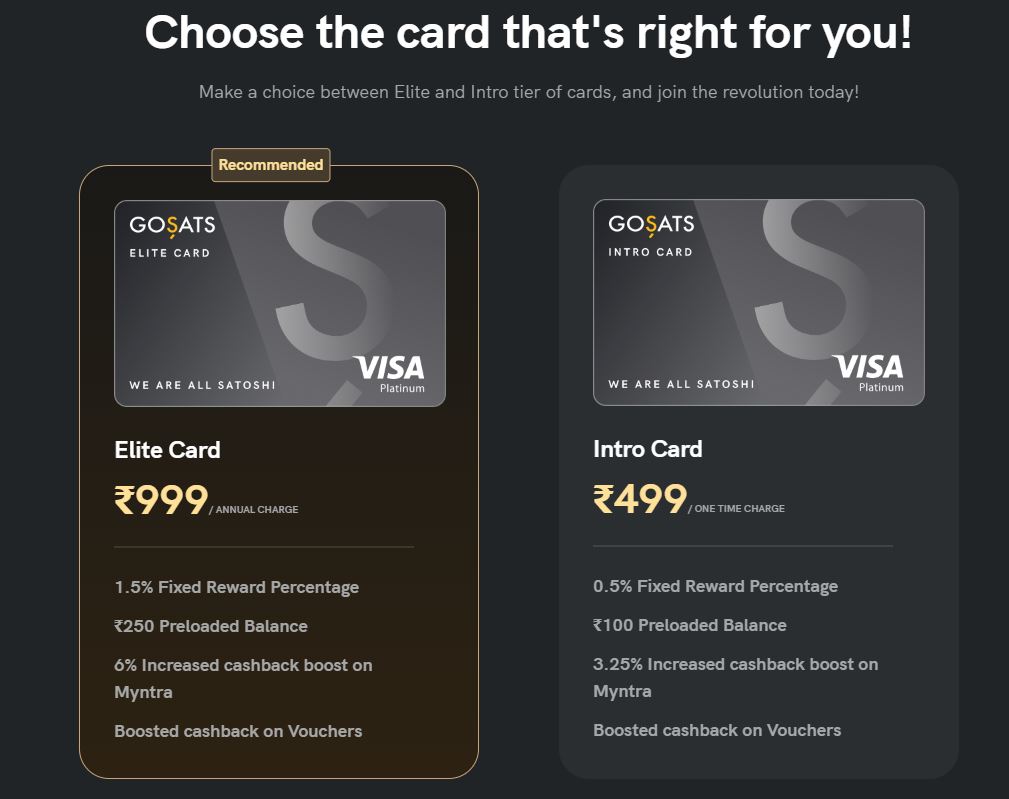 It is better to calculate your ard usage and opt for the card variant accordingly. If you make high spends using cards, it is worth going for the Elite Card.
GoSats Team
Gosats was launched by Mohammed Roshan and Roshni Aslam who are both co-founders. It is based out of Bangalore and was started in the year 2020. Roshan is an early Bitcoin adopter and Web 3 enthusiast. The team consists of several young and experienced minds with years of experience in their respective domains.
GoSats Funding
GoSats secured $4 million in funding during its Pre-Series A round around May/June 2022. The funding round attracted support from prominent investors, including YCombinator, Accel, Gossamer Capital, KubeVC, 2 am VC, Valhalla Capital, Soma Capital, Trampoline Venture Partners, Dragon Capital, Leonis VC, DG Daiwa Ventures, C2 Ventures, and Stonks.com. 
GoSats ' release has mentioned that they intended to use the funds to scale GoSats' operations, grow its reward program, and get talented individuals on board.
GoSats Referral Code
In case you are looking forward to signup on GoSats and getting the Intro or the Elite card, use this link OR use the code GSUO5655
Conclusion
We have tried to cover all the points in this detailed Gosats Review. Gosats seems to be another addition to the space of mobile apps and websites in India which reward or incentivize users for a variety of activities like shopping, playing contests, referrals, etc. Many startups in this space have received massive funding and are showing great numbers- thanks to a lot of factors including the young population and diversity.
Gosats seems to be a great way to stack bitcoins in your portfolio without spending from your pocket for purchases that you would be doing. The Gosats card seems to be a unique proposition allowing users to get up to 1.5% bitcoins on their regular day-to-day spending. I would definitely suggest everyone sign up and start using Gosats whenever possible if you believe in Bitcoin and intend to stack it in your portfolio.
Regulatory hiccups and challenges might be a thing to watch out for the Gosats team and it will be interesting to see how they tackle it and keep the product functioning. 
Want to check out other platforms that allow investing in nontraditional assets? Explore the world of Alternative Investments below