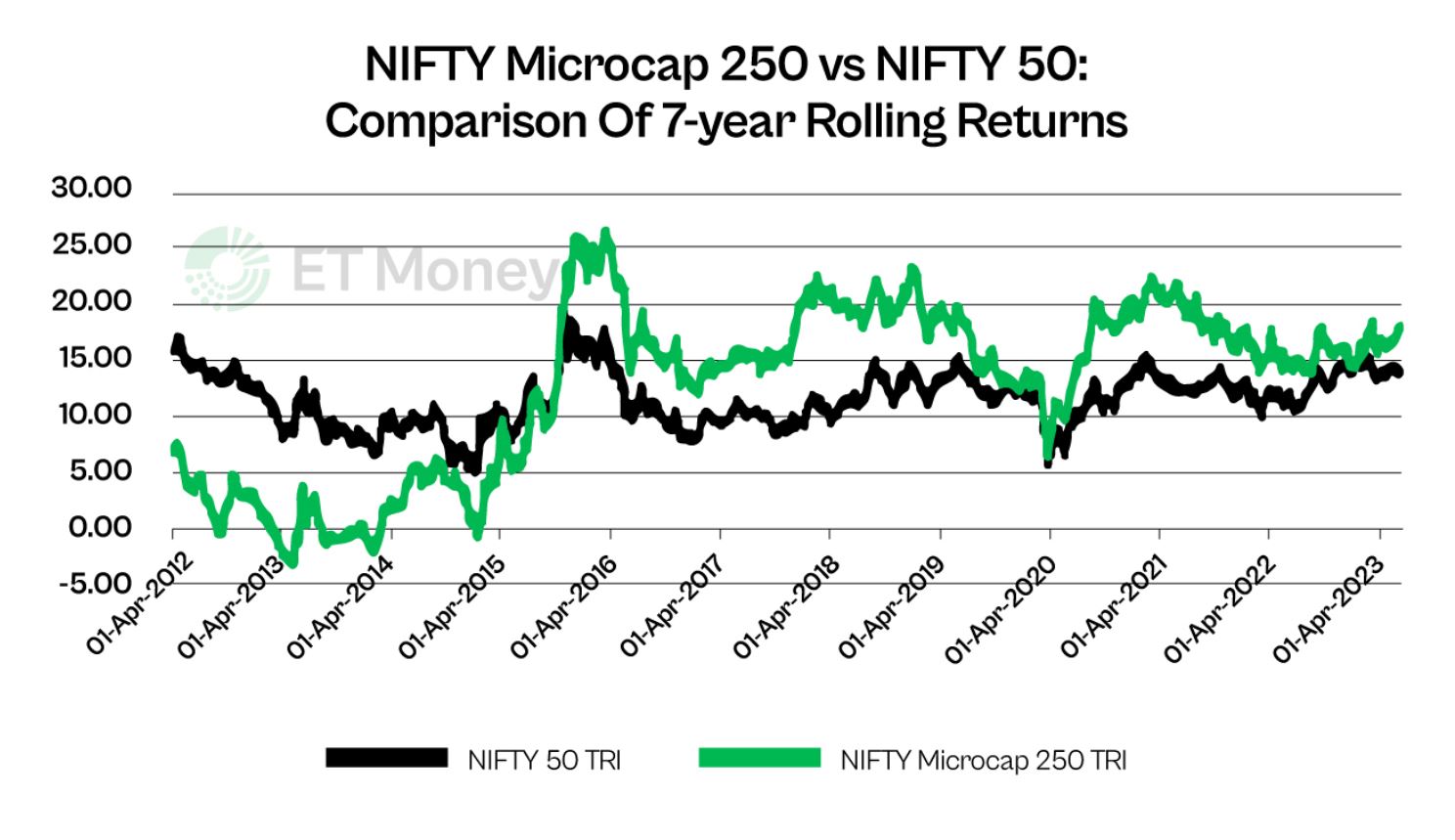 Microcaps have been in the news over the last few months. Due to the stock market boom and very high returns delivered by several micro caps in recent times, this category seems to be in focus. In this post, we'll understand exactly what micro-cap funds are and how they are different from traditional small-cap mutual funds and analyze the best micro-cap mutual funds in India.
What are Micro Cap Funds in India?
By definition, micro-cap mutual funds are those mutual funds that invest predominantly in stocks excluding the top 500 stocks by market cap. 
Currently, there are no mutual funds in India that are specifically called micro-cap funds. Previously, there used to be a few micro-cap funds in India. However, post implementation of SEBI's categorization and rationalization norms, small-cap funds are the broad category, and no separate classification for micro-cap funds. You will have to search for small-cap mutual funds in India with a high allocation to micro caps in its portfolio, in case you are looking to invest in micro-cap mutual funds in India.
Difference between Small Cap and Micro Caps
Small Caps: Small caps are typically those stocks that have a market capitalization between ₹250 crore (2.5 billion rupees) and ₹1,000 crore (10 billion rupees). 
Micro Caps: Micro-caps are those stocks that typically have a market capitalization below ₹250 crore. These are the smallest publicly traded companies on the Indian stock exchanges.
Generally, small caps are more liquid and volatile compared to micro caps. However, this may vary from stock to stock.
Factors to Consider When Selecting Micro Cap Funds in India
Allocation to Micro Caps in the Portfolio
This is one of the first things you will have to understand if you are looking to invest in micro-cap-heavy funds. As mentioned previously, there is no specific category of mutual funds called micro-cap mutual funds and you will have to look for allocation to micro-caps within the portfolio of the scheme. For ease of reference, we have mentioned some popular small-cap mutual funds in further sections of this article which have significant exposure to microcaps.
Investment Style of the Fund
You need to see what are the investment style of the fund and the profile of the fund manager. Some funds focus on value investing while some focus on growth and momentum investing. Few funds are passive (index funds). You need to select the one that matches your requirements.
Past Track Record
Research and figure out how many years the scheme has existed. Check the past track record, stocks held in the portfolio in the past, ratings, and reviews from experts. Compare performance with top funds and category averages. While it is no guarantee that funds that have performed in the past will give similar or better results, it is an exercise worth putting effort into.
Fund Manager Profile
Research the fund manager's experience and past track record- preferably for the same category. An experienced fund manager can make a significant impact in a fund's performance which will have a direct correlation to your investment returns.
Fees and Expenses
Review the expense ratio of the mutual fund. Go for direct plans (against regular plans) since they have lower expense ratios. A lower expense ratio means higher returns in the long run.
Top Performing Micro Cap Funds in India

Following are some of the popular small-cap mutual funds in India that have a decent allocation to micro caps (disclaimer-scheme-wise allocation to micro caps/stocks beyond Nifty 500 may change depending on multiple factors including investment style, market dynamics, etc.). 
We have mentioned only a few funds (in no particular order) out of the many which are available. You can choose an ideal one depending on your goals and requirements.
DSP Small Cap Fund

HDFC Small Cap Fund

Nippon India Small Cap Fund

Tata Small Cap Fund

Axis Small Cap Fund

Quant Small Cap Fund

ICICI Pru Small Cap Fund
One can also consider Motilal Oswal Nifty Microcap 250 Index Fund which is the only index fund dedicated to micro caps in India at the time of writing the article. Owing to investor interest in this category, more AMCs might follow suit and launch similar passive funds for microcaps soon.
On the microcap front, there is a Motilal Oswal Nifty Mircocap 250 Index Fund, which invests in the top 250 companies beyond the Nifty 500 (top 500 companies in m-cap terms) universe. This fund was launched in July 2023 and does not have any track record so far.
Livemint has done an interesting article on Motilal Oswals Micro Cap Index Fund which also throws light on the overall micro cap category. Refer to this chart in Livemint which shares allocation to microcaps for some popular small-cap mutual funds as of May 2023.
Small cap and Valuation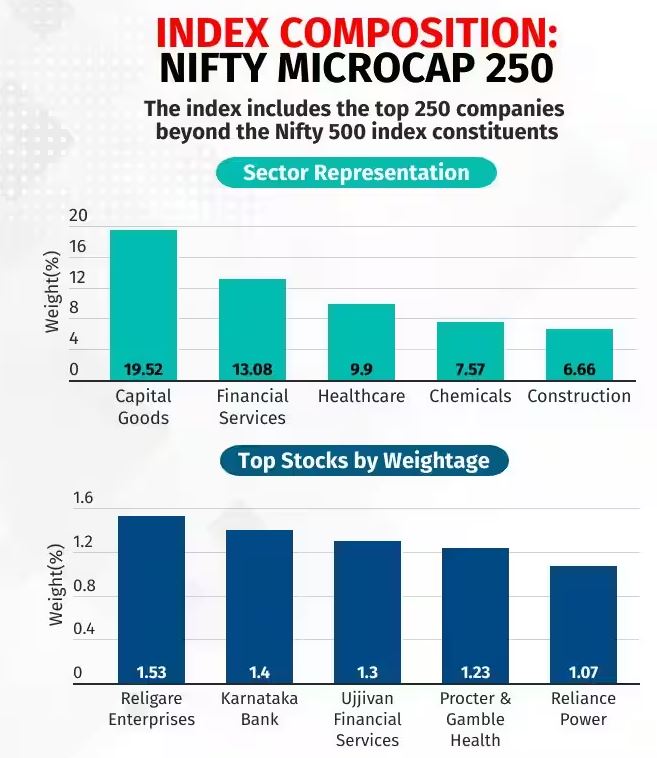 It is important to note that small caps are extremely volatile and susceptible to booms and busts in the broader economy. It is always a great idea to invest in staggered manned during a market bubble to avoid a long period drawdown in case of market pullback. You can check market valuation through various ratios like
Price/Equity
Price/ Book
EPS
You should compare them against historical levels to get a better sense of how rich the market is currently priced..
Conclusion
In conclusion, micro-caps offer investors an opportunity to tap into the potential growth of small, promising companies. Since there is no dedicated micro-cap fund, find a small-cap fund that aligns with your investment strategy and has a significant allocation to micro-caps. These funds generally have high risk and volatility but also the possibility of higher returns. 
When considering investing in micro-caps, it's crucial to assess your risk tolerance, investment goals, and the fund's track record. Diversification and a long-term perspective can be key strategies to navigate the volatility of micro-cap investments successfully. Remember, while the potential for growth is significant, careful research and due diligence are essential when choosing the right micro-cap-focused mutual fund for your portfolio.
If you want to explore opportunities beyond the small caps, there are options available. You can check some of the available avenues in the below list.