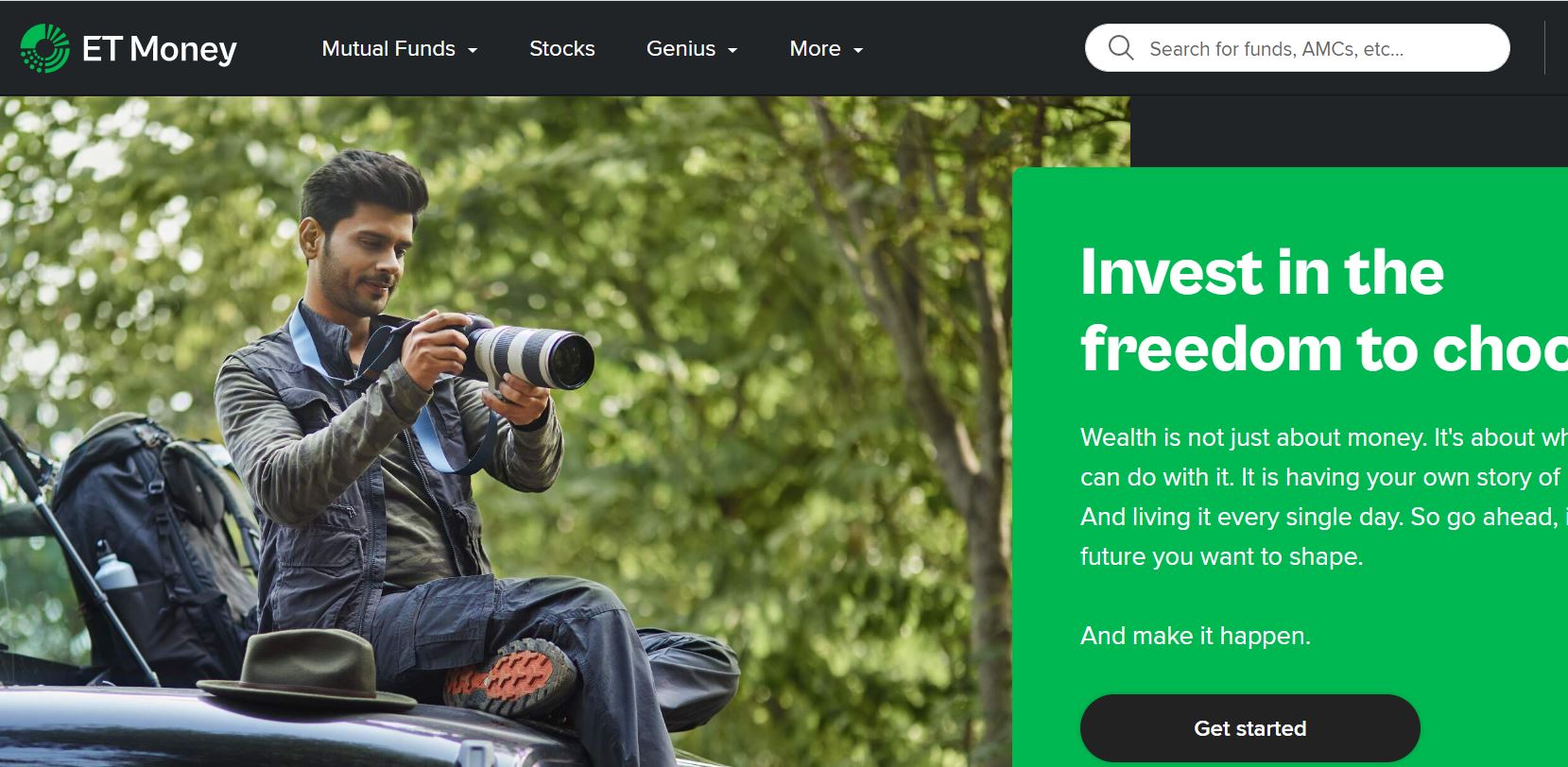 ET Money is an Indian fintech and wealth management platform. ET Money was founded in November 2016 and is a part of Times Internet, the digital division of the Times of India Group. Since its launch, it has reportedly received over $1 billion in investments from 750,000 Indians. The app has a high Google Play Store rating of 4.6, making it one of the major players in the investment platform market. The investments tracked and managed on the app are worth US$3 billion as of March 2022.
ET Money provides a low-cost option for any user to invest in direct mutual fund programs. The app has multiple features, such as investments in mutual funds, FDs, NPS, and SIPs; a spending tracker; insurance in health, term, and vehicle; credit cards; and loans.
ET Money Features
The ET Money app's flexibility to let its users invest with no commission in direct mutual funds is one of its most distinctive features.
Their goal is to revolutionize the mutual fund market for new and existing investors alike, allowing them to invest with no commission and thus saving on their total expense ratio costs.
ET Money Insurance
When it comes to purchasing insurance policies, ET Insure provides its users with the best offers from more than 20 different firms, allowing them to compare and purchase from a selection of plans and packages that are certain to meet their needs.
The app offers life, health, car, and bike insurance options, as well as term life insurance plans that are available for purchase. These plans are handpicked for everyone's specific needs so that no one has to waste their time doing the hard work themselves. Users can select the protection they want and get a quote through the app.
Loans on ET Money
Using the ET Money app, users can check their CIBIL score and get hassle-free personal and business loans ranging from ₹60,000 up to ₹20 lakh. The criteria are that you are a salaried professional and an Indian national. The interest rate and amount depend on an individual's credit score.
ET Money provides everyone with a credit card, which comes with a variety of alluring deals for everyday purchases and websites, and is available through the app. Users can also track their loans through the app so they never forget to make a payment.
Some of the features of ET Money Loans are:
The individual should be between the ages of 21 and 60.
The service is live in 700+ cities.
The interest rate starts at 99%.
The tenure ranges from 2 to 5 years.
How to Track bills and expenses on ET Money
Users can also track their bills and expenses with the ET Money app, allowing them to stay on top of all their monthly payments. The automated bill calendar reads data from the user's reminder SMSes and captures the information to help remind the user of payments to be made before deadlines.
ET Money's Free Spends Tracker and Monthly Saver aggregate all of the users' spending in one place, allowing them to keep track of where their money is going. Users also get a weekly or monthly summary of their expenses so that they know exactly where to manage them.
ET Money Mutual fund recommendations by category
For the more experienced users, the ET MONEY app provides the option of classifying mutual funds into top companies, top-rated funds, SIPs starting at 500 per month, etc. These categories are useful for users who are aware of where they would like to invest and seek more options within those categories.
National Pension System (NPS)
Through the ET Money app, users can also invest in the NPS, offering a way to save on tax payments as well as providing financial security for a life post-retirement.
ET Money Smart Deposit
Another notable feature of the ET Money app is the Smart Deposit feature. Enabling this feature ensures that a small portion of the user's monthly amount is automatically invested in order to obtain a stable return on investment in the long run. Users who don't have much time to manage their finances and frequently find themselves with idle money in their accounts will find this option to be particularly useful.
ET Money Smart solutions
The smart solution feature recommends users' investment plans based on their financial goals. Depending on the user's investment criteria, tax savings, high growth, etc. the ET Money app provides ready-made portfolios for the user to invest in to achieve his or her targets.
LoanPass from ET Money
LoanPass from ET Money offers a cashless credit line with a loan amount ranging from ₹3,000 to ₹5 lakhs. It requires no collateral and can be utilized as many times as you'd like, at any point throughout the month, anywhere in India.
Users must supply the relevant data, such as their address, Aadhar information, PAN card information, and monthly income. If your salary is more than  ₹20,000 a month, you're young, and your credit score is above 750, then you can avail a personal loan if you apply for a LoanPass on the ET Money app in collaboration with RBL bank.
You can access credit cards and fast lending services from RBL Bank using the all-inclusive ET Money LoanPass. With the ET Money LoanPass, you can easily use your e-wallet operating license for savings accounts at thousands of physical and online establishments by using it as a credit card or by swiping it into an electronic cash register machine.
The features of ET Money LoanPass are:
Up to 2 lakh rupees can be withdrawn in a single transaction.
One can make multiple withdrawals at different intervals of time according to their financial needs.
Interest will not be charged on the entire amount, but on the amount, the user transfers to their bank.
The interest rate ranges between 13% and 18% p.a.
EMI options are available between 2 to 36 months.
Gold Deposit
One of the most prudent ways to accumulate gold is through an ET Money Gold Deposit. You can buy as little as 2 grams of 24 karat, 99.5% pure gold at a time, which is always kept super secure, and there are no storage fees.
Advantages of ET Money app
Invest commission-free in direct mutual funds on ET Money
Through the ET Money app, one can invest in direct mutual funds without an agent interfering between them and the fund, which allows users to earn more on their investments by saving on commissions paid to agents.
Invest in top AMCs
ET Money is a very useful application that lets one invest in the best-performing mutual funds in India all in one place and even lets you redeem your investments easily.
ET Money Security
ET Money offers the most advanced security protocols, ensuring your portfolio is 100% secure.
These include bank-level web servers and firewalls in place to prevent any intrusions and keep your information safe with the use of state-of-the-art encryption techniques.
Frequently Asked Questions
1. Is investing in ET Money safe?
ET Money is a financially sound app that has been backed by the Times of India Group, is registered with SEBI, and offers the highest level of security when it comes to financial information and protection. Furthermore, encryption of user data protects users by preventing data from being leaked or misused.
2. Are there any fees for using ET Money?
No, downloading and using the ET Money app is completely free. For any investments or redemptions made using their app, there are no costs. For purchasing units, monitoring returns, and redeeming your mutual fund investments, there is no fee charged.
The other services, like purchasing insurance, applying for loans, making NPS investments, using Expense Manager, and generating credit reports, are also free of charge.
3. Are there any offers on the ET Money App?
For recommending the ET Money app to friends and family members through the referral link offered in the app, users of ET Money are guaranteed to receive some referral benefit on products like FD etc
The sign-up can be done by the referred user only through this used link; otherwise, the code is ineligible for the referral benefit!
4. How do I set up my ET Money investment account?
You can set up your investment account  by following a few simple steps:
Tap on the top left corner of the home page of the App and click on "Setup Now" beside Investment Account.
Choose the fund you want to start your investment in and enter the amount you wish to invest.
Enter your PAN number.
Enter your bank account number and upload bank proof (a canceled check, a bank statement, or your passbook).
Take a photo and a live video of yourself for KYC.
Provide your signature.
Upload address proof (Aadhaar, voter ID, or passport).
Once your form is complete, their team will work on getting your KYC verified. You will receive an email and notification updating you on your application status. Once your account is verified, your investment will be processed successfully.
 5. How do I withdraw money from ET Money?
If you want to withdraw money from ET Money, follow these steps:
Log in to the app.
Go to "Direct Mutual Funds" option.
Tap on the "My Holdings" section.
Select the scheme you want to withdraw.
Place the withdrawal request and the number of units you wish to withdraw.
Enter the OTP and confirm the transaction.
6. How good is customer care at ET Money?
While the ET Money app does not provide a phone number to contact a representative, it does include an in-app chat feature that quickly answers any questions users may have. To provide users with a seamless experience, well-defined FAQs are also added.
Conclusion
Anyone with a current investment account, including those for mutual funds, insurance, stocks, and bonds, may use the ET Money app. To perform account transfers or to apply for loans or credit cards, the open platform of the app integrates with banks.
ET Money app is one of the key players in this financial investment segment, commanding a good number of users. The varied list of features on the app goes well beyond the traditional mutual fund investment platforms. Users have access to their budgets through the app as well, and other features like credit reports and reminders about paying bills automatically make it a prime contender for any user to invest their hard-earned money.
However, if someone is already investing through other portals like Zerodha coin etc, there is nothing new. This app is more beneficial for people who are looking for a guided approach to investing and a consolidated place to see the complete portfolio
Check out other investment opportunities