Lot of people ask me how can they Invest/Trade Bitcoin in India in the most efficient manner.I have compared few platforms for Bitcoin Investment.Before that I will like to explore the rationale behind bitcoin investing! Bitcoin is on the other end of investment spectrum compared to FD,where you can make 1000% returns or you can lose 100% of the investment!
Bitcoin serves as a new kind of currency for the digital era. It works across international borders and doesn't need to be backed by banks or governments.
First Look at the one month Performance ! I made 50% returns in a week more than I made in my equity portfolio in 5 year!


but it is so volatile I can lose that much in a month !
So is there anything truly valuable about bitcoin?
Yes, the technology behind it.
Bitcoin is built on the blockchain, a public ledger containing all the transaction data from anyone who uses bitcoin. Transactions are added to "blocks" or the links of code that make up the chain, and each transaction must be recorded on a block. I will not get too much into details as there are numerous good articles on pros and cons of Bitcoin as an alternative to Fiat currency .
Bitcoin has very polarized views . On one end people swear it as revolutionary while other perceive as a unicorn i.e . a fantasy of futuristic world.
How should we invest in it?
A good way to think of it is as a lottery. Where you can make lot of money but chances are slim.People can put the amount in it which they are comfortable to lose. On the positive front this small amount may become 100X while it may become zero in a negative scenario!
Also people can trade bitcoin by selling a part when it jumps and buying at low prices , but only who understand the market dynamics!
Social Capital's CEO rightly put it as:
When you wake up and you see a coronavirus scare and the Dow down 2,000, you should not be going in and buying bitcoin — that is an idiotic strategy," he opined. "I think a reasonable strategy is to say 1% of my net worth should be in something that is completely uncorrelated to the world and how the world works." The Virgin Galactic chairman suggested going into bitcoin "quietly" and letting the investment accumulate. He concluded, "Then you just never look at it again and hope that that insurance under the mattress never has to come due,"

He then shared his prediction of how high he thinks the price of bitcoin could be over the next 10 years. "It is a 10-year trajectory," he began. "I've always thought of bitcoin as a very binary investment, whether it goes from 80 to 8,000 to 6,000 to 3,000 to 13,000, it doesn't matter." Noting that bitcoin's price will be "either zero or it's millions," Palihapitiya asserted
https://www.cryptoglobe.com/latest/2020/02/social-capital-ceo-treat-bitcoin-like-an-insurance-you-hope-you-ll-never-need/
How to buy/Sell Bitcoin In India?
To buy cryptocurrencies there are only two ways:
Using Money(Fiat to crypto)
Using cryptocurruncies (crypto to crypto)
To Buy using Fiat(INR) you need to have KYC done and add your bank account to the exchange for transfer of funds. You can do that only on exchanges that support Fiat trading that's why you need to use any indian exchange like WazirX to convert your INR to Crypto.
To buy crypto using other crypto that you have, you don't need to add Bank account but your might be asked to do KYC verification if your trade volume is high. Just send your money to the exchange wallet and start trading.
Local (fiat exchange) vs global (pure crypto exchange) currency exchange
Local exchanges gives you the flexibility to trade using INR and also support your banks. Your Bank accounts are linked on the exchange so you can deposit and withdraw INR whenever you want. But they don't provide as many currencies as the Global exchanges so for that you need to have an account on the Global exchange like Binance.
Global exchange have almost all the cryptos that you'd ever want to invest in. To buy them you can do so by buying some crypto like Bitcoin,Ethereum from local exchange then send it to your Global exchange wallet and then use it for trading. When you want to withdraw then repeat the same process from Global to Local exchange and then to your bank account.
In India there are few major Bitcoin players.The factor to choose among them are:
Low Fees
Easy Transaction
High Trading Volume
The best platform which fits all these platform in India is : Wazirx
I compared multiple platforms viz : CoinDcx,Zebpay etc and Wazirx seemed to be the best !
Some of the salient features of Wazirx are:
Most number of trading coins offered in India. They have their own coin WazirX( WRX) for trading on their platform at discounted fees. They were accquired by Binance which is already one of the most popular Global exchange. They are the only one currently to Provide P2P services along with the exchange platform in India.
Currencies: around 120
Trading Fees: 0.1–0.2%(Lowest in India)
P2P : Yes
KYC verification: Required
Method of Purchase: Bank Transfer
Docs for KYC:
A national ID like PAN-card, Passport, Driving License
A selfie of yourself
A bank account to link to the exchange
Payment modes:
The payment can be done in the following ways
Process:
The process is very simple.
Transfer money to Wazirx Escrow (UPI/NEFT/IMPS)(Free)
You can then buy USDT(USD token backed by dollar hence stable ) through P2P ,basically a cheap way to convert your INR to valid crypto which can be used to buy other crypto(Free)
Use USDT to buy bitcoin (.2% for takers i.e market order buyers and you earn 0.2% for being a maker i.e for limit order)
Minimum deposit amount and trading limit = Rs 100 and minimum amount to buy a USDT token is Rs 400
Added Feature : Smart Token Fund to have a fund manager run your portfolio!
Smart Token Fund (STF), in simple terms, is a way of connecting Investors to skilled Traders. Essentially helping the two grow their portfolios in a very simple, secure and transparent manner.
STF Investor – Is someone who doesn't have the time or trading skills to manage their crypto portfolio, so they buy a Smart Token i.e pass on their portfolio to an STF Trader & let them manage it.
STF Trader – Is a skilled trader who gets to create their own Smart Token & let the investors buy it i.e. collect an STF Investor's portfolio. The STF Trader will then strategically manage their investors' portfolio & when their trades make a profit, the price of the Smart Token increases. The investors can sell a Smart Token to book profits.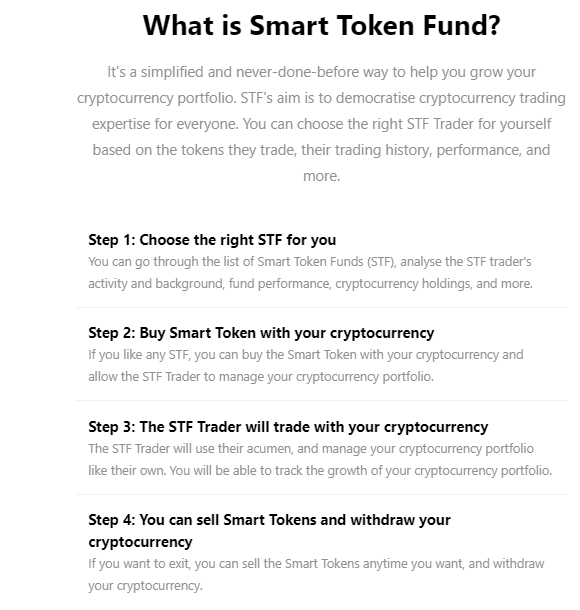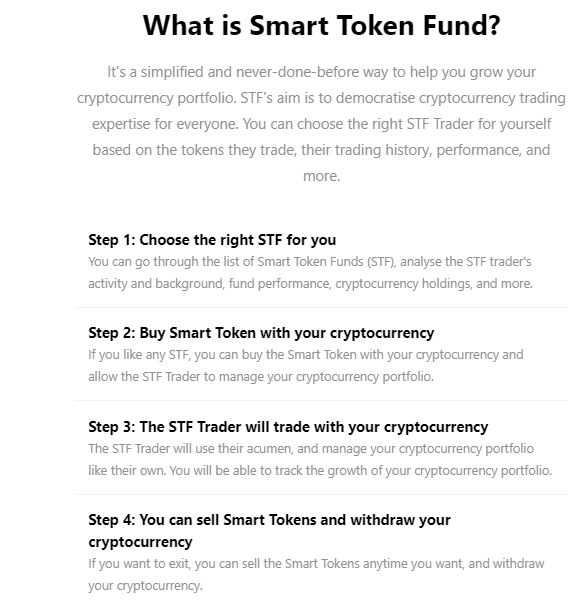 To Register for Free on Wazirx use :Wazirx Link
Conclusion: People can put around 1% of their assets in Bitcoin as speculative investment and they can also put an equivalent amount for Bitcoin trading. They should start small and learn the ropes of the trade before committing any big amount!!