Bitcoin cryptocurrency soared past $30,000 past month, hitting its highest level since 2018 .Thea excitement over the United States election spilled over from macro markets.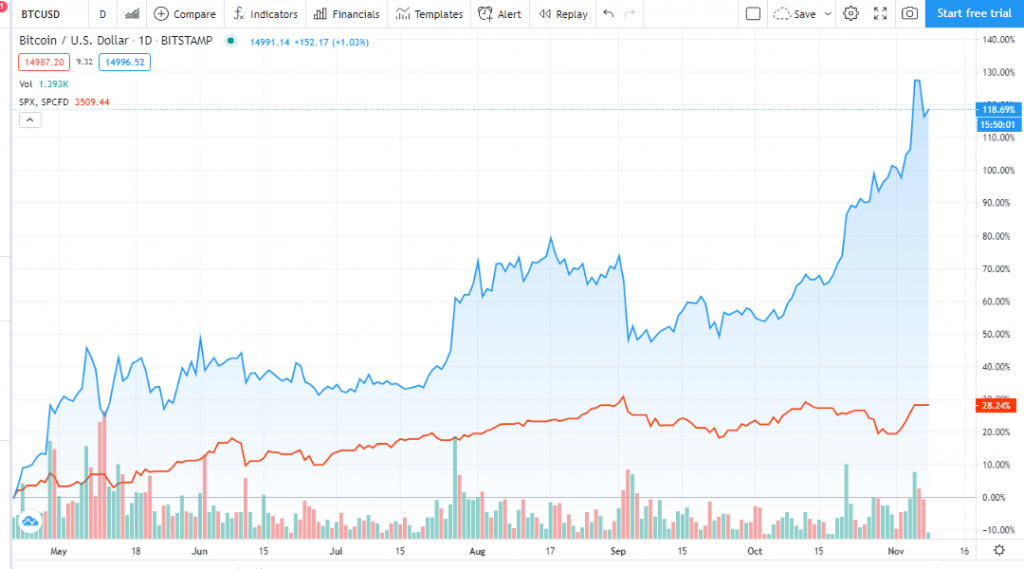 Since the market crash in march Bitcoin has delivered 180% return ,which almost 4x of stock market return!
What is Driving Bitcoin Rally?
There are three major factors driving this rally.
Presidential Race Effect on Bitcoin and cryptocurrency
Having Biden in the White House and a republican senate is great for cryptocurrency . It seems his presidency will drive dollar down.
These projections are motivating people to invest in inflation hedges like gold,metals and more so crypto currency.
It would become very hard for democrats to push stimulus bill due to a republican senate. Therefore the onus to manage the economic crisis will fall on Fed. The fed will have to keep rates very low to stimulate the economy. With lower rates people will borrow more and increase inflation.
With more dollar in the system relative value of dollar will weaken .It will make imports more expensive and hence even more inflation.
Bitcoin is limited and hence a good way to beat this dollar inlfation.
Institutional Participation in cryptocurrency
There are a few key differences now from prior bull runs in bitcoin. For instance as in 2017 when the cryptocurrency's price shot to up to about $20,000. 
Firstly there's been a rapid explosion in the industry's support infrastructure. There has been development of regulated asset custodians and more reliable pricing feeds .Secondly more recently U.S. officials' move to explicitly authorize banks to provide services to cryptocurrency companies.
Thirdly some very well known companies have recently either invested in Bitcoin. Some are building a framework around it which brings the much needed credibility to the future of Bitcoin.
Recently, PayPal announced it would let users buy a handful of cryptocurrencies. This including Ethereum and Bitcoin, causing the price of the latter to rise close to $13,200.
The PayPal announcement came two weeks after payment giant Square announced it was adding $50 million worth of Bitcoin . 2 months earlier another publicly traded company, MicroStrategy, made a $250 million Bitcoin purchase.
The Singaporean multinational banking and financial services corporation DBS published an announcement revealing it was launching a cryptocurrency exchange.
DBS Bank Ltd is Southeast Asia's largest bank in terms of assets under management (AUM). The corporation's 100+ branches hold more than $600 billion today. 
The founder and chief investment officer of Tudor Investment Corporation also compared investing in bitcoin to putting money behind some of the biggest tech companies like Apple and Google.
"Bitcoin has this enormous contingence of really, really smart and sophisticated people who believe in it," Jones said. "It's like investing with Steve Jobs and Apple or investing in Google early."
Billionaire hedge fund manager Paul Tudor Jones has turned more bullish on bitcoin, calling it the best inflation hedge.
"I like bitcoin even more now than I did then. I think we are in the first inning of bitcoin and it's got a long way to go,"
Comparison of Bitcoin with Gold
Lot of Institutions and people have recently started comparing bitcoin with gold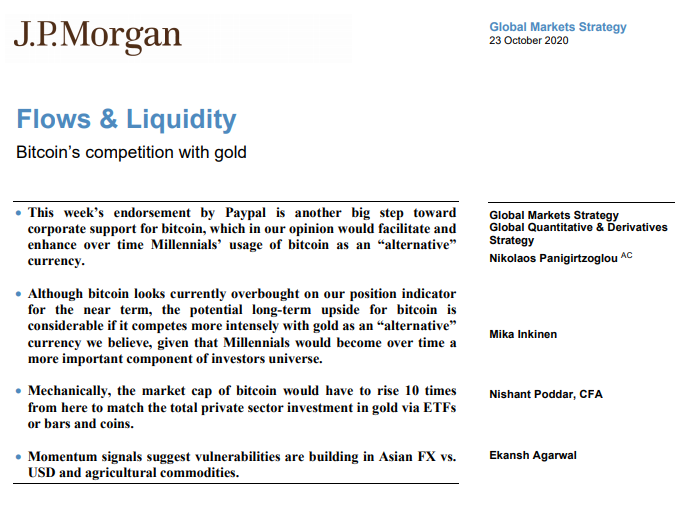 "The potential long-term upside for bitcoin is considerable if it competes more intensely with gold as an 'alternative' currency we believe. Also given that Millenials would become over time a more important component of investors' universe."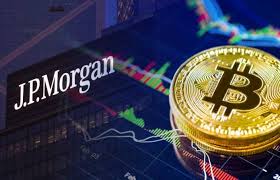 JPMorgan's note essentially emphasized three major reasons to support the long-term growth potential of Bitcoin.
First, Bitcoin has to rise 10 times to match the private sector's gold investment. Second, cryptocurrencies have high utility. Third, BTC could appeal to millennials in the longer term.
Following the integration of crypto purchases by PayPal and the rapid increase in institutional demand, Bitcoin is increasingly being viewed as a safe-haven asset.
There is a massive difference in the valuation of gold and Bitcoin. Albeit the former has been recognized as a safe-haven asset for a long period, BTC has many distinct advantages. JPMorgan analysts said:
"Mechnically, the market cap of bitcoin would have to rise 10 times from here to match the total private sector investment in gold via ETFs or bars and coins."
One of the advantages Bitcoin has over gold is utility. Bitcoin is a blockchain network at its core. That means users can send BTC to one another on a public ledger, efficiently and practically. To transfer gold, there needs to be physical delivery, which becomes challenging.
As seen in many cold wallet transfers, it is easier to move $1 billion worth of capital on the Bitcoin blockchain than with physical gold. The bank's analysts further explained:
"Cryptocurrencies derive value not only because they serve as stores of wealth but also due to their utility as means of payment. The more economic agents accept cryptocurrencies as a means of payment in the future, the higher their utility and value."
Recent Survey by Grayscale capture the newfound interest in Bitcoin
A survey conducted by digital asset manager Grayscale Investments suggests investor interest in bitcoin is on the rise. The top cryptocurrency by market cap is well on its way toward mainstream adoption
How to Invest in Bitcoin and other cryptocurrency?
You can buy bitcoin through various exchanges in India-Wazirx
You can park cryptocurrency to get 8-10% interest on it-Celsius Network
To invest in mutual funds of cryptocurrency you have the below option-Crypto Fund Iconomi
Conclusion
Last 6-7 months massive changes have propelled cryptocurrency and bitcoin as a very interesting investment option. However it is important to also to exercise restrain and not go overboard. Invest in a staggered manner and to the extent where you can digest the volatility!