Alternate Investment Summary
After last month's frantic volatility in traditional markets, things were significantly calmer, with most stock indices globally edging down under the weight of a stronger dollar — driven largely by euro weakness as we continue to see disappointing pandemic news from the region. We continue to see a rotation away from growth stocks, including tech companies, into value stocks. Suez Canal blockage was an event making us realize the fragility of the world economy and the unknowns we can never factor in our projections. The blockage is estimated to have costed the global economy $54 Billion in 6 days!
In another incident Hedge Fund Archegos is on the verge of collapse due to margin issues. Global banks may lose out on more than $6 billion as Archegos Capital Management — run by former Tiger Asia hedge fund manager Bill Hwang — triggered a fire sale of stocks.
These incident show how small events can end up triggering major financial collapse
My Alternate Investment Portfolio Performance
Latest Portfolio Allocation March'21
The stock market has suddenly become volatile. IPOs have started doing less well. People have started developing some fear of uncertainty. Stock market during bull cycles follows "Greater Fool Theory" until the day it doesn't.
Yield Generation Alternate Investment Platform Performance (Annualized).
My Returns in yield assets have been pretty much consistent with last month.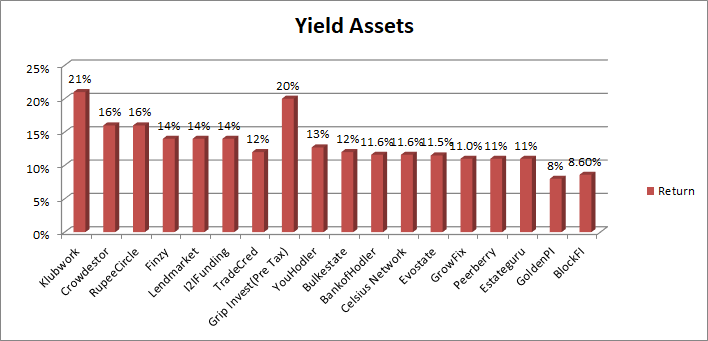 Capital Gain Alternate Investment Performance (Quarter Performance)
After a long time Equity showed stagnation this month. I suspect volatility will become more prevalent in future for both Crypto and Equity as valuation are expensive and low interest environment seem to come to an end in a year
Revenue Based Financing – Klubworks
Now I have Received 4 cashflow on time with IRR of 24%. Upcoming deals on platform are below. The deals get invested very quickly hence if there is a good deal you should immediately show interest.
My criteria to select deals is to select brands which have raised funds recently or which have very consistent cashflow!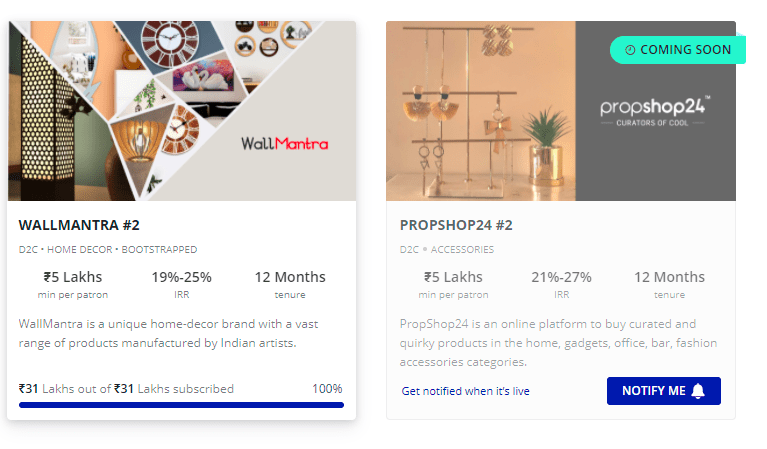 Through the link from this blog you can invest INR 2.5 lakh instead of INR 5 lakh as minimum amount.
Securitized Debt Investing – GrowFix
GrowFix has now been renamed as WealthWint, Loan against vehicle loan product is still available on the platform. Growfix has larger tranche sized compared to Grip hence we should expect around 1 deal a month. Also you start accruing interest on the day you invest in the asset.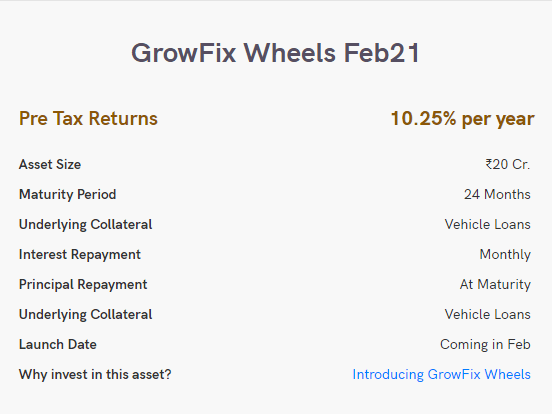 Alternate Investment Leasing- GripInvest
I Have now completed 8 months with no delay in cashflow.
if you want to invest INR 2.5 Lakh plus and get tax exempted IRR of 20% + you need to drop the team a mail or alternately you can mail me and I will connect with team.
I recently invested in another deal for BigSpoon. I am focussing more on deals with tenor of 2 years for B2C clients while B2B clients can have higher tenor as cash burn is less for B2B and hence lower risk

Alternate Investment TradeCred
Recently few 12%+ IRR deals on the platform were listed on account of Holi. The reason being lot of company have to close books of account and do not mind paying extra yield during financial year end to cash their invoice.
Settlement Finance deal was also available which has lower risk than invoice discounting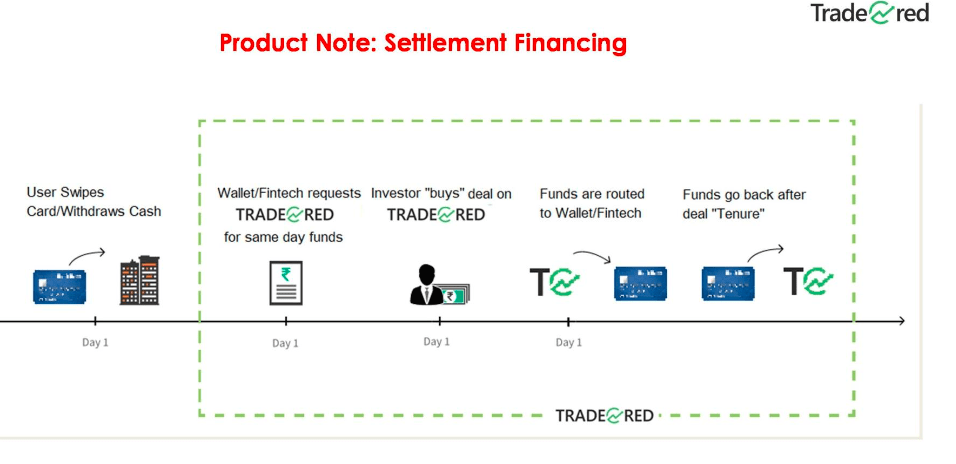 International Alternate Investment Portfolio
Tether at the moment is 73.6 on Wazirx which is just 1% over the USD rate and hence it is quite efficient to transfer money to EURO IBAN accounts now.
If someone is starting to invest then Evostate is very convenient as it provides access to multiple platforms. Lendermarket and PeerBerry are good for short term P2P .
Analysis on Evostate of all the Real Estate Originators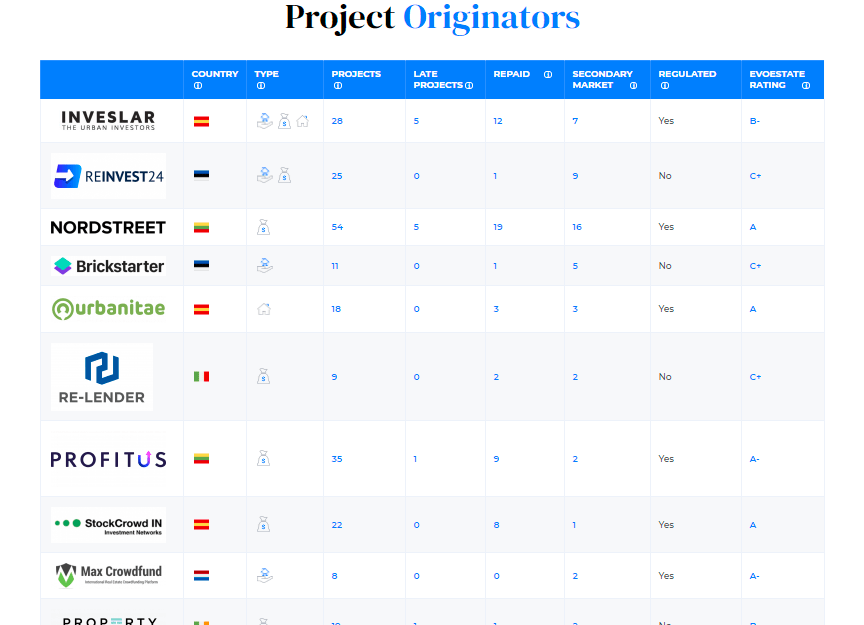 Equity/REIT Portfolio
The recent Archegos fiasco gave everyone shiver. This is the tip of iceberg considering the amount of margin debt utilized in USA.
Alternate Investment and Altcoin Interest Account
Celsius Network and Youhodler are the top performer with yield close to 12%. Youhodler has recently increased yield to 12.7% on USDT ! I keep buying Tether when USDT/INR rate goes down and park it in Youholder. When yield goes up I transfer it back to INR. This way I end up making 15%+ Annual Yield. Now BEP2 transfer are available on Youhodler and you can transfer USDT for 1 USD fees.
*for new users who want to buy crypto and transfer to other platforms I recommend using DCX discount link( as Wazirx has increased the withdrawal fees.
*Existing users who have binance linked to Wazirx Can transfer to binance for withdrawal at nominal fees
Altcoin Price and Bitcoin Platform
Alternate Investment in Gold –GoldFinX
GIX coin showed some upward movement this month and crossed 3 for a short period in march. From my purchase price it has gone up by 50% but this is much below my target level! Its important that you take the price from the Exchange and not your dashboard as it gives average price. Gold has currently underperformed which has also prevented rally in GIX
Yields have started hardening and its unadvisable to buy long duration bonds and expose interest rate risk at this juncture. 1.5-2 years is the maximum maturity you should target .Currently I do not see any attractive listing on the platform
Alternate Investment P2P Lending India
I had started increasing my allocation to Rupee Circle as collection has improved and I feel RupeeCircle provides best risk adjusted return among all the P2P portfolio. Recently Rupeecircle has paused new loans and are analyzing lockdown status.In terms of volume I2IFunding (use Code "discount50@i2i" ) is the best
Current allocation:
Rupeecircle- 40%
I2IFunding- 35%
Finzy- 25%
| | | | |
| --- | --- | --- | --- |
| Platform | Loans Selected | Expected Yield | NPA Expected |
| I2IFunding | Cooperative banks backed loans,E-Rickshaw backed loans,education loan,NBFC backed loans(Monedo etc) Group loans | 15-20% | 3% |
| Rupee Circle | Small business/salariedloans to people with own house and low EMI to Earning Ration | 25-30% | 5% |
| FINZY | Prime Borrowers,High Salary ,A category | 15-20% | 1% |
| Faircent(Onlypool Loans/Education loans) | credit pool loan | 12% | 1% |